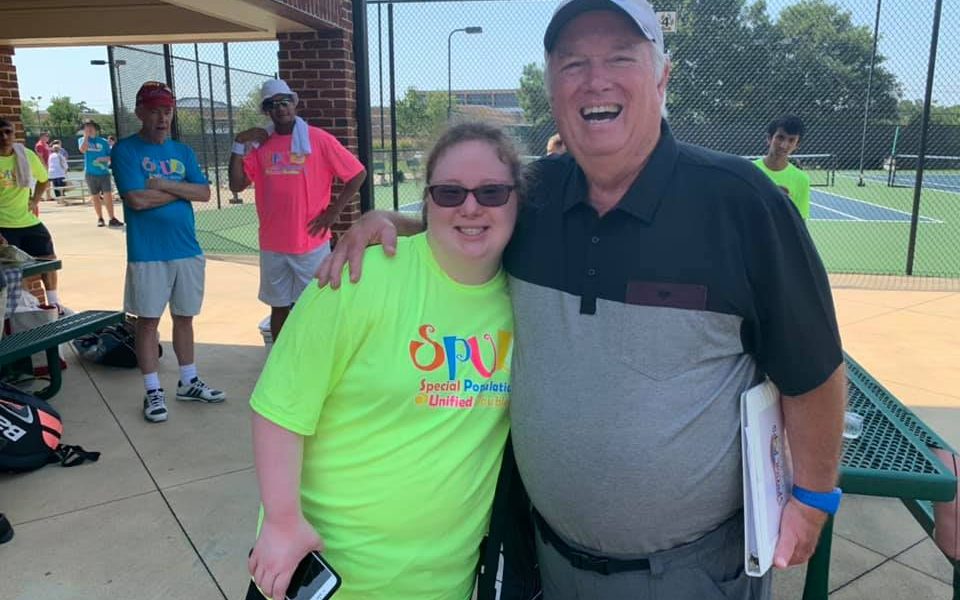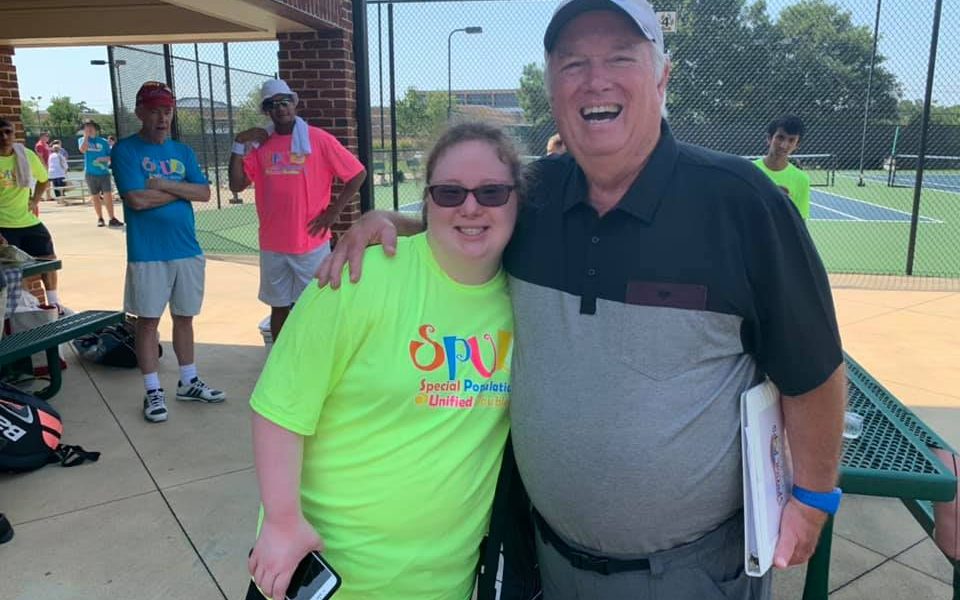 Today we'd like to introduce you to Jim Hamm.
Jim, let's start with your story. We'd love to hear how you got started and how the journey has been so far.
In 2005, a core group formed the adaptive tennis program of Special Populations Tennis Program, Inc. with a mission to enrich the lives of children and adults (athletes) with intellectual disabilities through the lifetime sport of tennis. At that time we began by incorporating as a 501(c)(3) organization. Through teaching and competitive play, we continue to strive to build the life skills and self-confidence of every participant. Our vision is to become the gold standard for adaptive tennis programs for people with intellectual disabilities.
We were most recognized as one of 15 Tennis Heroes in the 2014 November/December Special Edition of Tennis Magazine.
Training
Special Pops Tennis (SPT) provides an adaptive tennis program from beginner to tournament-level players with intellectual disabilities (children and adults) at 18 public and private tennis facilities in 10 counties in metro Atlanta. All training and equipment is provided free of charge to participants. Since 2005 when we operated three training sites for 60 athletes with a handful of volunteers, we have grown to serve nearly 700 athletes, assisted by over 700 volunteers who serve as coaches, playing partners, umpires, ball persons, mentors, and chaperones.
League play
SPT leaders believed that a team tennis experience was essential to carry out the evolving SPT mission. In 2008, Special Pops spearheaded the formation of the Special Populations Unified Doubles (SPUD) League under the USTA league umbrella. SPUD is the first league of its kind in the USTA with an adaptive format for players with special needs who are paired with traditional tennis players in a team doubles tennis match. This league format is the only one of its type in the USA.
Competition
Skills Spectacular – Entry-level tennis players who have participated at a training site but are not ready for match play may compete at the annual Skills Spectacular. The goal is to introduce participants to competition in a safe and fun environment.
Fall Classic – In 2006, we introduced the Annual Fall Classic Adaptive Tennis Tournament that drew 31 local players and a handful of volunteers. It has quickly become one of the largest annual adaptive tennis match play tournaments in the country, drawing players from several other states. We are maxed out with150 athletes registered. The number of athletes from out-of-state adaptive tennis programs increases every year. More than 400 volunteers participate as umpires, unified partners, ball people, overnight chaperones, hospitality, registration, and mentors during the event. In 2019 this event is being held at Lifetime Athletic and Tennis in Peachtree Corners, GA.
We often travel to out-of-town events to compete. These opportunities to travel challenge the athletes to leave the security of their homes and families or caregivers and their daily routines. For many of our athletes, this is a far greater challenge than the competition itself, but the rewards far outweigh the challenges. Our motto is "Play Tennis; Make Friends; Live Life." This represents our focus at enriching the lives of our athletes and volunteers through healthy relationships that will allow everyone to feel included in the community where they live.
Special Olympics Georgia Summer Games – Athletes who participate in our spring training academies are eligible to compete at the Special Olympics Georgia State Games in May of each year at Emory University. Over 100 SPT trained athletes compete at various levels from beginners to full-court singles and doubles match play.
Life Lessons
All SPT programs offer participants both tangible and intangible benefits. Regardless of the level of participation, all participants experience the satisfaction of being the best they can be in a sport their friends, family members, classmates and coworkers also play. In competition, everyone receives individual recognition for their efforts, regardless of where they place.
More intangible but just as important are the life-lessons our programs offer participants. Athletes learn the value of training and physical activity in a life-time sport. Beyond the tennis training many athletes are provided a pedometer to measure the steps taken during tennis versus daily living activities. They also learn self-discipline, good sportsmanship, and how to appropriately express emotions both on and off the court. Light refreshments and meals provided at training sessions and special events are based on healthy choices. This includes hydration training. These goals are achieved primarily through mentoring by our positive role model volunteers. Finally, the value for participants being included in the greater tennis-playing community cannot be measured.
VOLUNTEERS
Volunteers are the lifeblood of Special Pops Tennis programs. Our volunteers play many roles both on and off the courts as coaches, instructors, partners, mentors, umpires, ball persons, and chaperones in all our programs. Many of our volunteers are junior and adult tennis players; however, tennis experience is not a pre-requisite for volunteering. Volunteers' involvement and passion for helping others is far more valuable than their knowledge or skill as tennis players. Many are recruited by a fellow tennis teammate. SPT athletes also recruit by inviting friends and families to volunteer. Others are involved with our athletes in the workplace as co-workers or job coaches. Regardless of how they came to SPT, one thing all volunteers share is a passion to give back.
Several of our training sites primarily utilize high school-aged youth who are involved in service clubs or play on tennis teams. Some come to fulfill required community service hours but stay beyond their required commitment because of the pure enjoyment of working with our athletes. The bond between athletes of every age and our youth volunteers is a special and unique one that endures for both athlete and volunteer long after a tennis training session ends. Many of these young volunteers will become our future philanthropists.
Volunteers have often stated that SPT experience has enhanced their life by sharing their enthusiasm for and knowledge of the game with the athletes. "This was the most rewarding tennis experience I have had in all my years playing tennis," has been heard from a volunteer more than once after a Special Pops Tennis event.
PLANNING FOR THE FUTURE
The Board of Directors is committed to take the organization into the future, setting a long-range goal to become the gold standard among adaptive tennis programs. The Board's current strategic plan includes a focus on fundraising, marketing and continued growth. The SPT model has been shared with many established USTA Adaptive Tennis Programs. We assisted in the launch of the Dream Court – Montgomery, AL program; we provided training and resources in the Special Populations Tennis – Savannah, GA program; also trained the leadership of the CORTA Adaptive Tennis program; currently assisting a new program being formed in Macon, GA.
Individual giving, fundraisers, sponsorships, and grants are the primary methods practiced by SPT in gaining the funds necessary to support and sustain the growth plan, quality of the programs, and introduction of new programs that are either under consideration or in existence. Additional support also includes matching gifts by local employers.
To date, we have functioned as a truly volunteer-driven organization with the bulk of our budget going into managing training sites and tournaments.
Social Media. Research and development of tools to raise funds through social media is a key component of the Special Pops Tennis Strategic Plan, including use of online crowd fundraising opportunities, such as Georgia Gives Day.
The diverse sources of financial support is a true endorsement of how our organization has branded itself both locally and nationally as one the premier adaptive tennis program for children and adults with intellectual disabilities.
Has it been a smooth road?
The struggles have come in the form of opportunities. We believe our model will work in most all communities. It is a scalable model that will allow a program however large or small to be successful. The model depends on leadership, funding, and marketing. Being in Atlanta we benefit greatly from the quantity of tennis players and tennis facilities. We recognize that and are very grateful for the passion that Atlanta continuously shows toward the sport and the equally passionate about helping others.
Our current struggle is succession planning of the leadership and volunteer recruitment for expansion. We must be successful in meeting this challenge in order to remain a viable and sustainable organization. The future of the population with special needs being able to play this sport and gaining the life skill lessons learned very much depends on us getting this right!
Please tell us about Special Pops Tennis.
Special Pops Tennis is most proud of the testimonials that we get from our athletes, families, volunteers and sponsors. We began as an organization that wanted to give children and adults with disabilities an opportunity to learn to play tennis. We quickly realize it gave all of us (athletes, families, volunteers, etc.) a chance to make a difference in all of our lives.
We often hear:
"Because of tennis, my child looks forward to getting outside the house and being active with her friends."
"I want my son, who is a ranked junior player to get involved. I want him to remember why he started playing this sport."
"We have been a tennis family, now it is even more fun because when we go to the tennis courts my daughter can come inside the fence and participate."
"When I play in a Special Pops Tennis Tournament, I feel like I am playing at the US Open."
"Our employees look forward to volunteering at your events. They come back to work telling about the fun and inspiration they experienced"
"The students of our school were so honored to be able to play tennis with your athletes."
Not sure this sets us apart from others, but it allows all of us to experience a joy that lasts a lifetime.
How do you think the industry will change over the next decade?
Efforts are underway to try and get our program in some of the school systems. We feel that our model can offer a school with students in special education to have an adaptive program with the involvement of other students. We have seen many students that were uncertain of their college degree pursuits gain a heightened sense of this population and go on to gain a degree in Special Education; Occupation Therapy; Speech Pathology, etc.
We feel this interaction with the otherwise isolated population will allow walls to be removed regarding myths and misperceptions about how much unconditional love when given does influence how we feel about ourselves and others.
Ultimately, we would like to see school have competitive tennis teams that partner students with athletes in a competitive tennis match against another school. The vision would be to have the student with special needs competing and wearing his/her school colors in a competitive and spirited way.
Additional, this same format could be adopted by the local tennis leagues in the Atlanta area.
Contact Info:
Address: 3176 Westfield Way Roswell, GA 30075
Website: www.specialpopstennis.org
Phone: 4047025820
Email: serve@specialpopstennis.org
Facebook: Special Pops Tennis
Image Credit:
Photos taken by Laura Church Barnard and Debbie Currie
Suggest a story: VoyageATL is built on recommendations from the community; it's how we uncover hidden gems, so if you or someone you know deserves recognition please let us know here.