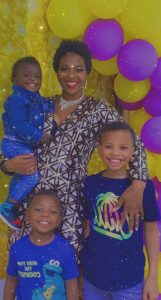 Today we'd like to introduce you to Johnnitta Jackson.
Johnnitta, can you briefly walk us through your story – how you started and how you got to where you are today.
Around April of 2017, I was having a hard time producing milk. I had my second son Jevante Jr March 24,2017 and decided since I breastfed my first son Ja'Quan I should do the same for him. Having my first child and breastfeeding him was hard due to the pain, yet it was amazing because I had so much milk coming in. Yet this second time around I was so concerned because my milk wasn't coming in the way I wanted it to. It was really frustrating and I had to find out a way to produce more milk and do it fast because I wasn't going to give him formula.
I started to look on google to see what could help me produce more milk as I was looking I seen that lactation cookies were the solution to my problem. Then I decided I should start making oatmeal chocolate chip lactation cookies. Why oatmeal chocolate chip lactation cookies? Well, I'm glad you asked. I decided to make those because the oats are what helps you produce more milk. I added a chocolate chip because I love chocolate chip cookies. Combining the two together was the best thing I did. I made my first couple batches and when I tell you they were so good, it made my soul happy. I was eating these cookies like they were regular cookies and almost hurt myself. Within 15-30 mins my breasts were hard as rocks. When I pumped, I got 30oz in one sitting, all from those oatmeal chocolate chip lactation cookies.
Seeing these amazing results, I began to post pictures on Facebook and Instagram, which drew a lot of attention to my page. Jasmine Collins a friend from high school, was my first customer and she loved them. After a while, my sister Johnnetta and my cousin Denishia were my other two customers. I wasn't charging anyone at the time until Jasmine said, "girl these cookies are good you should start selling these." She loved them so much and wanted to pick them up as soon as they came out the oven because she loved them hot and ready. November of 2017 was when I started getting so many orders, it was overwhelming yet exciting. Of course, I kept bugging my husband and twin sister about what my business name should be. One thing lead to another and Mommy's Milky Treats was born.
Overall, has it been relatively smooth? If not, what were some of the struggles along the way?
When starting my business, it was definitely a smooth road because once I started selling them, I would let breastfeeding mothers buy a set and get one free. At the time, these cookies were big and I was selling 12 count cookies for $10. Not bad at all until I realized how much of a profit I was losing. I began to order different scoop sizes so I could still make money while my customers were satisfied with my product. As time went on I had it down pack now. I decided to launch my website May of 2019 and business was moving smoothly. I was promoting, my twin sister, cousins and friends help me promote my business as well. After that, orders was rolling in fast I was popping. While working a full-time job, being a mother and wife it was definitely hard. However I made it work. I would get off work and go back to work once I got home.
The biggest struggle I had was not having someone on my team to help me. I really didn't want anyone helping at the same time, because you never know who you can trust in this world. One minute they're helping the next minute, they might steal your idea. I started this business out of my house with the help and support of my husband. When I tell you this man is literally my backbone, I mean that. Before I do something, I ask him to get his feedback then I move forward. This man helped me with my packaging and labeling. I went from using a zip lock bag to having containers with my own logo on the front and the nutrition labels on the back. I started this business in November of 2017 and it's been great so far. Some days I won't sell anything other days, I'll be packed with orders. However, I still remain humble because things can change in the blink of an eye.
Please tell us about Mommy's Milky Treats.
I am the CEO of Mommy's Milky Treats. Here at Mommy's Milky Treats, we sell lactation treats such as cookies and brownies and I'm the one that's making the dough. That's kind of funny because I'm making the dough as in cookie dough and money, lol. I'm a baker too. Also, I'm a cook at Marquette University; however, to spice it up a little bit to make it sound more important, I am an Executive Chef. I'm most known for helping breastfeeding mothers that are having a hard time producing milk. Not only do I give them my product to help them but I'm also sending out messages and reaching out checking on them. It makes me happy seeing how many mothers I've helped over these past years. For the mothers that's been buying from me for a while, I've featured them on my website. Mommy's Spotlight is a page that gives breastfeeding mothers recognition for their hard work and dedication.
Also, this page is dedicated to shine the light on them and let them know I'm proud of them and the breastfeeding community as well. You are the best mother you can be for waking up in the middle of the night just to sit up and feed your child. Also, to be out in public areas feeding your child even though others might look at you crazy. We have to normalize breastfeeding a lot more in this world. It's extremely important because this milk that we produce out of our bodies is gold. It helps our children as they began to grow. Breast milk also helps your child's brain development. The one thing I'm most proud of is myself for not giving up when I had days where I didn't make any money. I kept pushing through as I starting adding things to my business. While I did that, I wanted to reach out and help more people. I decided to think of other ideas on how I could make more money and help others. As those ideas came to mind, I decided that Mommy's Milky Treats wasn't only going to sell lactation treats.
As of July of 2020, Momma Jo's Smoothies was discovered. This whole idea came from my husband himself. He came up with the idea, I came up with the name and we both made it work. We are definitely one hell of a team. In one of the pictures below, you'll see some of the smoothies I've made. While drinking three of these smoothies a day, I lost 70 pounds in seven months. I had these smoothies as a meal replacement and snacked on fruits, veggies, eggs and salads. This helped a lot while watching my calorie intake as well as working out. This was my journey on starting to live healthier lifestyle. The smoothies are so good you wouldn't even notice that spinach are in them. As this story comes to an end I just wanted to let you know that I'm an author also. Wait you said you're an author? Yes, I sure did. I decided to write a book during this pandemic since I was laid off of work. The person that pushed me to do this was again my husband. It's so amazing to have this man on my team. He's my biggest supporter. It was two months after being laid off this man told me to get off TikTok and write a book about my journey. With that being said I did so and it took six months for the whole process from start to finish. I would like to thank Allicia, Logan, Mike for helping me with my book.
Also, thank you to Sydney Thomas, who's my trainer. She pushed me as well to look this good. You have to get my book to see some of my before and after pictures. Skintight, Body Right, Face Glowing, Hair Growing is the name of my book. This book is a Guide to uplift women and empower them to fight depression, stress and low self-esteem. I can say 2019 was one of the hardest years for me but God. Yes, I said but God. He got me through it all, even when I felt like giving up. I removed myself from social media for a month to get myself right with the lord. This was the time I decided to manifest everything I wanted in life and be closer to him while I was doing that. I spent countless hours in my war room and I was so filled with the joy. War room, what's that? This is a room where I pray, cry and talk to God. I go in a tired and hurt soul and walk out renewed and revived. After my month was over, I got back on social media feeling great. We all definitely need that break and don't be afraid to take it. Most people thought I had COVID because I was gone for a minute. Nope, not at all I was just spending time with God while getting my life together. I want to be so successful in life and I know that it will come sooner than later. Something that sets me apart from others is my personality.
I'm the type of person that will be dancing, singing and joking around 24/7. This is who I am and who I've always been. I don't care I live life to the fullest even if people think I'm doing to much. No matter where I'm at, I'll be on TikTok dancing and just being myself. People might look at me crazy, while others love my energy and vibe. I'm an entertainer as well. Some people think I'm a comedian because of the things I post and do. Hearing that these people wake up every morning to go watch me on TikTok, Instagram and Facebook is amazing. I'm really out here helping people get through depression and this pandemic it makes me extremely happy.
If you had to go back in time and start over, would you have done anything differently?
If I had the chance to start over, there wouldn't be anything that I would've done differently. I only say that because God had my book written already, which means this path that I'm on right now is what he had set in stone for me. Now that I have children, I will share the things I didn't know to them as they start their businesses.
Contact Info:
Suggest a story: VoyageATL is built on recommendations from the community; it's how we uncover hidden gems, so if you or someone you know deserves recognition please let us know here.