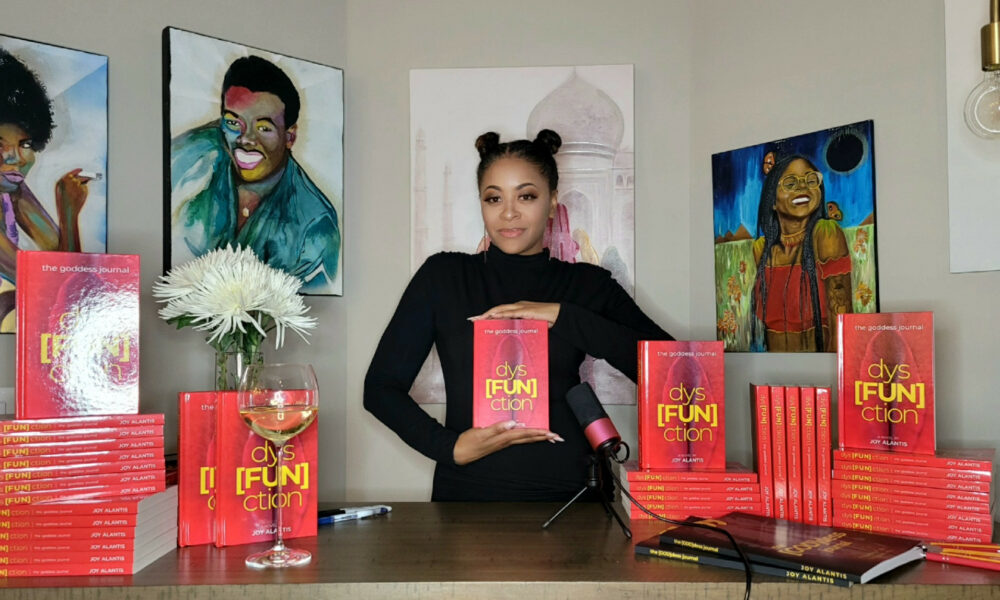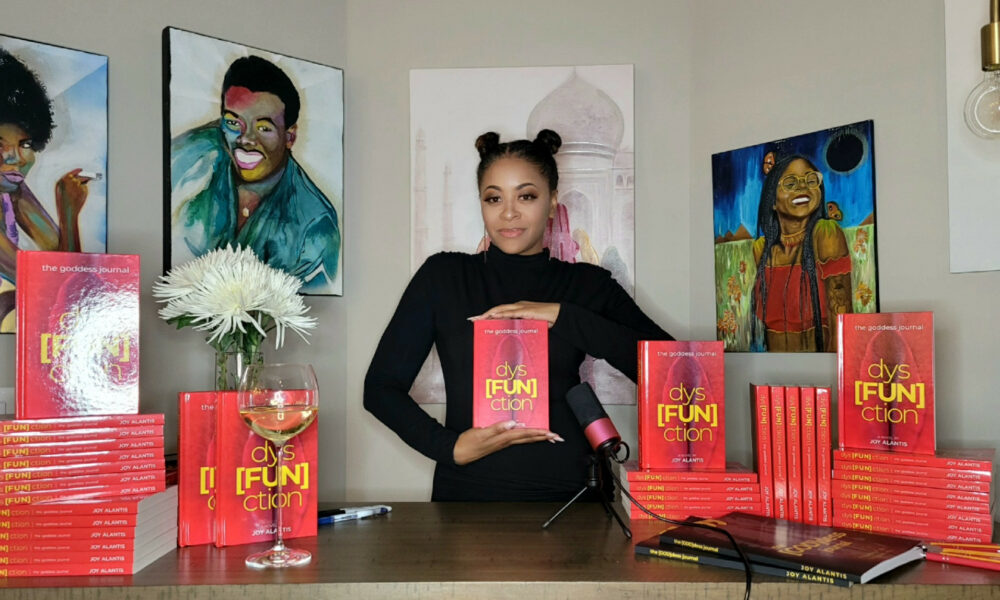 We're so pumped about our conversation with Joy Alantis. Joy is an Author and is also a content partner. Content partners help Voyage in so many ways from spreading the word about the work that we do, sponsoring our mission and collaborating with us on content like this. Check out our conversation with Joy below.
Hi Joy, thank you so much for sitting down with us again. For folks who might have missed our initial interview, can you start by briefly introducing yourself?
My name is Joy Alantis. I am the author of the new novel, The Goddess Journal: dys[FUN]ction. I've been writing for over 20 years assisting other authors, but dys[FUN]ction is my first book.
It's been just over a year since we last checked in with you. How are things going with shiiift, your consulting firm? How about your first novel – is it published?
shiiift is going well. Things slowed down quite a bit during the pandemic, but I was able to maintain a few clients. That wasn't such a terrible problem because I was able to focus on the final touches of my book! So, yes! My first book was published and released on New Year's Eve, December 31, 2020.
How are you balancing the two big parts of your life – one as a consultant and now a published author?
It's a juggling act, but I'm balancing it all. My work as a consultant still takes up the bulk of my day, so I have dedicated off-hours and weekends to my creative work. It's not easy, and it definitely isn't glamourous, but it certainly is fulfilling and rewarding.
What will happen to shiiift when your writing move forward into publishing, TV, or movie deals?
WHEN my writing moves into publishing, TV, and movie deals, my consulting business will not be impacted. I am thankful to have an amazing talent pool of consultants who are ready to step up for more responsibility when the time comes. I have been planning for my own shift into the creative space, so there has been lots of strategic planning for what shiiift Consulting will look like in the future. We're in good shape and ready for the next steps.
We heard about your challenges on your journey from Corporate America to consulting. What are some challenges of becoming a published author? How similar are they to what you experienced before?
The challenges in publishing my novel differed from the challenges I faced on my journey from Corporate America to consulting. However, there are some similarities. I am constantly learning something new. I get to interact with diverse groups of people all the time. I get to do something I love doing while providing my client/reader with a product that they get to enjoy.
Corporate America was about me having to force myself into a system to serve the organizations.
Consulting was about me taking all that I learned in Corporate America, stripping away the things that did not serve me and creating a system that served my clients and satisfied the expectation of the work I provided.
Writing is about me being exactly who I am and sharing myself through an expressive, creative, and artistic format that serves me first and my readers, second. So the challenge is making sure I can really connect with the readers and other artists who appreciate and crave the type of storytelling I do.
Anything juicy about the book that you can share with us?
dys[FUN]ction is 248-pages of a real, raw, and relatable story. It has humor, drama, sarcasm, love, loss, frustration, redemption, and anything else you can think of. The principal character is named Joye (I know, clever, eh?) and she has a fun dating life. Now that she's turning forty, she's like, "Oh! Hell no. Why am I still single?" and begins a journey of reliving her past to try to pinpoint what she is doing wrong so she can correct it so she can have a perfect love that she desperately seeks. She quickly realizes that perfection is a lie! This requires lots of red wine, group text messages with her girlfriends, and a series of events in her love life that you just can't believe but also don't want to miss. dys[FUN]ction also has an unbelievable cliffhanger that left readers anxious. I hope this is juicy enough!
Oh! I also created a journal as an add-on to the novel that mirrors that journaling process Joye goes through at the instruction of her therapist, Ms. Ellis. It's simple and beautifully designed for the reader who is interested in making similar discoveries about themselves, as Joye does in the book in order to have what she really wants in her relationship.
Congratulations on accomplishing your latest goal of publishing your first novel! Where can we purchase the book? And what is next for you?
I'm so glad you asked. The Goddess Journal: dys[FUN]ction is available on Amazon, Barnes & Noble, iBooks, Google Play, Walmart, Kobo, Books-a-Million, and pretty much everywhere. I'm pretty sure I saw it on eBay! It's available in hardcover, paperback, and eBook. The journal is also available at the same sites. I am also in a couple of independent bookstores in Alabama, and North Carolina. I will be able to announce the local Atlanta bookstores that will carry y books this summer when everything is finalized.
As far as what's next? The sky is the limit. I have a ton of work to do, but I see this book being adapted into a TV series or movie. This is the vision I had while writing it, and I have not changed my mind about that.
I need to make sure the book is available to readers as an audiobook, so that's what I am working on now, and hope to have that ready to go by the end of the summer of 2021, if not sooner.
The key thing for me to do is stay tuned into the process and learn and enjoy every step of the way. I'm having a good time and I want to make sure all who purchase and read my book feels that energy.
Alright, so before we go, how can our readers connect with you to learn more and show support?
Visit dysfunctionbook.com, and follow me on Instagram @joyalantis.
Contact Info:
Image Credits
Doivoux Photography, Nondi Dunn Azareah Marshall
Suggest a Story:
 VoyageATL is built on recommendations from the community; it's how we uncover hidden gems, so if you or someone you know deserves recognition please let us know 
here.