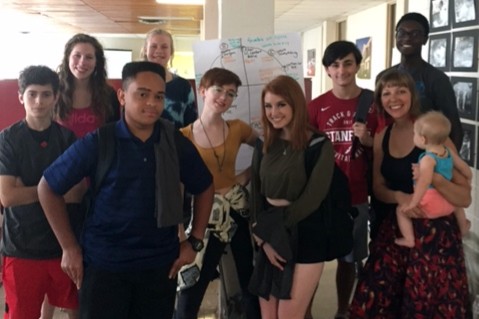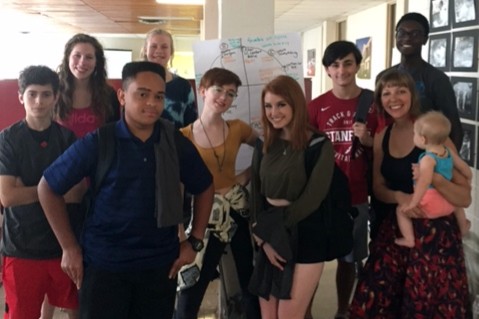 Today we'd like to introduce you to Julie Foster-Straw.
Julie, let's start with your story. We'd love to hear how you got started and how the journey has been so far.
I came to Atlanta for graduate school at Emory for public health. I was always interested in how film and the creative arts could help impact the community. I wanted to encourage teens to be healthy and to know their voice is heard and I thought the video was a good way to do that. After grad school I worked for the CDC in health communications and ran CDC's first video challenge for the public, I also started an after-school program in Bankhead neighborhood for teens with public health mentors and photography/video to help raise awareness about health issues students were experiencing.
I volunteered with Susanna to help produce an Ebola video with students in Atlanta and Sierra Leone during the epidemic. Students wrote an original song and produced a short video to help raise awareness and funds for teens overseas. This project helped put re:imagine/ATL in the spotlight. I continued to volunteer for a number of months writing grants and planning programs then decided to leave the comfort of CDC for the "unknown" at re:imagine/ATL (which was still in start-up mode with no employees).
I am so grateful that I took that step – we wouldn't be where we are today. I have been able to see the programs and impact grow over the years. It's amazing to see how Susanna can make connections with people from different industries and backgrounds to help the teens have a creative and impactful experience. I'm really thankful to see re:imagine/ATL grow as we build-up existing programs and add more youth-led initiatives.
Our program team works in schools across three major districts providing support to teachers and students as they produce original content to help their community. I am the only mom on the team but my 16-month-old is around the office pretty often and is part of the re:imagine/FAMILY. I think being a mom has helped me with work/life balance and consider parents more in our programming. I'm thankful that I have my dream job and get to work with inspiring teens and our growing team!
Has it been a smooth road?
Starting off it was difficult to secure funding. We would submit grants and only hear back from a few, we'd go to meetings and end up with no commitment but more leads but we kept at it. When we received funding from a pitch challenge with United Way of Greater Atlanta it helped us launch our first pilot. We chose Frederick Douglass High School because the principal got our vision, supported us being there, and there were very few outside organizations working at the school.
People in the community said it would be hard to work with kids there and it seemed like a lot of people just wrote the kids off as being "bad kids." The students I met there impacted my life, opened my perspective and I still stay in touch with them. It's difficult working at any Title I school because there are so many other factors students are dealing with. It's a huge battle (and WIN) if they make it in the school doors each morning and can be a battle to keep them engaged after school when they have to work to help provide for their family, they have siblings to watch, they don't have lights on, they have a single-parent home or guardians with mental illness… it's a LOT.
Personally, it was a struggle for me as I got to know the students better and learn about their home lives. We would connect with other organizations, social services, counselors and other NGOs doing work because we couldn't take it all on, and I learned it really takes a lot of time, consistency with students to build trust and relationships. There's so much going on and it really takes more time and resources than you think.
Transportation for the students has consistently been one of the biggest factors whether buses at school were inconsistent for after-school work or too expensive for a field trip. Getting students around the city by providing Marta passes has been difficult too. We never want transportation to be a barrier for students so we try to go to them or be at Marta-accessible locations but this isn't always possible.
So let's switch gears a bit and go into the re:imagine/ATL story. Tell us more about the business.
We empower the next generation of storytellers by connecting them to resources and mentors in film and digital media.
We provide teens throughout the city opportunities to produce and distribute their creative content. Student's work has been shown the opening night of the Atlanta Film Festival, at Midtown Art Cinema, Woodruff Arts Center, Avondale Towne Cinema, on Atlanta's newest platform, THEA and with local and national coverage. We help students build direct connections with professionals and a network of support as they discover what they're interested in and their career path.
I'm most proud of the students in our program and what they create. I love seeing their ideas from storyboarding/conception become a final product they are proud of on the big screen. I also love being there for "aha" moments when they realize they can do what they're dreaming up and that we're here to support. I especially love when our students inspire and help other teens and adults. For example, one of the student's videos was the experience of someone who intersects with the black, Muslim, and LGBTQ+ communities and the video was used for another teen in a different state to come out to their parents. https://www.youtube.com/watch?v=NNl26J4iFTw&t=23s
Another example of students using video (and music) to help others is this original music video by students at Frederick Douglass High School https://www.youtube.com/watch?v=IUHLCWPB-bk. Willie wrote the song, performed in the video, and edited it. I'm so proud of him and I couldn't do what he did. He continues to write and record music (@1williebless). The students named their group "positive creators" for the project and put out a positive message to their peers.
For some of the students, it was their first time outside of their neighborhood, filming on the Beltline and around town was great exposure and I think we provide a lot of opportunities for students to discover new neighborhoods and careers. Last year we took our teens where a lot of adults don't even get to visit like behind the scenes at Turner, Adult Swim, cruise to the Bahamas with Sixthman and many other once in a lifetime adventures with people who care about the teens, their voice, and their future.
Outline of programs we offer:
in-school program (4-6 weeks, using film to help address a social issue), mobile workshops (focused on specific careers and skills needed for film/digital media industry), our teen-produced network (crews of students are trained in production and film their stories throughout the city). We're working on an internship program with students to help directly connect high school students to job training at major studios throughout the city like EUE Screen Gems and Third Rail Studios.
How do you think the industry will change over the next decade?
I see us growing and having the programs in more schools across Atlanta, different areas of the US and more international collaborations with young creatives overseas. I also see us helping build more infrastructure and local talent for Georgia growing movie industry. I'd like to see more showrunner and above the line jobs in Atlanta and I think our teens will help be the future of the industry for film and digital media. Virtual reality will be incorporated more as it becomes more accessible to create and consume it.
We're starting this year off with a workshop at Futurus where students will actually create and interact with objects in unity space they are part of. I think a lot of the jobs in film/media haven't been invented yet (who would've thought you could be an Instagram Influencer 5 years ago?). No matter how the technology changes, I'm confident students in our programs will be sharp problem solvers, empathetic towards others, leaders and strong storytellers.
Pricing:
Crash Course (Saturday workshops) are $40/student Register at reimagineatl.com on 2/24 we have our first Crash Course at Futurus for Virtual Reality creation
Contact Info:
Getting in touch: VoyageATL is built on recommendations from the community; it's how we uncover hidden gems, so if you know someone who deserves recognition please let us know here.