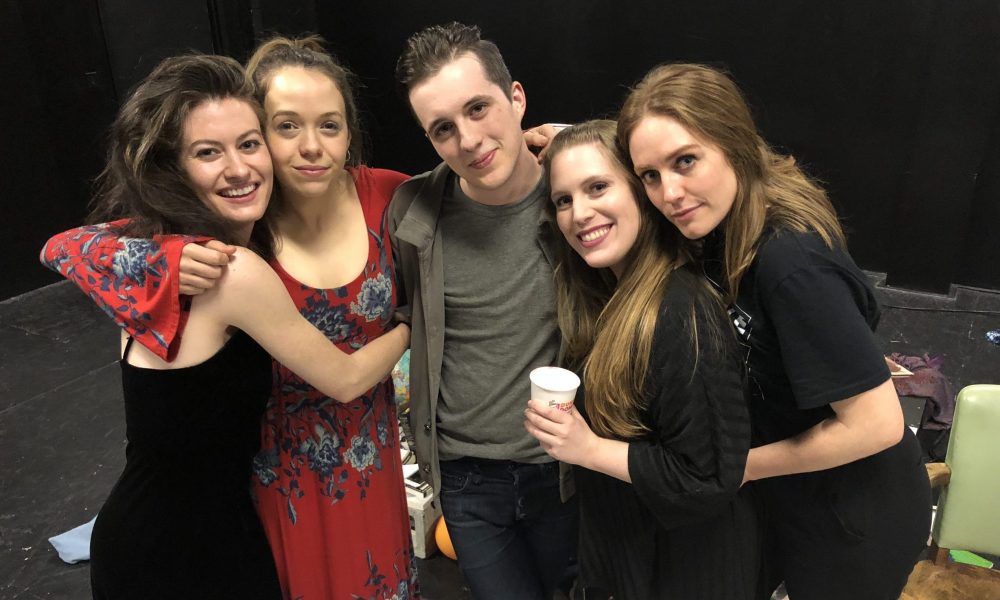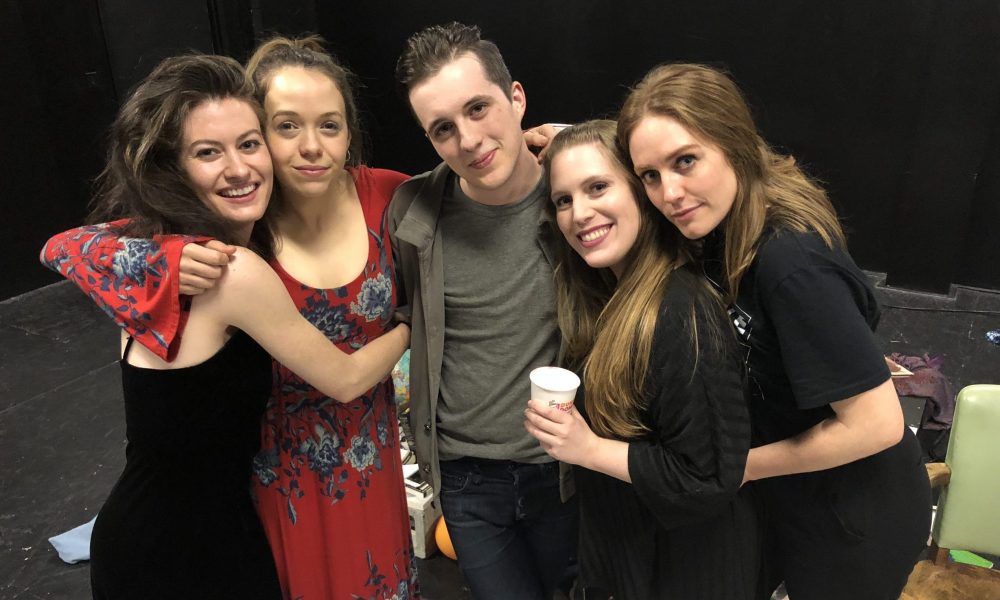 Today we'd like to introduce you to Kathrine Barnes, Erin Boswell, Sawyer Estes, Lindsey Sharpless, and Erin O'Connor.
Kathrine, Erin, Sawyer, Lindsey, and Erin, please share your story with us. How did you get to where you are today?
The story of how we found each other is long and complicated, but the short version is that over the course of about a year, our 5 co-founders were brought together by fate and shitty gigs and Facebook. We had a passion for subversive, adventurous ensemble theatre and weren't sure how we would fit into the theatre landscape we were finding in Atlanta, so we decided the best way to do the kind of work we loved was to make it happen ourselves. We knew what kind of artists and company we wanted to be, but we didn't know much else. Including how we were ever going to find a space in which to perform.
Cut to Kathrine chugging wine alone in a corner of an event in the Fall of 2016, eavesdropping on Rob Mello telling people he wanted to turn one of the rooms in his acting studio into a black box theatre. She cornered him, and he built out the Black Box at The Robert Mello Studio weeks later. Rob gave us the venue we so desperately needed, and so we began rehearsing Sincerity Forever by Mac Wellman. We assumed that the play (which would open in December of 2016 and which features 6 white people dressed in KKK robes, 2 profane aliens and a black, female Jesus H. Christ) would, at worst, serve as a commentary about having dodged a political bullet that November.
And then the presidential election happened, and the show changed. Everything changed. Suddenly, this play, first performed in 1990, had chilling renewed relevance. We opened in this context, and the response from our audiences was overwhelmingly positive. Rob was there on opening night and offered us a permanent home, partnership, and friendship. Without a doubt, we would not be where we are without his commitment to providing an affordable space to us and other emerging artists.
Now that we had begun to establish our mission and place in Atlanta, we felt like we had to expand upon the last production with something new and completely our own. This feeling prompted Sawyer to reconsider one of the more famous ancient Greek texts with an original play called Medea Unborn. By skewing the timeline so that Medea is five months pregnant with twins at the start of the play, this new narrative allowed us to focus almost entirely on a parallel we see between the heart of that play and current American discourse: reproductive rights for women and the debate over when life begins.
Written in verse and utilizing movement, music, and film, Medea pressed the limits of form while simultaneously telling a very human story that addresses societal ills. Some audiences were outraged, others were moved to tears, and still, others were dumbfounded; this is exactly what we set out to accomplish.
At this point, we'd worked on some heavy material, but that was always an incomplete portrait of the kind of work we wanted to do. So we put up our most recent show, Anna Bella Eema by Lisa D'Amour, about a mother and her daughter, who makes a little girl out of the mud in their trailer park. It was a pure celebration of being human, storytelling, creation, growing older, and banging pots and pans together to make noise that somehow becomes music. We wanted to make our audiences feel more alive, if only for 90 minutes, in our own distinct way.
Anna Bella Eema only recently closed, so right now, we're hard at work on our next projects and are excited about what they'll add to our story.
Great, so let's dig a little deeper into the story – has it been an easy path overall and if not, what were the challenges you've had to overcome?
Woof. Starting a theatre company is a massive undertaking and it is still a struggle to find and utilize resources, if any, available to an independent theater company. When we first tried to get VST up and running we thought we could replicate models we saw in other markets, specifically using a combination of public, private and immersive venues. We were met with resistance from potential collaborators when we pitched an idea to do our first play in a living room, a bar, and a parking lot full of cars, which would have been both artistically satisfying and financially feasible for us.
Unfortunately, it seemed impossible to find a more traditional space within our budget, which was almost nonexistent. Some of the popular rental options in Atlanta cost as much as an Off-Broadway venue. So, honestly, VST almost ended before it began. It wasn't until nearly a year later that we regrouped (with 2 new company members), met Rob Mello, and finally had the people and the means to make it happen.
And now that we're off the ground, creating the work while sustaining the company and our own lives is a challenge and demands endurance. It takes a massive amount of energy to balance our personal and artistic endeavors, as we all work day jobs (Kathrine has 6) and still have to take on the administrative and creative roles that are inherent to building a company.
Alright – so let's talk business. Tell us about Vernal & Sere Theatre – what should we know?
VST's mission is to present imaginative, difficult, avant-garde theatre that makes no apologies or concessions. Our company name is a prime example of this vision. Samuel Beckett coined the phrase when describing a woman in his short story First Love, saying, "It looked neither young nor old, the face, as though stranded between the vernal and the sere. Such ambiguity I found difficult to bear…"
To us, ambiguity is key. We are drawn to work both classical and new that straddles the line between vernal and sere, fertility and barrenness, sacred and profane, happiness and grief. We ask our audiences to plunge headfirst into the void between these polarities and then reorient themselves to the difficult reality of being. We stage under-produced, undervalued plays that tend to scare and challenge producers, audiences and actors in order to actively combat what Mac Wellman refers to as "the theatre of the already known", which encourages complacency, reinforces the status-quo, and doesn't ask its audiences to participate in the theatrical experience.
To put it plainly, our priority is to ask our audiences questions rather than give answers. We're becoming known for our heavy focus on ensemble, our incorporation of movement techniques, exploring possibilities of form, doing shows with non-traditional language, and for the treatment of the theatrical space as sacred, where upon entering the theatre we leave behind the tedium and routines of daily life; because of this, we often disregard conventions of curtain speeches, curtain calls, and other practicalities.
This kind of work excites us, but it is equally rewarding to see our audiences walking away with a sense of curiosity about this type of theatre. We are so proud that our audience has doubled in size with each production because we weren't sure anyone was going to show up for the first one. Not only have they shown up, but some audience members, often those who are not solely theatre professionals or traditional theatre-goers, have come back 3, 4 or 5 times per show.
We're proud that our productions create conversation and interest in the content long after the performance has ended, and we're beginning to see a community form that is centered on the work itself, which is what we set out to do in the first place.
Is there a characteristic or quality that you feel is essential to success?
Without a doubt, the people. The quality of the work we do is totally dependent on our company partners, all of whom provide multidisciplinary perspectives and collaborative tools. We're so lucky to have found each other because each one of us has such essential and unique strengths (cumulatively, we have run a rave circus, studied with Edward Albee, trained in puppetry and Margolis-Brown mime method, stage-managed the national tour of an immersive production, trained in Suzuki and Williamson techniques and studied ballet for 16 years).
We've all picked up such a variety of skills and experiences along the way, which were able to draw on to ensure we're not just the weird, violent theatre company subverting and shocking for the sake of it. Everything we do is with intention; we want everyone to be able to come to see our shows without feeling alienated. So all of our choices, even those that explore the limits of form, are grounded in our desire to uphold the honesty and reality of the human experience.
Pricing:
Tickets to all shows cost $15
Contact Info:
Email: vernalseretheatre@gmail.com
Getting in touch: VoyageATL is built on recommendations from the community; it's how we uncover hidden gems, so if you know someone who deserves recognition please let us know here.