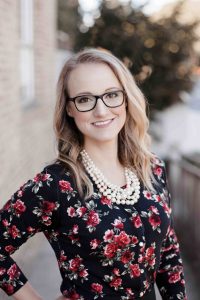 Today we'd like to introduce you to Kathryn Burmeister.
Thanks for sharing your story with us Kathryn. So, let's start at the beginning and we can move on from there.
At a young age, I developed a passion for the law and helping others. I started rescuing stray animals in sixth grade, much to the chagrin of my parents. In middle school, I read "To Kill A Mockingbird" and "Letters from a Birmingham Jail," which entirely directed my trajectory towards becoming a lawyer. The idea of standing up for what was right in a peaceful way for meaningful change, like MLK did, and the ability to do that as a lawyer, like Atticus Finch did, caused me to have an epiphany. From that point on, I was set on becoming a lawyer by giving a voice to the voiceless. The powerful words, "Injustice anywhere is a threat to justice everywhere" have had a profound effect on my worldview, to the point where I cannot sit idle while injustice exists around me. 
From my last year in high school onward, I gained exposure to the legal field through jobs in a variety of firm environments. During my last year of law school, I had the opportunity to work at a personal injury firm. As a long-time animal advocate and rescuer, my ideal passion was animal law. Unfortunately, this area of law is extremely niche and very limited to certain locations in the country, none of which were in the southeast, where I already had established ties. Fortunately, the exposure to personal injury law showed me that I could still help others that would otherwise not have a voice; individuals injured at the fault of someone else, just trying to receive compensation for their medical care.
From then on, I set my sights on working in a firm that allowed for growth and one-on-one contact with injured clients. Studying for the bar exam was beyond challenging for me. Not that I didn't know the material, of which there seemed to be an infinite amount, but the pressure of so many years culminating with one test pushed me to a new point of stress. I missed by 1-2 points for my first two attempts but passed on my third try.
Luckily, I found a job, just before the results came out, in a firm that seemed to promote the ideals for which  I was looking.  Unfortunately, after that Christmas, I was told by the partner that I was "a luxury that [he] could not afford," and he terminated my employment. I held out for another plaintiff's position (as opposed to going to work for a defense firm representing an insurance company) and found one in February 2016. A partner who had been practicing for 30 some-odd years and two associates close to my age made up the attorneys for the firm. In a short amount of time, I learned a lot by doing and being nurtured professionally by the partner and associates. This was truly an environment that I was excited to get up every day and go to because of the challenges, colleagues, and clients. This feeling continued through July 2017. That month, the senior associate became co-partners with the founding attorney. The transition went relatively smoothly. Then, at the beginning of August, in a tragedy that devastated his friends, family, and colleagues, the founding partner committed suicide. He had been stealing clients' money for eight years. With none of us employees (attorney or staff) having access to bank accounts, none of us knew so we were not able to prevent the horrific impact to our clients.
The dream job quickly became an absolute nightmare that didn't seem to have an ending. After a series of hard decisions, the newest partner, myself, and one paralegal decided to keep things going as a firm ourselves. This continued for a little over a year. During this time, I managed the cases, day-to-day interactions with clients, and a number of administrative tasks. Despite every attempt to keep the partner engaged, nothing worked. After hitting my "rock bottom" in July 2018, I knew that I could not continue on this path.
Something had changed. I no longer felt obligated to answer to others and justify my worth. I had intellectually known that I didn't want to do those things but actually feeling comfortable and confident in those decisions had been completely outside my reach until that point. I decided that I was not going to work for someone whose business I cared more about than them and I wasn't going to go work for another person again. I had never wanted my own business or firm but at that moment, I saw that as my best environment. I essentially ran a firm for a year and proved to myself that I could do it. In October of 2018, I officially launched Burmeister Law Firm and have never looked back.
My passion for helping others is what keeps me going and the ability to have autonomy is what also gets me through the challenging times. I work more than I ever have before (and I worked A LOT before) but it is in a different and so much more rewarding way.
I decided about a year ago to write a book about my rock bottom in an attempt to show other professionals that being addicted to the status quo of our professions and modern lives is not fulfilling in the long-term. We are the only ones that can take back control of our lives to set boundaries and make purposeful life decisions that truly align  with what matters most to each of us. My book is in the final stages of editing and is expected to be released in the next couple of months. I will also be undertaking speaking engagements on my book, experience, and the ability to live a professionally successful life, while also maintaining a relative balance. In the end, you're never going to look back and wish you had worked yourself into the ground or had more "things.", no matter how much you love your profession. You'll wish you had more time to enjoy life's greatest experiences with those you love.
We're always bombarded by information detailing how great it is to pursue our passion, etc – but we've spoken with enough people to know that it's not always easy. Overall, would you say things have been easy for you?
While many aspects of my life have provided comfort (e.g. living a life of white privilege and having a stable family life from birth), there are two things that have not made things easy. I have lived with depression and anxiety for the majority of my life. I didn't know what it was initially and it wasn't formally diagnosed until college, but being your own worst enemy due to a chemical imbalance has the potential to be absolutely debilitating. 
Though these diagnoses have been exhausting at many points, they have also taught me to have compassion for myself and others, to believe in my abilities, and to be extremely introspective, which have  all led me to who I am, and how I help others today. 
Please tell us about Burmeister Law Firm.
Burmeister Law Firm was founded in October 2018 and focuses exclusively on personal injury cases. I handle all types of personal injury. If someone has been hurt at the fault of someone else, I will represent them. From car wrecks, trucking cases, traumatic brain injuries, slip and falls, dog bites, dental malpractice, medical malpractice, motorcycle, pedestrian, and more. I, unfortunately, do not have a shortage of ways that my clients come to me.
My firm is different from others because I focus on the relationship with the client as an individual. Many firms work a large amount of cases to feed this monster they have created. A monster that requires one to keep up appearances in a profession that is exceptionally unforgiving. The ability to not succumb to that pressure and, instead, focus on the quality of legal representation each client receives, truly sets me apart from others. The values that dictate how Burmeister Law operates include integrity, professionalism, and holistic legal representation. Unfortunately, so many lawyers sacrifice these values to make money.
My mission is to compassionately guide personal injury victims to exceptional legal results through ethical, dedicated representation by addressing and remedying every aspect of clients' suffering. I measure success by the number of lives mad whole, not simply dollars recovered. Because of this focus, my clients have a relationship with me that they would otherwise not have while going through a tumultuous part of their life.
Another aspect that sets me apart is my sincere ability to empathize. It's part of my personality but it's also something that I have fostered over the years so I can connect with people and truly see what they are experiencing. This allows me to share their story and communicate how their injury has so drastically shaped their life.
I am truly proud of my firm, which includes my team of five support staff, for the ability to handle cases, large or small, with a focus on the quality of representation, the personal relationship with the client, and putting my clients in a better position than they would have been without my representation.
Has luck played a meaningful role in your life and business?
Luck has played a pivotal role in my life and business. First, being born to a white, upper-middle-class family as an only child allowed me opportunities that might not otherwise have ever been presented, especially if I had been born to a family in a much different socioeconomic position. Secondly, being born to parents that believed in me and encouraged me every step of the way, allowed for me to overcome challenges and get back up to move forward.
I also believe that even bad luck has played a good role in my life and business. If not for the experiences of overcoming adversity, I wouldn't have developed the grit to be where I am today. Not succeeding the first time on many things, living with depression and anxiety, and encountering highly dramatic experiences early in my life and career have truly shaped me as a person. 
The happenstance of MLK and Atticus Finch being at the epicenter of a time and place where legalized racism ran rampant and embody a challenge to it was novel. This allowed them to embrace where they were and take it upon themselves to make a positive difference for others. I am definitely not MLK or Atticus Finch but I do believe that the happenstance of me being in a time and place where a multitude of negative events converged allowed me to embrace where I was and take it upon myself to make things better for myself and others. 
Contact Info:
Address: Burmeister Law Firm
300 Colonial Center Parkway, Suite 100
Roswell, GA 30076
Phone: 770-450-1155 (Burmeister Law) 770-359-0021 (Kathryn F. Burmeister, Author, Speaker, Attorney)
Email: kathryn@burmeisterlawfirm.com kathryn@kfburmeister.com
Instagram: @burmiesterlaw @kfburmeister
Other: linkedin.com/in/kfburmeister
Image Credit:
Emilie Nash Photography
Suggest a story: VoyageATL is built on recommendations from the community; it's how we uncover hidden gems, so if you or someone you know deserves recognition please let us know here.