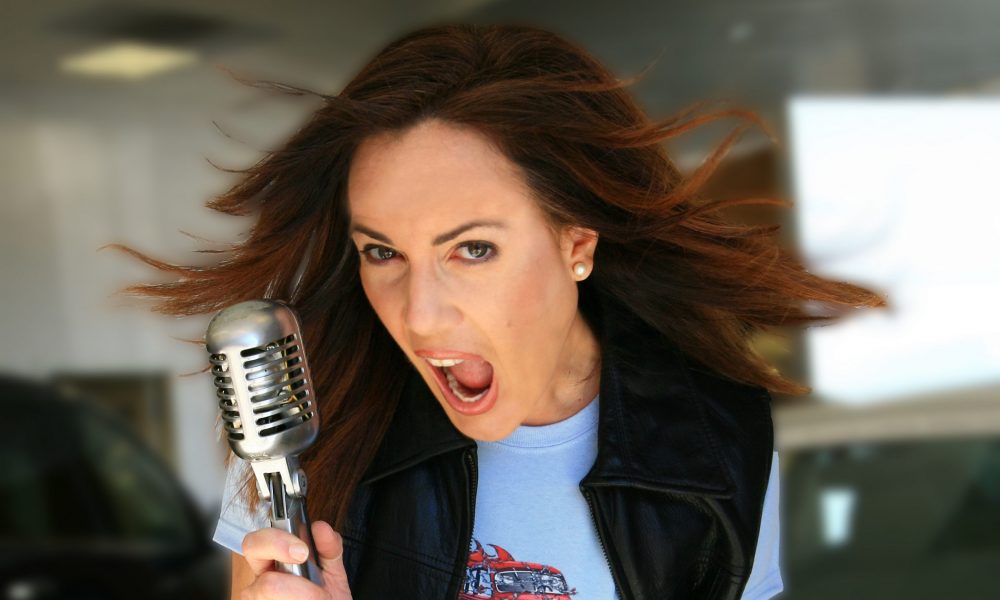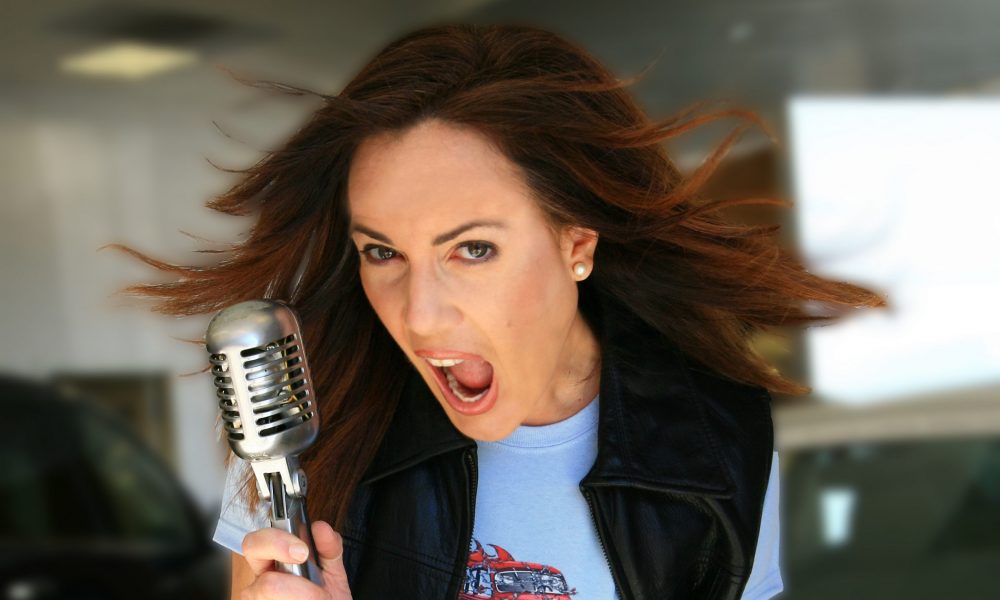 Today we'd like to introduce you to Kelley Buttrick.
Kelley, can you briefly walk us through your story – how you started and how you got to where you are today.
It's embarrassing to confess, but I was doing voiceover before I knew voiceover was even a thing. Years ago, working as a promotions director at KIIM-FM in Tucson, AZ, the production director would bring me into his studio to voice radio commercials directed by ad agencies, and I had no idea the "VO" on the script was something a person could do for a living. When I left to move to Florida, that production director offered to make a voiceover demo for me as a going away gift.
DING DING DING! It was then I realized voiceover could be a full-time job–my own business. Using that voiceover demo, I started doing freelance VO on the side of whatever other jobs I was working. Atlanta coach Paul Armbruster helped me master the "real-person" read along with other popular voiceover styles. He was an incredible talent, teacher and my dear friend. He gave me the tools I needed to make voiceover my full-time job. His loss was deeply felt throughout our industry.
In 2010, I installed a professionally-equipped home studio and launched KB Voiceovers here in the Atlanta area. My education and background were the foundation of my voiceover business, and I'm still reaping the harvest of seeds planted back then through marketing and PR efforts. I've voiced for household names like Disney, Amazon and Kraft along with so many others including Atlanta's own Coca-Cola. I absolutely love what I do for a living! Being a voiceover talent, I get to work with incredibly creative people and every VO session is an opportunity to learn from and be inspired by them.
In the beginning, well-meaning business advisors warned me to always maintain a professional distance. I ignored them. Instead of viewing my colleagues as competitors, I see them as collaborators, and most of us in the voiceover industry see each other that way. We not only refer one another but support and champion each other as well. So many of my clients also become personal friends. How could you not want to foster friendships with such fun, passionate people? We brainstorm together, are wingmen at networking events, and even attend big SEC rival games without killing each other.
Because my clients are also my friends, their pain points are my pain points. Any day now, we will go live with a free app I paid to have developed as a gift to my clients and potential clients. 85-90% of my commercial sessions are delayed because the copy has to be cut in order to fit into :30 or :60 slots and those delays cost my clients not only time but money. The free Time Your Script app will be available in the App Store and Google Play. People can either put in the number of words or copy and paste their script into the app to get a total time calculation.
To make this app, I hired two local high school seniors, and they nailed it right out of the gate. Of course, I was concerned about their age and lack of experience, but the app looks and functions beautifully. Working on it, they were inspired to create their own company, mSquared Developers, which they will operate as a way to earn money to attend college. One starts Kennesaw State's Honors program, and the other starts Georgia Tech in the fall.
My talented friends and I have also come up with other fun free stuff for creatives like a calendar of content ideas and award deadlines, an old-school print and fold paper toy full of idea starters, and I started a blog featuring many of my clients as guest writers where we mine music for business advice written for people working in creative industries. The fun free stuff and Business Practice Playlist blog will be going live any day now at CoolFreeStuffForCreative.com and BusinessPracticePlaylist.com.
All that said, like anyone working in the gig economy, I can never forget that KB Voiceover is a business. The buck literally stops with me. I have to constantly be marketing, watching my bottom line, hiring vendors, upgrading my gear, and the list goes on and on and on. As a business owner, I'm always on duty. There are no "store hours."
One of the biggest wishes I have for my business is that it provides an example for our daughters that they can follow their passions and make a living at them if they work hard, let their hearts drive them and think like savvy business women. Our youngest daughter also does voiceover and loves it. We worked on an ad campaign for Children's Healthcare of Atlanta together, and she's done VO for Five Below, Six Flags, General Mills and many others.
Since starting KB Voiceovers, I've voiced national commercials for brands like L'Oreal, Michelin, Country Crock, Nature Valley, Valvoline, Pampers and so many other well-known companies working through my awesome agents or directly with my clients. My voice has been used on channels like ESPN, ION Network, Tennis Channel, and I'm a regular promo voice for HSN.
Some of the brands I've voiced video projects for include Amazon, IBM, Garmin, Clinique and Atlanta-based Centers for Disease Control and The Home Depot. A few of the more unique jobs I've voiced include video games, the Amtrak Acela Express trains and a fun session for Atlanta's UPS creative team giving a voice to their UPS Access Point Lockers.
While projects I've voiced have won awards like ADDY's and even an Emmy. KB Voiceovers has also garnered business and creative awards like four Telly Awards for video content my team and I created, Studio Daily 50 honoring innovators in the production industry, and the Bulldog 100 recognizing the 100 fastest growing business owned by UGA alumni.
Has it been a smooth road?
Raised by parents who each had their own small businesses, work-a-holic tendencies are in my DNA. Over the years, I've struggled with work/life balance and have come to realize that is an impossible dream. Instead, I strive for work/life integration.
Freelancers, aka "Gig Economy" workers, represent 35% of the US Workforce (Freelancing In America, 2016, UpWork/Freelancers Union). That statistic came in two years ago, so I imagine the percentage is higher today. I would also assume most of us out here are facing that same work/life struggle.
My definition of successful work/life integration is when my family isn't irritated by my work schedule and my clients aren't negatively affected by what's happening in my personal life. To do that, I employ various tactics like prioritized day planning, taking a deep breath before saying "yes" or "no" to anything, focusing on being in the moment be it a voiceover session or a family dinner and regularly checking in with my husband and daughters to make sure they know they're my #1.
So, as you know, we're impressed with KB Voiceovers – tell our readers more, for example what you're most proud of as a company and what sets you apart from others.
I am a professional voiceover talent.
What is voiceover? Well, simply put, it's anytime you hear a voice and don't see the person speaking be it a TV or radio commercial, website video, animated film, video game, in-store announcement, audiobook and the list goes on and on and on.
Most of my work falls under commercial and corporate, and I'm known for delivering a "real person" read where I make it sound like "0% financing" is something you and I are chatting about over coffee. In addition, I'm booked for a variety of VO styles like friendly, warm, authoritative, high energy, soft sell, medical and authentic.
There are hundreds if not thousands of female voiceover talents in the US who I sound similar to, so competition is fierce. It's difficult to stand out in a sea of sound-alikes, but my clients often comment that the reason they continue to book me is my quick adaptation to direction, professionalism and the fact that I genuinely care about them as people.
On average, I voice 4-7 sessions a day, mostly commercials and video narrations, in a 4×5 soundproof booth in a windowless sound treated room in my basement. Needless to say, I love it when a client wants me to voice on-site at an Atlanta studio where I get to work live, in person.
Some of my favorites projects include (not in any order):
-Country Crock National TV Commercial
-L'Oreal National TV Commercial
-Yamaha Boats National TV Commercial
-Nature Valley National TV Commercial
-ESPN "Women of NASCAR" TV Narration
-Michelin National Radio Commercial
-Coca-Cola National Radio Commercial
-Whole Foods National Radio Commercial
-Children's Healthcare of Atlanta Ad Campaign with My Daughter
-Tamara Bellet in Knee Deep Video Game
-Female Promo Voice of HSN
-PGA Tour Video Narration
-Feeding America Video Narration
-Centers for Disease Control Video Narration
-Voice of UPS Access Point Lockers
-Onboard Voice of Amtrak Acela Express Trains
-Live Announcer for Orlando ADDYs
-Live Announcer for Event in Las Vegas
-Live Announcer for Event in Mercedes Benz Stadium
Not long ago, I did something no voiceover talent had ever done and launched a full-scale marketing campaign pitching Jeep on using my voice for their brand. The content my team and I created won 4 Telly Awards and garnered almost 25% of Jeep's Twitter voice. While Jeep has yet to deliver on their head of advertising's promise to reach out if an opportunity arose, my bottom line increased by more than 30% based solely on my KB4Jeep efforts.
What humbled me to my core was the surprising side effect it had on my voiceover colleagues and even people outside of our industry. Hundreds of cards, posts, texts and emails came in with stories of how my KB4Jeep campaign was inspiring others to act on their passion projects and go after their dream clients. More than a year later, people are continuing to share their incredible stories inspired by my crazy off-road marketing adventure, and in turn, their stories inspire me.
While it was never my intent to sell KB4Jeep's content, rather it was to use the content to sell my voice to Jeep, it's my content that sparked a new partnership with Drew Tutton of Ed Voyles Chrysler Jeep Dodge Ram in Marietta. Drew and I are going to spend the next year creating fun automotive videos that any driver will find helpful. In addition to concepting the content, I will also be doing on-camera and VO work for the video series. I'm so excited to launch this new chapter of KB4Jeep!
Our connection came about because of a forward-thinking FCA (Jeep's parent company) Commercial Sales Manager, Scott Vickery. He and I share similar ideas about automotive marketing, and like me, Scott counts his clients as friends. I hope I do him proud in this new KB4Jeep adventure. Voice and sound are hot topics these days with virtual reality, audio branding, ASMR and other technology and philosophies making headlines. As I grow KB Voiceovers, I would absolutely love to be the true voice of a brand.
Companies are militant about their visual representations from Pantone colors and logo placement to font choices and the type of paper they use. I believe the same consistency should be applied to the sound of a brand. One professional voice talent can be the engaging voice on a commercial, the casual voice of a website explainer video, the fun voice on social media content and so much more covering all the styles needed to be the brand's varied emotions communicated via audio.
Let's touch on your thoughts about our city – what do you like the most and least?
I love that Atlanta is such a hotbed of creative work from all kinds of different sources.
The city seems to almost vibrate with it. Creative ideas are constantly buzzing across industries, and it's amazing to voice for some of those incredible ideators. Like probably anyone asked what they like least about Atlanta, I'll shout out traffic.
Driving a 6-speed is not fun in rush hour, but at least it's a Jeep Wrangler so I can put the top down and get some sun while catching up on a podcast for a couple of hours.
Contact Info:
Website: kbvoiceovers.com
Email: kb@kbvoiceovers.com
Instagram: @kbvoiceovers
Facebook: Kelley Buttrick Voiceover Talent
Twitter: @KB_Voiceovers

Image Credit:
Pitter Goughnour, Jason Thrasher, Sara Noto, Spencer Herzog
Getting in touch: VoyageATL is built on recommendations from the community; it's how we uncover hidden gems, so if you know someone who deserves recognition please let us know here.