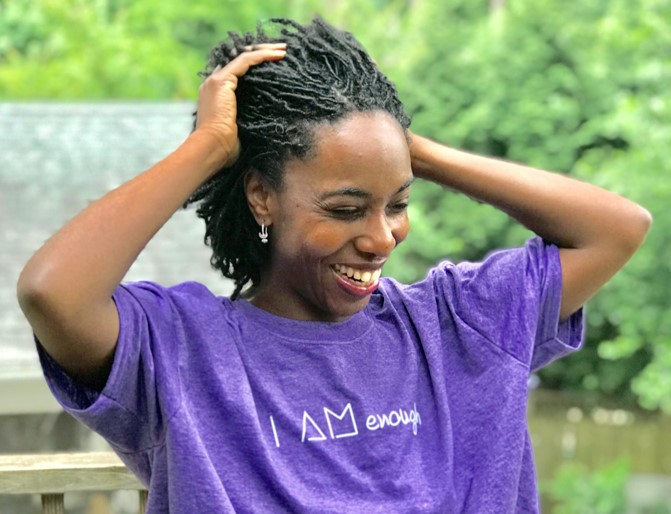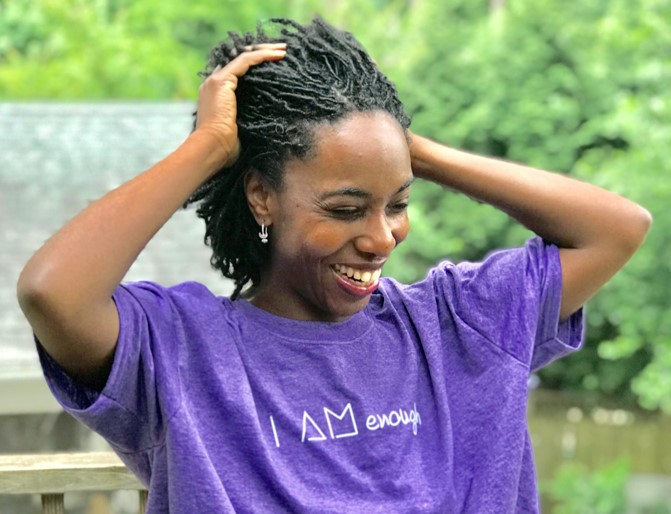 Today we'd like to introduce you to Khadeshia Beam.
Thanks for sharing your story with us Khadeshia. So, let's start at the beginning and we can move on from there.
First thank you for making time to interview me voyage and thank you Satorial Morgan for connecting us.
From a inner place: My love and calling to this path of wellness through yoga (mindfulness, intuitive eating, self-study, union, meditation,asana,selfless service, pranayama,) is born out my relentless search for true love, awareness of my need to heal from trauma, toxic emotions, conditional love, childhood wounds, mental overload and generational cycles.  Our healing or dismissal of the need to heal shapes all aspects of our world to include our overall well-being/health, mind, body, spirit, relationships, life work, purpose and creativity.  Cultivating a lifestyle of holistic wellness allowed me to and allows me to connect more deeply to God and my true self which guides and empowers me to do the work I do with my traveling wellness center. The name Akoma (Heart) Bloom Wellness literally comes from me noticing that through holistic wellness/yoga the heart expands. When our hearts bloom we become a movement of love. We discover that true love is within us and must begin there. We want to experience and share joy. We delight more in taking care or ourselves and no longer see it as a task. This allows us to give unconditional love to others.
From a human and entrepreneurial place: I love helping people. It really is that simple for me. My entire life from childhood to adulthood, I have wanted to do meaningful work. When I was 9 years old I started my own business writing and selling short stories at my mother's job.  My mother worked at child protective services, so many of these workers were bogged down with cases. However, they looked forward to buying my short stories for 50 cents each week. My stories were keeping them connected to their inner child and bringing laughter, love and fun to their work day.  As I am sharing this I see that this is what I am doing with my corporate yoga classes, holistic workshops and yoga classes in general. I am giving people something to look forward to that reconnects them to that inner child, untainted love and gives them a moment of peace in a day that may have been filled with mental overload, physical pain, deadlines and responsibilities.
When I opened my second business shortly after moving from Brooklyn to Atlanta in 2006, my sister Jamie showed me the basics of product making and encouraged me to make natural products as a way to have supplemental income and have more time with my son since I was a single mother.  My cousin Raqiyah gave me written resources, minerals and jars she no longer needed from her body product business. I purchased my first bulk of Shea butter along with some uncut fragrance oils from the west end and I began mixing in my kitchen. People were in love with the fragrances and texture of my K. Beam Custom Butta body and hair products and once again there was that connection of love, laughter and service just like my short stories. Immediately, I began moving back into that entrepreneurial mind set from 9 year old me.  I had regular customers with no product labels, website or real business card for the first year. Talk about an anything is possible moment! However, I worked a  full time 9-5 for years which put my business on the back burner.  I eventually became uninspired with continuing my body and hair product business for many reasons. At the time I did not fully understand why I was letting go of this business, the full reason would come to me years later through my yoga and meditation practice.
The presence of yoga: I would love to begin at my very first physical yoga class which happens to be at home with a Kemetic yoga DVD a friend gave to me in 2006. Though, I had been meditating most of my life without having realized, it was not until I was formally introduced to meditation, self help books and audios by my cousin Raqiyah in 2005 that I became aware that I was practicing mindfulness simply by spending time in Brooklyn parks, writing short stories, poems, journal entries and spending quiet time alone throughout most of my early childhood. The physical practice of yoga presented a different type of focus. The movement felt familiar to my spirit as if it was something I had done before and was returning to. I remember feeling my body in a very different way. It was as if I was exploring much more than just movement. I was experiencing an emotional, mental, and physical connection all at once. In that moment, I knew yoga was something I needed. Who knew years later that it would need me.
Over the years yoga showed up in my life on and off again and at one point I remember thinking, if I could teach yoga for a job, I would be so happy. I continued to practice meditation and yoga over the years. In 2010 when I became pregnant with my youngest son, I began doing prenatal yoga at home via Netflix. During my pregnancy with my youngest son many of the same fears arose and as my first pregnancy. I wondered if I would be a single mom again if my partner would be faithful this time, would we get married soon and would he provide for our family. I was so consumed with my fears that it was hard to acknowledge my partners fears as a new father. My mom had also just gotten diagnosed with breast cancer so I was often back and forth from Atlanta to New York. So in addition to my relationship and pregnancy concerns, I feared loosing my mom.
Throughout my pregnancy, I practiced prenatal yoga from home to help me stay calm and connected to my baby. Through my prenatal yoga practice, I was learning how to not only sit with my most difficult emotions, I was cultivating self-intimacy through yoga. I was getting to really know myself and love myself more, learning my body all over again, noticing thought patterns that were not healed and allowing myself to be more vulnerable in my relationships gradually. Inside of being more vulnerable I felt weak and somewhat powerless. It would not be until years later that I would learn the strength in vulnerability through consistent yoga and meditation practice. Through my yoga practice, I was learning how to show up for myself more and grow as a being, mother and partner. My practice did not take away my internal pain but it bought an awareness to what was underneath it.
A year after my youngest son was born my mother transitioned, I began to deepen my yoga and meditation practice as suggested by my reiki practitioner and holistic counselor Dr. Fanike Olugbala. I thought I had done most of my self-work and then my mom transitioned and that called me to dig even deeper. I began learning that I was carrying childhood wounds and fear of abandonment due to separation from my mom during my early teens. Not being fully aware of this formed much of my adult suffering, shaped me and my relationships. If it was not for my moments spent in meditation cultivating mindfulness, I believe it may have taken a lifetime for me to begin understanding my pain, self-sacrificing compromises and lack of self-love. And that's just the heavy stuff. But what about the power that I had but was not using in my everyday life. I was working at a job that I was not connected to and contradicted my wellness values, closed my skin and hair care business because it was a lot of work and too many people were doing the same thing. My romantic relationship was on this constant high low pattern and needed healing.
There was so much that I thought was small but I was getting depleted from all of these things that were made to be a day in the life. I began to discover that I was unhappy. I had no clue how to make myself happy or how to really experience happiness until I began adopting holistic wellness as a lifestyle. This wasn't just my yoga practice, but my overall thought process, focus, perceptions, feelings about myself that came from my upbringing and life experiences, my eating habits, my music, environment and people in my life. The next nudge to change my life came in 2016 when I got fired from my full-time administrative assistant job and my oldest son ran away from home. Shortly after I was fired, a temporary opportunity at a local high school was offered to me. I actually liked this job, but the driving force behind me being there was my son. I wanted my son to attend this great high school that I worked at this way I could monitor him everyday LOL! Yup, that's actually how my mind worked. If only we can be everywhere our children are they'll never make those bad choices that maybe some of their greatest life lessons.
When my son ran away, I looked for him everyday for six days along with my significant other, baby brother and his dad. I was out of work during this time. Day 6, I remember my significant other encouraging me to go to yoga and stop looking and to let him and my brother resume the search. I decided to stop looking and my son was found by my brother the next day. The only thing that I could do besides look for my son, cry, pray, and worry was go to yoga class. I would go to yoga class and cry as I moved through the poses and then one day, I remember weeping during Jennifer Smith's yoga class like a baby to the song "Let it Be" by the Beetles during Shavasana. That class was a window not only into myself but a window into what I am being called to share with others. If I can give someone a whole-hearted holistic yoga class that encourages them to show up for themselves when it seems like there is no time or space for them to breathe or let go of what they cannot control and still inspire them to feel more love, acceptance, hope, and happiness beyond the skin they are in, then I am fulfilling part of my God-given purpose.
We're always bombarded by how great it is to pursue your passion, etc – but we've spoken with enough people to know that it's not always easy. Overall, would you say things have been easy for you?
Smooth parts: It has had some relatively smooth parts with regards to the teaching aspect. I feel joyful after teaching classes, specifically when students share with me they got what they needed in that moment or that I said something that related to what they are going through. My personal holistic practice creates a safe space where I can return to what matters, which helps soothes me in the mist of  challenges. Financial and emotional support of my grandparents, godfather, friends, my partner and his mom helped me stay afloat when I decided to take this entrepreneurial journey again and not to go back to a full time office  job.
Rough parts: Overall I'd say staying balanced has been tough. Marketing and social media oh my… I need someone to manage this aspect all together! The administrative part of things is work when you're focused on teaching, creating events, supporting your family, networking and building meaningful relationships through the work. And if you are a mommy like me it seems like you're always doing something on the phone, so most times I fall behind on administrative things because I like to be more attentive to my children. In addition to this, I love to write and model so I've been trying to be as expressive as possible in the midst of offering wellness services.
I think the struggles have also come from the idealistic view painted of what life as a Yoga Teacher and Entrepreneur is like. The life looks glamorous on Instagram and google but it is work building classes and creating opportunities in wellness. The photos do not include the story, what each job paid or if it paid. I realized many people like myself  were doing volunteer work or work trade which is fine if you have no children or bills. I had to learn the worth of myself and the gift God has given me. I remember having a conversation with Dr. Maisha Claiborne about how to effectively price what I do. She responded how much does it cost to save a life. And it literally hit me that this work is life saving work that differentiates from  co-dependent doctor patient relationships. Holistic Wellness teaches you to see yourself whole not in bits in pieces. When you understand how valuable every part of your being is you will invest in it just as you do your hair, nails, and doctor visits. It was difficult for me to get people to see that so I had to work full time and teach part time to get back centered and tap into the zeal I had when I began.
I also had to unlearn much of what working for other people taught me. Having spent many years doing customer service oriented office work, I had to really let go of the people pleaser, customer is always right syndrome. Finding the balance between selflessness and self-care was the hardest task for me because of the people-pleaser customer is always right syndrome. Also my tendency to put others needs before my own because I did not love myself enough. I was over loving everyone. This is still a bit of a process for me because I am wholeheartedly connected to helping people through Holistic Wellness. I had to learn how to let people be and choose me more. This is something I am still learning personally and professionally.
Supporting myself relentlessly: I think often we are looking for everyone around us to do for us what we are not doing for ourselves. I spent many days blaming friends and family for not supporting me the way I needed them to but neglecting to see the gratitude in the support I did have and what appeared to me as a lack of support. Even if people could support you more they are not obligated to but you do owe it to yourself to be your biggest cheerleader so that your motivation is not the approval or acceptance of others.
Growing pains and healing: Throughout the entire time, I was in teacher training and started Akoma Bloom Wellness, I experienced growing pains. There were moments where I was all the way up and others where I was all the way down. Healing is this amazing transformative process that goes deeper than what we may feel we are ready for. I was all peace one minute and all anger the next. The old me holds on so tightly at times and the new me remains to be in bloom. When these two things are happening at the same time some days you literally feel like you are losing it. So in short shedding old skin was a real struggle for me and it is still a process only now I am more mindful than when I first began.
Yoga Studio Home: It was also a task finding a studio home, most of the studios in Georgia are more like corporations than yoga studios. Some do not offer fair wages, cultural diversity, warmth and opportunities for teachers to grow. That sense of community that we all need was not at the neighborhood yoga studio, so now I was stressed doing yoga.  An acquaintance during my yoga studio search told me to create what I was looking for and that encouraged me to really get more on my home and outdoor yoga. It wasn't until I stopped looking for a studio home that I came across one with a truly supportive owner Tina Perez, who owns Citta The Soul Yoga and Meditation Shala in Decatur.
Letting Go and Letting God: I had a hard time with this up until just recently. I would reach out to people and check my email and messages every minute to see if what I was working on flourished. My anxiety would kick in when I did not know how I would pay my bills or if I would get a wellness contract. The more I work inward and connect to the spiritual aspect of yoga through meditation, prayer, writing and self-study, this has gotten a lot easier. I understand that every collaboration does not align with my purpose and the people who I am suppose to impact I will. There is no need to overthink it or rush the process.
So, as you know, we're impressed with Akoma Bloom Wellness – tell our readers more, for example what you're most proud of and what sets you apart from others.
Akoma Bloom Wellness is currently a one-woman show founded by me.  I travel to you to provide yoga, meditation (mindfulness) wellness workshops, diy product making workshops. I currently provide yoga for children ages three and up at schools, yoga for teachers, businesses, retreats, special events, parties, private yoga for individuals, families, and groups. Types of Yoga offered: Hatha, Restorative, Vinyasa Flow, Power, Meditation, Pranayama (Breath Control), Holistic Yoga.
Beginners and intermediate Yoga and meditation classes, Online Yoga, Private Yoga,  Employee Wellness, Children's yoga classes,  Family Yoga/Mommy and Me.          I thoroughly enjoy holding space for students. My classes are a safe space that encourages all students to smile more, practice observation versus judgment, self-love versus harsh criticism, explore their bodies, focus on themselves, develop more peace,  patience, awareness of self and connect more to their heart through breathing, yoga pose, and meditation. I encourage students to explore poses even if I am adjusting, I often ask how things feel and if their way serves them better so they can discern what their body needs.
The connections I make with men, women, and children. I am thankful to be doing work that is adding more love, self awareness and unity in the world and encouraging people to be more accepting of themselves and others. Each time someone laughs, connects and finds a smile during my class, I am happy. I am grateful to be providing yoga classes to teachers and students in Gwinnett and DeKalb County. All of the contracts I have acquired for retreats, schools and local business, which expands my wellness reach and grows my organization.
From a business community organization standpoint, being  a traveling wellness company that offers holistic wellness workshops to include yoga, meditation, healthy food and juice demos, and diy natural product making is different than what is being offered by many yoga wellness businesses. Most choose to focus on one specific offering. Which maybe their purpose.  Because of the ways in which I was made aware of my wellness needs, I like to incorporate all the things that helped me and continue to help me stay well for students; I like to include various wellness practices in case something other than a physical yoga practices speaks to your immediate healing needs. The inclusiveness of Mommy and me Yoga is one near my heart as a mommy. It's important to understand the impact mommy's wellness has on baby's wellness, same goes for dad. I think what my calling is and how I answer the call is what sets me apart.
So, what's next? Any big plans?
In the next two years, Akoma Bloom Wellness LLC will open its first Child welcoming Holistic Wellness Center and Yoga Studio that would offer yoga, meditation, holistic services to adults, children, and seniors. Holistic Mental Health services, some donation-based and or sliding scale wellness services will be offered to low-income communities, individuals experiencing hardship, senior citizens, and some non-profit organizations. I would love to attract the right investors to secure the space for Akoma Bloom Wellness; and get more people donating to Sponsor Yoga for teachers and students, so there is no expense for teachers and students to have wellness onsite.  Looking forward to creating opportunities for teachers who'd love to have yoga as a full time job and be paid well for their classes. For Khadeshia:  Expand my reach as a Holistic Educator through adding more online yoga offerings. More Certifications in yoga and holistic practices!  Going back to school for Psychology, Marketing or Neuroscience.  More creative work around writing, film, podcast and wellness/fitness modeling to further inspire and expand the movement of Wellness through embracing all of you and cultivating Holistic Wellness as a lifestyle rather than a second thought. If everyone takes care of themselves then we all win. More love worldwide, compassionate people, more people investing in themselves and in turn investing in others.
Pricing:
Corporate Yoga/Employee Wellness-$170 and up
Online Yoga- $20 monthly
FaceTime Yoga/Meditation $35
Private Yoga- $110
Private Mommy and Me- $80
Drop In Yoga at Citta the Soul- $12, first class free
Private Yoga Family-$155
Guided Meditation Individual- $50
Sliding Scale Yoga based on income
Contact Info:
Website: akomabloom.com
Phone: 404-919-5999
Email: Email: info@akomabloom.com
Instagram: @akomabloom
Facebook: Akoma(Heart) Bloom Wellness

Image Credit:
Soulfood Sessions With Niya Women's Retreat, Bryant and Associates Team Building, High Vibe Sentiments, Amerigroup, Camp Success Academy
Suggest a story: VoyageATL is built on recommendations from the community; it's how we uncover hidden gems, so if you or someone you know deserves recognition please let us know here.