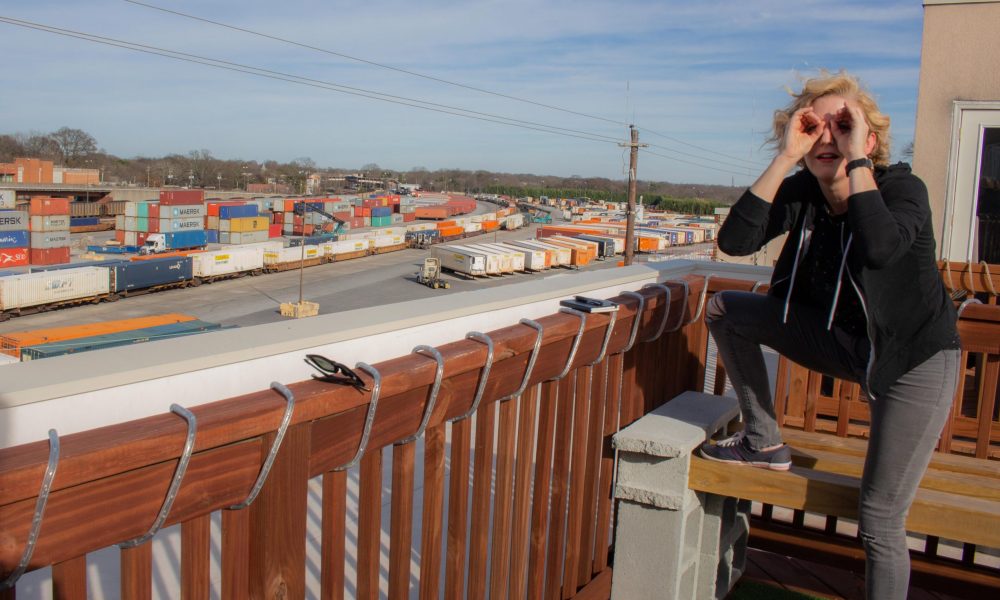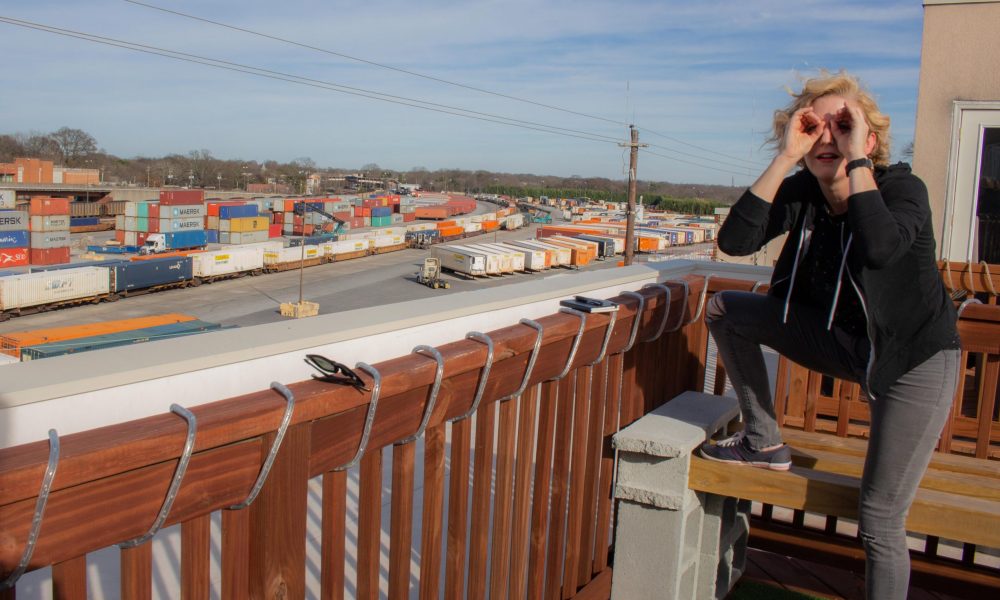 Today we'd like to introduce you to Leanna Adams.
Thanks for sharing your story with us Leanna. So, let's start at the beginning and we can move on from there.
I have moved to Atlanta four times now. The first time was for college, leaving little Spartanburg, South Carolina, to go to Emory University in the big city. The second time, I slunk back to Atlanta after living as a dirt poor actor in Manhattan, having had three terrible jobs at one point to stay afloat and taking some acting classes, using the worst, cheapest headshots imaginable but never getting a whiff of an agent much less an audition. The third time, I came back from Wuhu, China, after a life-changing adventure, traveling alone, teaching at a small college and witnessing the death of a dear friend. On this return to ATL, I began doing something I had always wanted to do but was too afraid to begin: writing. I wrote a travelogue about my experiences, a fish-out-of-water love letter to China, and self-published it for $.99 on Amazon so it could be an impulse purchase for poor travelers like me. The fourth time, in 2011, I moved to Atlanta with my husband, George, from Winston-Salem, knowing I wanted to be here indefinitely, that Atlanta is home (although, hell, I probably have another move or two left in me).
When I came back, I was working as a freelance writer and was by myself for a couple months while my husband finished his contract in North Carolina. Although we had some friends here, I was alone a fair amount at night. I started to think about what I really wanted in my life. And I decided to give acting one more shot. I took a class and then I took another and another and then I walked into a sketch comedy theatre and saw a show. That was it. I witnessed the thing I had been missing all along: comedy.
Sketchworks has been my theatre home here ever since. It was my comedy college, teaching me to write and act on stage. I learned that I love to wear a wig and that I can feel fearless on stage. Taking those classes changed the course of my life. I made new friends. I met likeminded collaborators. I got an agent. I lost ten pounds. I found my purpose.
Over time, I realized my staged scripts could work on film. I started filming sketches with a partner under the banner 'Decent Humans.' Now our work has been featured on TBS, Fox's LaughsTV, Huffington Post and Funny or Die and our series "The Worst Couple" has had over 30M views on Facebook. Shorts I've written, directed and/or produced have screened in festivals around North America. Sketchworks' latest show, VAPE: The Musical, which I co-conceived and co-wrote the lyrics for, just won 2018 Best New Work (Non-Professional) through BroadwayWorld Atlanta. I've won some other acting and writing awards. Yada yada.
The most important thing to me is that I have learned about storytelling and found my true passion: telling stories of wonderfully screwed-up female characters like Marlene Murphy, the central character in Murph, a feature-length comedy I've written that was just chosen as a seni-finalist in the 2018 ScreenCraft Film Fund Grant Program and is still in contention for funding.
Set in Atlanta, Murph is an action, adventure comedy with a lil romance.
I have partnered with two incredible Atlanta producers, Heather Breslin, and Sara Elizabeth Timmins, who are also committed to film as a form of positive activism, and together we are developing the script for Murph to pitch to investors.
There are not a lot of independent action films with a female lead that are also broad comedies. We are going to change that.
Here's our logline for Murph: An irreverent reporter gets too close to a source of Atlanta's opioid epidemic and encounters the suspicious death of a doctor, but when she tracks down the killers using one ridiculous disguise after another; she must outsmart drug dealers and dirty cops, before losing her life, or worse, the scoop.
It is our collective dream to shoot this film right here, leaning on the amazing film community in Atlanta, a city worth moving to over and over again.
Overall, has it been relatively smooth? If not, what were some of the struggles along the way?
There was a point in my life, in my early twenties, when I was on the road to disaster, an unfulfilled life. I was drinking a little too much, ugly crying when I watched movies and not because they were sad but because they were amazing and I couldn't be a part of them. Thank goodness I got the hell off that road and found the path I needed to be on for my own personal contentment. I wish the same for anyone else struggling to find their way.
It isn't always easy working as a creative, but I am not going to end up a Bitter Betty, crying on the couch after a bottle of wine, jealous of what other people are doing and filled with what-ifs. So I got that going for me.
Sometimes the hardest thing of all is to do the thing you need to do. It's scary. It's unknown. You can't see where the path will lead. Your friends might think you're weird. Your family may roll their eyes. BUT! The doing can change everything. I say take that class, try that thing, make that film, move if you've always wanted to, travel to China, buy a Ukulele and learn to play it from YouTube. Try something that terrifies you but that you can't stop thinking about doing. Who knows – you may be really good at it. Like wigs. I'm really good at wearing wigs. I had no idea!
Randy Mandy Productions – what should we know? What do you guys do best? What sets you apart from the competition?
Heather Breslin and I are two halves of a brand new company, Randy Mandy Productions. We are working toward funding our first feature film, Murph, and compiling a slate of female-driven films that shine a light on relevant issues through the lens of comedy.
Heather is our lead producer on Murph, the business side of our team. She is a hilarious writer and a producer with studio films under her belt. Heather got her start in advertising and then transitioned to producing commercials before landing as a film producer in Georgia. Some of her feature credits include: The List, Submission, Night Club Secrets, Every Other Holiday and Kind Katie.
Now Heather and I have teamed up with Sara Elizabeth Timmins, a savvy consulting producer for Murph who moved here after stints in LA and Virginia. In 2008, she established Life Out Loud Films "…to balance business and art to create quality, inspiring films that make a positive impact and champion women in film." And she has worked with actors like Jane Seymour, Ellen Burstyn, Chris Cooper, Josh Lucas, and Mackenzie Foy, writers like David Baldacci and companies like Mark Wahlberg's Unrealistic Ideas and Hallmark. How cool is that? We are damn excited to have her onboard!
Another heavy-hitter addition to our team is Jen Kelley of Big Picture Casting. A former agent for People Store, Jen was also a founding member of Sketchworks Comedy and ran the sketch writing program when I was a rookie, learning to write for stage. Jen has graciously agreed to cast Murph when the time is right. We know she'll get us the talent we need to make the film great.
Contact Info:
Image Credit:
Angela Zito is photographer of all shots except the one with the ruler (Joseph Lavender took that shot) and the stage shot was taken by Neil Logan Butler. In the stage shot, which was taken during a performance of VAPE: A Live Musical Parody of Grease) with me is Ashlee Heath, an Atlanta-based actress. And in the other shot, the woman standing with me is Heather Breslin, lead producer of Murph.
Getting in touch: VoyageATL is built on recommendations from the community; it's how we uncover hidden gems, so if you know someone who deserves recognition please let us know here.