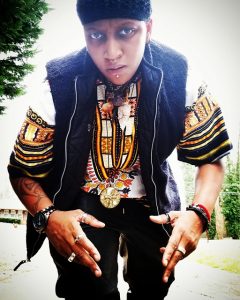 Today we'd like to introduce you to Marquita Millen.
Marquita, let's start with your story. We'd love to hear how you got started and how the journey has been so far.
Millenheirs was born of a prayer come true. I was literally dying. After a marriage gone sour, a losing battle with fibroids, and a job that was draining the life out of me I found myself alone and learning myself all over again. Before there were all of these things, there was me and I was birthed of a family who moved from South Georgia to the [now] Metro Atlanta area, at least the part I know.
The rest is still being written but I digress not. My great-grandmother, Lucy Millen, at a ripe and blossomed age of 99.5 still draws and enjoys her flowers nearly daily and she would become life that I could draw breath from. The backbone of family elders that I am familiar with are all great with their hands-cooks, carpenters, potters, artists, sharecroppers, seamstress, educators, librarians, veterans, etc. I had dropped out of college many years prior, in debt and because Air Traffic Control & Computer Science was never where my passion was anyhow. I had gotten so far away from myself trying to be something and somewhere I didn't belong just because the money was good or so my current wife had me questioning. We were only friends at the time.
After all, I was alone and she was in another state but little did she know she had me questioning myself. What would I do if I weren't fulfilling my current role in management at this Telecommunications firm? Why am I letting it kill me? What did I want my legacy to be? It wasn't all clear at first but the more I tried to figure out where I went wrong, the more I got to focus on what felt right. I asked God to work things out if they were meant to be and take them away if they weren't.
Although time is an illusion, in the blink of an eye in my timeline of life all of these things were taken away and Millenheirs was born. The brief story is I lost money invested in a house I had worked to build from the ground up for an ex who ultimately allowed me to see I was in the wrong place. I moved and got several promotions because I was so tied up in work that nothing else mattered and yet it was still never enough and I ended up getting very stressed and sick. I had two blood transfusions and a growing fibroid problem that landed me in the hospital undergoing a surgery that turned out to be a bit more extensive than intended. The day I returned to work after approved leave I was fired and there was no heavier burden to be lifted at that time. I was finally free to fly. The excuses I had were removed and God answered the prayer. I had already begun in 2016 to lay the foundation for Millenheirs-deciding what I would do, name researching, logo and branding ideas, and business license, etc. Inspired by the similarities in hobbies, life path, and interests I started with 1 or 2 products in spare time but the problem was there wasn't much spare time. Now that I was no longer tied to the job I had time to heal mentally, physically, emotionally and all of the time I was investing at this job was now free time to get back to me.
Between my partner and I, the vision started to become clearer. All of the things I was born into, grew up around, and enjoy from the spiritual aspects to arts, education, to music and sustainability (a lesson my late Great-grandfather tried to instill in his children and children's children before he passed) Millenheirs is still in the process of coming to life. It has been birthed but is still a growing legacy. The name is a play on Millionaire as people often mispronounce it and inadvertently speak it into my life but derived from the aforementioned, Millen is my last name and heir is self-explanatory. Perhaps another thought, when you consider the fact that I am the result of my ancestors that never died, heir possibly becomes a literation of all that I am. Millenheirs is my reflection. Millenheirs is a lifestyle brand. Built around a foundation of herbs, oils, woods, crystals, and resins thus far, the line includes all natural masculine-centered unisex grooming products, wire-wrapped jewelry/accessories/beaded bracelets/wooden watches, culinary spices, and ritualistic aromatics. As complex as I am, it can be a mouthful but in it's ripest form will include all forms of art, handmade products, music, educational workshops, spiritual workshops and more.
At its core of the legacy I am attempting to build, I intend for a pixel of the vision to encourage sustainability just as my ancestors intended to leave to me. My great-grandfather brought his family from South GA to this area, building bridges across I-20 and their parents, my great great grandparents obviously instilled some sense of wealth building and sustainability in them because though my great-grandmother lives in a modern world she walks on land that she has cultivated for over half a century-growing crops, painting pottery, sewing and crocheting, and more just East of me. The short story-now more than two years old, little by little Millenheirs continues to grow. We have been blessed to be part of several vending events across Atlanta such as the Taliaah Wajhid Pop-up, Winterfest in Conyers, Sip & Shop Atl, and more-gracing the shelves of a couple local shops such as Shelly's Beauty Supply & Austell Farmer's Market. We have an ever-growing online ecommerce presence and look forward to expanding exponentially. My partner's company, Love & Light Healing, is the yin to my yang. She sells all natural products for women and we are also each other's reflection as you can tell by our respective products. As we continue to grow, we look forward to having a storefront and building a system, community, and united legacy around the aforementioned principles.
Overall, has it been relatively smooth? If not, what were some of the struggles along the way?
It has been relatively smooth. Although, slow to start. I cannot and will not complain but everything I do has been done out of pocket with minimal added support but cautiously to ensure a firm foundation. By far, I do not come from wealth, had just reached a point of paying off my student loans, am not one to crowdfund and because I feel I learned lessons the hard way regarding loans I have been holding firm to not wanting to take out loans. So the biggest struggle has been funding for a young entrepreneur such as myself. The second would be trying to fulfill every role and position within the company (i.e., marketing & PR, website design, graphic design, SEO optimization, inventory management, product development, order fulfillment, etc.).
Millenheirs – what should we know? What do you guys do best? What sets you apart from the competition?
Again, Millenheirs is a lifestyle brand. Built around a foundation of herbs, oils, woods, crystals, and resins thus far, the line includes all natural masculine-centered unisex grooming products, wire-wrapped jewelry/accessories/ beaded bracelets/wooden watches, culinary spices, and ritualistic aromatics. However, as I also mentioned my wife and partner company is the yin to my yang. We are incomplete without each other. Where my product line bends to masculinity, Love & Light Healing shines through and vice versa and honestly (aside from the eclectic dynamics and sophistication of product, brand, and look) her reflection is what helps me shine and vice versa. I am most proud of our progress and our vision come to life.
What is "success" or "successful" for you?
Success is freedom. Success is running your own kingdom, ruler of your domain. Success is doing what I want to do, when I want to do it, how I want to do it, and the way I want to do it. Success is being indispensable-Owning my own and a cup that over-runneth to the point that I am empowering others to do the same. Success is sustainability and not only building on the legacy that started before me but creating my own going forward. Success is not worrying about any competition or hater or enemy but maintaining my lane and reaching the finish line. Success is achieving the greatest possible outcome for all parties involved. Divine opportunities, alignment, and elevation and those are the things I look for (and discerningly through).
Contact Info:
Getting in touch: VoyageATL is built on recommendations from the community; it's how we uncover hidden gems, so if you know someone who deserves recognition please let us know here.