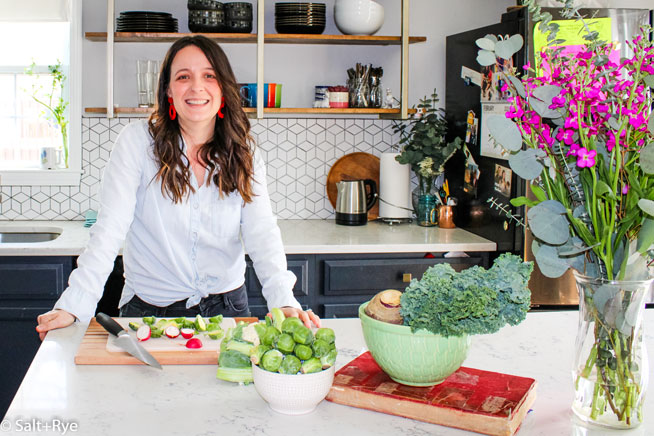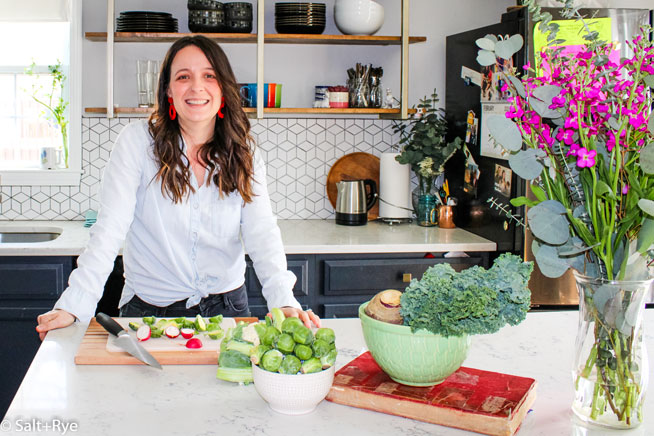 Today we'd like to introduce you to Meagan Schwartz.
Meagan, let's start with your story. We'd love to hear how you got started and how the journey has been so far.
I love food. I love eating food. I love cooking food. I love looking at pictures of food. I even dream about food. I firmly believe that if your subconscious wants you to attempt making French toast out of a bagel, you make French toast out of a bagel. It didn't work, but at least I tried! For me, the idea of food and feeding my people goes hand in hand with my faith. So many times in Scripture, we see pictures of diverse communities gathered around a table. Through food, we can taste and see that the Lord is good! When we break bread together, our eyes are opened, and we can remember everything He has done for us. So my kitchen table is more than a table. It is holy, and the time around it is sacred.
I grew up in San Antonio, Texas so I have a love of tacos, bbq, and pretty much anything spicy. I have an entire door of my fridge dedicated to hot sauces. I learned to cook by watching the women in my family. Watching my Grandma Robbie, I learned that I love homemade fried chicken, but I never want to make it for myself. She also taught me to use a serrated knife to cut a tomato. My Grandma Patty showed me how to use fresh herbs in everyday cooking, and how I don't need to add a quarter cup of sugar to my mint iced tea. I did, however, feel super fancy drinking my minty tea syrup out of her crystal glasses. After a long day of work, my mom would come home and make dinner for our family. She would chop and sauté, I would sit on a barstool, and we would talk about our day. She taught me that cooking doesn't need to be glamorous to be an act of love.
I moved to Atlanta in 2002 to attend Georgia Tech. My friends and I started a "Cooking Rotation" where we would take turns cooking for the group. We would introduce each other to our favorite meals from home and attempt to make new recipes we found while watching the Food Network in our dorm rooms at 3 am. Some meals were winners. Some weren't. But it didn't matter. It wasn't really about the food. Fast forward 12 years later, and I'm still eating dinner with those yahoos every single week. Our group has grown with new friends, new partners and children, but the meals are essentially the same. We bring food to the table, and we share it, but it's still not just about the food. It's about gathering. It's about sharing every single part of our lives, the highs and the lows. It's about praying for a friend and then seeing her be baptized seven years later. It's about coming alongside your chosen family as they walk through some of the hardest things no one should have to go through. It's about celebrating when new neighbors and new babies join us around the table. It's never just about the food.
Last year, once both my kids were in school more hours of the day, I needed something more to do with my time. I wanted to be creative, but I also wanted to do something life-giving, not just for myself but for others too. And if I made a little extra income, that would be nice! I kept asking WHAT should I do, and HOW do I make it into something that lasts, and WHY do my kids insist on listening to the Greatest Showman soundtrack during every waking hour? It's hard to be truly introspective when Hugh Jackman is singing in the background. Finally, I realized that my passion was food – cooking it, sharing it, and helping others feel more confident when they cook and share their food with their people. I wanted to invite everyone around my table so they could see that if I can do it, they certainly could do it. So I started Salt+Rye as a place to provide not just recipes, but hopefully encouragement and empowerment to set your own table. I think we can all be Table Setters, no matter the stage of life we are in. Salt+Rye isn't just for stay at home moms trying to feed a family. You can set the table and invite others to it no matter your gender, relationship status, job status, budget, or culinary skill set.
My dream for Salt+Rye is that it becomes a place where people come to find recipes, but leave with so much more. I hope they leave feeling encouraged about what they are already doing around their own tables and that sometimes good enough is good enough. I also hope they leave a little excited to step out of their comfort zones. Excited to go out and try new flavors. Invite more people into their homes. Find ways to share food with those in need: physically, emotionally, and spiritually. It's real life over here. You won't find Pinterest perfection, but hopefully, you will be encouraged to use what you have for the glory of God and the good of those around your table.
Overall, has it been relatively smooth? If not, what were some of the struggles along the way?
I wouldn't say it's been a BUMPY road, but it's been a slow and winding one. There is always a learning curve for starting something new. I would love to say that as soon as I got my website up and running, things took off, but that's not true. While I feel pretty confident in content creation, I'm still learning the marketing and business side of things.
Please tell us about your business.
My vision for Salt+Rye is for it to be an extension of my kitchen table. A place you can find food through recipes. A place you can find comradery, where you can see that you aren't alone in whatever you are going through. A place you can find rest and revival. A place that when you leave, you are ready to tackle whatever comes your way. The recipes that I share are the foods that I feed my family. For the most part, the meals are healthy and simple enough to make for dinner on a busy weeknight but are delicious enough you won't mind inviting others to share them. While we don't have any dietary restrictions in my family, I'm aware that many people do. So I try to offer recipes that can fit into many different lifestyles, or can be easily modified. I think one of the best compliments I could hear would be, "I loved your recipe, but I made some changes." I hope everyone can take what I am offering and make it their own!
Any shoutouts? Who else deserves credit in this story – who has played a meaningful role?
I'm super grateful for my husband and kids. They are my taste testers, and let's say not every recipe deserves to be published! My husband, Eric, also gives me practical advice and encouragement that my creative and overly emotional brain needs. When I start thinking 12 steps ahead, he brings me back to the present. Jake and Juliann Tompkins are some of my oldest friends who have a lot of experience making and selling art around Atlanta. They are constantly encouraging and pushing me to step out of my comfort zone so that I, and Salt+Rye, can continue to grow. My friend Chelsey Goins is a writer who encourages me to push myself in that area, despite that being my least favorite part of this whole job. I need her and her advice so that I stop avoiding putting words on paper. My parents, Charles and Melissa Johnson, and my brother Brien are who taught me about cooking and feeding others. I specifically love watching Brien cook, since he has experience cooking in actual restaurants. My stylist at Urban Evolution Salon, Clair Sherwood, has talked me up so much that I connected with a local nonprofit to host my first event. In January, I partnered with Epikon, the Epicenter, to host an event about eating locally grown foods at the Fresh Harvest Garden in Clarkston.
It's hard to name everyone who has helped me grow Salt+Rye over the last year! I know I wouldn't have come this far without friends praying for vision and clarity around my new venture. I wouldn't have had the drive to keep going without people making and sharing my recipes.
Contact Info:

Image Credit:
Meagan Schwartz, Salt+Rye
Suggest a story: VoyageATL is built on recommendations from the community; it's how we uncover hidden gems, so if you or someone you know deserves recognition please let us know here.