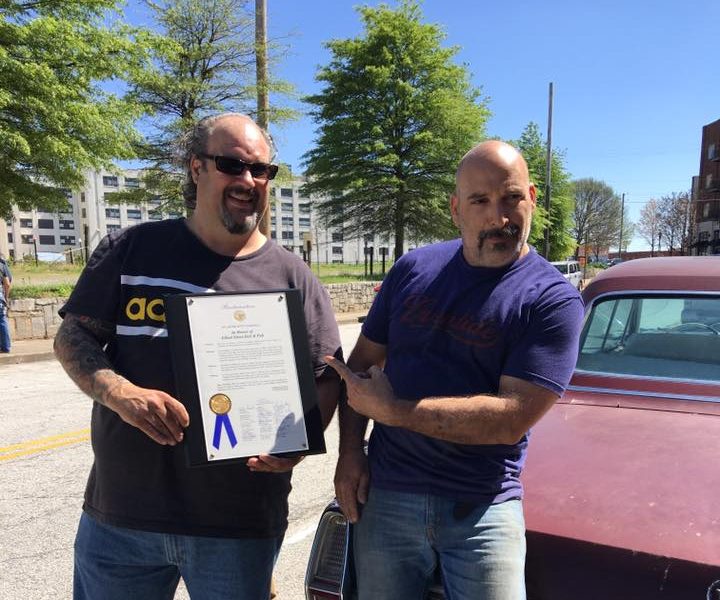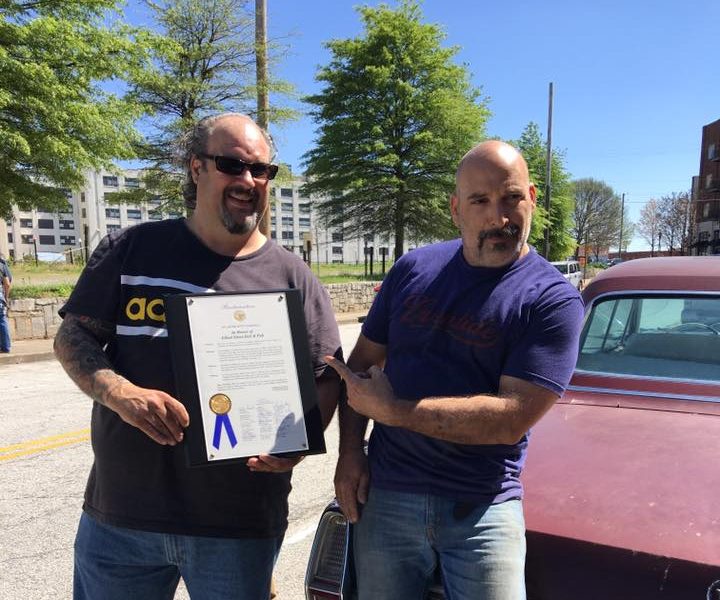 Today we'd like to introduce you to Michael and Peter Jakob.
Michael and Peter, can you briefly walk us through your story – how you started and how you got to where you are today.
In 2003 while riding bicycles through Downtown Atlanta at 1 am (cause that's what you do when you want to see a city), me and my brother Peter noticed an abandoned, burnt out, stand-alone building in the middle of a sea of parking lots. With this amazing unobstructed view of the city skyline. Pretty much exactly what we were looking for, and almost calling out to us.
You see me and brother Pete were general contractors and owned and operated Jakob Brothers Construction for 12 yrs, specializing in building bars nightclubs and restaurants. We were looking for a new project to build, a couple of lofts to live in and enough room to build a new shop for our construction business. There was a "For Sale" banner hanging off it and some flyers in a box. So we yanked off the banner and threw all the flyers in the garbage. We did this every week for a month, and then called the owner. And on September 2004 we bought 49-51 Elliott Street. We started work on it 2 months later, during Falcons football season, after noticing the crowds of people showing up for the games, meeting the great neighborhood of Castleberry Hill, and also having everyone walk by and say you should open the bar back up (51 Elliott Street use to be an old Juke joint from 1950-1995 and caught on fire New Years day '95). So we decided to build a neighborhood bar.
After 16 months and over a million dollar renovation of the entire building, we opened Elliott Street Deli & Pub. How we got here has been a 14 yr story and they all kinda run together now, but I'll give you a rundown on how some of the things we do here and have been doing here for over a decade now, started and never stopped. The staple of our business is the sandwiches, my brother, now Chef Pete started and still makes. We wanted to open a Deli and make those sandwiches we had as kids on the shores of Long Island. Fresh Bread, that's warm when you get it, Boarshead provisions No preservatives/no additives, and the care in making a sandwich. Not looking through a window and pointing to what you want on it, or getting bread made in an Easy Bake Oven.
Fresh, made to order, Hot /Cold proper sandwiches. It is why we have the Iron Pour program for 10 yrs, the Kevin Scott Tuesday Night Musician Jam for 8yrs, and it is how the Atlanta Photographers Guild "APG" started 11 yrs ago. It's the sandwiches that have made the artist, musicians, sculptures, fire twirlers, burlesque dancers and their fans support continually come back. That and the neighborhood bar feel as owner-operators, makes one feel as if you are in our home(which you kinda are, we live above the pub) having a sandwich made in our kitchen(which is no bigger then a closet). The Iron Pour Program started, with someone asking what we planned to do for the Castleberry Hill Monthly Art Strolls. We weren't really a Gallery so we didn't want to show art, to foo for us we thought. Then someone mentioned, "you guys should make art".
And one Friday night a portable iron blast furnace showed up, we lit it on fire, heated it up to about 4500 degrees and melted iron into molds. All in front of a crowd of a few hundred people. Now over a decade later, and several 10's of thousands of pounds of iron later, we are the longest running privately funded `Iron Pour Program' in the country if not the world. A lot of that is in thanks to Patrick Toupes and his team of artists, who have maintained it and run it almost for every pour. And now is build us a new one, since we done burnt the old out. Music, how did we start that? Well one of our sandwich makers way, in the beginning, Jordan Shalhoup (now our Music Director for ESP), asked if he and some friends could come and play some jazz in the corner on Wednesday nights.
After a few months one of the guys asked where he could put his drum cases, we directed him to the stairs to the basement. After walking back up he asked, "why don't we play down there one night?" We built a stage, sound booth, and boom, "the51" was created and the rest is history. From the Kevin Scott Tuesday Night Musicians Jam, to Live music 4-5 nights a week now. We host Burlesque Shows, Art events, weddings, and our yearly Super Bowl party too in the once filled 4ft deep of water basement and the original Bird Cage Bar from the 50's. How did we get here? Openness, the openness to our community, our neighbors, our city and the talented people that live in our city that come to us with their passionate ideas. That's what kept Elliott Street Deli & Pub making Amazing Experiences for 12 years now.
We're always bombarded by how great it is to pursue your passion, etc – but we've spoken with enough people to know that it's not always easy. Overall, would you say things have been easy for you?
Yes, it has been an Incredible Journey.
Is our city a good place to do what you do?
ESP started as a stand-alone building in a sea of Parking lots, Now it sits less than a football field (300yrds) from the new state of the art Mercedes Benz Stadium. The residency in Castleberry Hill has tripled, and the major developers have bought up all the vacant property around us. Our city does a lot for development, but only for the big developers. If you want to be a gentrifier, a pioneer in a city that is just before its growth spurt, I say do it, change your community, make a neighborhood hang-out, but its all up to you, don't think any city is going to help a little owner-operator like us that employees maybe 10 people. But there are 10's of thousands of us and if you do the math, we employee the most in our cities. Not Amazons, Not the Big Stadiums, not Coca-Cola. But for some reason, they get all the tax breaks. So you have to do it yourself. Good Food, Good Drinks, and a Good Place, bring GOOD People.
Pricing:
SANDWICHES:
-$10.50 Elliott Street Ultimate Maple glazed honey-coated ham, Mesquite smoked turkey breast, Londonport roast beef, Sharp cheddar, Imported Swiss; Mayonnaise, Spicy mustard, topped with Lettuce, Tomatoes, Onions, Roasted and sweet peppers.
-$9.25 Roast Beef and Cheddar Londonport roast beef, Sharp cheddar; Horseradish mayonnaise; topped with Lettuce, Tomatoes, and Onions.
-$9.25 BBQ Roast Beef or Turkey Coleslaw, Cheddar cheese, Barbecue sauce; Hot pressed. $10.50 Famous French Dip Londonport roast beef, Imported Swiss cheese; on a Hoagie roll with French Onion Soup dipping sauce.
-$9.25 The Mad Italian Maple glazed honey-coated ham, Mortadella, Genoa salami, Cappy ham, and Provolone; Topped with Pesto mayonnaise; Lettuce, Tomatoes, Onions, Roasted red peppers; Balsamic vinegar and EVOO.
-$9.25 Dirty Bird in Blue Mesquite smoked turkey breast, Imported Swiss cheese; Topped with Lettuce, Tomatoes, Onions, and Chunky Blue Cheese.
-$9.25 The Rachel Warm pastrami, Sauerkraut, Imported Swiss cheese, 1000 Island dressing; Hot pressed. -$9.25 The Greek Pastrami Pastrami, Feta cheese; Lettuce, Tomatoes, Onions, and Tzatziki sauce.
-$9.25 Homestyle Chicken Salad Sandwich Fresh made homestyle chicken salad; Lettuce, Tomatoes, Onions. -$9.25 Turkey Slawich Smoked turkey breast; Topped with coleslaw and Provolone cheese. Hot pressed. -$10.00 Turkey Cuban Smoked turkey breast, Imported Swiss cheese; Topped with bread and butter pickles; Mayonnaise and mustard; Hot pressed on a Cuban roll.
-$10.00 Turkey Club With Bacon Smoked turkey breast, Imported Swiss cheese, Bacon; Lettuce, Tomatoes.
VEGETARIAN SANDWICHES:
-$9.25 The Fontina Fontina cheese, Fresh ripe tomatoes, Spinach; White truffle oil. Hot pressed.
-$9.25 Tomato Caprizi Fresh ripe tomatoes, Fresh Mozzarella, Fresh sweet basil, Spinach, Balsamic vinegar; EVOO.
-$10.00 Chef's Choice Veggies, Cheese, Sauce; Hot or Cold. SALADS (Choice of dressings – Balsamic, Ranch, Italian, 1000 Island, Crumbled Blue Cheese, Oil, and Vinegar)
-$8.00 Spinach Salad Fresh spinach leaves, Tomatoes, Onions, Cucumbers; Topped with Balsamic vinegar, EVOO, and Feta Cheese.
-$8.00 House Salad On a bed of mixed field greens; Tomatoes, Onions, Cucumbers; and Sharp cheddar cheese -$9.00 Chicken Salad Homestyle chicken salad on a bed of crisp lettuce; with Tomatoes, Onions, Cucumbers. -$10.50 Chef's Salad Bed of fresh field greens; Topped with Maple glazed honey coated ham; Londonport roast beef, Mesquite smoked turkey breast, Sharp cheddar cheese, Important Swiss cheese; Tomatoes, Onions, Cucumbers.
$3.00 HOT DOGS (Boar's Head, All Beef Dogs with your choice of Ketchup, Yellow Mustard, or Spicy Mustard)
$0.50 each Slaw, Relish, Cheese, Onions, Sport Peppers, Jalapeno's, Hot Peppers = $2.00 Add Bacon $5.50 Chicago Dog (Yellow mustard, Chopped onions, 2 Tomato wedges, Dill Spear, Sport peppers, Dash of celery salt)
Contact Info:
Getting in touch: VoyageATL is built on recommendations from the community; it's how we uncover hidden gems, so if you know someone who deserves recognition please let us know here.