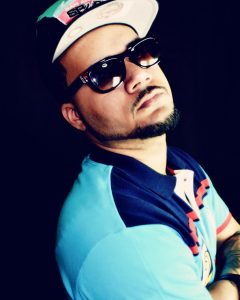 Today we'd like to introduce you to Mizter Tokka.
Latino born music producer Tokaro Serrano Gonzalez also known as Mizter Tokka "The Producer" the miracle baby born with health complications which resulted in making holes in his lungs to be able to survive, but made it strong and was born at Jacobi Hospital located in the Bronx, New York on February 24th year 1987, of decent from Puerto Rico & Pakistan. Parents Tamaria Gonzalez & Jorge Luis Serrano Cotto raised in Pentecostal Religious beliefs. As life moved onto him growing up, he faced a lot of challenges living with his mother, grandparents Stella Mahai & Roberto Gonzalez, siblings Pete Martinez, Maurice Martinez & Tima Martinez all under the same home in a hard neighborhood section at Castle Hill Ave located in the Bronx. Later then on moved with his parents to Caguas 'La Barriada Morales' Puerto Rico in year 1994, to study and learn of his Spanish culture at Diego Vasquez School. While attending school in Puerto Rico he earned gold medals in reading and math in addition 1st and second place at school activities.
While exploring the island of Puerto Rico, he seen the beautiful aspects of music and how it affected people and touched their souls and heritage. He then decided to learn how to play different musical instruments but at the time he was focused on one known as the percussion of Drums. Tokaro's uncle Luis Alverio and close family friend Sammy, gave him a chance to learn how to play the drums and while doing so they taught him musical lessons out in the open environment in front the homes and in the streets. A few months later he learned how to play drums and started to play in special events in the community at local churches and in bands. Tokaro then later decided to travel around Puerto Rico with other artist and musicians so share his passion towards the music. In 1996 Tokaro faced another fear in life when he and his parents where involved in a car accident in which the car was totaled and Tokaro and his parents made it out alive. But that didn't stop Tokaro and his passion towards his music and his journey to achieve his dream. In the year 1999 Tokaro and his parents moved back to the Bronx, New York. As a result, he continued to play drums at church events and community activities also while attending Public School 75.
Later in the year 2000, Tokaro also completed and was certified for Radio Broadcasting by the state of New York and was still helping radio stations and churches with his musical passion. A couple years past and his was still focused on his dream while then getting his first job in 2003 at R.G. Medical on East Tremont in the Bronx as a chiropractor assistant, yes, he developed a skill in the medical field but was still focused on his passion towards music. In addition, while working he was also attending school and playing at different special events internationally and locally. Tokaro's daily routine in 2006 was going to Samuel Gompers Tech H.S at 7am to then go to work at 1pm and later that night at 8pm play drums at his local church. Being raised at a young age around his grandparents he learned a lot about himself as a person and his surrounding like playing Baseball and Basketball in which was introduced to him by his grandfather Roberto Gonzalez in which passed away in 2008, it was a depressing moment seeing your own grandfather take the last breath telling you to stay focused on your dream and take care of family cause that's all you have. While doing so for years to come he kept on focusing with his music but then he was also interested in computer programming so he then decided to go to school and learn more about computer software and hardware.
Later on, in 2009, he wanted to incorporate the both music and computers together and ran across the time a program called FL Studio, a musical computerized program to make instrumentals and Nuendo a recording vocal computerized program for music. Months past and Tokaro decided to learn these musical programs to be able to make music and have people listen to his ideas towards music. Tokaro then decided to produce his first musical mixtape in 2011 called '"Chapter Of Love" with another producer and other involving artist. Time passed and Tokaro now also known as Mizter Tokka was still developing his musical computerized skills for recording and production, but then hit a downfall in 2013 that got Tokaro depressed at a young age diagnosed with high blood pressure, asthmatic and dermatitis while also losing his jobs, he no longer felt like he had enough in him to help others with music.
As the year 2014 came along, he decided to shake it off and get back to his roots and start again his musical dream, started to make music and help other local artist develop their skills in vocal productions, record single songs and remix for underground artist and showing them to friends and family around. In August 2015 Tokaro received a beautiful gift from above, his daughter Alissa Marie from spouse Patricia Duran in which changed his whole focus and view on what he wanted to achieve in life, Tokaro wanted to continue helping others achieve their dream and put a smile on their face.
He then started to record and develop artist mentally and physically, while doing so he met new revolving talent of other locations and in addition mix out of state artist for musical production in which music was forward off to local and international deejays. Is year 2018 and Tokaro's main focus is to achieve his dreams while also helping others and making sure his family is well taking care of as well as his artist and friends in which are all a part of this long journey and his not alone, it's just the beginning.
Please tell us about your art.
I am an Audio Engineer / Music Composer / Music Producer, and love to develop upcoming talent with not just their lyrics but their image and tools of what they need to know about the music industry and how it works at different aspects, that way when they find themselves in a difficult situation at any given moment, they would know exactly what to do for themselves at situation. I love to Audio Engineer other Artist vocals because it brings me closer to their life and what they are trying to explain to the world as well. I just add my sparkle and shine towards their passion and make sure love comes out this project or track. I never wanted the riches and fame, just only to see I help others achieve their dream as for an award or success, in which will always put a smile in my face because I know deep down inside, I was also a part of that moment.
I continue to learn and try to educate myself each day to become better as a human being, friend and audio engineer, because we are all not perfect but are worth something special in life towards God. With this being said I hope other can also follow my footsteps on moving forward, not looking back at what other people may think or say about you. Cause in this World you're a special person and have a God giving talent also just as me to help others achieve their victory. Please don't stop believing in yourself because you can do it, anyone can. This is what I Love and I know You Too, so don't let anyone tell you otherwise.
We often hear from artists that being an artist can be lonely. Any advice for those looking to connect with other artists?
Yes, just remember there are other artist just waiting on you to also reach out, it can be by supporting one another, writing a song, by a post or just e mail the person. At times I seen myself an artist or any individual can be going thru something at the moment and need a person to talk to but doesn't know whom, cause their shy or depressed and sometimes by you just reaching out in simple words can make a big difference with any little thing you do or say.
How or where can people see your work? How can people support your work?
I have Social Media links that I will Provide Below:
https://www.facebook.com/miztertokka
https://www.instagram.com/miztertokka
Contact Info:
 Image Credit:
Indio809
EdwinGraphz
Power House Studios NYC
Heron
Mizter Tokka "The Producer"
Getting in touch: VoyageATL is built on recommendations from the community; it's how we uncover hidden gems, so if you know someone who deserves recognition please let us know here.