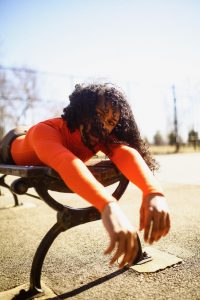 Today we'd like to introduce you to Mondaii.
Thanks for sharing your story with us Mondaii. So, let's start at the beginning and we can move on from there.
Not to be all philosophical, but the great Marianne Williamson once said, "Our deepest fear is not that we are inadequate, but our deepest fear is that we are powerful beyond measure." Born and raised in a small little country town south of Atlanta, I spent majority of my life submerging myself in over-saturated opinions, holding back my own potential, only to conform to the configurations of the norm.
You see… where I'm from, dreams are often drowned out by the constant noises of doubt and uncertainty, so I'm sure you could imagine the response a 6-year-old black gay boy gets when he says he wants to be rapper when he grows up. Yikes!!!!!, for them at least. You see, music has been always played a very instrumental part in my life, we kind of just found each other. Growing up as kid, I never really had that many friends, nor was I really accepted, but instead made to feel as if I wasn't good enough. I was often told things like, "You're not tough enough", or "You're not black enough", leaving me to feel emasculated and uncertain about myself. My only outlet through this depression was hip-hop, which I fell in love with after seeing Eminem in the "Forgot about Dre" video on BET. I can never forget how in shock I was to see a white boy rapping, and actually being insanely good. I was SHOOK!!! And it was at that moment in which I discovered that hip-hop came in all shapes and sizes. The rest was history.
I remember getting into rap battles with kids from my school. Initially, no one really took me serious, but I continued push, I wanted to be the absolute best. It was just something about how the kicks and 808s coincided with the patterns of the words rolling off my tongue made me feel. It was just so infectious. It gave me such an exuberant feeling of happiness, and I just gradually got better, studying greats like Eminem, Q-Tip, Slick Rick, Notorious B.I.G, Lil Kim, Left -Eye, and Outcast. Soon people would know me to rap, but that was only the beginning.
During college, I would literally go to every open mic and poetry slam I could find around the city of Atlanta. I was so eager to prove to world how good I could rap, and someone once asked me, "what do you rap about?" and I honestly couldn't tell them. Guess you can say I was caught up in the wrong reasons. It was the feeling of uncertainty in which I felt as a child that still had me eager for acceptance. I realize now that I wasn't rapping for myself, but instead rapping for the approval of others. Still trying to figure out who I was, I started to try new things …some good…some bad. I mean… that's what college is all about right? So I met this person, and they made me feel like the most amazing person in the world, and then (wait for it) …… they completely disappear off the face of the earth, which always ironically seems to happen to me. I remember feeling so low, I wanted to jump off the ledge of my college dorm apartment. I felt my throat in my chest, my mind was in a haze and I couldn't tell my parents because at the time I wasn't secure in myself. How would I have explained. The only things I could turn to was God and music, and I sat down and wrote while crying my eyes out. Fun fact!!! Most of my songs are about real life experiences. So the next time you listen to a Mondaii song, and like it, you have some douchebag to thank for breaking my heart … YAY!!!!!!!!
Making more relatable content, I later changed my name to Mondaii (pronounced as Mon-day). So funny story, I was actually given the name by my best friend who was jokingly teasing me, but the name would mean more to me than he would ever know. You see just like Mondays, I too can be easily overlooked and unappreciated, but it's ok .. because now I realize that the only thing that I ever needed was to love myself and be confident in who I was and everything else would follow, and surely enough it did. I began doing shows around the city of Atlanta, and even opening to perform at "Luda Day Weekend".
Later in 2017, I was offered the opportunity to sign with a small independent record label out of NYC and relocated to Boston. Eager to catch my big break, I blindly signed to the label without any provision from a lawyer. Attention Artist!!!!!! Get your contracts revised by a lawyer!!! You do not know everything!!!!! Long story short, this was a very poor decision on my behalf. They controlled everything, and I wasn't allowed to release music for a whole year. I just remember being so depressed. Ohh!!!! and to top it all off ….. (you ready?) My house burned down and I was homeless for two months. So there I was… back to square one. So I moved back to Atlanta and picked up a serving job to help get me on my feet. Little did I know my life would soon change. You see this was not just any restaurant. This was "Puff & Petal", a restaurant owned by RnB superstar K Michelle, who would later discover me off of my Instagram freestyle videos. Right now, I can honestly say that I am very thankful for every experience and every tear that I was fortunate enough to shed because it has shaped me into the artist that I am today. I am so blessed and fortunate to now have such an amazing manager (Charlie Ji) and team that actually believes in me and my vision to take hiphop to the next level, by pioneering a lane for the LGBTQ community, showing people that hiphop comes in all shapes sizes and forms.
Has it been a smooth road?
It definitely hasn't always been smooth sailing for me on my journey to top in the music industry. If anything I feel like I have to come extra hard (pause lol) because of my sexuality. Seriously, anything any other rapper does, I have to do 3x as well, and I think most people automatically assume that I'm not gonna come with the bars because of my sexuality, but….. lol … we'll just let them find out for themselves.
So, as you know, we're impressed with Mondaii – tell our readers more, for example, what you're most proud of and what sets you apart from others.
Mondaii is an American artist/songwriter from Atlanta, Georgia. Not quite fitting the traditional ATL foundation sound of trap hits and strip club anthems, Mondaii chooses to take a different approach to the music scene. The self-assured influential-introvert uses his experience of college life, peer pressure, heartbreak, and low self-esteem to embody a lively sound of sarcasm and melancholy.
With his debut single "All Out of Chances"(Available on all major streaming platforms!!!), the skillful MC known as MONDAII uses playful and witty metaphors to tell the story of an uncanny introvert, who just can't seem to get it right. Seemingly running out of chances to make it big, he quickly discovers that we can all be kings.
Our vision is to cultivate a gender-neutral platform that promotes love and equality. Hiphop comes in all shapes and sizes!!
Let's touch on your thoughts about our city – what do you like the most and least?
I love how Atlanta takes a big melting pot of creators from all backgrounds and mashes everything together to create something even bigger and more innovative.
My only dislikes are the gatekeepers that act as clout chasers. We as musical connoisseurs must be more opened-minded in actually giving other artist chances and supporting the talent and not the clout.
Contact Info:
Getting in touch: VoyageATL is built on recommendations from the community; it's how we uncover hidden gems, so if you know someone who deserves recognition please let us know here.