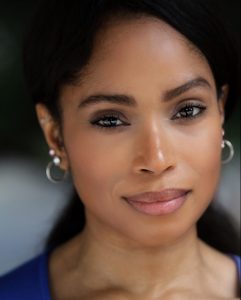 Today we'd like to introduce you to Nadine Bone.
Nadine, can you briefly walk us through your story – how you started and how you got to where you are today.
My dreams an aspirations  as an artist started to become my reality five years ago. I landed my first acting job in a short film called 'Ruined' written and directed  by Aleshia Cowser.  Shortly thereafter, I started booking Indie films, a commercial, web series, and a stage play. I also started volunteering my time as an event hostess.
Most of my bookings were by referrals. I've worked with many prominent Atlanta actors in the Indie sector. People will most likely work with people they know, like and trust. Establishing a web of trust in the Atlanta Creative community is very important to me and my  development as an artist. Training and coaching has polished me along this journey as well as my "Self Management for Actors" book written by Bonnie Gillespie, which I highly recommend this book for new creatives in the business. It has been super helpful in shaping me brand wise. I also believe that I have developed in my craft due to the rejection and failure I have experienced. Without failure, I wouldn't be able to walk maturely in confidence.
We're always bombarded by how great it is to pursue your passion, etc. – but we've spoken with enough people to know that it's not always easy. Overall, would you say things have been easy for you?
My obstacles and challenges actually helped me grow in this business. No, it has not been a smooth road. Relationships, trust, and dedication, you win from others you work with, sometimes are not reciprocated and that can be difficult when you are building your foundation. When people say they are going to do something you expect it to happen. Now exactly what time or when is a whole other level of patience that I am learning.
I am the type of person who enjoys to fully delve my entire being into a thing. I enjoy transforming my world to make the sacrifice for others; but at the same time, I can be somewhat selfless. Selfless in the sense of once I know that the atmosphere has shifted intuitively, another part of me kicks in. I do understand my "No Line" now and it took two to three years for me to learn that my time in this industry was being waisted.  It made me realize that I needed to make better decisions about who, what and where I was investing my gifts.
When you enter these packs with people, as I mentioned in my previous featured article with 'VoyageATL' (What's The Most Important Lesson You've Learned Along Your Journey) July 11, 2019 article, my "Wolf Pack Theory" resonates. Everyone in the pack or circle is winning, striking, moving ahead at the moment and then, the shift happens. Shifts in my life can be valued positively because I have known that once I move ahead or outside of the pack, God has something for me specifically, which will catapult me to another level.
It's easy to be overwhelmed with this provincial life. My outlet is acting. Venturing into a place where no one else can go except for me and my imagination. That gives me the power to know that no one controls that. So, for that, I am proud of all my accomplishments and defeats. Every time I step in front of people, a camera, the audition room I want to put the best me forward.
Some personal challenges play a part in overcoming daily obstacles. The personal challenges can really inhibit your actor development, such as having a sound mind and a positive attitude in this industry goes a long way. Survival job challenges can play a factor. When I stepped out ahead of the pack, by working on my first professional set, I walked away from my corporate job and never looked back. Yes, financially, as I am moving forward in my acting career journey, it has been tough without a steady income. My family basically altered their lives so that I could be in the position I am today.
We'd love to hear more about your work.
Currently, my focus is to stay relevant in my business and to influence decision makers who will trust that my craftmanship will endure. I am constantly brainstorming about creating new ideas of content and surfacinging the old ideas I have embedded in my conscious. I'm working on developing my show "Another Sincerely Yours Session'. I talk about topics that are near and dear to me. I also talk about my journey as an artist and share with my viewers my daily to weekly struggles and strategies.  In hopes of giving back the knowledge I have gleaned from, that it will help someone else. There's no format that I go by each session: I want to make the sessions as impromptu as possible.  Building my brand is important to me right now. Also, I'm working on writing a couple of scripts and book about my life survival. Stay tuned for that and you can always stay updated on my latest by following me on the gram @nadinebonetheactress. IThe best me is my business and that is what separates me. You can learn more about me by going to
What were you like growing up?
I always felt like I was the girl who had to be noticed. The spotlight of attention I vivdly remember at the age of four or five at the family reunion dancing around the pavillion and picnic tables to the beat of the music. That kid who loved to dream and mimic everything that I saw on the television. My mother said I repeated everything from commercials, newscasters, music videos, fashion, game shows, and just about anything that sparked my interest above my reality. I still do that to this day, repeat people. Ha! there may be some room for impersonating. Whatever I wanted to become, I dreamed about it.
I believe it all starts with a vision which obviously is purposed inside us all. My mother is a big contribution to my success without her guidance and life example, I would have never been able to discern most of the barriers and pitfalls that I faced growing up.
I loved to be competitive in everything I did. I remember being the best speller in the 3rd grade. The Spelling Bee was my favorite. It's something about words that intrigue me. The origin, definition, spelling and dialect of how people pronounce words. I was always playing outside with the neighborhood kids and interacting playing street games. It was more of a village growing up in my hometown, Homestead, PA. Compared to how it is today, most children are home alone and attached to an electronic device all day. Can we say "boring?" Back in the day, that would have earned you the most uninterested, secluded person award. My community was my bedrock. I could rely on my church family for spiritual guidance, my neighbors across the street for block protection, my school friends for social viability, and the corner "Garden of Prayer" for a dose of the Lord's Daily Prayer and a donut every morning before my bus ride to school to make the day exciting. The Burgwell's Candy store was my favorite place they had all the penny candy, Snyder's barbeque potato chips and arcade games a girl like me could want. I was addicted to sweets and probably should have more cavitites than most people, but the dentist says my teeth are great and I have an excellent teeth cleaning home regimen every time I visit.
I had a certain group of friends I could trust growing up and I pretty much stay within that parameter of people. I call it the safe zone. I was never easily influenced by people. I am more of a do it myself, let me bump my own head, then I'll get it type. However, participating in the school plays, community events, church choir, drama club, and church activities kept my imagination and standards  grounded. I set my own path early in my teen years by setting standards in my life that sometimes I dipped below and then other times I achieved highly. I left my hometown at the age of 17 when I graduated; thus pursuing my continued education and coporate career. I'm thankful and humble to be the woman I am today!
Contact Info:

Image Credit:
Teri Lyn Reimer Photography, Retro Chris Media, Hollywood Headshots. Trajaquin Film, John Nalls Studio
Suggest a story: VoyageATL is built on recommendations from the community; it's how we uncover hidden gems, so if you or someone you know deserves recognition please let us know here.