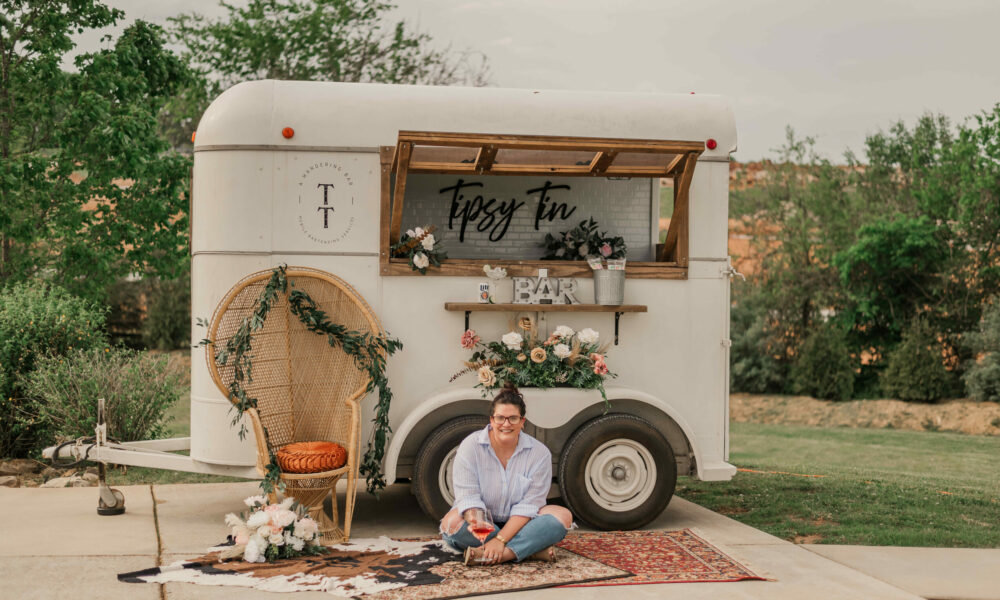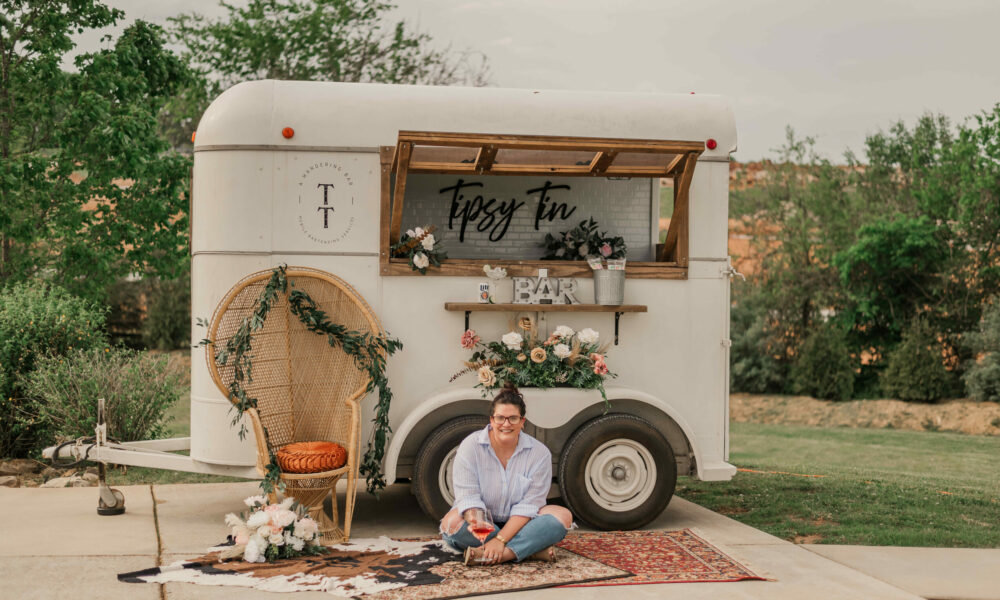 We are thrilled to be connecting with Penny Chevalley again. Penny is a Wandering Bar Owner and is also a content partner. Content partners help Voyage in so many ways from spreading the word about the work that we do, sponsoring our mission and collaborating with us on content like this. Check out our conversation with Penny below.
Hi Penny, thank you so much for sitting down with us again. For folks who might have missed our initial interview, can you start by briefly introducing yourself?
Hi Friends! My name is Penny and I am a Virginia Native, San Francisco, California transplant, who relocated to the Chattanooga area with my handsome husband and our three gorgeous children three years ago. I am a horror movie and Netflix lover, an advocate for motherhood (no matter how you do it), an introvert who can be quite the quirky individual once you get to know me. Toss in some OCD, a dash of chaos, A LOT of love, and there you have me!
I have been apart of the wedding industry in almost every capacity for a decade. My journey into the wild world of weddings started as a makeup artist who evolved into photography. After three years behind the lens in California I shifted gears. I became an Ordained Minister and switched over to Wedding Coordination. I never could have imagined living in Chattanooga but when we moved in 2018, everything just took off. It was a wonderful but unexpected blessing. I've been part of over 500 weddings now and each couple is unique and amazing. In October of 2019 I received an inquiry from a beautiful bride for a VERY last minute elopement. It was a complete surprise to all their family and friends. That couple would become good friends of mine and in April of 2020 when the pandemic hit the worst, they trusted me with their most prized possession. A vintage horse trailer they had converted into a mobile bar, aka Tipsy. With their other business pulling them in a different direction, I took ownership of Tipsy and began this journey into wandering bars, mobile bartending and a love for my work I'd never known.
I love my work. That's not something many can say but I truly do. I'm able to now work smarter, not harder. There's more family time. I have more adventures. And I've meet some of the absolute best human beings through my work. You just won't find an experience like this anywhere, we truly are the best. Tipsy is available for weddings, private events, birthdays, graduations, and more. We have also in 2021 added an additional bar as well as a stand-alone satellite bar which can be rented for indoor functions if the whole trailer isn't what you need. Our bartenders are premeire and we create custom seasonal cocktails just for our Tipsy clients. So whether you want an Old-Fashioned or some of our Harvest Hooch, we've got you covered!
How did Tipsy Tin become a reality? What steps were involved with creating a mobile bar?
While I didn't "create" Tipsy, I have definitely elevated her. Thanks to my past decade in the wedding industry I've been able to network my connections and get Tipsy seen in some really popular venues. We even have a venue that's put a parking spot in, just for us.
I will say as we've built the second trailer, I've realized it's not as easy as I or others may think. There's a lot that goes into this business not to mention all the back end. Being a wandering bar owner is constantly filled with surprises but I love what I do so much that I don't get phased much by it anymore. Of course, I don't want to give away any trade secrets but like any wedding business, you have to accept you will lose most of your weekends and holidays because folks want to celebrate. But that trade off is that you get to be part of these amazing moments and laugh with guests from all over.
What's your favorite cocktail you've made with Tipsy so far? Or the most popular?
I mean, mama needs a margarita, of course! Margaritas are always super popular and at the top of my list. Our Watermelon Margarita was to die for (literally haha), the last wedding we served it at went through 23 GALLONS of it!
As far as my own personal creation for Tipsy, our Harvest Hooch is by far my favorite. I love fall and this drink is just so classically fall to me. It's the perfect combination of vodka, champagne, apple cider and ginger beer. But be warned, it tastes so good that you won't realize how many you've had and they are potent my friends!
You've been in the wedding industry for a decade. What's been the most fun "job" you've had in this industry?
Honestly, Tipsy is the most fun I've had. I've traveled the country – Alaska, Joshua Tree, Utah, you name it but there is something so special and unique about Tipsy. The way guests faces light up when they see us and realize "this is the bar?", it's just so fun. Plus, my team is amazing. My bartenders are like family. I get "date nights" working with my husband laughing and dancing in the trailer.
How would your describe your work / life balance? A lot of new business owners struggle with this – any advice?
I STILL struggle with a work / life balance, even after a decade. It's always going to be hard to put down the phone or not answer that email. But you have to. The way that social media is built now, for example on Facebook Business Pages, if I don't answer a message pretty instananeous, it will tell my clients who message me "Tipsy Tin has a message return rate of 48 hours / or days", just because I didn't pounce on it immediately. It can be hard too to believe that if I don't answer that inquiry ASAP that I might lose that customer.
I've found over the years, if people want your service they will hang around for it. My biggest problem at this point is we're double booked with both trailers and still getting inquiries for prime dates so I hate turning clients away.
Find what works for you. If that's turning off your notification during a certain time, getting a work line vs having it attached to your personal phone (that's what I had to do), find what's best for your schedule and your life but it will always be a work in progress.
If you had to tell couples one thing when it came to booking a mobile bar or vendor for their wedding, what would it be?
I know it doesn't seem like we're important to book but our service is a luxury service. Tipsy books very quickly and if you don't reach out at the same time you're looking at your venue or photographer you might miss the opportunity for us to be part of your day. Now, let's chat about luxury vendors:
Mobile bars for sure fall into this category. I'll be honest, anyone can bartend (I mean, they need appropriate licensing, insurance and what not but it's true, they can). but there is something so luxe, so unique and creative about a mobile bar. I can't tell you the amount of times I've been told how Pinterest worthy a wedding is because Tipsy was apart of it.
Your guests love a cocktail, so why not give them a cocktail experience? yes, it's a luxe vendor and typically comes with a little bit more cost but I've NEVER had a bride say she wish she'd gone with anyone but Tipsy. And for the couples who maybe need something more budget friendly you don't have to have Tipsy the whole night, you can get a luxe experience but only provide it for an hour or two. Tipsy is perfect for keeping your guests entertained while you flip your indoor venue from ceremony to reception. it's as simple as that.
Your super hard working and always doing something new, so what's new, what's next?
I wish I could disclose but 2022 is going to be a big year for us. Expansion dreams are definitely happening and we will just have to do another interview with those dreams become reality.
It was so great to reconnect. One last question – how can our readers connect with you, learn more or support you?
Web: www.tipsytinchattanooga.com 
Facebook: facebook.com/tipsytinchattanooga
Instagram: instagram.com/tipsytin
Email: tipsytinchattanooga@gmail.com
Contact Info:
Image Credits
PC: Ivey Photos
Suggest a Story:
 VoyageATL is built on recommendations from the community; it's how we uncover hidden gems, so if you or someone you know deserves recognition please let us know 
here.