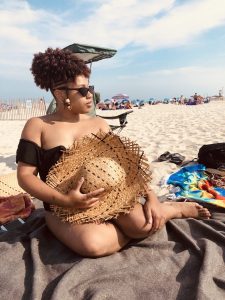 Today we'd like to introduce you to Reagan Campbell.
Reagan, can you briefly walk us through your story – how you started and how you got to where you are today.
Throughout my life I've had a lot of phases. These phases didn't just include fashion. It extended to things like the people I would put myself around, how I viewed myself, and what career I envisioned for my future. By the time I entered High School, I was fixated on becoming a vet. It was a career that had strong roots in my family, it would make anyone's eyes widen in disbelief when I told them what I did for a living, and the money was going to be more than comfortable. These were the things I learned to value in a career decision. What your family thinks, what everyone else thinks, and how much money you will make. By the time I got to college and started to flunk Biology 101, I learned there was something that mattered to me. Passion. I had no passion to continue down the veterinarian path which is why I couldn't find myself focusing in biology class. There was no connection between my true self and this degree I was trying to earn. This was the first time I trusted myself to pave a way. It led me to getting a much-appreciated degree in Marketing. Towards the end of college, I noticed something else that mattered to me when looking for a career. Loyalty. And I had none for any of the jobs or internships I had in college. I noticed that my loyalty lied with myself and my personal interest but I was still trying to figure out what my interests were. Just when I thought I was on the cusp of figuring it out, I graduated. And for whatever reason I reverted back to the mentality I had before. I rushed to find a job that satisfied my family, my peers, and my pockets. This led me into the mortgage industry. After 4 months of tears and stress I literally walked out of that job. For the next 3 months, I went into a post graduate depression. I didn't want to be in the same position I was in before so I turned down a lot of offers. I didn't want extra pressure from my family so I didn't tell them I was unemployed. I laid in the bed and filled out empty applications to make myself feel busy. I had a business concept but I convinced myself I was too poor to scale into anything real. Then my best friend came to visit me. She took a look at me laying helpless in the bed and simply said "stop making excuses". Next thing I know, her and my boyfriend are tag teaming me. Reminding me of all the great things I've done with little to no resources. That set a fire in me. I sat up and started to expand my concept. I wanted to combine my marketing skills and my love for fashion. This is how C Suite Styling was born. A personal styling service dedicated to advancing black women in business. When I became solid on my business idea, everything else started to fall in place. I knew I wanted to do a part time job so I would have the time and money to put towards my business.
Has it been a smooth road?
I would love to say that a lot of my struggles have been dealing with finances, but it hasn't. I started to get a pretty good grip on budgeting in college. My struggles were a bit more internal. I was fixated on making people around me happy for a long time. Specifically, my family. I found myself over explaining and hiding pieces of myself in fear of being told I would fail. I was also in fear of not having any support or resources. For whatever reason my parents always thought there was an outside force affecting my decisions and making me rule against whatever they wanted me to do. When the answer is and has always been "because I want to". I got through this struggle by creating mental and physical space between my family and I. I love and appreciate all that they have done for me. However, I know I have to set a healthy balance for my personal creativity and growth.
We'd love to hear more about your business.
I am the owner of a personal business styling service named C Suite Styling. My styling company focuses on advancing black women in business. The term "business" is very flexible to me. That could be someone who is an entrepreneur, a 9 to 5 employee, a mom, someone who is in a transition, the list goes on. I am the bridge between where my clients are and where they want to be. Over the years, I've noticed the scarcity of personal styling company's and the lack of companies that speak to black women. Some people may feel like their company caters to women of all ethnicity since their mission statement indicates that. However, their client list and marketing strategy almost always leans towards a specific group of people. Because of this, I knew I had a niche market that had been neglected for far too long.
Is our city a good place to do what you do?
Prior to my business, I took everything super personal and had an issue with trying to make everything perfect. My business has taught me that shit happens and it is not always your fault. I had to understand that I cannot prepare for every situation since I am not in control. So, luck (good or bad) is something I don't even consider. Either something is meant to happen the way you planned it or it is not.
Contact Info:

Image Credit:
King Karpe Visuals LLC
Suggest a story: VoyageATL is built on recommendations from the community; it's how we uncover hidden gems, so if you or someone you know deserves recognition please let us know here.