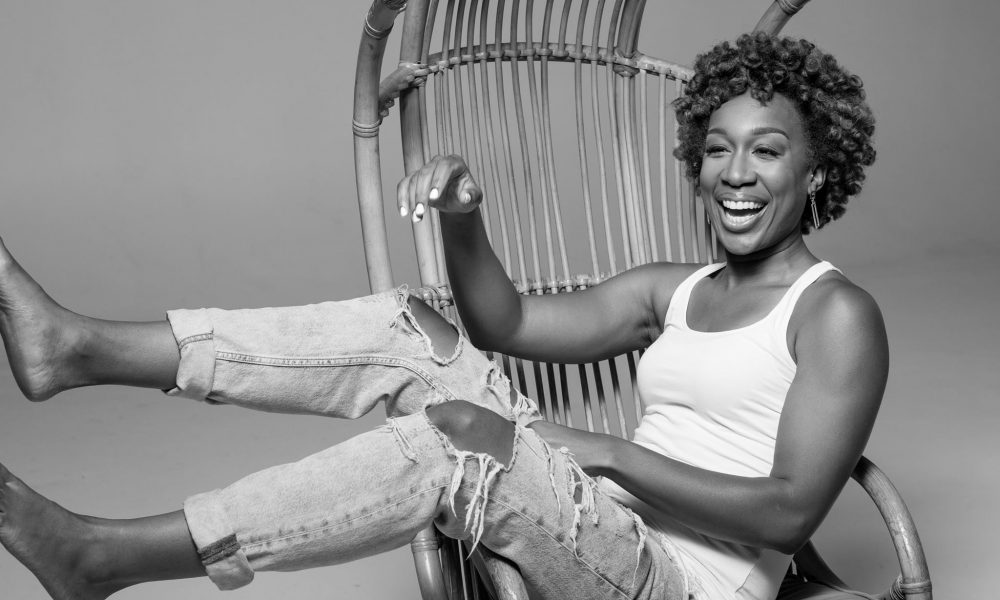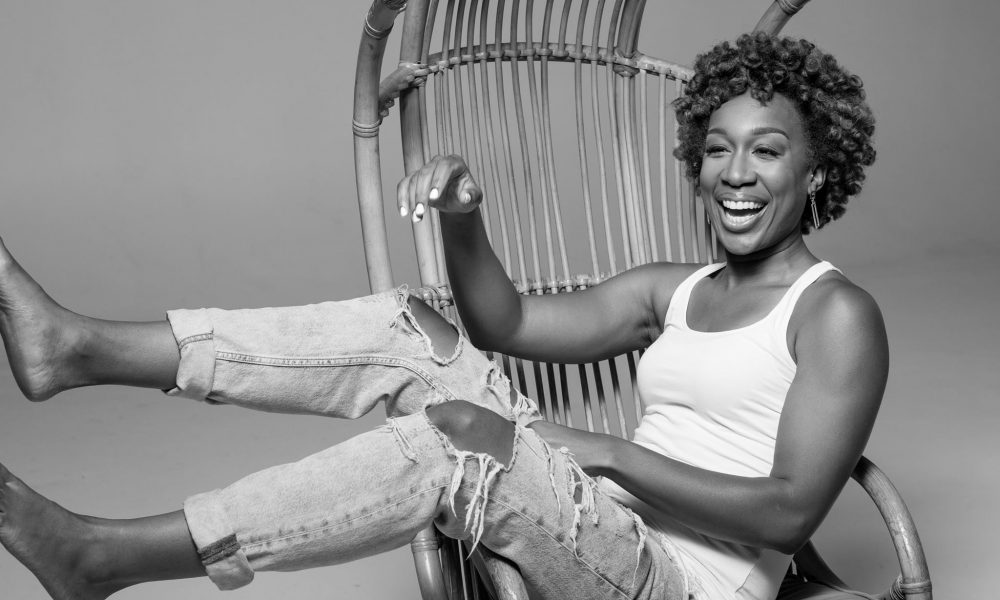 Today we'd like to introduce you to Shari' Nycole.
Shari', can you briefly walk us through your story – how you started and how you got to where you are today.
My journey is this business started when I made the conscious and very difficult decision to put the basketball down for good. I started playing the sport when I was 8-years-old. A Michael Jordan obsessed little girl from Chicagoland at the height of the Chicago Bull's success in the mid-'90s, I was entranced by the game. It was my everything, my muse, and my life. My work ethic on and off the court and my fascination with basketball grew stronger as I got older, and with the guidance of my father (my first coach), mentors, coaches and trainers, I attained a full athletic scholarship to the University of Wisconsin-Madison in 2004. I thought the Big Ten was my ticket to playing pro, and I was determined to make the moments during my time there count. But those moments didn't pan out how I had hoped.
By my sophomore year, I wasn't getting the playing time I thought I deserved and simply didn't find the program at Wisconsin a good fit for me anymore. All the while, my journey to journalism was waiting for me. In the summer prior to my sophomore year at Wisconsin, I met with my academic advisor, Mary Weaver-Klees, about my future at the school and academic goals. She encouraged me to actively pursue my gift in writing. Discouraged by my athletic experience, I took her advice and chose to set my sights on journalism. She was the first person to see me beyond basketball and push me to tap into another beautiful gift God had given me.
After successfully completing my sophomore season and school year at Wisconsin, I transferred to Northern Illinois University, where I also received a full athletic scholarship, in hopes of having a more gratifying and enjoyable athletic experience. NIU was a smaller school, but it still allowed me to play competitive basketball and continue pursuing my journalistic path. When I got to NIU, it wasn't long before I met my next marker for direction. His name was Arthur Doederlein, a straight-laced, incredibly brilliant human being whose mission was simple: lead me to a choice I was comfortable with and support me the entire way.
Before fall classes started, I met with him about my academic future, and he asked me a very simple question, "do you want to do journalism on paper or on camera." I quickly responded with an emphatic, "on camera," and that's when my journey in broadcast media began. I took several classes ranging from script writing, news production, and news reporting. I was working in front of and behind the camera, sharpening my reporting, editing, directing and producing skills. I was finding myself. Basketball remained part of my life until I finished my senior season at NIU in 2009. With my knees shot and my eyes open to life outside the sport, I decided to let the game go and give my undivided attention to broadcast journalism.
When the spring semester rolled around in 2009, and with graduation looming, I was stuck. I knew I wanted to work in television, but I didn't feel I was completely prepared to face that world professionally. During my bout with indecisiveness, God connected another dot that led me right to Dr. Todd Yeary, a man of valor, wise words and enough wisdom to share with our Black studies night class each week.
One day Dr. Yeary sat me in his office after class and asked me what I was going to do after graduation, and for the first time in my life, my future seemed uncertain to me. There was no basketball to fall back on, and I was no longer a privileged student-athlete. Life after college was waiting for me, and there wasn't much time to figure out who or how to be when we met. I shared my apprehensions with Dr. Yeary, and he encouraged me to go to graduate school, but not just any graduate school, The Medill School of Journalism at Northwestern University, arguably one of the top journalism programs in the world. I wasn't completely sold on the idea, because quite frankly, I didn't think I was smart enough. But something made me trust him, possibly that mustard seed of faith I had stored up over the course of my life that ultimately convinced me I was capable.
At any rate, I followed all of Dr. Yeary's instructions. I took the GRE, applied for the program at Medill, did an in-person interview and hoped for the best. In the fall of 2009, the best came: I got into Medill! I started my program in the fall of 2010, and with the guidance of brilliant journalistic professionals and mentors like, Cheryl Owsley-Jackson and Stephen Garnett, I was equipped with the skill sets, connections, and confidence needed to jump into the professional journalism world headfirst: as a producer. Throughout my college career, I aspired to be on-camera, but because of fear and an unwillingness to face the possibility of leaving Chicago to make it happen, I relented to producing. The cool thing about God is, that even when we fail to freefall in faith, He still works things out for our good.
After graduating with a Masters of Science in Broadcast Journalism at Medill in 2011, I landed my first job in the industry as an associate producer at Towers Productions in Chicago, gaining a solid docu-reality foundation and working on television series such as, "Find Our Missing" and "Parole Diaries" for TV One, along with "Mobsters" for the Biography channel.
After a brief bout with unemployment in the spring and summer of 2013, I landed my next job in Washington, DC in October of that same year, helping launch the first black daily news program in broadcast history, "News One Now." News One Now happened out of nowhere for me, and once again, God's divine connection set the stage. It just so happens, the showrunner who managed me during my time at Towers Productions, got the gig as executive producer of "News One Now," and she wanted me on her team. Her name is Donna Wilson, and without her making that phone call to get me to Washington DC, I would not be the professional I've blossomed into.
While at "News One Now," I wore many hats, including broadcast producing, field producing, feature producing, special programming, videography, editing, graphics supervision and correspondence work at various red carpet events, most notably, the NAACP Image Awards, the Trumpet Awards, the McDonalds 365Black Awards, Essence Festivals, The Triumph Awards and The Stellar Awards. I also covered the 2016 Republican National Convention and the 2016 Democratic National Convention.
During my tenure in Washington, DC, I also served as sole producer for the PBS talk show, "The Rock Newman Show," a weekly one-hour series featuring interviews with various celebrities, political figures, and community leaders. Once again, this opportunity was made possible by another one of God's angels, my beloved colleague at "News One Now," Sydnye White. To add a cherry to the sundae that was the "Rock Newman Show," Rock Newman became a beacon of light for me, restoring my hope and faith in professionals in this industry. He continues to be one of the few people in this field who've reached out to me and simply asked, "how can I help you reach your goals." I'll always carry a great appreciation for his servant's heart.
In May 2017, I moved on from "News One Now" and "The Rock Newman Show," without a job. For me, peace of mind and proper professional placement was most important. I was willing to wait it out for that, and thankfully, I didn't have to wait long. Around the time of my resignations, a close friend of mine, Syleena Johnson, had signed on to become one of the hosts of "Sister Circle Live," a new nationally televised talk show that was set to air on TV One and varied Tegna stations. She wanted to bring me along for the ride, and I became a willing passenger. After putting in a good word and passing my resume on to the program's executive producer, Helen Swenson, several interviews ensued, and I made the cut. I moved to Atlanta in July 2017, just one month and a half shy of resigning from my previous jobs. Once again, God had me in mind and led me to my next adventure, an adventure I'm still immersed in today.
While at Sister Circle Live, I've produced segments featuring varied celebrities, lifestyle experts, political powerhouses and sports figures. In addition, I've produced and edited several feature pieces for the show's popular "Sister Cam" series, which I was instrumental in creating and spearheading.
As if my plate wasn't full enough, my cup ran over, when I got a call from Will Packer and Jaime Primak Sullivan to become part of their new groundbreaking Twitter series. Once again, God connected the dots, and Will Packer, a man I had come to admire for many years, finally took notice of my hard work and extended me an opportunity that continues to enhance my professional and personal life. In February 2019 and in conjunction with "Sister Circle Live," I took on a co-executive producer position on Will Packer Media's new live Twitter series, "Power Star Live," leading a passionate crew and curating content pertinent to the "Black Twitter" experience. Without Will and Jaime's trust, I wouldn't have gotten a glimpse of the leader I hope to become in this business. Now on hiatus, "Power Star Live," continues to hold a special place in my heart.
While I continue to balance my daily duties with "Sister Circle Live," I also serve as director of content for SJ Entertainment and continue to create original content in the digital and docu-reality space.
Overall, has it been relatively smooth? If not, what were some of the struggles along the way?
The road certainly hasn't been smooth, but it's been worth it. I've dealt with unemployment in this industry twice. Sometimes shows get canceled and/or go on hiatus, and there's nothing you can do about it. That's what happened to me. Through those challenges, I've learned to embrace the gift of every moment I'm able to work and live out my creative dreams, and also I've learned to trust God's timing because it is sovereign. Looking back, I can honestly say my spurts of unemployment were merely pit stops on my path to purpose, chances for me to refuel, regroup and refresh. Overall, I consider it a blessing that in nearly nine years in this industry I've only been unemployed a total of 10 months! God has certainly been faithful!
One of the biggest challenges I've faced in this industry is working in the black media space and not having adequate resources. Working in black media is one of the most fulfilling things I've ever done in my life, but it often comes with being forced to work without many of the amenities those in mainstream media experience. Although this is a challenge, I've also come to view it as an advantage, because it has forced me to be creative. My aim is to take this creativity into whatever works spaces and projects I encounter. Creativity breeds longevity, and keeping that perspective in mind has certainly sustained me in this industry.
Another challenge I'm working through, and have had to work through for quite some time, is people attempting to put me in the "producer box." I'm more than a producer, and I have the training, capabilities, and personality to be just as strong in front of the camera as behind it. Unfortunately, when people become conditioned to utilizing you in the capacity that gives them an advantage, they are unwilling to let you stretch and be all that your skill set encompasses. I've learned that the key to unlocking the door to getting on camera belongs to me, and through creating opportunities for myself, I will eventually realize that part of my creative and professional dream.
Please tell us about Shari' Nycole Media – what should we know?
I recently started Shari' Nycole Media, and I'm very excited about my business being a platform to create original content and provide a safe haven for other content creators, particularly those of color, to express in the arenas of the documentary, scripted tv, reality tv, docu-reality tv, print, and photography.
Shari' Nycole Media also gives me the flexibility to work on varied projects and have a presence in front of and behind the camera. This venture is new, but I'm certain it will be worth it!
In whatever projects I take on, the mission of Shari' Nycole Media is to create content that caters to the needs and wants of the audience and provides them with information pertinent to how they can remain informed and entertained. I believe there is an audience out there who's tired of regurgitated stereotypes, especially as it relates to black people and narratives, violence and programming that depicts the dark side of black narratives. Shari' Nycole Media was created to serve that particular audience.
The Shari' Nycole Media brand prides itself on telling truth beautifully, being bold but not abrasive and having the courage to confront the uncomfortable.
Any shoutouts? Who else deserves credit in this story – who has played a meaningful role?
Don & Lori Welton are my parents and my biggest supporters. They provided me with everything necessary to attain the successes I've experienced and continue to experience. They taught me to be an exceptional communicator, work hard without incentive and think critically.
D'ona Brickford & Whitney Byrd: My two little sisters (I'm the oldest of three girls). They've always cheered me on, even when it meant that they had to dim their own lights. What a sacrifice! To see them now as successful businesswomen, wives, and Whitney as a mother brings my heart such joy. They are my inspiration in ways they may not even realize.
Curtis Green: My Uncle Curtis has been with me every step of the way, playing the role of mentor, second father, and best friend. He taught me the value of entrepreneurship and service. If you can master those things, you'll NEVER go without.
My Grandmother: My grandmother passed away from Alzheimer's December 26, 2018. A woman of faith, her prayers for me and our entire family were endless. Her legacy drives me, her belief in me fuels me when I want to quit, her heart for people is the most awe-inspiring thing I ever witnessed in my life.
My entire family has been my rock (aunties, uncles, cousins, etc.). We are very close and are each other's biggest fans. Without them and God, I am and have absolutely nothing!
Angela Howard: My godmother who when I didn't feel comfortable sharing things about my life with anyone else, she was always there. She continues to champion for me and pray for me. She's a gift, plain and simple.
Jerald Davis & Coach Nesbit: They were my basketball coaches during my middle school and high school years. Without their guidance and genuine concern for my well being, I would've never been a scholarship athlete.
Will Franklin: Will has been my personal trainer since I was 13-years-old. He taught me how to push past any form of pain, pressure or problem! Perseverance is in the mind and spirit. Your body will follow.
Coach Carol 'Owens: She's the head assistant coach for the Women's basketball team at Notre Dame now, but she coached me at Northern Illinois University. She restored my faith in basketball and basketball coaches. She truly wanted to see me win in life, whether that was in basketball or otherwise.
Rashida "Sheedz" Olaywola: My sorority sister (Zeta Phi Beta Sorority Inc.) who prays with and for me, and who's on the same dream journey I am. We want to change the way the world sees media. She's taught me the importance of faith and the beauty in genuinely being excited to see others succeed.
Syleena Johnson: One of my closest friends, biggest confidants, and my creative partner. I consider her a big sister. She pushes me, always tells me the truth even when I don't want to hear it and holds me accountable. Her drive inspires me to go hard at whatever I choose to do.
Dr. Syleecia Thompson: Is my Life Coach, and also one of my closest friends. I also view her more as a big sister. She is patient with me and my progress as a person, she makes me laugh until my stomach hurts, she holds me accountable and is one of the most inspirational people I know.
Rashan Ali: She was instrumental in leading me to my biggest professional opportunity to date. She believed in me for something I hadn't yet believed for myself. I'm forever thankful!
Overall, there are so many more people I could name. I'm so blessed to have the village that I have! Without them, I am literally nothing.
The other mentors and people of importance were listed in my write up about how I got into the business.
Contact Info:

Image Credit:
Photo Cred: Keith Estep Photography:
– Black and white Main photo of me submitted with blue jeans and smile
– Photo of me in black standing in front of red background
Photo Cred Anthony Cremeans
– Photo smiling in all black on Power Star Live set
– Photo of me in hoodie talking to Will Packer
Photo Cred: Antoinne Duane Jones
– Me standing in gray with cue cards
– Me with Kirk Franklin on Sister Circle set
– Me with black "Woman" sweat suit on
Photo Cred: Amina, Trustworthy Magazine
– Me leaning on banister with braided ponytail
Photo Cred: Maurice Bland
– Me looking to the side against fence with black shirt on and braids
Suggest a story: VoyageATL is built on recommendations from the community; it's how we uncover hidden gems, so if you or someone you know deserves recognition please let us know here.