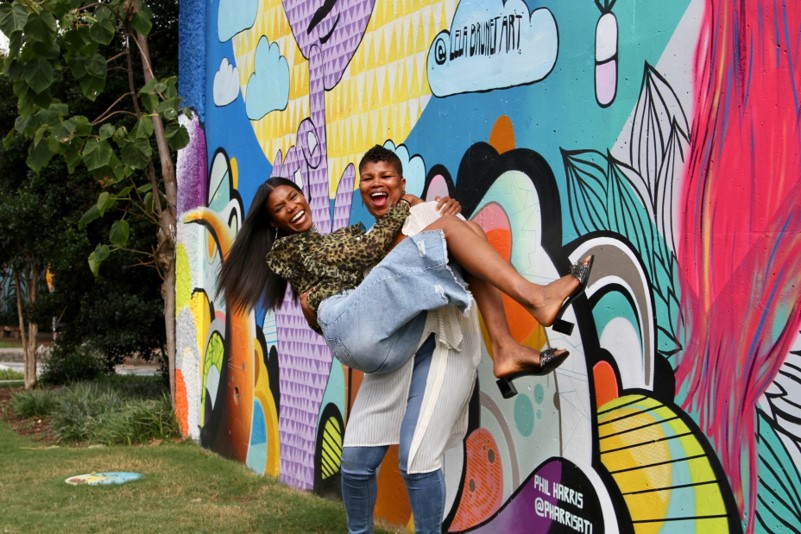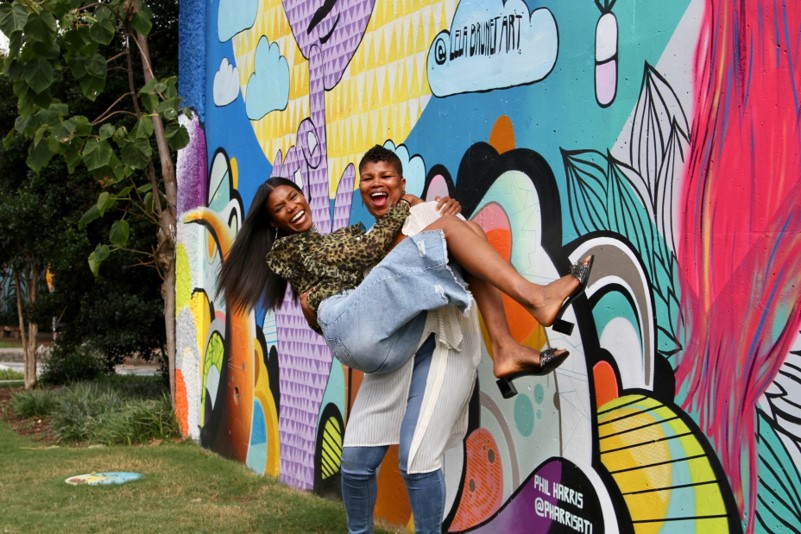 Today we'd like to introduce you to Sharon Falcher and Sherica Maynard.
Thanks for sharing your story with us Sharon and Sherica. So, let's start at the beginning and we can move on from there.
Sharon: I come from a Caribbean background, and I grew up in Toronto, Canada. Growing up surrounded by a creative family (an Artist, Fashion Designer, a Hair Stylist, and many professional singers) allowed me to easily express my creative side. Design is truly part of my DNA. The love of  amazing architecture, colors, unique lines, and textures undoubtedly influenced my decision to become an Interior Designer. I can't imagine my life without design at the forefront; I get an amazing high in well design spaces. This is what I love about my profession. I get to work with so many different people to help each one achieve their own personal style that reflects their likes, values, and culture. In 1992, I migrated to Lithonia Georgia, after working for a local Interior Designer making window treatment, I started a window treatment fabrication workroom then added design consulting in 1996. Always seeking knowledge to better serve my clients, I attended The Custom Home Furnishing School in Swannanoa NC. After many years in business, I still felt that I needed more knowledge to better serve my clients. I decided to go back to school where I earned my degree in Interior Design. It was during a presentation to my class in my last semester of school that I was introduced to an interior design franchise. I knew this was the right fit for me. After graduation, I worked for the interior design franchise, which exposed me to new skills that would help to reinforce what I learned in school and reignite my love affair with design. So, after nine months, I birthed my own franchise.
With this opportunity, I'm inspired to make each client feel special as I design specifically to meet their needs. I'm passionate about working with them on a one-on-one basis to help make their house into a beautiful home. The ability to work with clients in their home allows me to build a strong relationship with each individual. I have worked in the interior design industry in some capacity for over twenty years. I love seeing each client's reaction to the "Big Reveal" after I have just installed the room of their dreams. My dedication to each project is the same no matter how small or large the project. My philosophy is that your home is a personal reflection of YOU, not me, which is why I will spend lots of time getting to know you and addressing your needs for your home. It's all about YOU!
Sherica: I was born in Toronto, Canada and grew up in Lithonia Georgia. After graduating at the top of my class, I moved to New York City where I immersed myself in its eclectic culture. During the 10 years, I lived in New York. I did some modeling from Fashion Week and magazines to be the winning model paired with the winning designer on Project Runway Season 15. I also earned my BFA in Architectural Design from Parsons The New School of Design. I decided to move back to Atlanta after ten years where I joined my mother as an Interior Designer. While growing up, architecture and design had always been a big influence in my life and throughout school, the arts were always my high point. Having grown up in a household where you had to make something out of nothing, this simple skill has seeped into my design philosophy and has taught me to see things in a way that others may not have thought of. Multipurpose and innovation are two things that hold high prominence in my design process. What I love most about Interior Design is my ability to change someone's life. Some may ask, 'how can you change someone's life with interior design?' I call it Residential Therapy, it is creating a place of peace & comfort, a place where you can call home! It's where you escape after a long day, it's where you create memories with your family, it is an abode that tells a story about who you are and what you love. Whatever the space may be residential or commercial, I love transforming spaces to feel peaceful, comfortable and inviting. When I create a space for my clients, I don't only expose them to different and unique products to make their special space stand out from others but I also strive to give my clients a space that fulfills their personal needs.
Overall, has it been relatively smooth? If not, what were some of the struggles along the way?
Sherica: Life, in general, has its obstacles but I will touch on one that we both shared. When I decided to move back to Atlanta from New York, it was a big transition. I lived in NY from 18-28 and those were indeed the best years of my life thus far, so many experiences and lessons learned. When I moved back, I wasn't living on my own as I was in NY, I was back living with mom not only mom but a full house, I have three younger sisters and my father. Now, there's a major transition going from living alone in NYC to now sharing a home with five other people and out of the five I spent the most time with my mom. We would go to work together and come back home and wake up and do it again. For someone that is an introvert like myself and loves to have "me time" this was becoming a lot. But for my mom, it was definitely tough because her "baby" was back and she was excited all she wanted to do was spend so much time with me when I just wanted space to get adjusted. Yes, it was my decision to move back but I guess I wasn't ready for mom to be wearing the hat of mom and Boss. There were times I was questioning, did I make the right decision.
For my mom, she had to learn how to mother in a different way and also know how to be a boss in the office and turn the mother hat off and I had to learn how to adjust to seeing my mom as mom and mom as boss and knowing how to also transition from daughter to business partner. More times than not, those hates would get mixed up and major tension was formed. I'm sure there were times when she wished I was that sweet girl who came to visit during holidays and there were times I just completely wanted to get a different job just for peace. Through it all, we have both learned a lot about ourselves and a lot about working with others/family members and understanding the boundaries one must have to make a family business work. As entrepreneurs, we always have to have the Boss hat on but there's sometimes when you have to know how to delegate task for productivity and most importantly know your strengths. In a smart business where one lacks the other is strong and we are now at a place where we have worked out the kinks. Now, I'm not saying we don't have any problems but I will say the business and our relationship has never been better! You have to let God use those moments when you feel like giving up to strengthen and motivate you because there's always light at the end of the tunnel.
Please tell us about Interior Design by S&S:
We are an independently interior design firm. As Interior Designers, we strive to bring a functional space that fits our client's personal STYLE, LIFESTYLE, and BUDGET. We only come up with Design Plans that are unique to their personal space and this plan is not a duplicate design from previous clients. We always bring them current trends and styles. We believe that this design process should be enjoyable and should create a sense of ease for them and their family. We want the designing process to be a collaboration between us and our clients so that our clients can also have a say in what will be in their home. To be honest, it's hard to say what we specialize in because we are good at a lot, lol, but if I had to pick one Sharon specializes in Window Treatments and I specialize in accessorizing.
What are we known for: One thing that most of our clients like about the way we work is that we don't come in and make our clients throw everything out, we always see what can be done with what they have first or repurposed in another room then we fill in where we need to complete their design.
What are you most proud of as a company: Our relentlessness and tenacity. Who would have thought my mother would of went back to school in her 40's get hired in her career and within nine months bought her own franchise and run it on her own (until about three years ago, when I joined her). From being so shy to be on camera and having to go through like 10 takes to get 1 good YouTube video to now being able to do it in one take. From thinking, we are in an over-saturated market to being recognized in a national magazine and winning awards. Honestly, I am so proud that we are black women entrepreneurs in Atlanta, bringing our dream career to life. I'm proud that we can be an example to young girls all over the world that entrepreneurship is possible and that it is an option to consider. I am proud of us and how far we have come as a Mother-Daughter team. I'm proud that we are able to change lives every day by transforming our client's houses into a homes. There's honestly so much to be proud of when it comes to our company.
What sets us apart: We create Timeless designs. Unless we get a client that is really trend driven which is rare, we often give our clients a design that can stand the test of time. Meaning 10 years from now their design won't look dated or too over the top. I feel like sometimes designers try to stay with the trend and get to trendy and within 2-3 years, that design is dated.
If you had to go back in time and start over, would you have done anything differently?
Sherica: I wouldn't have gone to college, lol, the loans that I have to carry are just not worth it, especially considering that I am my own boss now… smh.
Sharon: I would of went to school earlier, I feel like I would be further in my career.
Contact Info:
Image Credit:
Room Photographer: Scott Johnson, Lifestyle Photographer: Lew Falcher
Getting in touch: VoyageATL is built on recommendations from the community; it's how we uncover hidden gems, so if you know someone who deserves recognition please let us know here.