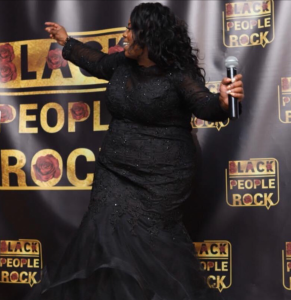 Today we'd like to introduce you to Tashea Lewis.
Black People Rock Honors is based out of Bridgeport, Connecticut. We honor individuals in and around the community for their Work, Achievements, and Positive Influence. There is so much negativity going on in the world and I wanted to show the Black Community in a great light. Black People Rock is not about people who are popular or apart of a certain organization.
This is not a competition about who has a degree, been in business, or in leadership the longest. This is about our culture, unity, lifting one another up and not tearing each other down. I see so many Kings and Queens with a light shining so bright inside of them and sometimes they can't see it because they believed what others told them. But I'm here to tell you that You Rock, I celebrate and to never give up.
Black People Rock in 2017 started off just another event with speakers and vendors but something was still missing because this type of event is common. I saw a lot of entrepreneurs working hard, trying to make it, and just wanted to get genuine support. One day God woke me up one morning in 2018. He gave me instructions on how to move forward with Black People Rock and told me to give Honor. Black People Rock has honored over 200 individuals and some include The Exonerated 5, Rev. Dr. Calvin O.Butts III, Deon Kipping, June Archer, LaChanze, Wade The Barber, Roberta Hoskie, Mike Clemons, Louis L. Reed, and so many more amazing individuals.
In 2021, Black People Rock Honors will plan it's the first tour to honor individuals in different states. So many people have asked to bring this event across the world and we're so excited that it's finally happening. We can't wait to present the Virtuous Woman, Woman of Integrity, Man of Excellence, Community Leadership, Purpose Driven, Entrepreneurs on the Rise, Man of Integrity, Go-Getters and so many more awards to more Kings and Queens that's just striving for Excellence.
Tashea is a 34-year-old native from Bridgeport, Ct, and a mother to a beautiful 14-year-old girl Janiya. Her mission is to Empower, Inspire, and Build People Up to go after their dreams and get what God has for them. She loves planning and hosting events that bring Love and Unity amongst others. She promotes sisterhood, brotherhood, health, self-love, entrepreneurship, community leadership, and ownership.
Tashea Simone is dedicated to helping people achieve their dreams and Breaking generational curses. Tashea is all about giving back, Inspiring others, and using programs created to help those in need. For so long, Tashea Simone let people get in her ear and hold her back from achieving her dreams. She was always concerned about what people thought about her, if she would be accepted, wearing a mask to please others but not anymore. She is going after everything that God has for her, letting nothing stand in her way and she encourages you to do the same. She wants to make a difference, be a light wherever she goes and be everything God has called her to be. She's been thrown a lot of curveballs, almost gave up but persevered through it because giving up is not an option.
She is the Class of 2019 100 Women of Color with June Archer
She received the Young Trailblazer Award at a Mother's Day Brunch in May 2019
She received the "Slayer on the Rise" award on September 8th, 2018 at the "Wake Pray Slay Conference."
She was nominated for the "Women's Empowerment Expo" in Washington, DC in 2018.
She has also been recognized by her Mayor and City for Bringing Empowerment and Educational events to her city.
She feeds the needy on Thanksgiving weekend and gives back to those in need during the Christmas Holidays.
She also has "The Good Vibes Only Festival" Downtown Bridgeport in August with Vendors, Food Trucks, Guest Artist, Dance Performances and she gave away over 400 book bags to children going back to school.
Overall, has it been relatively smooth? If not, what were some of the struggles along the way?
It's hasn't always been a smooth road. When I first started out, I didn't always cross every t and dot every I or handle money right but I lived and learned through my mistakes. I was just a girl that wanted to be an entrepreneur and make a difference in this world. I thought getting the right names to be apart would draw the crowd which it did but I didn't have to do that because I learned those that are assigned to be in the room will be there. God gave me the assignment to give Honor and shining a light on others is something I love doing. But I didn't know giving out awards came with so much.
There are people that love you for it, some try to get close to you to get in the number, some hate you because they weren't in the number, call you to copycat, tell lies on you and, misunderstand you and list goes on. My mission is to stay on the assignment, shine a light on others, and change lives. I'm grateful for every high and low that has come in my path because it's made me stronger. Challenges aren't always bad I look at it as God's way of seeing if He can trust you to handle the assignment He has given you. I'm in it to win it because giving up is not an option.
Please tell us about Black People Rock Honors.
I honor individuals for their work, achievements, and positive influence in & around the community. My mission is to Empower, Inspire and Build People up to go after their dreams and get everything God had for them.
I've honored almost 200 individuals so far and in 2021 Black People Rock Honors goes on their first Tour to different states to continue honoring our Kings and Queens.
Connecticut (May 2021)
Baltimore, MD (July 2021)
Charlotte, NC (September 2021)
Atlanta, GA (November 2021)
They say if your dreams don't scare then they aren't big enough. I'm taking a big leap and I plan on taking an even bigger leap in 2022 adding more states to honor more individuals.
I don't just give out awards but I put each honoree in categories that represent who they're.
Categories include Man of Excellence, Virtuous Woman, Man of Integrity, Go-Getter, Entrepreneur on the Rise, Purpose Driven, Woman of Integrity, and many more.
Aside from Black People Rock Honors, I also do Women Empowerment Events that bring healing and transformation and I do festivals that brings the community together, display amazing talent and a place where I can give back.
On October 12th, I started my first live series sharing people's stories. I didn't want to just give out awards but I wanted to take it a step further and share people's journey. You seen the Glitz, the Glam but do you understand their grind? Why they started? Why they keep going? Why they almost threw in the towel? Well, you can Tune in Every Monday at 8:00 pm to understand why they ROCK!!! Everyone has a story and you never know what they've been through and I wanted to share my platform with others and give them a chance to tell it in their words. I pray one day in the future this can go into full production traveling the world sharing individuals stories.
I believe that ministry comes in all forms and this is one assignment that God has placed over my life to love on His people. Sharing my light, serving, and celebrating others is what I love to do from the heart. I love supporting and encouraging others to keep going no matter what obstacles comes your way. Sharing our light is a wonderful way of being. Putting others first above ourselves takes a lot of practice, perseverance and we are rediscovering our true selves in the process. So throw open the curtains on your heart, let in the light, and start sharing it today!
Any shoutouts? Who else deserves credit in this story – who has played a meaningful role?
God deserves all the credit because He gave me the vision to fulfill and He never cease to amaze me. He always comes through and never lets me down. Even when I get off track, He reels me right back in.
I so thankful for my daughter, family, and friends that always has rock with me but it's too many to name but they know who they're.
Contact Info:
Suggest a story: VoyageATL is built on recommendations from the community; it's how we uncover hidden gems, so if you or someone you know deserves recognition please let us know here.