Today we'd like to introduce you to Tiffiny Fambro.
So, before we jump into specific questions about the business, why don't you give us some details about you and your story.
I'm the youngest of four girls and grew up in Detroit Michigan. As a kid, I struggled with self-image issues, self-esteem, and confidence. For many years my weight went up and down and it usually corresponded with my emotions. Whenever I was sad I would eat, then I'd gain, then I'd go on some extreme diet, lose the weight, then a few months later gain it back. And that was my cycle for most of my life, especially through my college years. Then one day I met a guy who made me feel pretty and wanted. Let me say that again he made me feel pretty and wanted. That was the feeling that I had never felt before. And because he filled that craving – the feeling that I had longed for – that feeling that someone other than my mother – desired me – because of that I ignored all of his faults. That was the man I ended up marrying.
Now flash forward a few years later, I had moved to Atlanta, I was working as a Public Health consultant for an international corporate company, I was thirty-one years old, I was 40lbs overweight, my marriage was a disaster, I was stressed out, I was miserable and I was depressed. I knew I had made a mistake by marrying my husband but I felt powerless. It was then that I knew something had to change. I could not go on living that way and literally said to myself – "okay Tiff if you're going to stay married to him then you need a hobby, some type of distraction, something to make you feel good". So I decided to start walking every day after work. I would just walk from my apartment to a nearby neighborhood park (Lennox Park) a few times a week. Altogether I was walking 4 miles a day. Walking gave me an opportunity to reflect on my day, think about my life, new goals that I wanted to accomplish and overall it just made me feel really good. I started to look forward to getting off work every day, so I could rush home and start my walk. Eventually, I challenged myself to jog a little as I walked, so I started doing a walk/jog for 4 miles a day. Then my walk/jog became a full jog to the park and back home. Then one day I realized I was running with ease back and forth to the park. I started to love running so much that I joined a running group and started participating in races. Running saved my life because not only was I losing weight, but I finally found something that made me feel good, made me feel strong, made me feel confident and made me feel pretty. And it had nothing to do with my husband or anybody else; it was all about me.
Once I realized what my body could accomplish from running, I knew I wanted to take it to the next level. I wanted to find out if I could build muscle and get that toned Angela Basset/Jennifer Lopez/Janet Jackson body. So I started reading fitness and bodybuilding magazines and researching about nutrition and healthy eating. I wanted to really see how far I could push my body but I needed a goal. So I decided that I would do a body competition and that would be my motivation for lifting weights. So with the help of a friend I was quickly connected to a trainer who had the experience I needed. I started working with him in January 2013 and from January 2013 to around May 2013, I lost 20lbs and gained muscle mass. I competed on July 20th, 2013 in my first bodybuilding figure level competition and won 5th place. I was so nervous but the moment it was over, I knew I that I was going to do it again. And it was at that moment that fitness became my life. I did five more competitions, I started getting certifications, teaching classes, helping my friends, I started blogging about it, and I was obsessed. It became my addiction, my medicine because it made me feel, for the first time in my life that I was beyond pretty, I was a beautiful, amazing, talented, intelligent, strong, confident and I was worthy. It was my breakthrough! My mind literally shifted, I started doing things I had never done before. I started meditating and taking yoga classes and really caring for myself. I started listening to myself and trusting myself, I started to recognize that I was in control of my life, that I had choices, and that I loved myself.
I felt empowered and renewed, my body was in great shape, my mind was positive, I was disciplined and I was focused. And it was at that point that I finally gained the courage to leave my unhappy and unhealthy marriage. I didn't hate my ex-husband, but I recognized that he still wanted to be with that weak, sad, desperate, lonely girl that he had met ten years prior– but that girl was gone. And I refused to continue to pretend to be her. By going through my own physical and mental transformation, I learned that my life's purpose was to help others stake their claim to their life and discover their own power and self-love; discover their own strength and endurance; and discover how to be a healthy, healed, whole human being. And that's what led me to start Build Body Wealth, to help as many people as I could discover the joy of life through physical fitness and health. I took my blog and changed to a full online company.
We're always bombarded by how great it is to pursue your passion, etc – but we've spoken with enough people to know that it's not always easy. Overall, would you say things have been easy for you?
I have had my struggles along the way! I have been working for companies since I was 14 years old. I was taught to work hard, go to college and get a "good" job. So, I didn't know anything about running a business. In 2016 I got a business coach, Doreen Rainey and she helped me a lot. She put me in the Steve Harvey business school program which lasted a year and she helped me completely rebrand my company. Even though I learned a lot from her, I still made mistakes in my business. One of the biggest struggles that I faced was pouring a lot of money into my business without making a profit. I bought so many online packages for entrepreneurs and took so many other online courses. I learned the hard way that there comes a point in business where you need to stop buying the education and start implementing the education. For 2019 I told myself that I was not buying any more programs and just focusing on doing the work. My business coach told me, and I believe it to be true, "only about 25% of owning a business is the "sexy work", but 75% is the "unsexy" behind the scenes work that people don't see". For me, the 75% is the emails, phone calls, hiring support, paying the business expenses, etc. It's not the fun work, but it is the work that makes the entire ship run smoothly!
So let's switch gears a bit and go into the Build Body Wealth story. Tell us more about the business.
I currently work full-time in my business Build Body Wealth as a healthy lifestyle speaker and strategy coach. I offer keynotes and workshops to companies and organizations on understanding the connection between high performance, leadership, and optimum health. Giving participants simple health strategies to help them feel physically and mentally stronger, more confident and focused. I also offer online strategy coaching sessions to individuals who want to work with me one on one; guiding them on the steps to creating personal wellness plans that fit their needs. I also have a YouTube channel where I get to give my audience recipes, workouts and information on building health strategies that fit their lifestyle. I know now that everything I went through was preparing me for this path. This path to changing my life and helping others change their lives for the better. People can visit me at www.buildbodywealth.com or follow on Facebook @buildbodywealth, Instagram @buildbodywealth and on YouTube @Build Body Wealth.
I am most proud of telling people, especially women my story to inspire and let them know that anything is possible. I feel that my company is an extension of myself and it's continuing to grow and flourish just like a child.
I think what sets me apart from other health and wellness people is that my whole life has been dedicated to the health field. My background education includes a master's degree in Public Health Education, a bachelor's degree in psychology, and certifications in group training, personal training, and nutrition behavior. I've worked at top ranking Universities as well as international consulting firms doing research, training, and evaluation. Plus my fitness background. I believe my background gives me a complete overview of health from the macro scale to the micro scale. So when people or companies work with me, they get all of my experience from the broad view.
Has luck played a meaningful role in your life and business?
I think Oprah said luck is when opportunity meets preparation and I totally agree with that belief. I believe in the law of attraction. I think when you prepare for your goals or desires that's when the Universe starts bringing you experiences that fit that preparation. I think when you focus on what you want, work toward your desires and just live a happy life, you will attract what you want.
Pricing:
30 Day's to Level Up Program: $97, VIP experience -$499, More Details here: http://www.complimentsofsharon.com/30days/
8 Week Group Coaching program: $697 (I also have 2 part payment plans)
3-month one-on-one interactive coaching sessions $3100 (I also have 2 part payment plans)
6-month one-on-one interactive coaching sessions $5,580 (I also have 3 part payment plans)
Contact Info:
Website: www,buildbodywealth.com
Phone: 678-373-6912
Email: tfambro@buildbodywealth.com
Instagram: IG: BuildBodyWealth
Twitter: BWWB_Fit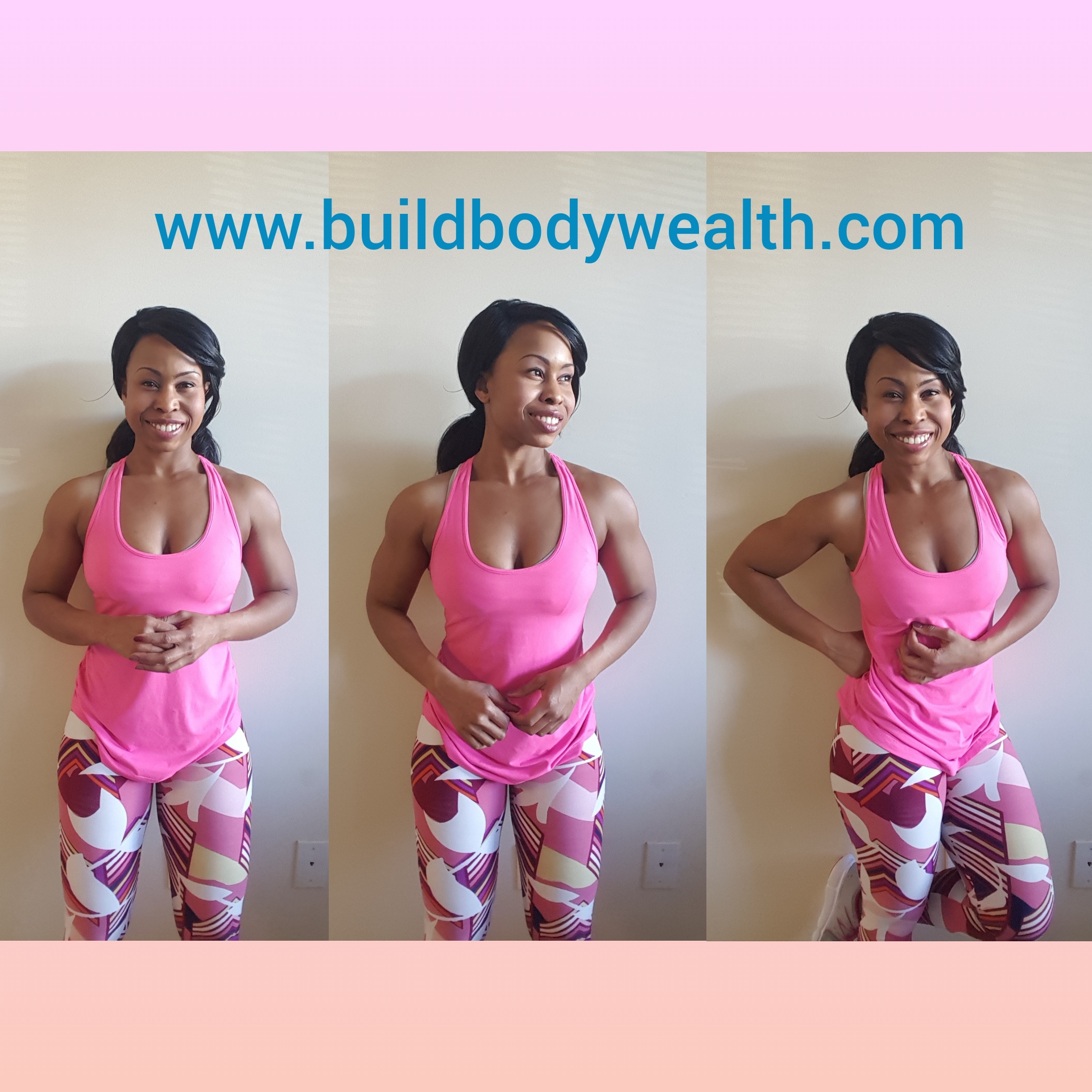 Getting in touch: VoyageATL is built on recommendations from the community; it's how we uncover hidden gems, so if you know someone who deserves recognition please let us know here.