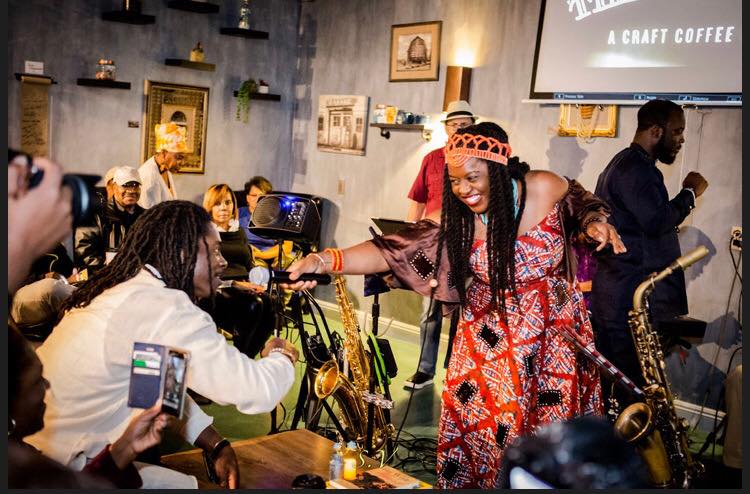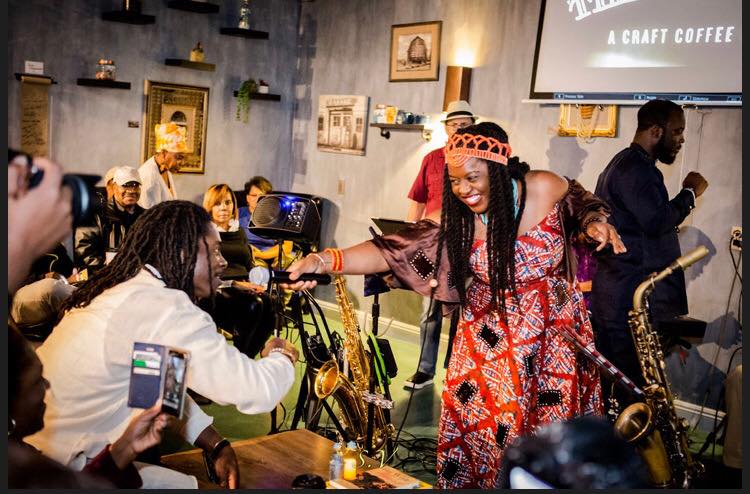 Today we'd like to introduce you to Tosinger.
Every artist has a unique story. Can you briefly walk us through yours?
My artistic journey started while growing up as a little girl in a city called Abeokuta in Ogun state, southwestern part of Nigeria, West of Africa. I have always been surrounded by music and art. Growing up having a TV broadcaster mother who was active in the entertainment industry and who always played pop classics/70s & 80s music and my fashionable educator grandmother who is also creatively inclined as well.
I started singing in the church choir with my grandmother. She had her radio on 24/7, so I was always surrounded by African traditional folk music when I lived with her. In my later teenage and young adult years, I became very active in the church choir and college fellowship praise team where I was given the nickname 'Tosinger' coined from my first name Tosin + Singer = Tosinger. Tosin is the short form of 'Oluwatosin' which means in my Yoruba language,-"God is worthy to be worshipped."
Traveling to London, the United Kingdom for further education exposed me more to the professional side of music. This is where I became more confident on the mainstream stage, went to music school and was involved in Broadway theatre shows and vocal performances. Marriage brought me to the United States in 2002, to Oklahoma state to be precise, where I gave birth to my two sons and later moved to Atlanta in 2010 where I attended Savannah College of Art Design for a graduate degree in Arts Administration. I continue to walk my journey in the warmer creative atmosphere of Atlanta as a multifaceted African (Nigerian) creative who wants to share her gifts while inspiring the world and connecting with the diaspora.
Please tell us about your art.
I am a singer/songwriter, writer, storyteller/actress, and commercial model.
For genre classification sake, my music can be referred to as afrosoul, afrojazz, afrofolk — worldjazz or worldmusic by virtue of the musical elements, lyrics, and style. My music, my art, and my essence are always reflective of my African roots and culture. My message is usually inspirational or educational.
In addition to releasing an EP and various singles, I have a debut album titled "Organically Singing," and it is available on all digital outlets. The music on the album is a collection of original, fresh and healthy lyrical content and pure vocals for the soul and spirit, songs of soulful afro genres that include nostalgic cultural folk songs, with a dash of my Yoruba language in places, ambient sounds, inspirational messages and unique interpretations of ethnic world sounds. Music is my passion, and I am at my highest energy when I am expressing myself musically.
As a storyteller, I tell passed down, and original African folktales to audiences of all ages and I have a youtube channel – "Tales With Tosinger." I have also written a folktale storybook titled "Seven Afrofolk Tales in Seven Days: Original folklore inspired by the past and present" which is available on Amazon. My purpose with my art of storytelling is to preserve the culture of oral storytelling from generation to generation. This is how our elders passed along life lessons and morals through animated expressions, tales and fables under the moonlight, with children sitting at their feet. It is my dream, one day, to be on Sesame Street, an awesome PBS children's program that was a prominent feature of my childhood.
As an actress, I continue to seek platforms where I can tell stories that convey human stories and engage the diaspora with the positive narratives of the African continent and culture. I have been involved in various stage theatre, indie projects, and major TV productions. As an actress/commercial/lifestyle model, I have just been signed on by Ursula Wiedmann Models and Talent agency and currently available for Film/TV and Print commercial ads.
I see myself as an ambassador of culture through my work, and I want people to be inspired.
Given everything that is going on in the world today, do you think the role of artists has changed? How do local, national or international events and issues affect your art?
Given everything that is going on in the world today, the role of artists has not changed and will not change in the years to come. Locally, nationally or internationally, artists who are bold in their expressions can still confront the status quo in their works; just like one of my favorite jazz legends, the late Nina Simone said: "It is an artist's duty to reflect the times."
With my art and music, I am more inclined towards humane values, so where there has been a tragic or a devastating event, I sing about "love, peace and unity" as heard in my song "Te Amo" for example. Events and experiences move me to pour my soul into creating a musical piece that will stir the heart of my listener to action.
How or where can people see your work? How can people support your work?
My album "Organically Singing" is available on CDBaby, iTunes, Amazon, Spotify, google play, youtube or anywhere music is sold online. Just search "Tosinger." People can also follow me on Spotify and add my songs to their playlist.
You can subscribe to my 'Tosinger' or 'Tales with Tosinger' youtube channel and watch, like, comment and share new video uploads. My folktales book "Seven Afrofolk Tales in Seven Days" is also available on Amazon. I am available as a singer/storyteller for festivals, schools, and events.
Since I perform at different spaces and events, people can support by coming out to enjoy and experience live good music. You can sign up on my email list at www.tosinger.com for updates on upcoming shows.
Contact Info:

Image Credit:
AKolaProductions
Lola Scott
TFash Images
Snvroy Visuals
Ligerian Optics
Simeon Fabunmi
Lola Scott
Getting in touch: VoyageATL is built on recommendations from the community; it's how we uncover hidden gems, so if you know someone who deserves recognition please let us know here.