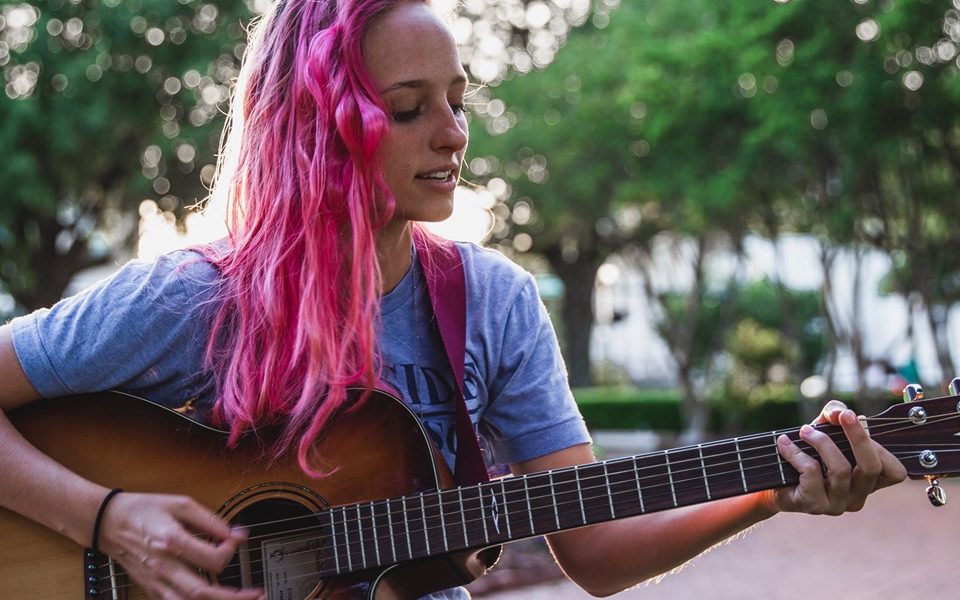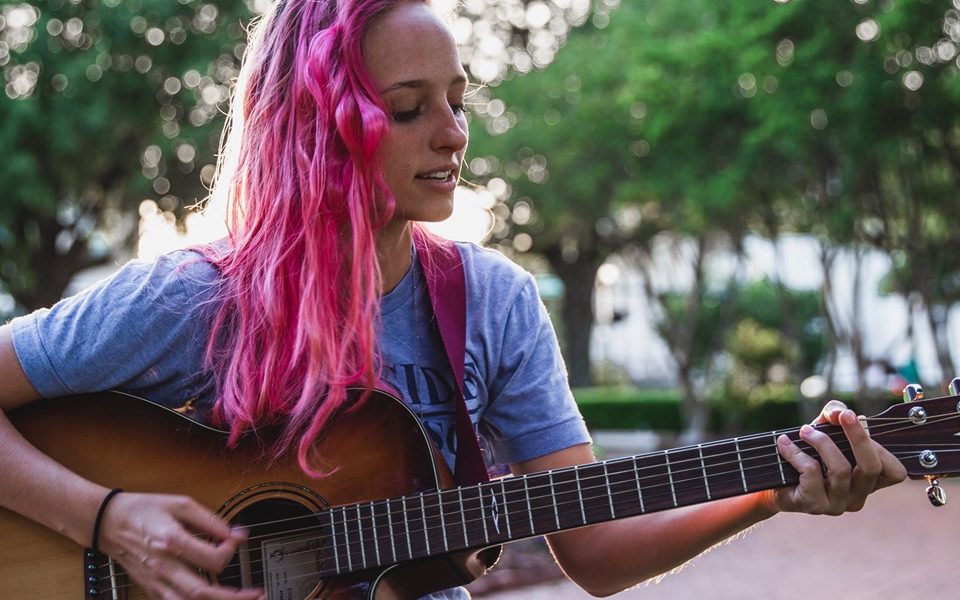 Today we'd like to introduce you to Anji (Angela Hutchins).
So, before we jump into specific questions, why don't you give us some details about you and your story.
I first fell in love with music as a little girl, when my fondest memories were of my mother singing me to sleep at night or strumming her acoustic in the evenings while we watched the fireflies dance over the pond in our backyard. The soothing sound of her voice was magical to me, and creating my own beautiful songs became an obsession all the way up through high school, where I played in bands, coffee shops, bars, school concerts, and literally anywhere that I could get an opportunity to perform. Everyone in my life was curious what I would do to make money… so of course I chose to get my BA in Music, falling even deeper in love with the art of sound. This was a more mature, analytical and committed kind of love than any of my high school one-night flings with cover songs had ever been. Over the years, that deeper love has lead me to learn how to compose, record, sight read, and navigate the intricacies of music theory that I so desperately need to bring my songs to life. Since then, my focus has been to share what I've learned, master my craft, and create a more beautiful world through my music.
We're always bombarded by how great it is to pursue your passion, etc – but we've spoken with enough people to know that it's not always easy. Overall, would you say things have been easy for you?
Any road worth taking will never be a smooth journey – especially in an industry where women have to fight to be heard. So, to everyone of any gender out who is reading this: your story, and your voice, is so powerful! Show others your soul, and you will experience true artistry and connection. Never forget that by pursuing your own passions, you will give others permission to do the same. And my most critical piece of advice would be to surround yourself with people who are ON FIRE to work with you! Find people who really believe in what you're doing and make them a priority in your inner circle. They are the ones who will help you remember why you started when things get tough, because no one is an island, and we all need a strong support system to keep us going when we get tired or overwhelmed (speaking to myself here). Never be afraid to let your people take care of you when you need it most. And most importantly: TRUST YOURSELF. You're going to work with a lot of big personalities in the industry, but just because someone thinks that they are the greatest producer of all time doesn't mean that your art isn't YOURS first and foremost. I've walked away from recording contracts, managers and more just because they wanted to sacrifice my art and values for their own egos and agendas. And always remember: you know better than anyone else how your music should sound, what your image should be, and how you want to relate to your fans and followers. So if anybody ever tries to make you second guess yourself, you absolutely do not need to work with them again. Your time, energies and creations are far too precious to be wasted on that.
Tell us more about your work.  What else should we know?
As recording artist Anji, (pronounced ahh-nee) I am a singer/songwriter, producer and performer. My art, music and image are all about exploring the processes of breaking and healing – from following dreams and desires to breaking apart from fear, pain, infatuation, melodrama and disappointments. The Dark EP in particular explores these "darker" emotions; heavy soundscapes of layered guitars, soaring melodies, and grunge rock drums. I'm very proud of these songs, which helped me break out of my own darkness and depression to connect with the amazing people that helped me create them.
For the upcoming Light EP (releasing this summer!!!) I went into the studio with Aaron Pace to create a more polished and upbeat alt-pop sound that captures the joy and power of LIGHT; the most optimistic that I've ever written. The EP is currently being produced & mastered by Julian Gray, (who is sending over the first single for release very soon)! I am SO EXCITED for this project – it's my biggest, boldest, brightest and most heartfelt achievement yet and we're not even finished with it! The songs range from the powerhouse anthem "Strong" to the choir-backed title track "Light", the folksy indie song "You'll Find Me" and the euphoric "Sunshine & Rainbows". There will be five songs total, each with a unique sound and message of hope and overcoming struggles of the past. This song is the soundtrack to my own personal development as I've gotten deeper into the music festival community, and yoga, meditation, and mindfulness. I hope it can bring healing, positivity and peace to others the way it's already done for me just by creating it. During the recording process, when things got stressful one night, I pulled off to the side of the road, leaned back into the seat and listened to "Light" on repeat at least five times, letting it soothe me into remembering why I chose this path. And I'm so incredibly grateful to have such a killer backing band that perform and record with me on a regular basis, from places like Eddie's Attic, to the Masquerade, The Vinyl, Furnace 41 and everywhere in between.
When I'm not in the studio making my own music, I also specialize in writing songs and recording vocals for other producers, composers and musicians. So far I've done everything from hip hop to EDM, metal and film soundtracks. It's an incredible gift to be able to lend my voice and songwriting to other people's creative visions, (check out my Spotify and soundcloud for a few of these) and I'm excited for "Titanic" to be premiering as the credit song for indie film Crimson Tower this summer!
In my day to day life, I also teach music lessons and work as the owner of Kaizen Records, where I handle all of the paperwork, including: contracts, signing new artists, managing bands and organizing all projects. As a label, we are focused on connecting and promoting musicians that are passionate about social issues and we hope to revolutionize the music industry into one that's less focused on capitalism and cookie cutter productions to a more harmonious environment which promotes quality content & develops artists in a healthy and sustainable way.
So much of the media coverage is focused on the challenges facing women today, but what about the opportunities? Do you feel there are any opportunities that women are particularly well positioned for?
Women are AWESOME community leaders. Particularly when it comes to problem solving – all of the women in my life are fantastic at handling daily issues and finding new, creative ways to deal with the difficulties life has given them. The media may be way too hyperfocused on the negatives (because they always are), but in the past few years there's been a huge rise in female leadership, and I love seeing all these badass women running their own companies, becoming entrepeneurs, freelancing in their industry and taking over as CEOs, because we as women and creators have the innate ability to see beyond traditional or conservative ways of thinking. We are literally where all of life comes from – and we value and appreciate that in a way the patriarchy never has. It's going to take protecting, nurturing, and healing energy to restore our planet, and that's why women are steadily taking over… Because WE are exactly what this world needs right now.
Pricing:
Anji T-shirts – $18
Dark EP – $5 (available online everywhere)
Anji "Dark" hoodie – $33
Vocal services – email for info
Songwriting services – email for info
Contact Info:
Image Credit:
Acoustic photo: Jacob Taylor Kravtin
Live action shots: Shaun Ramkumar