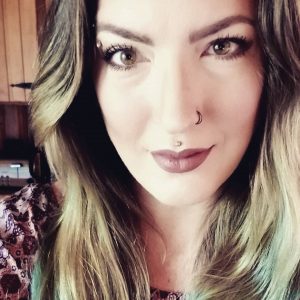 Today we'd like to introduce you to Constance Hosler.
Constance, let's start with your story. We'd love to hear how you got started and how the journey has been so far.
I've always been a creative. An activist for women's rights, LGBTQ rights and Black Lives Matter supporter and advocate. My goal in this life is to fight for those who have been oppressed for so many years. This fight may be just starting for me, but others have been fighting their entire lives. You want to know how I got to where I am today? For one, I'm white. As a child, I was a self-taught artist of all mediums. I used art to escape a very volatile childhood. It was my saving grace. I found myself homeless a few times as a child, a feeling that no child should ever face. There was never a point that I wasn't on state assistance during my childhood. And just as I was entering the adult world at the age of 18, I was raped by a family member. To this day, my family believes that I am the slut who seduced a 40 something-year-old man.
I've lived in every region of the US besides the Northeast, I'll get there someday. I'm originally from Santa Ana, California but grew up in Portland, Oregon. Portland is where I met my husband in 2004. Two weeks later, we married on June 26th. We owned a contracting company in which we lost in 2007 due to the housing market crash. I found out I was pregnant with my first child. We foreclosed on our first house and our company vehicles and filed for bankruptcy. My husband joined the US Army at the age of 34 just so we could survive.
We moved to Georgia on January 3rd, 2009. Three kids later and just under ten years, we were no longer in the Army. We decided to stay here in Georgia due to the much lower cost of living. We lived in Phenix City, AL, across the Chattahoochee river from Columbus, GA, for a few years. My husband started contracting overseas. We don't see him very often as he is gone for at least three months at a time and home for only 28 days.
We found a school that we wanted my twelve year old to attend in Columbus, GA. It is an art school for gifted students. Living in Phenix City, AL wasn't ideal to have him attend this amazing school. So, we started looking for a house in Columbus, GA. We ended up finding this amazing property that was beyond our wildest dreams, right down the road from the art school! This property is on just under two acres. Beautifully landscaped with a tropical solarium and winding garden paths, a greenhouse and a HUGE pool! The property included a mother-in-law suite with a full kitchen. In December of 2019, we closed on the property. So, back to my being a creative, I knew this property needed to be shared with the world. I visualized our property being used for events, such as small weddings. I also realized that the entire property could be used as amazing and unique backdrops for photography!!! I created stylish settings for the indoor studios and just let the outdoor studios speak for themselves. I have met very talented photographers throughout this endeavor. Some have become very close friends of mine.
I've been using the property as the studio space since March of this year. The Covid-19 pandemic hasn't helped with business but it has allowed me to tap into my creativity by directing some photo-shoots of my own creation. Working alongside photographers who saw my vision made it so easy to bring my ideas to life! Even though social injustice has been going on for hundreds of years, my strong beliefs against police brutality and racism have ruffled a few feathers to say the least. I've had many people unfollow Mystical Oasis of Columbus due to their difference in opinion with my views. The June schedule has cleared also for the same reason. I still have some loyal clients who fight with me but unfortunately, that doesn't pay the bills. My husband took a break from contracting a few months back because we were doing so well, but now, with everything happening, he is going back to Afghanistan for another 3 to 5 months.
Yet, my story pales in comparison to that of a member of the black community.
During all the hard times in my life and my business, I've never had to deal with racism. I've never once felt my life was in danger when a police officer was around. I never thought that I couldn't accomplish something due to my skin color. My skin color has never been an obstacle in my life nor to achieve the goals I've wanted and still want to achieve. I know my life is a testament to what white privilege is. Until EVERY white person realizes this truth and uses this privilege to protect those that are oppressed and protest to deaf ears, this country will never be free and at peace.
Moving forward, I am focused on maintaining our beautiful property for the few clients we still have. I'm also focusing on activism in our community to stop police brutality and stop the systemic racism against people of color. This is where I am today and this is where I will stay.
Overall, has it been relatively smooth? If not, what were some of the struggles along the way?
I think I described all my struggles in the first question but I do have some advice for other women.
1. Don't allow ANYONE to diminish who you really are. Being true to who you are will allow the RIGHT people to come into your life.
2. Integrity is important. ALWAYS do the right thing, even if no one is looking. Doing anything outside one's character, paints a darkness that is hard to atone for.
3. Being a woman is seen as a weakness but make no mistake, it is your greatest strength.
4. ALWAYS make your company at least an LLC. Always protect your personal assets.
5. Set aside 30% for taxes. No matter what. 30% is more than most pay in taxes but if you set it aside after EVERY dollar you make, you'll have a nice little amount leftover after paying taxes to do whatever else you want.
6. When you do decide to start a business, don't do it for the money, believe me, you'll hate your life. Do it for something you are passionate about. You'll wake up every morning loving your life.
7. Give back to your community. Get involved to make important changes that mean something.
8. Always look forward. Vision boards and meetups with other like-minded individuals help stimulate ideas and ignites a bright future in any company.
9. Limit your time with Social media. It can drown you. Set a time limit for sharing pages and commenting and returning messages each day. If you need a break, let your followers know, believe me, they'll understand.
10. Share the wealth! Do your part to help influence the younger generation and other woman entrepreneurs. Being a mentor can have a domino affect on countless lives.
Alright – so let's talk business. Tell us about Mystical Oasis of Columbus – what should we know?
So far, Mystical Oasis of Columbus has been strictly an event space and a studio for photographers. What sets me apart from other studios or event spaces is the space itself. You cannot find ANYTHING like this studio anywhere in Georgia. The pictures on our social media accounts don't do it justice but they're still breathtaking. We stand for social justice and equality. We allow creatives to step outside the box and we are very open to the most innovative ideas you can think of. Nudity is welcome and encouraged. We make statements that are bold and controversial. Hate is not allowed here.
What's the most important piece of advice you could give to a young woman just starting her career?
The most important advice would be, don't doubt yourself. Whatever you do, do it with all of you. Doing anything with less than 100% of you, that's the result you'll get in return.
Pricing:
2 hour sessions are $200; any additional time needed can be purchased in 1 hour increments @ $100 per hour.
Every session includes use of ALL studios at this time.
Studios are: The Solarium; the pool; the greenhouse; the winding path gardens; the chandelier studio; the black and white studio; the brick wall studio; the steam shower studio; and the kitchen studio.
Photographers are encouraged to schedule as many clients as they are able to fill up their allotted time slot.
Contact Info:
Image Credit:
Photographers: Kieana Mainor with Kieana Rochelle Photography @shotbyk1 (photos 1, 2, 6, 7) Honor Meadows @honormeadowsphotography (photo 3) Gary Jackson @frnl_photography (photos 4, 5) Cedric Searcy @icreatebliss (photo 8)
Models: Qori @boytheamethyst (Photos 1, 2, 3, 4, 6, 7, 8); Shelby Toole @swagmoneyshelbz (Photos 1, 2, 3, 5, 6, 7, 8); Diana Smith (Photos 1, 2, 3, 6, 7, 8); Mia Smith @miami____ (Photos 1, 2, 3, 6, 7, 8); Caryl Dimaano @caryl_bianca95 (Photos 1, 2, 3, 6, 7, 8); Ashleigh Gabriel @the.beastly.beauty (Photos 1, 2, 3, 6, 7, 8); Kameeria Tiara Crocker @meerie95 (Photos 1, 2, 3, 7, 8); Victoria Buchanan @lifewithvictoria16 (Photos 1, 2, 3, 6, 7, 8)
MUAs: Brittany Corn @thebword.mua and Ayana Rome @ayanajacole
Nail artist: Kiana Jade Porch @itskijade
Suggest a story: VoyageATL is built on recommendations from the community; it's how we uncover hidden gems, so if you or someone you know deserves recognition please let us know here.