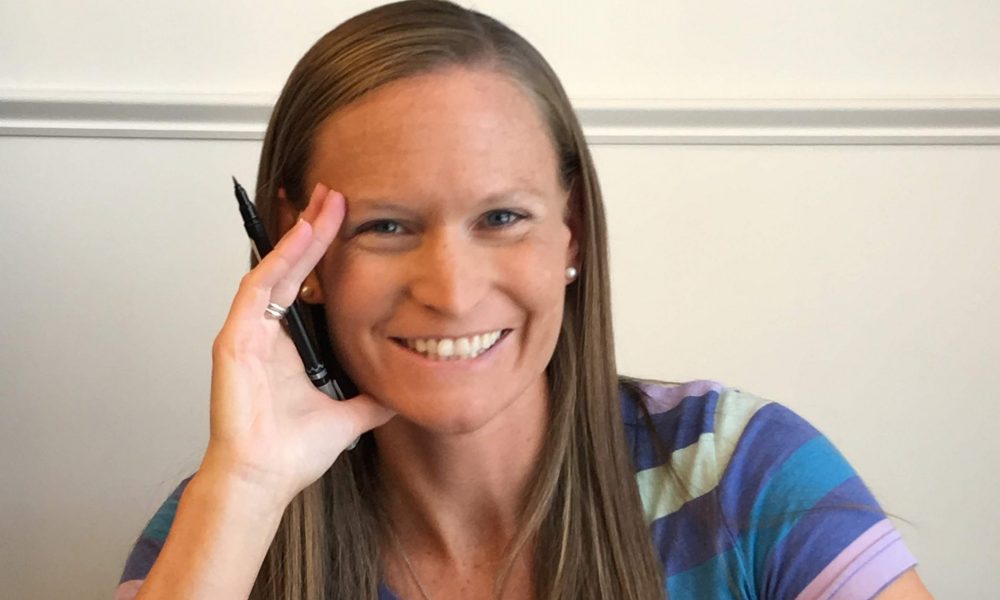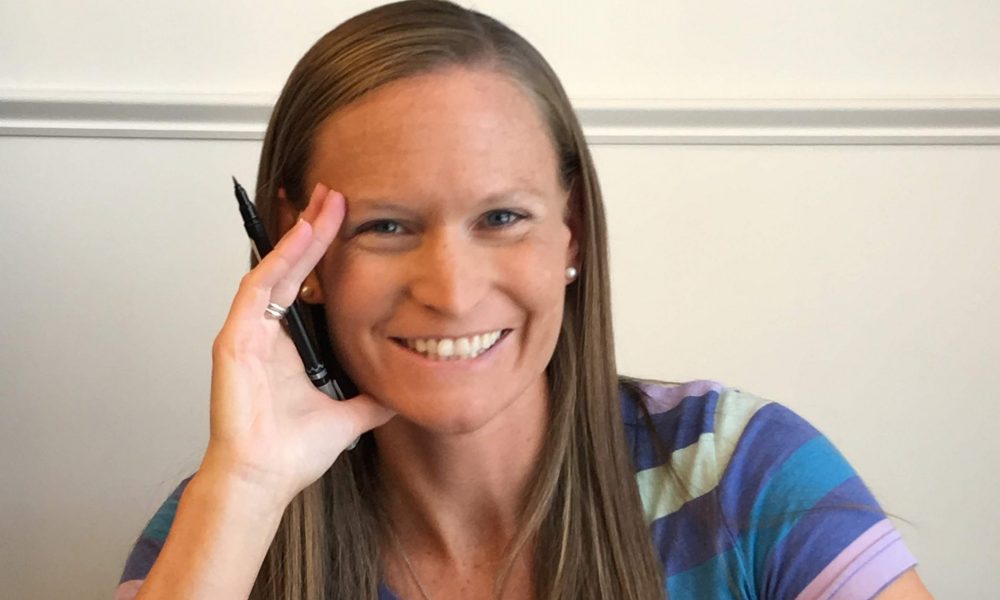 Today we'd like to introduce you to Karen Reynolds.
Karen, let's start with your story. We'd love to hear how you got started and how the journey has been so far.
If you would have told me a few years ago that people would refer to me as an artist, I would have laughed in your face! I have always been very math and science-oriented. Growing up, I only drew ghosts – you know, the hump with the squiggles at the bottom – and mailboxes. I'm not sure why I drew mailboxes. Maybe it was the simplicity of the straight wooden posts and the joy of adding the flag at the end. They weren't great, but it was comfortable, and art was never really comfortable for me.
After pursuing a bachelor's and master's degree at the University of Georgia, I went on to work as an exercise physiologist. I left my job to raise my two children and found myself becoming antsy with no hobby or outlet. I thought I'd give painting a try. I painted numerous sunrises and silhouettes, but I was always rushed for time. When you paint during nap times, you never know when your painting session is going to be ended too soon. I went through a lot of dried-up paint before deciding that painting was probably not my hobby.
For Christmas in 2017, I asked for a hand lettering book. It sounded like something I could bring to my children's sports practices and practice. It sounded like it could be done with oodles of time or no time at all. It sounded like I could send all of my beloved snail mail with really cool envelopes. I was in.
From the beginning, I loved it. I began practicing for hours a day, mostly after the kids were in bed and the TV was on. I stumbled upon the greatest social media community; Instagram was filled with all of these letterers with various backgrounds and skill levels who were kind and helpful. I had found my hobby. I created a lettering account to save my family and friends from all of the lettering posts that I wanted to share. And for some reason, people actually wanted to see what I was creating. Me! The girl who only draws mailboxes! I was blown away, and I was so incredibly thankful for all of those first accounts who embraced my new hobby with me and showed me that everyone starts from the beginning.
When I reached 800 followers, an Australian-based pen company named Life of Colour contacted me for an interview and later offered me a brand ambassador position. My confidence was growing, and my lettering was getting better because of it. I will never forget the excitement of that day.
I started getting commissions for various projects, which really pushed me to figure out different mediums. I had a small Etsy shop that rarely made a sale, but my days were filled with orders I received through social media or by word of mouth. My company was growing before I even realized what was happening!
Since then, I have grown to 30,000 followers on Instagram. I am always real, and I always try to be kind and helpful, just like those accounts that helped me to become Lettering by Karen. I have become a brand ambassador for TCW Paints, which are handmade watercolors. I have had the opportunity to collaborate with various art supply companies. I work with a fast-casual restaurant in the Netherlands, creating menus, signs, coupons, tray papers, and anything else that needs lettering. I have created canvas quote paintings, signs, playing cards, tattoo designs, wedding invitations and signs, and countless other things that I never could have imagined. I am known for my chalk lettering and have had the opportunity to decorate driveways and school entrances. Lettering by Karen has taken over my free time, and I have never been happier. It's fun, and it's comfortable… just like those mailboxes.
Great, so let's dig a little deeper into the story – has it been an easy path overall and if not, what were the challenges you've had to overcome?
I don't think anything is ever a smooth road! Learning a new skill is always bumpy. In the beginning, I would get frustrated while I practiced. The comparison monster would sneak in, and I would start to doubt myself. My letters wouldn't be as good as other people's letters. I just had to remember that everyone starts somewhere.
As I started receiving orders, I had to figure out the business aspect of it. I had absolutely no background in business and no background in art, and here I was trying to sell my own art. It was unbelievably hard, and it still is to this day. I have always underpriced my time and value. I was comparing my commissions to mass-produced items, and I was forgetting to charge for all of the hours I spent honing my skills.
I have had countless struggles with digital lettering. They don't teach you about all of the different file formats and how to convert them and vectorize them and whatnot in exercise physiology! People were asking for things that I had never even heard of. I have spent countless hours learning skills that have nothing to do with lettering, but every hour I've put in has helped me grow as a company. Charging an extremely affordable price and then spending days figuring out how to do it was never what I imagined I would be doing!
Time is always a struggle, but I think that's the case with most people.  I am a mom first and a letterer second, and I try to always remember that when projects come in.  Fortunately, both of my children are interested in art and appreciate what I do.  I believe it's because I have always tried to include them in anything I do – you can usually find them sitting right next to me using my "fancy" markers and paints.  We all enjoy the time together, and it makes them feel special and loved.  They are my number one fans and never stop encouraging me.
To those just starting their journey? You just have to remember that your efforts will pay off in the future. There will definitely be struggles on the way, and some will feel astronomical. But if you really want something, you just have to power through. It will be worth it.
Please tell us about Lettering by Karen – what should we know?
I am a hand-letterer, which essentially means that I illustrate letters rather than write them. I wouldn't say that I have a specialty, although I am known for my chalk lettering. I appreciate trying out and using all the mediums I can, from various pens and markers to watercolors and chalk. You should see my pen collection! As far as commissions go, I think what sets me apart from others is the fact that I will make anything you'd like with any medium. I practice so many different styles, and I love trying out new ones. Because of this, I receive a lot of questions from other letterers asking for recommendations or thoughts on many products. I think my openness and helpfulness is what sets me apart in the lettering community.
I still am in awe that my little hobby turned into Lettering by Karen overnight! At least… it feels like it happened overnight. I'm proud of myself for not letting the business aspect take over the fun. I'm amazed that people have trusted me with some many meaningful projects. It makes me smile when I receive countless messages from those that feel like I am an inspiration. The coolest part of it all? My lettering is all over the world. Someone is reading a menu in the Netherlands that I lettered. Someone in the United States is playing a homemade card game with cards that I lettered. Someone is walking around in Germany with my lettering on their arm! It's so cool.
Do you feel like there was something about the experiences you had growing up that played an outsized role in setting you up for success later in life?
Well, I know it wasn't my love of art as a kid! To be honest, I had a phenomenal childhood. I grew up with a super-supportive, amazing mom and a sister that has been my best friend since day one. My mom had a great degree with a great job that she didn't love, and she decided to go back to school when I was young. She taught me that you should find something that makes you happy. She taught me that it's okay to change paths. Success is a lot easier to achieve if you're enjoying yourself.
My mom and sister have always been there for me. I know my mom probably thought she was done with the "look at this, mom!" moments after the thousands of handstands in the pool, but those moments are still coming strong. The handstands have just been replaced with countless lettering pieces. My sister has been my biggest fan club for as long as I can remember. When I was learning to drive, I called her my "moral support." She sat in the back seat and cheered me on. She continues to be my moral support on a daily basis and cheers me on with every new lettering project.
Contact Info:

Image Credit:
Menu image supplied by Wings and Flats. All others taken by Lettering by Karen
Suggest a story: VoyageATL is built on recommendations from the community; it's how we uncover hidden gems, so if you or someone you know deserves recognition please let us know here.