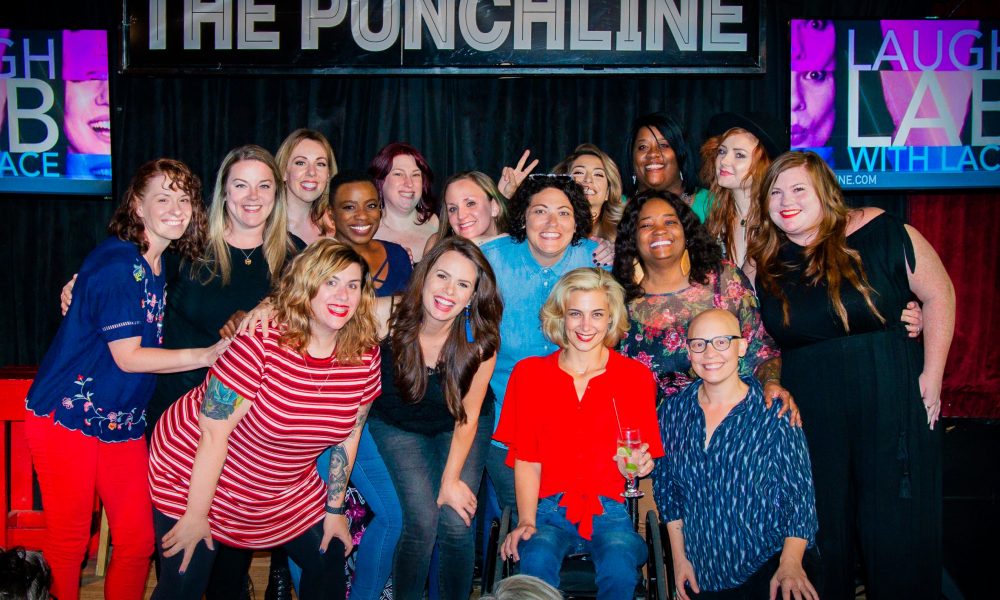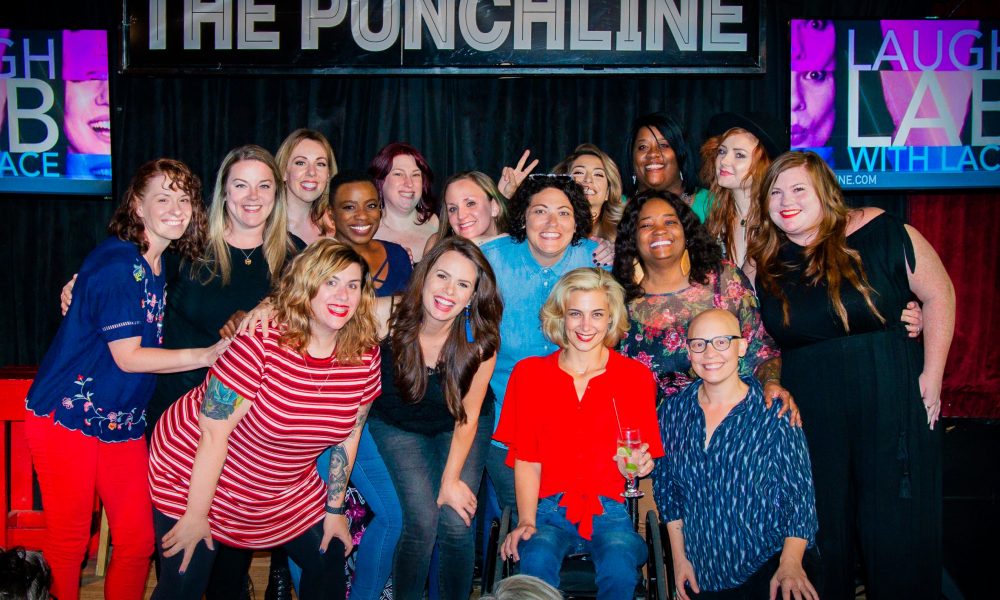 Today we'd like to introduce you to Lace Larrabee.
Lace, before we jump into specific questions, why don't you give us some details about you and your story.
I can't remember a time in my life when I wasn't trying to make people laugh. My family is funny. Like, really really funny. No one roasts me better than those people and I had to keep up. My parents were teenagers when they had me, so laughing at our circumstances and each other is truly what got us through all of the hard times. I've also always been a ham and I love a crowd anytime I can gather one.
I used to put on my own shows in the living room and I would make all of my relatives buy tickets with Monopoly money in order to watch my "performances." Thankfully, they always cheered no matter what which led to my inevitable delusion of grandeur. I've been chasing the high of an audience's approval ever since.
Later I discovered acting and then pageants (don't judge, it was South Georgia and the 90s were a different time) and I pursued both into my 20s. When I "aged out" of the pageant world, I found myself feeling stagnant and unfulfilled. I had earned my degree in Organizational Communication (thanks to those pageant scholarships), but I was having trouble getting hired in the corporate world. In early 2012, after many years of playing my longest-running role to date, "snarky, bitter bartender," I had one of my bar regulars offer me a spot on their new comedy show at Jerry Farber's Side Door, which is now home to the Atlanta Punchline Comedy Club. Seeing as I had just went through a very dramatic break-up and had one foot out of the door at my job, I jumped at the opportunity to finally take a stab at my secret dream of becoming stand up comedian.
So, I did it. I prepared a set, invited a bunch of friends, and got up on stage on that fateful night, which by the way, fell on Friday the 13th to see if I had the chops. Y'all, I didn't bomb. I actually got laughs (mainly from my drunk gaggle of girlfriends, but hey, laughs are laughs) and I was HOOKED. There was no turning back and I knew stand up was "the thing" I had been waiting to find my entire life. I started doing open mics and became obsessed with getting better and getting booked. A couple of months in, I met the man who is now my husband, Jarrod Harris, at a show, we were on together and the rest is history.
Great, so let's dig a little deeper into the story – has it been an easy path overall and if not, what were the challenges you've had to overcome?
I can honestly say that stand up comedy changed my life; it gave me something to work hard for again and I desperately needed that. However, it didn't take long after I started to realize that there were so much fewer women than men at open mics and especially on booked shows. Then, Jarrod took me on the road to open for him and it became glaringly obvious that this wasn't a local issue, it was a national one.
Each comedy scene I encountered would be peppered with a few to no female comedians insight. I would ask other comics why there weren't as many women doing comedy in their town and I would hear everything from, "We always make sure we have a least one woman on the line-up" to, "We used to have a few more here, but they always quit," to the dreaded response, "Well, women just aren't as funny as men." Yes, people still say that and they say it ALL THE TIME.
There are many reasons why it always was (and in most places, still is) difficult for women to start or stay in stand up comedy, but us not being funny is definitely not one of them. Women traditionally bear the burden of childcare, we are notoriously multitaskers who take on way too much and don't have the free time, but mainly, stand up has not always been a welcoming community to women or LGBTQ folk.
Shows and open mics are held at night, most of the time at sketchy or hard to find locations, the audiences can get rowdy and sometimes violent, and worst of all, the audience members, other comics and bookers can be total creeps. Thankfully, with the "Me Too" movement, I've seen less and less creepy actively in stand up, especially in the local Atlanta comedy scene, but I know we aren't the standard. We are very fortunate here in Atlanta to have diligent bookers, both male and female who try their best to keep their shows and mics diverse.
I've always been a fan of fellow female comics and I have done my best to support them as much as possible. A little over two years ago, I started receiving more and more requests from women who were interested in comedy but weren't sure how to get started. I also had newer female comics who just wanted to step up their game in the business reach out as well. I'm positive that the release of the wildly popular Amazon show, "The Marvelous Mrs. Maisel," was to blame, but nonetheless, I quickly realized I didn't have enough time in the day to go to coffee with all of these women.
A friend suggested I should teach a class and I wondered if I could gather enough ladies together to fill a 12 person trial run. I connected with my long time friends at The Atlanta Punchline Comedy Club in Buckhead and they agreed to let me use their venue for classes and a graduation show. A couple of Facebook ads later, Atlanta's first and only 6-week intro to stand up for women only filled up and "Laugh Lab" was born.
On March 8, 2020, my 16th class of graduates took the stage and performed their first five minutes of material in front of another sold-out crowd of 200 at The Atlanta Punchline. My little "class that could" has become a movement. I've had more than 200 hilarious women come through Laugh Lab and now the landscape of stand up comedy here in the ATL is looking a lot more female-friendly than it ever has before. Many of the Laugh Lab graduates have gone on to run their own shows, get accepted into comedy festivals, become club regulars, and most importantly, so many of them have stuck with the craft. For years, crowds have been hungry for more female perspectives on stage and I love being a part of fulfilling that void. Seeing more and more women having their unique jokes and stories getting the laughs they deserve is so worth all the time and energy I've put into this business.
Not everyone interested in stand up needs to take a comedy class, but it does make the transition easier and the retention rate higher. Also, not everyone who takes Laugh Lab wants to pursue comedy and that's perfectly fine. Confidence in speaking to an audience, learning to harness your story and finding your voice are invaluable life skills. In addition to those skills, finding other like-minded women to become friends with as a busy adult is just really hard sometimes. Laugh Lab is now a family and we all support the hell out of each other. I've always felt that a rising tide raises all ships and I love being the captain of this badass boat.
We'd love to hear more about your work.
Laugh Lab is Atlanta's first and only six-week stand up comedy class for women only, but we will be offering our first women + LGBTQ special edition course this summer! Follow us on Instagram, Facebook and stay tuned to our website (listed below) for updates on upcoming classes and projects.
Do you recommend any apps, books or podcasts that have been helpful to you?
The "Jackie and Laurie Show" is an incredible podcast hosted by two 30+ year comedy veterans, Jackie Kashian and Laurie Kilmartin. They share so much invaluable information about the history, grind and world of stand up comedy. Also, I'm currently co-hosting a podcast with fellow ATL comedian, Katherine Blanford, called "Cheaties." Cheaties is a brand new raw, funny and sometimes emotional podcast about cheating and being cheated on with stand up comedy stories peppered in. Get your Cheaties wherever you get your podcasts.
As far as books, there are so many incredible comedy writing books out there, but personally I love a good autobiography by anyone in comedy. I've read "Yes Please" by Amy Poehler twice and I always recommend "Enter Talking" by Joan Rivers, but there are so many more out there. Comedy is so personal, so I say, just look up a comedian that you love and buy their book!
Pricing:
Laugh Lab level 1, 6-week course $450 ($225 non-refundable deposit due at sign-up) No prerequisite required
Laugh Lab level 2, 6-week course $450 ($225 non-refundable deposit due at sign-up) Prerequisite is one completed Laugh Lab level 1 course
Contact Info:
Image Credit:
Lola Scott Photography
HADLEY(s) Photography
Suggest a story: VoyageATL is built on recommendations from the community; it's how we uncover hidden gems, so if you or someone you know deserves recognition please let us know here.