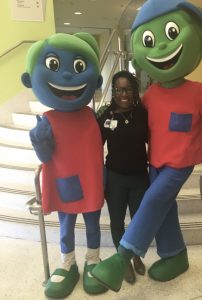 Today we'd like to introduce you to LaToya Turner.
LaToya, can you briefly walk us through your story – how you started and how you got to where you are today.
My journey started over twenty years ago when I began my Healthcare journey. I relocated to the Greater Atlanta area, from a small town in Mississippi, to further my education on becoming a medical doctor. I've always enjoyed children, throughout my childhood I was always the individual who took care of everyone and everything; even now in my adulthood 🙂
Life had a funny way of transitioning me into entering a different field. I landed a career 13 years ago at a well known Pediatric Hospital here in the Greater Atlanta area. Although I didn't become an MD, I knew that I wanted to continue to work with families to make sure that they received the proper care when being treated and that they knew and understood their rights regarding healthcare treatment.
Fast forward to how I found my passion in becoming a Holistic Birth Doula, I'm a mother of two amazing teen daughters and a bonus daughter. My two birth experiences were not the best. I was a young mom who had no idea about birth and what my options were. After those births, I developed the desire to inform other women of what they should and shouldn't expect in their birthing experience.
I think the fire really started when I became pregnant with my first child and was trying to find a way to experience a normal birth. We started out just as most families do, going to your OBGYN waiting an hour or so to be seen only to spend 15 min with the doctor. I felt like I was a number being cycled through a failed system. My birth didn't feel right, I experienced a very long labor with the hospital staff pretty much pushing me to hurry up and deliver.
After the delivery of my daughter, I knew then that I wanted to experience a natural birth outside of the hospital system. When I became pregnant with my second daughter, I insisted on having a VBAC; however, my provider at the time stressed how that wouldn't be possible. I was highly disappointed and frustrated, I felt those were feelings no mother should ever experience. After that birth, I knew then that it was time for me to create a system to help other families know their options and do my best to find ways to assist them on their journey.
I took some time off to really meditate and manifest my vision on becoming a Doula. I then became really concerned with the increase in the pregnancy mortality rate here in the United States. It was then that I knew it was my time to "step into my calling".
My ultimate goal is to help not only the moms but every individual who is involved in the birth feel empowered and know that they have a voice when it comes to the birth of their child/children.
Great, so let's dig a little deeper into the story – has it been an easy path overall and if not, what were the challenges you've had to overcome?
As with anything in life, there will be good days and then there will be days that you will literally learn a lesson from (I don't really like to say other days are bad because I believe that the power of manifestation is real). Some of the struggles along the way that I found is that many individuals don't understand or are not aware of what a Doula does or they will immediately hear Doula and feel that they can't actually afford one. The few individuals that I've encountered are more familiar with Midwives vs Doulas.
I think another struggle may be explaining to others the various types of Doula services that I offer that may be totally different from what other Doulas may offer. Each Doula is different and offer different options. There are various types of Doulas such as Birth Doulas, Postpartum Doulas, Antepartum Doulas, who assist mothers who are high risk, Sibling Doulas, and Bereavement Doulas.
My advice to others who are just starting their journey would be to learn and enjoy being a Doula, figure out what type of Doula you would like to be, and make it your goal to serve as many individuals as you can who can benefit from your services.
Please tell us more about your work. What do you do? What do you specialize in? What sets you apart from competition?
As a Holistic Birth Doula, I provide moms, partners/husbands, and families support throughout their pregnancy, birth experience and postpartum journey. Some individuals feel that you will need a Doula around 36 weeks, I always tell individuals it is never too early to hire a Doula because having that support system with you every step of the way is important.
Here at Guiding Lyte Doula Services, some of the services that we provide are actually attending some of the prenatal appointments with the client. This will allow the physician to gain a relationship with the Doula as well. I feel that this is very important, the birthing parent will have the support that they need during these appointments.
What sets me apart from others is not only am I treating individuals who are pregnant or who have given birth, I also treat moms who have previously given birth. I'm also working on an outreach program to benefit teen moms who would like assistance from a Doula. I'm implementing a program where I will partner with community high schools, juvenile detention centers, and health departments to help teens and mothers that are near the poverty rate know and understand their options regarding birth
I'm also currently working on creating a Yoni Steam service for postpartum moms as well as individuals who have not been pregnant for some time. Yoni Steams offers the following benefits for women: the steams reduce menstrual symptoms, such as bloating, cramps, exhaustion, and heavy bleeding, boosts fertility, promotes healing after childbirth, reduces stress, treats hemorrhoids, increases energy and reduces fatigue.
Lastly, I offer services by teaching individuals about Bengkung Belly Binding and how to bind your stomach. This method has many benefits, especially if you have diastasis recti (the protruding stomach after childbirth). Some of the binding benefits are: Healing diastasis recti (aka, the abdominal separation), a smaller belly sooner, pelvic, hip, and lower back support, better posture, supports loose ligaments and emotional closure to pregnancy.
We also serve clients in person here in the Greater Atlanta area, we travel to other states, and we also offer virtual consultations. I want to service all women because women rule the world 🙂
Do you feel like there was something about the experiences you had growing up that played an outsized role in setting you up for success later in life?
I would definitely say that the experiences I had growing up played a major role in setting me up for success for later in life. If I could write a book or make a movie about my childhood experiences, I would definitely win an Oscar for it. I've truly learned a lot throughout my life. My paternal grandmother, Maxie, taught me a lot growing up. Although growing up, I didn't fully understand that she was setting me up to succeed in life, I now can truly say that I'm thankful for every experience I've encountered because of her because it made me who I am today.
I also feel that every individual I've encountered, whether the experience was good or a life lesson, it taught me a lot and played a major role in my life.
Contact Info:
Phone: 678-702-7375
Email: guidinglytedoula@gmail.com
Instagram: guiding_lyte
Facebook: Guiding Lyte Doula Services
Image Credit:
Samantha McGovern
Suggest a story: VoyageATL is built on recommendations from the community; it's how we uncover hidden gems, so if you or someone you know deserves recognition please let us know here.