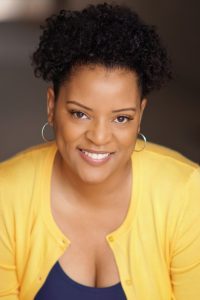 Today we'd like to introduce you to Schelle Purcell.
Schelle, let's start with your story. We'd love to hear how you got started and how the journey has been so far.
Born and raised a "Southern Girl"-Gulfport, MS. Transitioned to Raleigh, NC, after Hurricane Katrina and had a ten year love affair with Raleigh before moving to Atlanta to pursue my true passions of being a Writer, Director & Actor. I released my 1st feature film here in Atlanta, "Two Wrongs," and that is what started my journey in the industry from doing stage plays to short films to now actively writing and directing projects for television and film.
I am the mother of two amazing daughters (Bria & Chanel) and I am honored to be the Godmother of the sweetest five-year-old in the world (Nyla). I didn't even know I was gifted as a writer until I was flat out depressed about not being able to return to the Gulf Coast after the storm. I have always had a way with words and telling stories. I didn't know it was something I could truly do until I produced my 1st stage play ("Before the Bell Rings") in 2007 and people actually paid money for the tickets and showed up. Then they paid attention, laughed, cried, sang and applauded me when I came out at the very end.
In my mind, look out Mr. Perry I am on the way! Lol. I kept writing and working with small production teams in NC and when I finally committed to doing a feature film, I put my whole self into that project. The ULTIMATE sacrifice. A single mother, robbing Peter to pay Paul and produce was very difficult. But I started my production company and didn't look back. All was well, I took a chance on love and got married. Fifty-four days of being with my ex-husband, life took a terrible turn for us. I tried to stay in my marriage for almost three years with someone I truly loved. I had to lean on God for understanding when it came to that chapter of my life. I can definitely say, "God is REAL". Because when I thought I was going to lose my mind trying to be everything I could and hold on to my marriage, God whispered: "Trust me, you'll be fine". I had no choice. The levels He has elevated me, to… the people, He's allowed me to come in contact/network with.
Only He knew the steps He had ordered for me, so I will tell anyone when God speaks to you, do NOT do your own thing. He doesn't operate like that. And the most difficult part of moving on is you lose a lot of people along the way. But that is only God still working. Some people just can't go with you. You can't get to the level He wants you to be at to receive the blessing after the bullcrap if you don't listen. So don't hold on to people or things He's trying to remove from your life. Remember, HE has the plan.
I am grateful for my children because they never complained, not one time to me about the journey. You can always tell the people who are GENUINELY rooting for you. I am beyond blessed. My nonprofit (On Your Feet GA) mentoring teen moms through what may seem like the hardest part of their lives-raising a child while still being a child, television and film and creating memories with my family and friends are my focus.
Looking forward to high school graduation for Chanel, marriage and grands from Bria (if she desires in the future) and graduation(s) with the God baby. I have THE best parents and siblings in the world and some of the BEST friends and family in MS, NC and GA that money can't buy! Did I mention the word blessed?
Great, so let's dig a little deeper into the story – has it been an easy path overall and if not, what were the challenges you've had to overcome?
Was it a smooth road? HELL NO!!! Did I also forget to mention being homeless for like a month? Just hotel hopping like I had it like that. Thank God AGAIN for friends and family in the hospitality industry. But once I got settled and back on track…yep-it got even MORE difficult. Networking was almost like joining a damn gang! I knew one thing though. I can stand in a room and talk to people. I had to use that anyway I could. Then people started wanting to know, "Who was this Schelle Purcell?" Boom-got'em! Then last year, something happened that shifted my life just a bit. I thought God was trying to punk me but He was not. He was literally saying, "Sit down, take a breath and refocus."
You talk about an obstacle. I'm a dream chaser Jesus, what'chu mean sit down? He meant ALL THE WAY DOWN. I fought hard to get back from what I thought was one of the darkest places on earth for ME. I KNOW I had a praying Mother though in that situation. I learned a lot about people who SAID they cared and loved me. The legendary Whitney Houston has a song, "I Didn't Know My Own Strength" let me tell you something! That song! In all honesty, God could not have created a more imperfectly-perfect being than when he created a woman. He poured something special inside of us. Chile please, we keep and "S" on our chests! So to ANY woman who has the THOUGHT of giving up on anything, I offer this mustard seed of faith to you right now (.), you CAN Sis! You will stumble, fall, crumble and crawl but as long as you stay in motion-the Creator has the rest! What will you trust Him for? I ask myself that when I find myself doubting what I believe to be true about myself and God. Mess around and I'll preach this thang! Lol.
Please tell us more about your work. What do you do? What do you specialize in? What sets you apart from competition?
My work, let's see. The most recognized I would say is my feature film "Two Wrongs"- on Amazon Prime and Tubi TV right now! I wrote, directed, starred in and produced with an AMAZING cast and crew. I had a meeting a few weeks ago and my friend told me- "You do realize you did something that some people only SAY they will do? You did it. Don't ever take that lightly Schelle." I received that in that moment because oftentimes, I say I am nowhere near where I am supposed to be according to MY plan. But when I think about God's plan, hell I may be right be where He wants me to be and I just need to stay tuned. My friend also gave me an acronym to take with me from our meeting-he said, "STS"! I told him about all the scripts I have at home sitting WAITING to be produced. "Shoot the s***, Schelle"! Me: "Heard!" I made the mistake of saying I am a freelance writer and people took the first part of the word literally. No!
Free-lance does not mean I will write for FREE people. Writing takes time and a mental capacity to speak for sometimes 1-countless number of people. Pay me to get my mind back and become Schelle again after I have done the work! The most fulfilling part of me being in the industry is people respecting my journey and asking me; "What is your fee/rate to do…?" That says to me you totally get it and respect the fact that I AM a professional. I LOVE directing! I will direct the sugar out of a project! You have to be a creative on another level when directing. You can't be afraid to break barriers, step on the toes of your viewing audience or make uncomfortable conversations for people to have. Making words come to life for me is a joy that can't really be put into words and I'm damn good at it.  Sorry-not sorry! Lol.
And being a black woman on this journey, you have to BOLDLY say-"I got this and you gon see me." I am very proud of not quitting. Even when I knew there was no money, everyone said, not right now, or flat out NO. I pressed towards the mark. I know I am destined for greatness and THAT is my only option. I pride myself on showing gratitude as well. I ALWAYS make it my business to say thank you. Whether it's on social media individually, in a video post, however. I want people to know I don't take it for granted that they are supporting my work. One of the first things Lillie taught us, please and thank you. I also do a podcast called "Schelle Purcell- Mom With a Mic". I tell the truth about raising children, everyday topics, dating again in your 40's; whatever comes up-comes out.
What sets me apart from others? I don't care what people think about me anymore. There was a time I thought I had to be a perfect Christian, a perfect mother, a perfect everything-for people. GOODBYE…if God loves me flaws and all, the rest of the world can miss me with judgement. My story is my story. I don't have to sugarcoat it and make it nice; hell it may have been dysfunctional or dirty/nasty when it happened (shoulder shrug)-this is what you get! I AM SCHELLE PURCELL. Unapologetically.
What's the most important piece of advice you could give to a young woman just starting her career?
The most important thing in life to me now and that I would say to other women (people) is be true, be kind and be fair. Understand not everyone in your circle is going to believe in or support your vision; they are not supposed to. God gave that vision to YOU. Execute it by any means necessary. As long as you are not hurting anyone, use your resources to stay in motion. Your resources don't necessarily mean finances. Look in your family, friends and friends of friends who may have what you need and ask! The Bible says, "Ask"; what the hell are you waiting on? And get over the word NO. I laugh at no and keep going. Next. Next. And NEXT! I barter my services too. If you are good at something-make a damn deal, I'll do this on your project if you allow me to blah-blah-blah. Do not be moved from the goals you have set for yourself.
Pricing:
Project Consultation: $250.00
Contact Info:
Suggest a story: VoyageATL is built on recommendations from the community; it's how we uncover hidden gems, so if you or someone you know deserves recognition please let us know here.