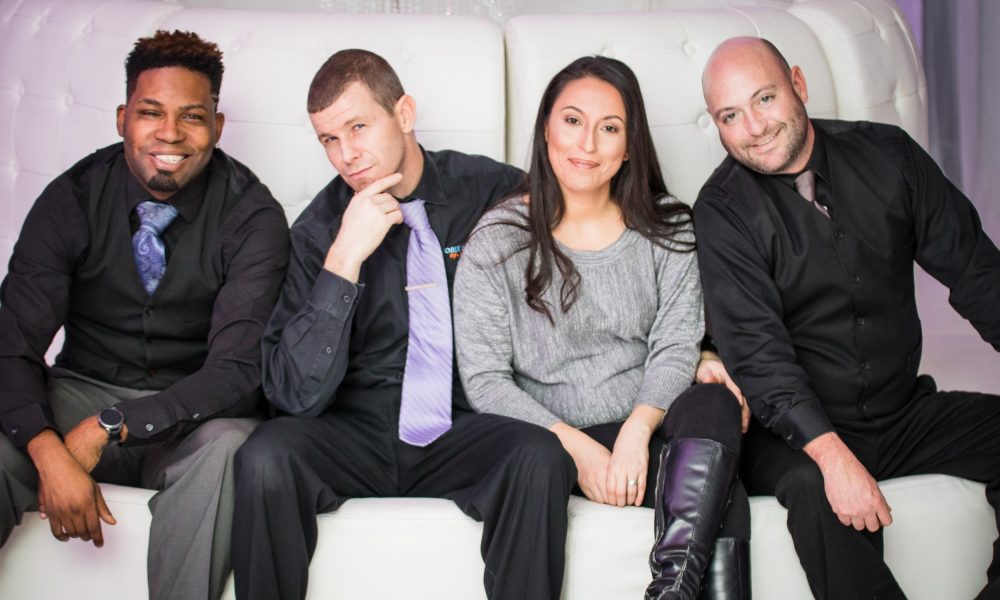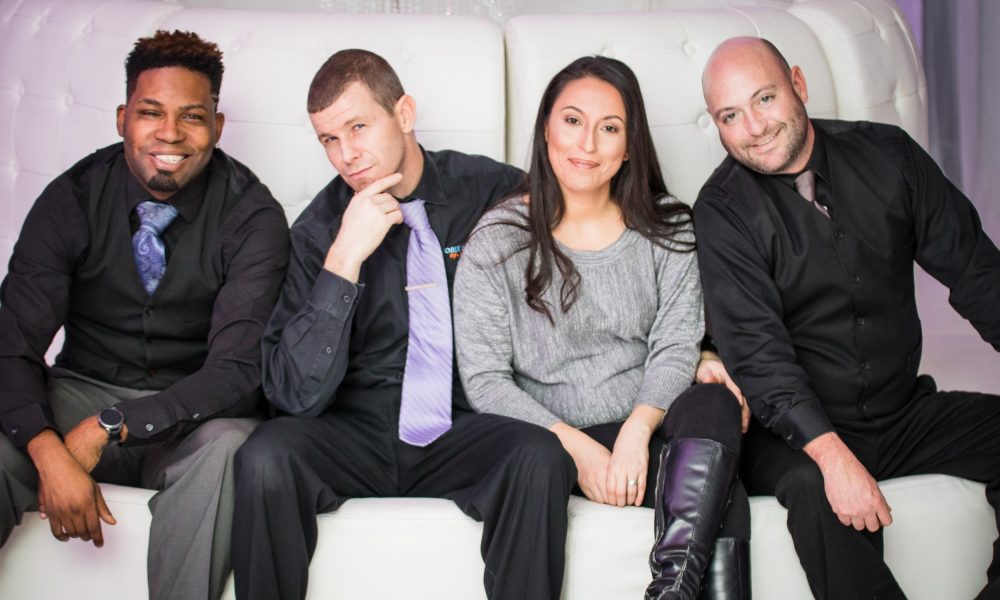 Today we'd like to introduce you to Travis Gilbert (Picture Above; Second to the Left wearing the purple tie).
Thanks for sharing your story with us Travis. So, let's start at the beginning and we can move on from there.
I got started as a DJ by accident; originally I had an interest in Techno music in the late 90s with my high school girlfriend listening to DJ Keoki. Shortly after starting college at Southern Tech (now Kennesaw University), which was on the other side of town to Lawrenceville, my high school girlfriend and I broke up. After many days of not coming out of my dorm room, I decided to figure out what my next step was. Which lead me to the college radio station which was only a 1-Watt Station, they hired me to play Trance music on the weekends which lead me to play Keoki to early Tiesto and getting an interest in Break Beats, DJ Icey. After my radio show, Kevin O'Shea's (another student) radio show played and he always had local Atlanta Club DJs on his show like J-Luv, Huda Hudia and duo Faust and Shortee. One night, we decided to combine our shows and with the assumption by Kevin O'Shea, they thought I could use turntables live on the O'Shea's radio show, I put on the headphones and mixed beats in my head in between the Pro DJ's sets. And that's when I became hooked on DJing and bought my first set of Technic 1200's, Pioneer DJ Mixer and started mixing in my dorm room. After that, I took a off of school and moved back home and to learn the art of DJing by practicing 8 to 12 hours a day.
All while learning tricks and techniques by being a Left-Handed DJ. My biggest critic was my mom as she was a stay-at-home mother at the time. After my year off, I decided to go back to school to Georgia State being accepted into the Andrew Young School of Policy Studies for Urban Planning and Economic Development. Georgia State University had a 100,000 Watt radio station, which had the show Planet 8 and House Works on WRAS 88.5 Album 88, they could reach up to 5 million people all the way out to Alabama, Tennessee and South Carolina. Any major DJ that was a Headliner would be on the radio shows for promoters to advertise their parties and events. I ended up being the resident DJ of the radio show for two years. Some of the featured DJs on the show were Paul Van Dyke, DJ Icey and Paul Oakenfold along with many local Atlanta DJs. During this time, my goal was to be a Club DJ, there was never any intention of becoming a Mobile DJ until a local Atlanta agent and I crossed paths and he was determined to have me on board his roster. That's when the realization Club pay for a DJ isn't all that it's cracked up to be if you are not the Headliner DJ. So, Dan Jason of Network Entertainment brought me officially on board and that's where I was able to DJ the Hooter's International Swimsuit Pageant in South Beach which was Nationally televised and opened for the band Bad Company. I landed my first Residency through a local promoter at the Masquerade and played in  Purgatory on 80s night with DJ Doughboy. We toured around Georgia with different promoters but I started noticing that with all the notoriety in the Clubs and the amount of work I was getting in the clubs, I was still making more money as a Mobile DJ. My first mobile DJ gig, was a Pool Party… a Kid's Pool Party! I had no clue what I was doing when I was told we were doing a Hoola Hoop contest. With no instruction in front of 150 people, I took a gulp and got on the mic and that's when I rocked the contest and gained my confidence.
Shortly after, I graduated college at the top of my class with a Bachelor of Science in Urban Policy Studies with a specialization in Urban Planning and Economic Development. My thesis was the Atlantic Steel project of turning a brown field into a mixed-use development properly name Atlantic Station, which has become a template for mixed-use development in Atlanta. I had the opportunity to work with the Jacoby Brothers on the design, to this day, I still have the Blue Prints of the development. This lead me to work with Surveying GIS mapping in HOV lanes and traffic analysis for the Atlanta Metro area. But, I was still working as a DJ on the weekends. Once my Transportation Project work ended, I ended up becoming roommates with a bunch of DJs in Grant Park. The house consistently had different promoters contacting my roommates for work at the Clubs, which eventually lead to my own residency and leaving me to a crossroads do I stick with my current Weekday job or do I stick with my Club Residency? I took a chance and chose the Club Residency. Eventually, I saw myself being more diverse as a DJ by playing all sorts of genres and decided to take another chance and worked myself into the Mobile DJ industry, working for multiple DJ companies in Atlanta. After years of being a Mobile DJ with various companies, one company hired me on as an Account Manager leading me to learn how to do all different aspects of business besides just DJing in a entertainment company.
After sometime working as an Account Manager, I realized no matter how many hours I worked in the office and on events, my salary would always be capped. I ended up leaving the company on a whim. Shortly after, a fellow budding DJ approached me about starting a DJ company… I had already thought about this concept. After some discussions, we realized creating a company together wasn't the right fit for us. As I was in the process of stocking my inventory, my grandfather gifted me my shares of Phillips Conoco stocks from when he used to work for them years ago. With his shares, in July 2010 officially marked when Fonix Entertainment LLC became a business.
Has it been a smooth road?
No quest has ever been conquered without it's challenges. In my early start as a DJ, I had some people make me feel I could never make it as a DJ because it was not considered a "real" job or career. In the midst of my DJ career, the Club industry would give you hours to perform in front of a crowd but the compensation didn't equal most DJ's talent or time. In the Mobile DJ Industry, I had fellow colleagues that felt intimidated by me because I was considered a real DJ who could spin while most could just host a party really well. And, there was also a time where many client's thought I was the face and owner of the company I worked for which intimidated my boss. As of recently, some of the local competition can be quite gossipy like high school girls when they see a DJ or DJ company making large moves. Thank goodness I love roller coasters as I'm in for the ride!
So, as you know, we're impressed with Fonix Entertainment – tell our readers more, for example what you're most proud of as a company and what sets you apart from others.
We are a full service entertainment company providing DJ services for weddings, corporate events, private events and public events. Including Mixed DJ's, Karaoke DJs, Trivia DJs, and Event Lighting, Dance Lighting, Up Lighting and Decor. Additional services we added over the years are Wedding Coordination, Photo Booth Services and Officiant Services. We work on a level of small occasions up to large scale events.
What really makes me proud are the people who make up Fonix Entertainment. I took a lot of time searching for career-minded DJs, Entertainers, and Event Professionals to create the right team. All members have to fill out an extensive series of qualification tests to grading their performance before they even have the opportunity for us to recommend them. These steps have proven to me the longevity of a happy team! There's no way I could achieve such success without Olivia Gilbert, our Office Manager, or JJ, Kenton, and Art, whom are key founding DJs. A team that has a low turnover rate and believes in our core values all while giving stellar customer service to each client.
I believe what sets us apart from others is our work ethic within Fonix Entertainment. We take the time to really get to know our clients and learn their vision of what their special event looks like. Because of this, we have been lucky to have our competitors call on us when they are in need of a back up DJ or coordinator. Behind the scenes, I'm kind of the  "Go-To" Guy in the entertainment industry. I have been lucky to be a part of the Atlanta DJ culture by being a mentor to younger DJs and teaching them how to DJ. I've mentored other DJs to sell by being the face of Avalanche Entertainment, and even consulted other DJs how to start their own company's such as Amp'd Entertainment; it's part of our Fonix culture, we try to have a kinship with other DJ companies so our DJ's are successful in their own career even when we can't provide them work 24/7. As suit would follow, Kenton (pictured above, far left), recently took an opportunity as an Account Manager with a competitor company and while most DJ companies would see this as a threat, this doesn't come to our minds because we want our DJs to have the freedom to play and flourish in their own network. And while we're sad to see Kenton go, we wish him much success and it has been an honor to mentor such a bright individual.
That's the kind of spirit I try to build upon through friendships within Fonix and the industry. You just never know what the future holds, people rise and fall quickly but for us we know it's all about sustainability and the long term which keeps us rising above and being a constant contributor to our Atlanta DJ and Event Planning Community.
Let's touch on your thoughts about our city – what do you like the most and least?
I love the diversity of this city, the diversity of the people that make this city of what it is today. Each person brings something to the table from all walks of earth when it comes to music, food, conversation, etc. I love this city for the music that came out of it over the decades and because of that, a multitude of opportunities have been lead into my direction to make this company strive to be where it's at today.
The least thing I like about this city is the traffic. Traffic and cell phones combined make a 30-minute drive turn into a 1 hour drive! I'm glad I know the back roads.
Pricing:
Wedding DJ Services starting at $1,175 for 4 hours

Corporate DJ Services starting at $595 for 4 hours

DJ Services Private Party, School and Other Events starting at $495

Wedding Coordination – Day of – starting at $845

Officiant Services starting at $125
Contact Info:
Image Credit:
Kalita Owens Conley with 323 Creative Designs and Photography, Me'Chele Key with Preittiest Problem, David Avant, Artstar by Laura Stone
Getting in touch: VoyageATL is built on recommendations from the community; it's how we uncover hidden gems, so if you know someone who deserves recognition please let us know here.