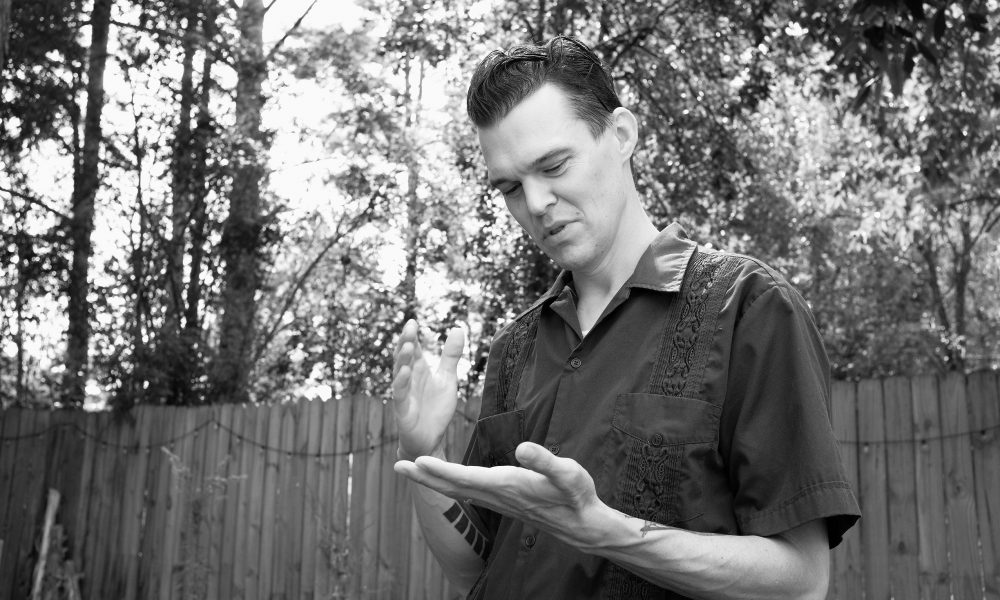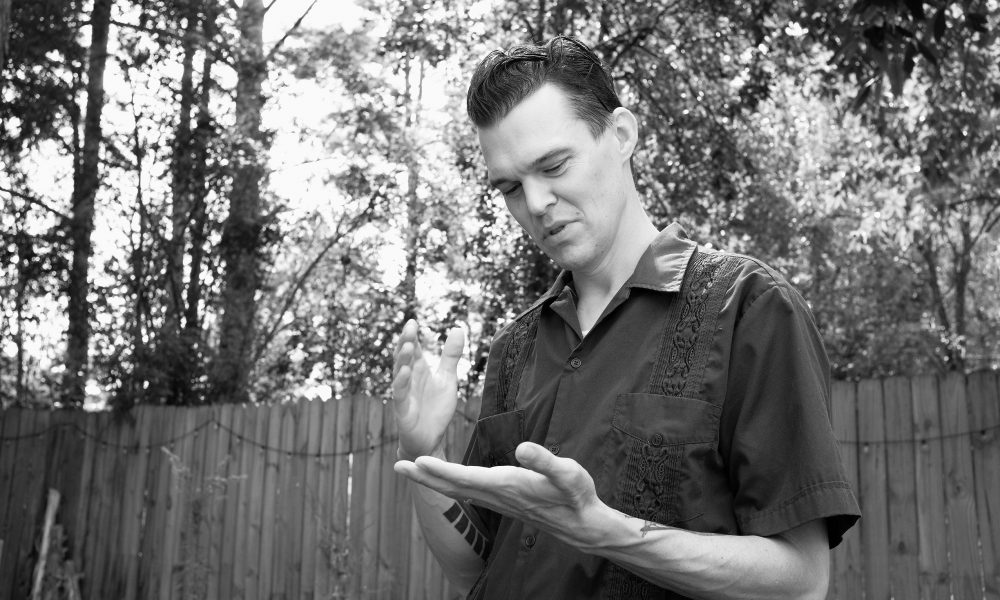 Today we'd like to introduce you to Will Eskridge.
Will, can you briefly walk us through your story – how you started and how you got to where you are today.
I was born on August 2nd, 1976 and grew up in the small textile town of Kings Mountain, North Carolina. My veterinarian father had just started his own practice and had recently relocated the family to the quaint town. With a veterinarian as a father and an artist as a mother, it stands to reason that I would grow up to be an artist focusing on animal imagery. My earliest memories are finger painting in preschool and the revolving door of family pets. Through my early years, I was constantly drawing various subjects while in class. We were all art makers while growing up. I remember my mom's basket weavings and tapestries all in the house and my brother sketching Iron Maiden's mascot, Eddie, on his school books. I also remember having watercolor painting sessions with my sister. Those events are burned in my brain and prompted me to keep making art. Whenever a holiday would come around, my mom and the kids would gather around the kitchen table gluing, taping, painting, cutting and drawing gifts and cards for loved ones. I would draw every moment I could and at around age 10, I even set up an "art booth" like a make-shift lemonade stand in the front yard, attempting to sell my drawings to passersby.
When high school arrived, I worked at my father's practice helping out and assisting with general veterinary technician duties. My close affinity to animals began during these years as I saw the happy and not-so-happy times of animals' lives. My dedication to art also increased and I took afternoon art classes and fell in love with the art of my favorite artist, Vincent Van Gogh. Eskridge started putting together a portfolio of acrylic paintings, pointillist ink works and graphite drawings, varying in a subject. While attending an art class, I was informed of the prestigious North Carolina School of the Arts in Winston-Salem (now University of North Carolina School of the Arts). Encouraged by my parents, I applied and was accepted into the Visual Arts program my Senior year of high school. Under the direction of Clyde Fowler, I was exposed to art history, new techniques and a plethora of materials. I developed a deep appreciation for the Abstract Expressionists, Impressionists and Surrealists. Clay, paper construction, found objects and even Super-8 filmmaking were also explored. Having only previously utilized graphite, ink and acrylics, these new materials were an exciting pandora's box for me. While attending N.C.S.A., I was also introduced to oil paint which I immediately latched on to and the medium has stuck with me ever since. Although I like to explore other mediums, I always come back to oil. It's my first love, artistically speaking.
In 2008, I bought a house and promptly built a dedicated art studio on the property. This same year, I also met my future wife – lapidarian and silversmith, Marie Ash. She encouraged and supported my work and ambitions. I have always had a love for animals, but it wasn't until Marie became vegan, that I started researching and learning more about the plight of factory farm animals and wildlife. These realizations had a profound effect on me and my artwork. In recent years I have emerged out of my sporadic and eclectic painting style and focused my artistic expression on a blend of surrealism, impressionism and post-modernism, involving the relationship between nature and technology. Since diligently focusing, my art has been exhibited in a number of solo and group shows and is collected internationally.
I reside with my wife, our son, and our many dogs and cats in Athens, GA. Along with art, I also make music, work in animal rescue and I have an ongoing restoration of my beloved 1953 Buick.
Overall, has it been relatively smooth? If not, what were some of the struggles along the way?
Even for someone as lucky as me with encouraging family, fine arts degree, etc. it hasn't been the smoothest road. I honestly don't think it is a smooth road for any artist. After earning my B.F.A. in 1999, I was fearful of what lied ahead. My formal education was great for technique, art history and my own personal style. However, it left a lot to be desired in terms of how to "make it" as a fine artist in the real world. In college, no one taught us how to prepare a portfolio or even how to approach a gallery. Out of fear, I went into graphic design starting from the ground up. I landed an entry level job laying out newsletters and promotional materials for my hometown Arts Council. I taught myself the standard graphic design programs and even a bit of website coding. I then moved on to working at print shops and eventually graphic design in marketing departments at a few companies. While working these day jobs, I still painted in the evenings and on the weekends, applying to shows and exhibits. I had the desire, but the dedication was skewed with the fear of being able to survive. At age 38 and after 15 years in the graphic design business, I made the decision to quit my desk job pushing pixels and to dedicate my life to my one true passion which is painting.
I am happy with this decision and feel like I am living the life I have dreamed. That being said, it is not without its trials and tribulations. It can be tough getting the public to recognize your worth as an artist. It can be tough when you spend hours, days and weeks on an idea, only to come to the conclusion that your idea is complete garbage. It can be tough constantly giving yourself and your heart out to the world, only to have someone curators, professionals and art galleries destroy your creation into a million pieces with just one word…(Unfortunately!)
One of the biggest struggles being a self-employed artist is the ebb and flow of income as well as the ebb and flow of recognition. One month, you may be so busy with sales that you can barely hit send to email buyers the tracking info. Then it can be crickets for weeks, even months. The same goes for media recognition. Sometimes you'll seem like a rockstar with influencers and everyone and their grandmother is tagging your or your artwork in posts, Then again, weeks will go by and you feel like the not a single soul has even heard of you. It's a roller coaster and the key (as I have found) is to simply recognize this. When you realize this, you can put a plan in place so that you won't completely freak out when its the end of the month and you haven't even sold a $5 refrigerator magnet.
Please tell us about Will Eskridge Art.
My business is making art focusing on animals. I am sometimes known as the "bear artist" because I have a special pull towards painting bears. I specialize in endangered and "bad rap wildlife", i.e. animals that some find is a nuisance, even "ugly" or have outrageous stigmas attached to them. My paintings include depictions of bats, bears, raccoons, snakes, wolves, deer, etc. While creating this art, I am most proud of the education it brings to viewers. Many collectors have bought pieces because the animal I painted was strange or not commonly found in traditional wildlife work.
One thing that sets my work apart from other animal artists is that I don't just paint animals for aesthetic reasons. My work has a deeper meaning than this and reaches the soul of the creature as well as educating the audience about the importance of our non-human cousins, even the unpopular ones. I also hand build and stretch all of my canvas and wood panel surfaces.
If you had to go back in time and start over, would you have done anything differently?
Although I am proud of what I have accomplished and the skills I learned as a graphic designer, if I had to start over I would have gone right into being a self-employed artist the day after I received my B.F.A. instead of letting fear get the better of me.
Pricing:
$20 for 8.5 x 8.5 inch prints
$125 for 6×6 inch originals
$220 for 8×8 inch originals
$1150 for 24 x 24 inch originals
Contact Info:
Image Credit:
Sean Dunn
Getting in touch: VoyageATL is built on recommendations from the community; it's how we uncover hidden gems, so if you know someone who deserves recognition please let us know here.