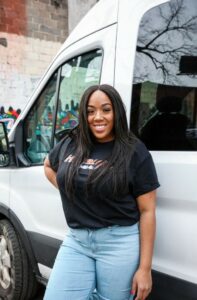 Today we'd like to introduce you to Alex McCully.
Hi Alex, so excited to have you on the platform. So before we get into questions about your work-life, maybe you can bring our readers up to speed on your story and how you got to where you are today?
Hop'N Go Tours was created out of love of travel and a need to help people define the newest things happening in the city. I was always confronted with the question, "What is there to do in Atlanta?" and I would always so I don't know. Which is the common answer you will get from a local because we simply just don't go out. Or if we go out it's to explore the nightlife and to the stores- that is it. So the more I got that question, the more I really started to say hey what is there to do? I am coming from Los Angles California by way of the Antelope Valley and we would always run to Los Angeles to find activities to do. So coming from a small city, I would always love the bigger cities because they were jam-packed with different things to do.
So after being in Atlanta for 13 years, I started going out more, researching, talking to locals and really getting the jest of how to be a real "Atlien". I would call myself a CaliPeach for being raised in California and since I am here I am a peach. But anywho, friends and family would want to know about the birthplace of Martin Luther King and go to all the tourist places but then caught a real interest in social media culture. What was popping off online was so major that I was like yes people want to see that and do that so after a while, it became a no-brainer to say, let's bridge the old Atlanta with the new Atlanta. But it was not easy because, as you know, Atlanta is super protective over their culture so just saying you stay in Atlanta was not just enough. You had to really prove you know the culture, the lingo, the landmarks, the locations, you had to have some sort of affiliations and that I started my research journey.
So with myself having a background in journalism and broadcasting, I started writing more, talking to locals, interviewing them and certain celebs about what is was like during certain era's. From the 1900's, to Freak-Nik, to now the a Slutty Vegan era. People well "the south had something to say." So I listened and read! So now I'm saying ok I have all this knowledge how do you run a business? Because I had never thought about being an entrepreneur, ever! So I said I had customer service skills from my previous jobs, I have broadcasting under my belt, I can research, put a script together, and bam, there is the tour. Because thats all a business is, putting together your best attributes and skills and selling your personality and putting a product or service behind it.
So I wrote it down, wrote my ideas, copied and pasted pictures- because a dream with no foundation is dead. You have to write it down, grammatically correct or not! Just get it out your head. Talked to my family, they were like yeah okay cool but had no interest in it, but then everyone else was excited because this is what they come to Atlanta and do. I wanted to make it easier for the tourists coming to Atlanta, wanting to have a good time and not knowing what to do to have a notable person guide them around a city that I love so much. And also for the local who has been here so long but don't feel like taking their family members on this excursion because they are so familiar it's like no. So for me, I put all my skills together and created Hop'N Go Tours. So Hop'N Go Tours is a fully immersive sightseeing experience that thoughtfully bridges old school Atlanta with New social spots and events.
Would you say it's been a smooth road, and if not what are some of the biggest challenges you've faced along the way?
So July 2019 is when I registered the business, it originally was going to be a smoothie business. I was so excited about that and I mean over the moon, like yeah, I'm going to be in business and I'm going to make millions- so that is what I thought first year in business. But when it came to setting up shop, I was like, I am so nervous, who is going to buy, why would they buy over my competitors and I just said no this is not for me. Even after I paid to register it and full website, I chickened out! So I sat with this license but didn't know what to do. Then out of now where I get the idea of traveling and tourism and bam I started the tour business.
So I officially opened it in February of 2020 and then boom, I get a call from my advisor saying don't do anything else with the business right now. It's something called the Coronavirus and it's hitting people hard. I am like, wait no, do you know how much money I have invested thus far. But she was like, no, cancel everything and just wait. So I did, So grand opening grand closing. But in that closure, I got a chance to read more about the history of Georgia. Learning who the hard hitters were that really put Atlanta on the map. Like Congressman John Lewis, activist, father, and unofficial mayor of Sweet Auburn Ave John Wesley Dobbs, former Mayor Maynard Jackson, and what the 1996 Olympics meant to the city. Because for me, I didn't grow up reading any of this and I'm like, who are these people and why did they not get international success, these stories are amazing! So I read and read and read and watched from Youtube who these legends were, and that became my script. So while I was in the house, I was saving money, I was reading, then the world starts to open back up and I get my first call booking a tour. And I have been hosting tours through the pandemic- at a safe pace though. I started with one now I have parties of 15 calling me. So it all worked out for the best.
Appreciate you sharing that. What else should we know about what you do?
By day I am a server, and I have been a waitress for nine years now. And although it is hard to believe, being a waitress has saved me from living paycheck to paycheck and afforded me many luxuries throughout the years. Although I was making thousands every week, it was not fulfilling. I want more and I believed through every shift I deserved it. But I also loved traveling because that is how I grew up. My parents would take my two sisters, my brother I from state to state every year to explore the world. From Disney park to water park, we grew up with the world at our fingertips. So it only made sense to combine what I loved as a child, bits and pieces of my personality, my skills in customer service, and my willingness to want more and I just went for it. With my background being in broadcasting, I was known for being a celebrity reporter.
I came to Atlanta in 2011 from Los Angeles, California to go to college, pursue broadcasting and work for the major companies. I came and interned for CNN with Nancy Grace, mentored by Rene Miller of Smooth Jazz 101.1 WJZA, went to college at Georgia State University and worked though out my college years. Within that, I would search online for events, even seeing flyers on Instagram about events in Atlanta and I would rsvp the red carpet or I would show up. I may have told a fib or two to get on the red carpet but that is how I would get my shot at celebrity reporting. From singer Case to Ben & Jerry (the ice cream makers), Mark Lamont Hill, Judge Hatchett, Bonecrusher, and Tiny from Escape. I interviewed people with no skill at all just me and my big mouth. I am most proud of my consistency throughout the years that led me to owning my company that people could enjoy and hold on to for years.
What has been the most important lesson you've learned along your journey?
Consistency is KEY!! Throughout my journey in life, I tried a few things, singing, dancing, acting, reporting, management, anything I felt I was good at. Although many didn't stick, I kept trying. Now I believe some people were made to be entrepreneurs but me I wasn't. I was good with working but you don't rich by working for someone else. So I asked God what was my purpose… what was it that I wanted to do that I didn't have to negotiate my price. I got specific in my wants and questions.
And bam around 2019 Christmas time, I wrote my vision, I copy and pasted pictures to my google docs and just started creating. I never knew what it was, I didn't know about business, how to manage or pay people but I would say the best lesson is to just do it. You will never know your strengths in just guessing; you have to do. And I did and I am now booking tours with people from around the world wanting an experience. So if I can say I learned anything is being consistent, being resiliant, and learning how to receive the words "Nah Im good" or No! Because you will get it a million times before you get a yes.
Contact Info:

Image Credits:
Vs1atl (most photos)
Suggest a Story:
 VoyageATL is built on recommendations from the community; it's how we uncover hidden gems, so if you or someone you know deserves recognition please let us know 
here.