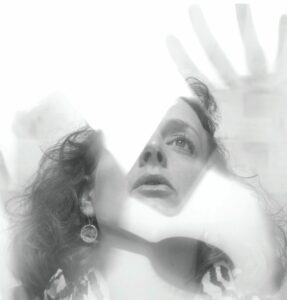 Today we'd like to introduce you to Erin Freeman.
Hi Erin, can you start by introducing yourself? We'd love to learn more about how you got to where you are today?
I've been an artist for as long as I can remember; doodling with a Sharpie on the inside of my dad's green Ford Pinto and my mom's brick kitchen wall! After my Crayola 64-pack was worn down to the nubs (especially Sky Blue), I realized that I was very fortunate to have a set of parents that fully supported my desire to be an artist, (just, not on their walls).
I majored in art from Birmingham-Southern College with a BFA in graphic design. I worked as a designer on accounts such Pepsi/Buffalo rock (Shh, I know ATL is Coke country)! I was also commissioned for several freelance illustration jobs. As technology rapidly changed, I still felt there was more to learn. I went back to grad school at SCAD/Savannah and graduated with an MFA in graphic design. While in school, I studied during the height of the "Deconstructive Era," an art style that promoted how to tear down traditional design principles and rebuild them in an experimental way. In hindsight, I believe I was also training for something much larger: the ability to build resiliency in the face of competitive climates and remain true to my creative principles. For that, I am grateful to all my wonderful professors!
Renewing and reinventing has become a common theme in my overall art career as external movements can often spark internal ones. Moving to Atlanta in the early 2000s, I began as a senior designer and then a creative director working for client accounts such as IBM, Volvo, and Verisign. I also designed for other small local businesses. I created collateral in the areas of branding, web design, instructional design, and packaging. Experience in the field taught me discipline, how to work with clients, and how to interact as a team on a multi-level project. And then, after growing in my decade-long career, 9/11 happened…
As the trauma shocked the country, the economy was quickly crippled. Anyone who was a designer was laid off, including me. Was I to continue trying to find an art director's job or do something different? I had been referred by a friend to a local art college at the time to teach a few classes. I was credentialed to teach and it would still be designing, but in a different format. I would have academic freedom to create projects that students could follow based on my industry experience. So, I held on to my T-square (so old school) and took a big leap into academia. This jump landed my twenty-year teaching career in graphic design. I remember on the way to my first class how nervous I was, with a lump in my throat panicking in the elevator! But when I got to the room, the anxiety magically ceased, and a calm washed over me as if I had been doing this forever. What had just happened?
Throughout those years I taught everything design-related including composition, various levels of typography, conceptual thinking, digital illustration, package design, branding, senior capstone, and portfolio. If there was a new design class, I volunteered to teach it or write it! It was a challenge and I enjoyed building course material. I also ran the student studio course which included working with local clients to create projects for organizations. I taught students about job briefs, design techniques, workflow systems, and contracts while clients visited the classroom.
The birth of my wonderful son came in 2009. Enter motherhood with a full-time job, adding yet another balance and change into my life. My husband had encouraged me to continue with my painting to relax, so I took watercolor classes-this was my favorite means to paint. One year led to 11+ yrs, gallery showings, and some sales at the Spruill Gallery in Dunwoody, GA. I also started to incorporate watercolor into my classes and am forever inspired by my painting mentor, Gail Novak, for always pushing me to take more creative risks.
It has been a joy to teach students and to empower them to become proficient in preparing for their design careers. Many of my students have gone on to work at local creative agencies, including designers for the CDC, Coke-Cola, Delta, and some even have opened their own businesses. They all have been an inspiration to me over the years, and I admire them for fulfilling their dreams and for having the confidence to take their own leap by believing in their abilities. I am humbled to have been a part of their initial training. They have also energized me to begin designing and creating beyond academia, and this time with a different spin.
The pandemic has brought challenges for all of us, and it has taught me that as an artist, I am always in control of my creativity. I am thankful for my longtime, long-distance graduate friends, who I keep in touch with virtually. They have been a lifeline to me, and they are the building blocks of my upcoming artistic endeavor. During Covid, we decided to have weekly virtual painting and critique sessions. They have become vital for our well-being. We enjoyed this so much that we wanted to continue it on a more permanent basis. We brainstormed on how three people could work with one another creatively while in different parts of the country.
This has finally progressed into our seed year to take the leap and start a business in surface pattern design and art licensing. We have spent months researching business models, taking courses, and developing new artwork to sell. I feel this is really going to give us a chance to put all our teaching skillsets into industry practice once again: branding, marketing, designing products, and developing a plan to go mainstream. I feel a sense of renewal as we are carving a niche to design to empower others. And of course, bring this back into the classroom.
Alright, so let's dig a little deeper into the story – has it been an easy path overall, and if not, what were the challenges you've had to overcome?
When the quarantine began, everything changed in my career within the blink of an eye. In March, 2019, I was sent home from school to be ready to teach online within 48hrs! Myself, my co-workers, and my students entered a whole new realm of "adjust and endure" for the next 16 months (and counting). I thought back to those moments in my life where building resiliency was important: professional goals, family changes, national tragedies, and now, severe acts of Mother Nature.
Those times, despite the most trying, were always a clue to check in with my artistic inner being. And at this point, she had been ignored, burned out, and was in serious need of some rejuvenation. But I had been there before, and I would survive again. Creatives have the means to build and make something expressive to connect with the rest of the world in a very visual and sensory manner. And this can be life-giving. There is a big calling to do this right now; to interconnect and restore in a way that gives others hope and fuel during challenging times.
Appreciate you sharing that. What else should we know about what you do?
As a watercolorist, my art is usually textured and layered with warmer palettes, loose in some areas, tight in others, and are focused primarily on the changes of nature. My mother and sister have amazing green thumbs, allowing for lots of botanical and plant life inspiration. This medium helps me stay connected to the sensitivities of color theory and contrast.
Painting and working as a practicing artist allows me to pull my experience back into my courses. If I can apply it, I feel I can teach it; and this makes the process more authentic. One of my favorite projects I art directed as a professor with my students was a series of illustrations completed for Emory Winship's Cancer Institute. The goal was to illustrate a cookbook developed for patients receiving chemotherapy. This experience was wonderful for us as we were using our talents to benefit the local area. As an educator, one of my proudest moments was when I was accepted as a faculty guest at AIGA's Educational Frontiere Forum in Bozeman, Montana (Yellowstone), in 2016. I hosted an interactive workshop to design faculty and business professionals on how to use improv exercises to break down communication barriers to inspire creative problem solving. Outward expression and humor are often great places to start for visual design ideas.
I think what helps to define my art career is that it has been a myriad of experiences to create, teach, and build. This helps me reach out to the community through the means of color, pattern, and energy. I believe this is what is leading me to my next artistic challenge to sell design through licensing and e-commerce. As for my personal artistic accomplishments, I am most proud of my work that has been showcased in Atlanta galleries, such as Spruill Center for the Arts, Ponce City Market, and the Janet S. Day Gallery. As a graphic designer, my favorite defining moment was during my industry days, winning a double Gold ShowSouth Addy for Best in Show, and Best Interactive Business Design Online for art direction. The thrill of accomplishing and succeeding a goal really helped me to build confidence in future career projects.
Can you talk to us a bit about the role of luck?
I feel "luck" is a combination of intuition, opportunity, and synchronicity that simultaneously collides. Five years ago, traveling home from a design conference, I met a man who had worked closely with Mossimo Vignelli, (a famous graphic designer known for branding companies such as American Airlines and Bloomingdale's, to name a few). We discussed how he began his career with Vignelli, and we talked about how interestingly enough, our fathers had both been scientists and how that had influenced our careers through the parallels of problem solving. Before we parted, he told me, "Always look for windows of opportunity to let the light show through your work." I have never forgotten his words and I hear them in my mind whenever I feel a shift.
Contact Info:
Suggest a Story:
 VoyageATL is built on recommendations from the community; it's how we uncover hidden gems, so if you or someone you know deserves recognition please let us know 
here.