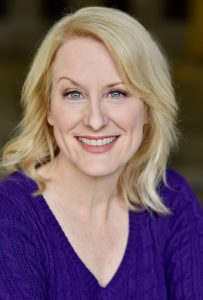 Today we'd like to introduce you to Kelly O'Neal.
So, before we jump into specific questions about your story, why don't you give us some details about yourself.
I am an actor, filmmaker, and visual artist. My feature film, Gilda Sue Rosenstern: The Motion Picture!, will screen in Atlanta Monday night, August 12th, at The Spring Cinema and Taphouse. It's hilarious. Everyone should come. Tickets can be purchased ahead of time on our website, gildasuerosenstern.com.
By the age of twelve (after learning what a veterinarian actually does), I knew I wanted to be an actor. I loved old movies and showing off. So, I did the things all kids like me do: Perform in school plays and community theatre, act out cereal commercials for an audience of stuffed animals, lip sync Barbra Streisand's 1972 Live Concert at the Forum album with a hairbrush in the mirror, earn a theatre degree from Florida State, move to Atlanta and wait tables while working in professional theatre with some really cool people (and marry the absolute coolest one), sing in a couple of bands, illustrate some book covers and board games, move into film and television, create a web series, write/perform a live one-woman show, produce/direct/star in a feature film with no experience behind the camera, return to the stage to work with great literature and old friends, and start developing and funding the next film project.
Overall, has it been relatively smooth? If not, what were some of the struggles along the way?
Being an actor for hire is a frustrating process built on getting permission from others to do your work. I became a visual artist because nobody could deny me access to the canvas. It's the same reason I eventually made my own film.
Getting cast in film or TV often entails years of working on your craft (a craft you've loved because it's helped you to understand yourself and the human condition, challenged you to transform, enabled you to work ritual magic with a roomful of artists and an audience) and then attempting to convince myriads of often faceless people that you can be trusted with a no-name role uttering two lines that have no bearing on the plot and may never even make it to screen.
Any day on set is a good day, and I have had the great fortune to be in some wonderful projects. I've learned the most from the worst projects, so even those are a good experience. But sometimes, the roles I am called to read for are simply insulting, or the tone of a project goes against my personal ethics, and the writing is often just plain terrible. Putting that amount of earnest work into something for that kind of return can be soul-crushing if you don't change the paradigm. So, I created my own web series, which ultimately led to Gilda Sue Rosenstern: The Motion Picture! Then, I was out of my comfort zone and learning new skills, which is always a good thing.
We all have that inner voice, heckling us, trying to make us feel like impostors. That Heckler used to berate me for not having a little more focus: "If you'd stop drawing all those weird pictures and prancing around like you're Linda Ronstadt, you'd be working consistently as an actor and be out of the restaurant business by now!" But indulging in a kind of Creative Chaos nurtured my personal aesthetic, so that when the crazy notion that I should make my own feature film entered my head, I had a firm grasp of not only the comedy of it, but the look, feel, and sound of it. The Heckler isn't as smart as she wants you to think she is.
As for advice: trust yourself and your taste. You are correct if you suspect that much of the art you are told is of great value is an evanescent sham. Don't let that make you cynical. Let that embolden you.
If you want to act in film, train on the stage. Theatre gives an actor a strong foundation not found in "Acting for the Camera" classes alone, even with the best teachers. Watch classic films. Yes, even the black and white ones. Especially the black and white ones!
If you want a little help remaining grounded amidst all the craziness, share your life with a four-legger or two.
And get in the gym. The Heckler shuts up when you are bench pressing your body weight.
Please tell us more about what you do, what you are currently focused on and most proud of.
I make pictures. Sometimes, they move and sometimes they don't.
I am very proud of my feature film, Gilda Sue Rosenstern: The Motion Picture!, which I produced through my company Mean Mama Dog. I originally created Gilda Sue's world for a web series and live stand-up show. I co-wrote the film with the brilliant, award-winning author/poet/actor Robin Spriggs, then (like a lunatic) I produced, directed, starred in, and co-edited it.
Mean Mama Dog also co-produces Droom Vox Theatre, an ongoing short film series featuring the channeled utterances of the aforementioned Robin Spriggs and the always amazing Ozman Droom, a pan-dimensional entity with "a very special plan for this world." See YouTube for selected transmissions.
My drawings, paintings, and collages focus on the human face and form. I approach that work as an actor who is trying to bring a character to life, whether the subject is someone I know… or someone coming to me from beyond. Some of this work will be featured in several board games that are slated for future release, but I'm not at liberty to reveal more about those just yet.
Finally, I'm absolutely delighted to be appearing in Marina Carr's Woman and Scarecrow with Aris Theatre Company this fall.
It would be great to hear about any apps, books, podcasts or other resources that you've used and would recommend to others.
If left to my own devices, I'd be watching Turner Classic Movies all day, every day.
Contact Info:
Website: GildaSueRosenstern.net
Instagram: @meanmamadog and @gildasuerosenstern
Twitter: @kellyomakesstuff and @gildasuemovie

Image Credit:
HEADSHOT by CDyer Photography, SHREW cover photo by Marc Pierre Lemauviel, "Antonio" (pen & ink & coffee on paper) by Kelly O'Neal, Movie poster photo by Josh Lamkin. Poster design by Dina Shadwell, On set with Col Bruce Hampton by Tom Roche, Rosenstern The Riveter" by Josh Lamkin
Getting in touch: VoyageATL is built on recommendations from the community; it's how we uncover hidden gems, so if you know someone who deserves recognition please let us know here.