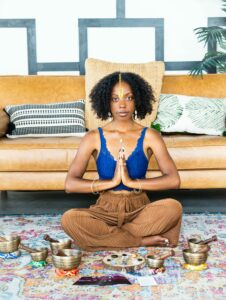 Today we'd like to introduce you to Sátin Marché.
Hi Sátin, thanks for sharing your story with us. To start, maybe you can tell our readers some of your backstory.
My story began in 1994 in Florida. Growing up in Florida was fun… at least for me. Reflecting on my childhood, it is amazing to see how all of my interests, the way I was then & everything in between, came back full circle. I was approaching my freshman year of high school when I moved to Alabama. I left because I could sense that my mother needed me. She never said it, but upon arriving in Alabama, I learned that material possessions didn't phase me, for it was pure love that kept me. High school was peculiar & so was college. I never felt comfortable in either space, so I created my own lane. A lot of my trials & tribulations in my younger years stemmed from a place of root chakra imbalances; being in survival mode, always feeling like I was the only person struggling or I just couldn't get it right; all throughout high school & college. That wasn't true. The difference is, I was honest about my struggle while everyone else was too busy putting on a facade.
I had the best of both worlds. I watched both of my parents hustle, but their testimonies are different. My mother's hustle came with a bit of a struggle & it was like that for a long time. On the other hand, I watched my father hustle until he went to prison. I was introduced to a "hustler" mentality at an early age because "if you aren't hustlin', you're strugglin'." I was tired of struggling, but I also was not fulfilled working for other people. While experiencing a struggle with my mother, seeing my father go to prison & struggling more than my peers in high school & college, I was determined to figure it out. I tapped into different realms of creativity. I began modeling in 10th grade, I started my YouTube channel in college, I began getting crafty with my hands so I eventually started a business called "Sew. Stylish. Sache". At some point, I outgrew Sew. Stylish. Sache & I transitioned into creating Divine 9 organization apparel for Fraternities & Sororities, all while still modeling in college. I was a full-time student & I worked two jobs, sometimes three! Though my creativity evolved, I knew that was not my purpose. In 2016, I found myself depressed, feeling lost. I was experiencing an awakening; still in survival mode, but willing to take the necessary steps to learn about myself on a soul level to get out of that dark space. I took a step away from all business ventures for almost two years. I was at a different college by this time, I eventually dropped out of college & months later, someone created a duplicate of our t-shirt design that I created in 2016, which is on our current apparel. I was convinced that it was time for me to get back into entrepreneurship. I spent months brainstorming. 2018 was the year of research & planting the seeds by implementing the knowledge. In 2019, I birthed Sacred Melanin.
Can you talk to us a bit about the challenges and lessons you've learned along the way. Looking back would you say it's been easy or smooth in retrospect?
On a business & personal level I can honestly say that my journey has not been a smooth road, however, the older I become the smoother it becomes. I have learned that it will not be easy, but it does not have to be hard. Wisdom is gained through experience. When you are wise, you move differently. You learn how to live a more MAATIC life as opposed to a chaotic life. All of my experiences on all realms have led me to where I am today. It is up to me to consciously apply all that I know & all that I have learned along the way as necessary. Everyday I awaken, I have a choice; we all do. I choose the path of the least resistant. I do this by not resisting spirit & allowing myself to grow with what I am being faced with. As my favorite artist Jermaine Lamarr Cole (J. Cole) says "Choose Wisely". Many of us hear that & identify it as being cliche, but when you hear that & you consciously choose, you realize just how powerful you are, how much power you have over your life & ultimately you learn that you are in control of YOU. It is up to you to create your own world. If I allowed someone to dictate how I operated on a day to day basis, I am almost positive my life would not be as smooth as it is, even in the midst of tribulations. That is not a lifestyle for a rebel like myself. I am in control of me, therefore I choose how I want my life to go. Things happen of course, but how I choose to maneuver through The Journey to Sacred Alignment, even in the midst of adversity sets the stage for the rest. When you master the mind, you can master anything!
Thanks for sharing that. So, maybe next you can tell us a bit more about your work?
Sacred Melanin was founded in 2019. In just two years Sacred Melanin has experienced many revolutions, much like myself. Under the umbrella of Sacred Melanin exists SMAI. SMAI is the Acronym for Sacred Melanin Ancient Interiors. SMAI is also an ancient Kemetic (Egyptian) word for union; uniting upper & lower Kemet (Egypt). In this position, I help people align SMAI in sacred spaces by using ancient healing modalities. As the saying goes, however your homes looks and feel is a reflection of how you look & possibly feel on the inside about yourself. SMAI is also the acronym for "Spirit, Mind, And Interiors" which is a play on words to express the connection to our homes & the interior of our body; where home should always be. I studied Fashion Merchandising & Apparel Design in college so it has been beautiful to witness the birthing process of SMAI. To be able to decorate/redecorate, declutter & bring balance to one's space is a gift.
I Am also a Ra Seki Kemetic Reiki Practitioner as well as a dōTERRA Wellness Advocate. I use a variety of ancient healing modalities within Sacred Melanin to help clients & customers achieve their goals such as Kemetic Reiki, nutrition, aromatherapy & more. In the realm of nutrition, I guide a seasonal detox by the name of Sacred Melanin Juice Journey. I specialize in Aritu Ascension or chakra healing, so with this seven day detox, we detox our spirit, mind & body as well as align our chakras with the solstice. In addition to all that Sacred Melanin has to offer, products are only an addition – a statement to "Innerstand your Melanin is Sacred, do all you can to protect it".
I Am most proud of myself for sticking to my mission no matter how many revolutions Sacred Melanin & myself have experienced. Being creative is in my DNA so I think many could agree that it is not always easy to stick to one thing or a few things when you wear many crowns. I do not believe in sticking to just one thing, but when you find your thing(s) & stick to it, thriving in that area flows a bit more abundantly.
What sets me apart from others is, I Am gifted in the spiritual and physical realms. I not only offer products & services to help people become whole, but I use my time, energy & creativity to teach about a multitude of things all relating back to Melanin, which is the Chemical Key to Black Greatness. Many businesses sell & not teach, which is okay, but my mission is to T.L.C -Teach, Love & Create. Outside of business, I am known for modeling, vlogging on YouTube, being fashionable & so much more. I have often had people ask me "what can you not do?"
Have you learned any interesting or important lessons due to the Covid-19 Crisis?
Yes, I have had many epiphanies regarding the Covid-19 "crisis".
I have learned that it is time for us to get back to spirit. Getting back to spirit is getting back to nature; our roots & ancient ways of doing things. If this planetary shift did not teach us that, I don't know what it will take for some of us to wake up. When you sit down & analyze the shift in its entirety, there are many facets to it. For example, many parents were nearly forced to homeschool their children. Homeschooling is something our Ancestars & elders did prior to integrated or public schools existing. Another example is the fact that many businesses (especially restaurants) closed down in the midst of all this. In my opinion, it showed us that it is time for us to do for ourselves & ultimately, practice group economics. We need to start back growing & cooking our food with love. Most of us come from a divine lineage of farmers, but somehow along the way we got disconnected from that. It is time to remember who we are. If all nail salons shut down, that means you should support a sista who does nails or you need to learn how to do it yourself. That goes for any other thing we spend so frivolously on. We need to invest in our craft; learning applicable skills. My next example is the fact that there was (maybe still is) a change shortage. If no money existed on this plane ever again, what would you do? Some of us would simply resort to bartering – exactly how it should be, for those who barter know that we could never put a price on our offerings & we serve with love! LOVE is what is missing & LOVE is the direction we are being guided back to. Many people are transitioning from this realm & the fact that many of us are not able to commune with family how we want to makes the heart grow fonder than ever before.
So many of us have resisted & disrespected nature, thus natural law. This is earth's way of restoring MAAT; by purging. If we do not do anything else while we are here, we have to do our parts by honoring & respecting the natural flow of things.
Pricing:
Aritu Ascension (chakra alignment) $99.99
Kemetic Tarot + Sacred Self Channeled Reading $59.99
Sacred Soul Chit Chat $39.99
Ra Sekhi Kemetic Reiki Distant Healing $79.99
Contact Info:

Image Credits
Photos provided by Richie Mills, founder of Rich Honesty. http://www.richhonesty.com @richhonesty on Instagram.
Suggest a Story:
 VoyageATL is built on recommendations from the community; it's how we uncover hidden gems, so if you or someone you know deserves recognition please let us know 
here.