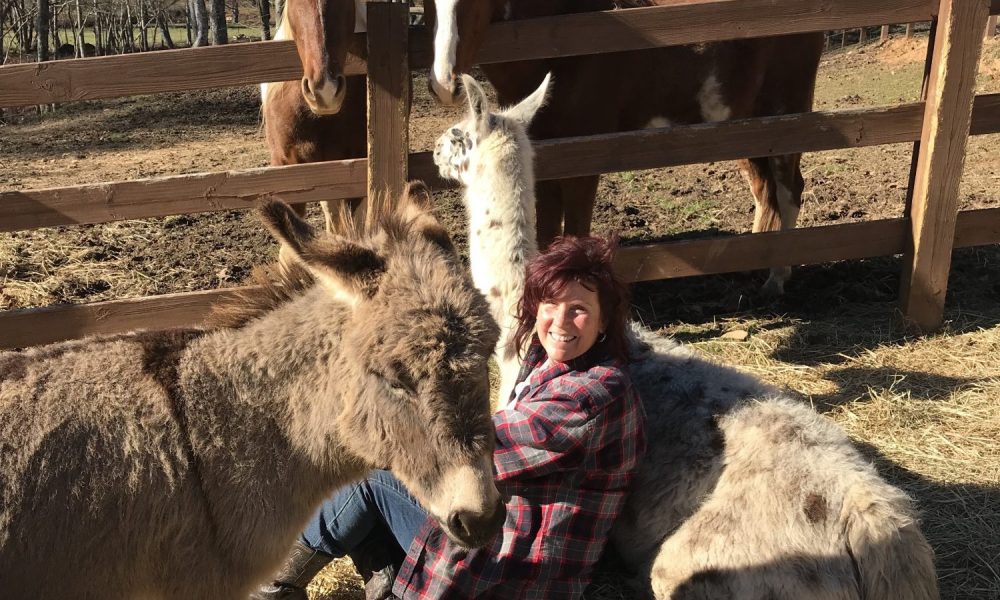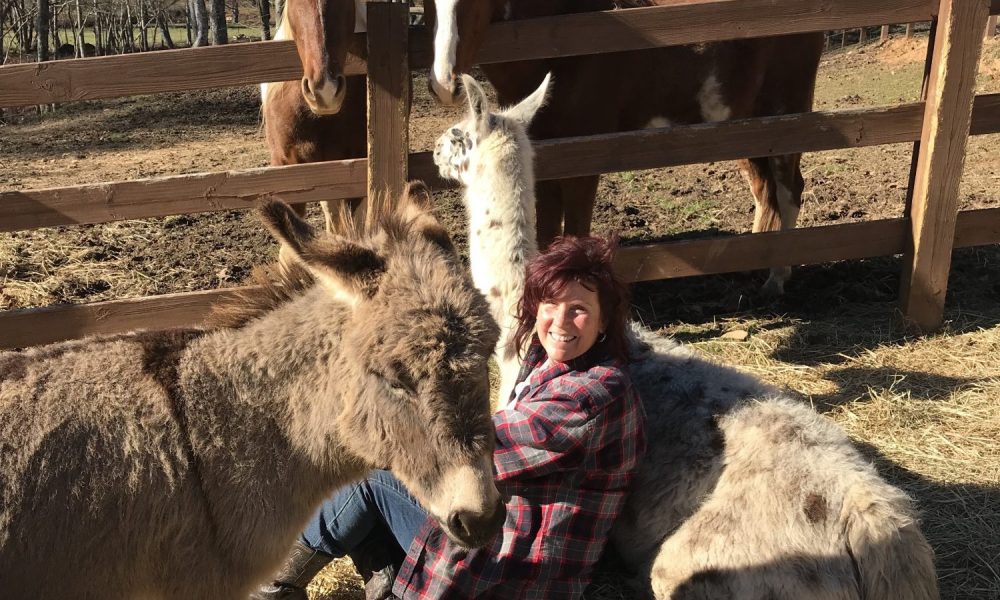 Today we'd like to introduce you to Diane Aradi.
Diane, can you briefly walk us through your story – how you started and how you got to where you are today.
My husband, Lester and I retired from our full-time jobs and moved to the Blue Ridge area of North Georgia. We settled on 36 secluded acres which provided ample pasture areas to accommodate our then two horses. It was a foreclosure and needed a lot of TLC, especially the grounds which we are in a constant state improvement.
The property also came with a carriage house cottage which we gutted and remodeled not knowing that it would become our future Bed and Breakfast. Les, being retired from law enforcement and myself a retired hair stylist/salon owner had never been in the lodging business before but found that we love it. Four months after moving into our new home, the Bed and Breakfast was opened and we hosted our first guests. It is a very private and exclusive stay as we accommodate only one guest at a time. Our guests have accessibility to interact with all our animals as much as they would like. We have walking trails in our woods and a flowing creek to sit beside and relax. A home cooked, farm fresh egg breakfast is served in your room to enjoy at your leisure. Our motto to our guests is: "We are as visible or as invisible as you would like us to be."
Les and I then started thinking about working with GERL (Georgia Equine Rescue League), a rescue partner of the Georgia Department of Agriculture as a Foster Farm for their senior and/or special needs horses. We provide a safe and loving end of life farm stay for them.
Southeast Llama Rescue was also in our sights to help them with fostering special needs llamas and those awaiting adoption. Mind you, we had not worked with or even been close to a llama or alpaca before. It has been a wonderful experience getting to know them and take care of them. In both cases, it is bittersweet to say goodbye when they are adopted out or in some cases, helped across the rainbow bridge.
Our Bed and Breakfast provides the funds we need to help these animals. In our eight years of being in business, we have not taken a dime for ourselves. All the revenue after expenses for the business goes back into the farm in grain, hay, medical supplies, vet visits, fencing, additional shelters, etc.
This year, we applied for 501c3 non-profit status and received approval under the name "Horse Creek Stable
Rescue Sanctuary, Inc." We have had wonderful supporters who have wanted to contribute to our rescue efforts and now can make a tax-deductible donation if they so desire. We are so grateful and blessed to be surrounded by such generous people.
Overall, has it been relatively smooth? If not, what were some of the struggles along the way?
No road is completely smooth when starting a business but there is an abundance of help for the taking if you ask for it. Go Daddy was used to securing our business names for our website and internet searches. We secured the .com, .net, .org for our name, so it wasn't reproduced by someone else. Go Daddy is also extremely helpful in creating a web page. Their customer service is amazing and very knowledgeable. Visit your local Chamber of Commerce and become a member for great visibility in your community. We are listed on their "Lodging" page which sends guests our way. Also, other businesses may help to partner with you to be listed on each other's web pages for extra exposure. Update your webpage as often as you can to keep things fresh and exciting for your webpage visitors.
Next, don't be afraid to visit other like businesses and ask for insight and help to answer start-up questions. We visited another Bed and Breakfast in our area to ask about Health Department requirements, innkeeper insurance, etc. related to lodging. They were extremely helpful. We posted each other lodging information on our own web pages. We have in like, had new Bed and Breakfast startups in our area come and talk to us for ideas. It's satisfying to watch them grow. If someone says they are not interested in talking with you, go onto the next one. Don't give up. "Hard work beats Talent when Talent doesn't work hard!"
Educate yourself constantly. Ask Questions. Be involved in every aspect of your business. Don't rely on someone that is not invested in you and your business (believes wholeheartedly in you and your product/s). Surround yourself with "like" thinkers. Be open to suggestions and ideas. Don't let too much ego get in the way of a fantastic idea coming from a team member while brainstorming. Be Open. Work together and respect each other.
Please tell us about Horse Creek Stable Rescue Sanctuary & Bed and Breakfast.
After visiting Italy some years ago, before moving to Georgia, we were introduced to Agritourism where you stay with a family on a working vineyard. During your stay, you become part of their family and have insight into their daily lives and products.
Agritourism is growing leaps and bounds here in Georgia. Once our Bed and Breakfast was established, we contacted the Georgia Agritourism Association to hopefully become a part of this wonderful group. Once accepted we grew our business into providing farm tours to educate families about animal rescue. We started a couple of beehives and produced our own honey. That is fun! Gardening and growing vegetables where guests, especially children, can pick tomatoes, zucchini, cucumbers, etc. right from the garden. They can also search for eggs from our free-range chickens who roam the farm all day. Our breakfasts feature their eggs. Providing excellent customer service to our guests and farm visitors is a passion of ours, along with educating them about the special needs that all kinds of animals need.
Currently, our adopted and fostered animals include two 3-legged Golden Retrievers, 1 Golden Retriever with a condition called Cerebellar Hypoplasia (remotely similar to Cerebral Palsy in people), one Blue Heeler, three horses, 1 miniature donkey, three adult, and two baby llamas. Being an end of life farm sanctuary, we have had a number (10) of our wonderful animals cross the Rainbow Bridge. It doesn't get any easier with each passing, but they all had a loving, safe life with us enjoying all the extra love and attention given by our guests and farm visitors. That is the hard part of what we do, but we were blessed to be with each one as they crossed the Rainbow Bridge. They are all buried here on our farm too.
With all the wonderful stories that have come to us through our animals, my husband Lester wrote a Children's
Book called "Tricycle and Friends", The True Life Adventures of Three-Leggedged Golden Retriever and His Rescued Farm Animal Friends. We self-published first but then was blessed to have a literary agent contact Lester to submit his book to Post Hill Press where it was re-edited and published once again. Our book is available on Amazon.com.
Were there people and/or experiences you had in your childhood that you feel laid the foundation for your success?
My parents always instilled in us that hard work was a gift that paid off in many ways when you applied yourself to the task at hand. If you want something, whether it be extended education, cars, vacations, new house, etc., you worked hard for it even if you need to work two jobs to get it. You could always be successful. Don't wait for others to give it to you because there is no pride in an achievement if it is handed to you. My parents didn't hand me or my brothers anything. Graduated high school, woke us up when dad got up to go to work for us to go find a job. No sleeping in bed until noon. We had to pay our parents "rent" immediately even if it was only $25.00 a month, we had to contribute to the household. No free rides there. I didn't think it was fair (of course) as most kids don't but saw the value in that lesson early on. We knew about budgeting, bills and basic life skills when we moved out. We were taught to take responsibility for ourselves and our choices in life and the consequences that came with those choices.
I had my own salon business years before "semi-retiring" here and did it all on my own. Left home at 19 and went into my own apartment. I switched careers early on from administrative assistant during and after high school, to putting myself thru Cosmetology School, working a full-time job and going to school at night. Instead of taking the usual nine months to complete the course, it took me close to 2 years, but I did on my own while keeping my apartment. When I quit my "desk job" to work in a salon full time, it took a while to build up a clientele. So once again, I had a part-time job at a liquor store to supplement my income (it was close to my apartment so I could walk to work). I didn't know that I would want my own salon in the future, but as I became more successful and achieved a wealth of business experience, I decided to go out on my own. Very scary and I was a nervous wreck, but it was one of the best decisions I ever made. It was a wonderful career and I loved it! Again, learning that if you apply yourself and do great work and keep yourself grounded, anything and everything is possible!
Pricing:
$25.00 donation for 1 Hour Private Farm Tour (family of 4), children with special needs are free
Bed & Breakfast Rates: Double Occupancy Low Season $189.00 (2 night minimum)
Bed & Breakfast Rates: Double Occupancy High Season $219.00 (2 night minimum)
Tricycle and Friends Book: Available on Amazon.com $11.72
Contact Info:
Image Credit:
Lester and Me
Getting in touch: VoyageATL is built on recommendations from the community; it's how we uncover hidden gems, so if you know someone who deserves recognition please let us know here.