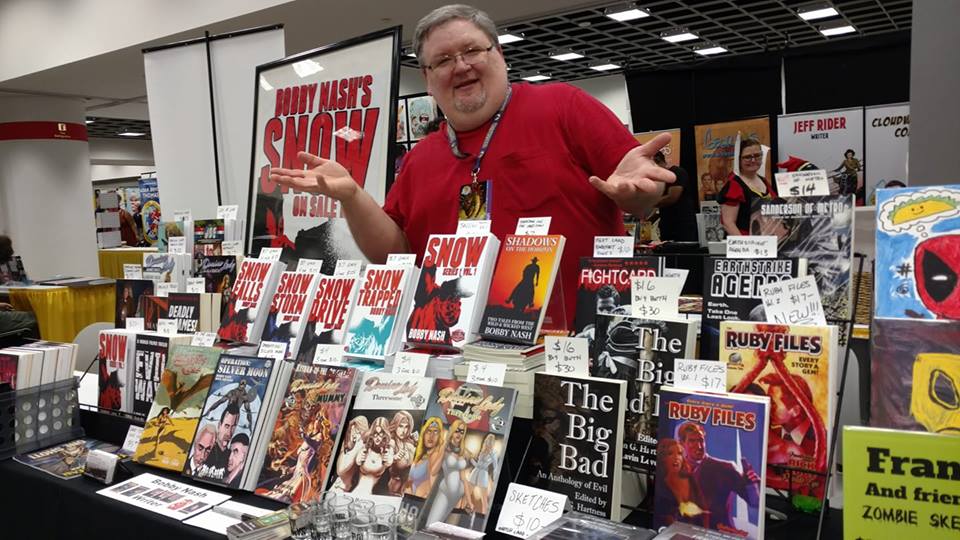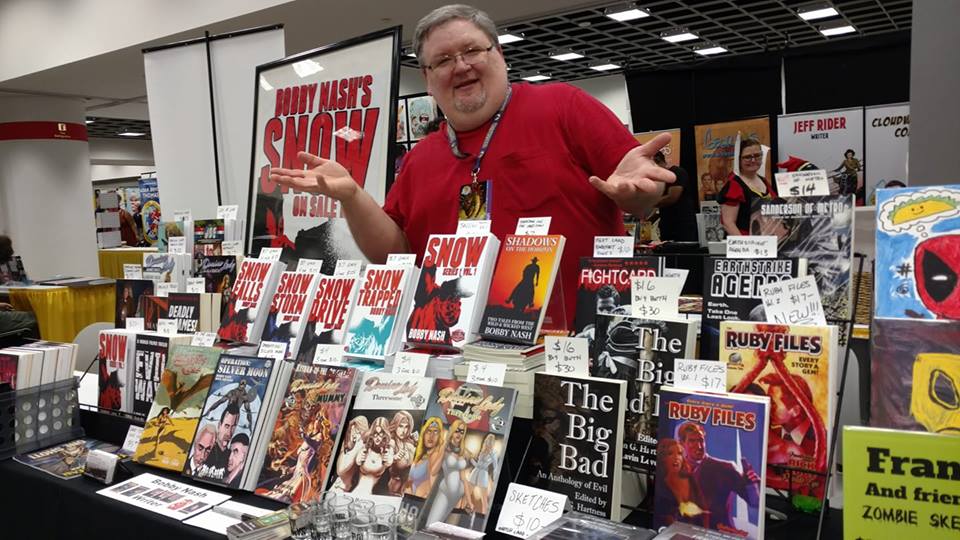 Today we'd like to introduce you to Bobby Nash.
Bobby, please share your story with us. How did you get to where you are today?
I have been writing since I was a kid and loved it. In my teens, I started to pursue it as a possible career choice and had my first work published in 1992. There were some lean years after that, but in 2000, I sold my first professional co, mic script and started writing comic books for small press publishers. While writing comics, I also decided to try my hand at a novel. I finished a short novel that was… well, it needed some work, but I finished it, and that was a great feeling.
I started a second novel and eventually sold it to a small publisher in 2004. A year later, in 2005, my debut novel, EVIL WAYS premiered. It's been fairly steady since then. Today, I write novels, comic books, and the occasional screenplay for a handful of publishers ranging from small press to large and I also throw a little self-publishing into the mix. I love what I do and am very fortunate to be able to create stories and characters. I've even won a few awards for my work, which is always a nice bonus. I'm still growing my brand continues to look for opportunities to tell stories.
In addition to writing, I do a good deal of marketing and promotion work to promote the books and projects. I attend book signings, conventions, conferences, and other events throughout the year to meet people and share my work with them. Writing has introduced me to some amazing people and helped me make friends. I'm on the road at least two weekends a month, sometimes more. The traveling is a fun byproduct of my work.
In my spare time (he says, trying not to laugh), I dabble in acting. I have acted in a couple of roles where I have dialogue (I even fought a serial killer in one, but I lost), but I also do a lot of background work around Georgia. That is a fun side gig and gets me out of the house from time to time. I've learned a lot about filming and storytelling by watching the casts and crews do their work.
I hope to be able to continue writing for many years to come.
Overall, has it been relatively smooth? If not, what were some of the struggles along the way?
My writing journey hasn't always been smooth. There have been some bumps in the road. The publisher for EVIL WAYS turned out to be less than an ideal fit, and there were many problems there. On the upside, I had a book in my hand that I used to get work from other publishers. That book became my resume.
With each newly published book, the resume grows. There have been creative conflicts (they happen), publishers going out of business (happened to me a couple of times), projects get delayed or canceled for whatever reason, real life gets in the way, you don't get paid as planned, things like that. It's all part of the business, and you learn to roll with those punches and deal with them when and if they happen.
The biggest struggle for me is being able to make a living as a full-time writer. It is not easy. Book sales at the small press level are not high, and the writer's cut of a $15 book is probably around $1.50. I have to sell a lot to live in book sales, but I keep trying because I love being a writer and can't imagine not doing it.
So, while it hasn't always been smooth sailing, I still love it, and I have learned a lot from those struggles.
Please tell us about BEN Books.
I am part of the entertainment industry. As a writer, it is my job to craft interesting stories and create colorful characters to play out those stories and hope that they find an audience who will fall in love with them and want to read more stories featuring them.
I write across multiple genres, but almost everything I write has an action/thriller element to it. I have been told that I write good dialogue, which is always nice to hear. I love getting to know characters and then put them through hell and watch them grow and come out the other side stronger than before.
I'm not sure what I'm most known for, to be honest. I think it varies depending on who you ask. There was a long time I was referred to as "that Evil Ways guy" and "the Domino Lady guy" as those were my main claims to fame. I wear both of those with pride. I've been called a "pulp writer" and a "New Pulp writer," and while both of those fit, I am not just those things.
I've also been called "the award-winning Bobby Nash" which still makes me smile and blush. All of those are cool, and I love them all, but when I think of myself, the word I use is "writer." I try to tell stories in my own unique way. When writing an existing character that is not my own, I try to tell a story that feels uniquely like my take on it, but still feels like the characters. That is a fun challenge.
If you had to go back in time and start over, would you have done anything differently?
In hindsight, sure, there are things I might do differently now.
Then again, if I hadn't signed with that first publisher that was a poor experience, I might not have had a book in hand for Ron Fortier to read, which in turn led me to writing Lance Star: Sky Ranger, which led to Domino Lady, which got me to Moonstone Books and led to Green Hornet, The Spider, The Avenger, and Sherlock Holmes and on and on and on…
That initial bad experience, while unpleasant, gave me a published book that I then used to get other publishers interested. Looking at it from that perspective, doing things differently might not be in my best interests. It's interesting to think about though.
Contact Info:
Getting in touch: VoyageATL is built on recommendations from the community; it's how we uncover hidden gems, so if you know someone who deserves recognition please let us know here.