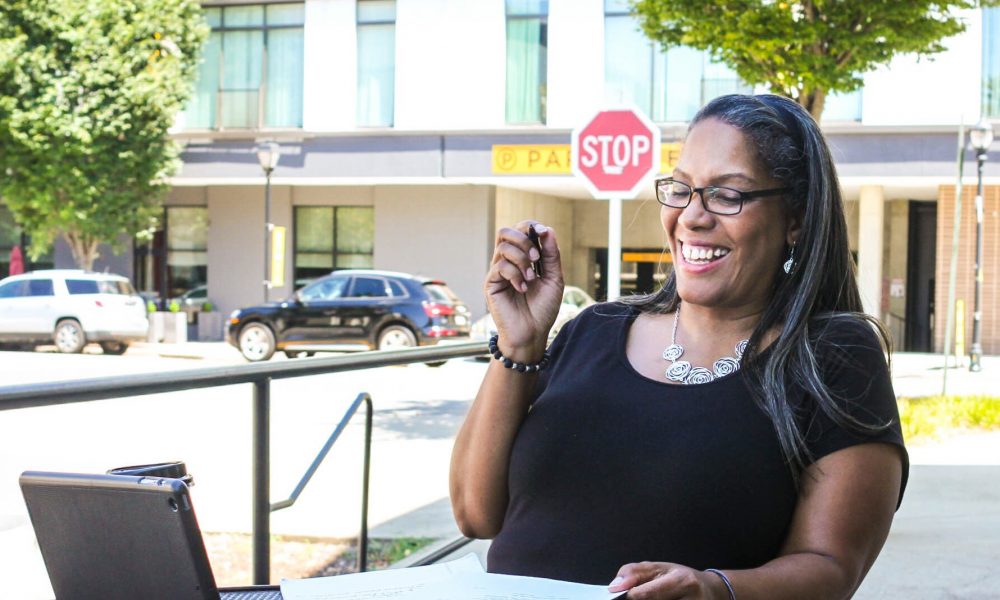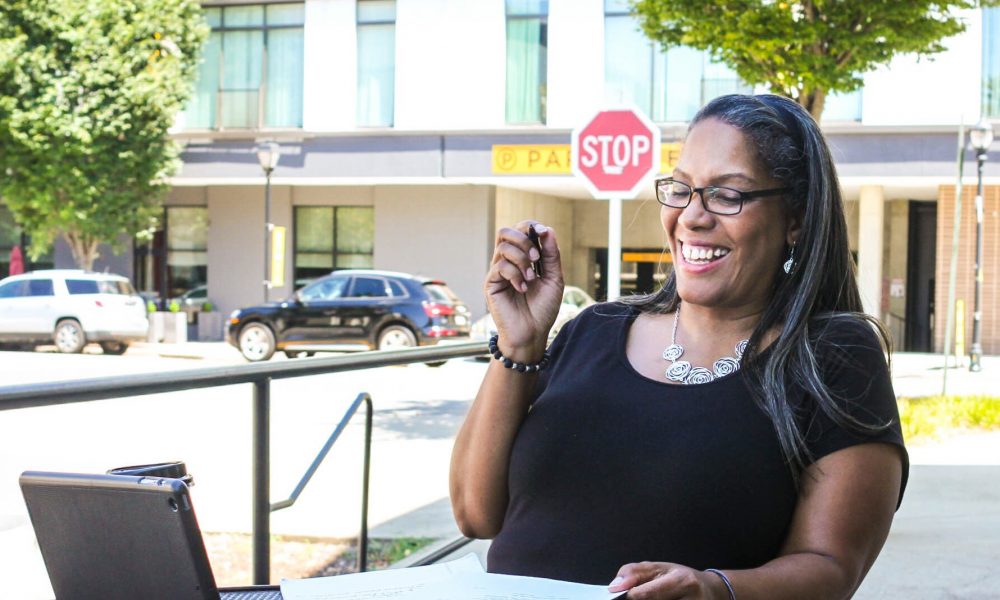 Today we'd like to introduce you to ChatterBox Christie Glascoe.
Thanks for sharing your story with us Christie. So, let's start at the beginning and we can move on from there.
I've been a storyteller my whole life but only started to do it professionally in 2007. I was already an entrepreneur at that time. I'd been running a corporate relocation consulting firm for seven years. It was a very successful business but I couldn't shake the feeling of wanting to be a writer. Not just in my journals or in secret. I wanted my words to be available to everyone. That year (2007), upon learning I was pregnant with my second child, I decided it was time. I shut down my business to be a full-time stay-at-home-mom and writer. I started freelancing with print magazines as well as wrote and published my first book, Your Big Sister's Guide to Surviving College.
While doing publicity for my book, I was often approached by women who wanted to know how I "did it"… having a business, two kids, being an author, etc. etc. These inquiries moved me to launch a coaching practice helping women live an inspired life amidst the chaos of the everyday.
Writing and coaching led to blogging… blogging led to podcasting, speaking, and writing features for online publications… all led to the sweet life as a social media influencer… which then led to social media marketing/influencer relations consultant, creative director, and copywriter (sometimes individually… sometimes all at once)
While it appeared I'd carved out a charming little life for myself and seeming to do what I love, I was still missing the mark. Yes, I was writing… but not writing the way I wanted to or what I wanted to. And always writing for other people who siphoned my creativity like a toddler with a juice box. I also started to notice how obsessed I was with fiction and film… and always have been since I was a kid but never really paid attention to just how much. How I marveled at every nuance of a film or tv show, not just watching it be entertained. How characters and conversations would come to me begging to be written down and I would ignore them because it's "not what I'm supposed to be doing." The times I did give them attention (see the countless partial and completed fiction novels or short stories collecting dust in my Dropbox), I never allowed them to see the light of day.
Fast forward to October 2017… a particularly bad year personally and professionally. I'd had enough of soul-sucking, penny-paying freelance social media work and wanted to answer the hollering of my heart. Writing. Writing stories to be told on screen. Helping other creatives answer the hollering of their hearts. I had just turned 45 and had absolutely ZERO idea how I was going to do any of this without possibly going back to college (which, with the way my life was set up, was not an option) I just knew I had to do it and it was going to have to get really creative to make it happen. In other words… ChatterBox, coach thyself.
Flipping that mental switch at the end of 2017 made 2018 one of my best years EVER! I took on what would be my LAST social media client and began to steer my business away from "marketing" and back towards "writing." Since I didn't really want to write for others like I used to, I found editing to be a better path. Ironically, my first few projects came from a screenwriter/director… editing his scripts and submission documents for contests and film festivals. Next came an author and a speaker, each needing their bios spruced up. Then, a couple of memoirists who needed more help finding the story within their life recollections than editing. And the one opportunity that sealed my fate… a director wanting to do a series adaptation of his recently completed feature film. He didn't care that I didn't have screenwriting experience, he just wanted a good storyteller. And just like that… I dove headfirst into the film industry, soaking up the craft like a thirsty sponge.
Here we approaching the end of 2019. I'm pleased to say I am a writer on 3 developing television series (1 drama, 2 comedies) and a coach/consultant on a developing feature-length film. I do voiceovers and narrations. I am also a creativity coach mentoring authors on completing their novels/memoirs/scripts, and helping others discover and relentlessly pursue what sets their soul on fire.
Great, so let's dig a little deeper into the story – has it been an easy path overall and if not, what were the challenges you've had to overcome?
It's definitely been bumpy. I've worked for myself for nearly 20 years now and there are always good years and bad years. I have to say all-in-all, there have been more good years than bad. And the bad years were tough, but not impossible. My bank account would get low… like really really low… but it was never zero. My kids and I were never without our basic needs met. I had support from family and friends… even when it came with a skeptically raised eyebrow. There were plenty of times I tried to give in to the resounding chorus of "just get a real job" and a client or clients would appear instead. This IS my real job!
I'd have to say my biggest obstacles were self-imposed. Doubts about myself and my abilities brought all forward movement to a screeching halt. Opportunities would come my way and I would be more concerned about the credentials or experience I didn't have instead of my true value. Those doubts would cause me to accept lower rates for work I really didn't want to do which meant I had to work longer hours to make a decent "salary." Dumbing down myself and my rates meant I didn't take myself seriously… therefore it was difficult for anyone else to either. I learned to believe my own hype, know my worth, and be prepared to walk away if the opportunity did not meet my needs.
There are days when I wonder if I'm crazy for doing this… knowing it can be feast or famine in a New York minute. Then, I realize I'd be crazy not to because in either feast or famine, I really love what I do. The good, the bad, and the ugly… I love it. And I work very hard to stay on the "good side."  All I can say is when you have a calling you have to answer it and the universe will be relentless in showing you there is no other acceptable option.
Please tell us about ChatterBox Christie Creative – what should we know?
ChatterBox Christie Creative currently has two divisions: Creative Collaboration and Creative Coaching. Creative Collaboration which consists of my "creative for hire" services such as creative writing, screenwriting, script/book developmental review/editing (also sometimes referred to as book/script doctoring), and voiceover/narration, etc. Creative Coaching which consists of mentoring programs for authors/screenwriters and programs/workshops for developing a productive creative practice.
I love working with my clients as a supportive second pair of eyes and creative accountability partner to help them give life to their life's work. I am a champion of creators and our self-care.   I am also developing a "Creative Adulting" program/community for people who want to live their "responsible life" while actively engaging in what sets their soul on fire. Adulting is only hard if you decide it is. Adulting can actually be fun… you just have to be "creative."
Is there a characteristic or quality that you feel is essential to success?
For coaching, the two biggest qualities that come to mind are compassion and patience. When a writer comes to me with their work, it's like they are handing over their child, their heart and placing it in my hands. I remember the feeling when I turned over my manuscript to the publisher and felt like I was dropping off my firstborn at daycare. It's hard to trust a stranger with something so precious. Especially memoirs. While I shoot straight with no BS, I am compassionate and collaborative with my approach. I believe in everyone who wants to tell a story. As a coach, I am taking this journey with you so the commitment to the work is a two-way street. I also have to be patient with writers who aren't and teach them how to be patient themselves. Contrary to popular belief, writing a full novel, manuscript, or screenplay is not a quick process. Conversely, it doesn't have to take years either. You get out of it what you put into it.
For creative writing, passion, patience, and perseverance are needed. I mentioned patience above. These things take time. There is a lot of waiting. Which is where the perseverance comes in. While you're waiting, keep writing. There's the passion. You have to love it or it won't work. Your ego must go have a seat in the corner all the time. You will have to learn that it is not acceptance or rejection of your work that determines your worth, but rather your reaction to the acceptance or the rejection that does.
Contact Info:

Image Credit:
Personal Photo (outdoor, seated at table) – Eric Payne, All other images are by me, Christie Glascoe
Suggest a story: VoyageATL is built on recommendations from the community; it's how we uncover hidden gems, so if you or someone you know deserves recognition please let us know here.