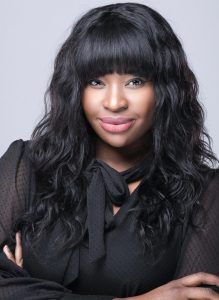 Today we'd like to introduce you to Lydia Pierre.
Lydia is a Haitian- American native of Brooklyn, New York now residing in McDonough, Georgia in Henry County.
She works as a branding expert and strategist who counsels small businesses owners, executives, and entrepreneurs in the process of maintaining, improving, and upholding a brand so that the name is associated with positive results by developing, implementing and executing marketing initiatives and activities so that brand can remain favorable to customers.
She started building her reputation as a brand manager and went by the title of Ur Beauty Liaison in 2011. She is now in the expansion phase of her business and has rebranded as Pierre Branding Group with Ur Beauty Liaison now becoming one of the four industries they serve. She's a fierce proponent of professionalism and has dedicated herself to not only working with Industry Professionals but also educating them about the issues affecting their quality of work. Lydia is personally involved in the training and development of every client to ensure that they each receive the highest level of service in the industry.
Lydia authored the book entitled, "The Art Of Branding: A Simple & Practical Guide to Understanding the Branding Process" which is a short and simple guide that answers some of the most frequently asked questions about personal branding and why it's an important piece of any entrepreneur's life today. The book is available on lydiapierre.com.
In addition to writing, Lydia has worked as a Media Personality and has interviewed celebrity guests such as Actress LisaRaye McCoy, Singer Lyfe Jennings, Singer Sheila Raye Charles and daughter of Ray Charles, the legendary Huff & Gamble among others. She has had the pleasure of working in affiliation with individuals such as NFL's Michael Vick; Celebrity Stylist, Dwight Eubanks; and Reality star, Erica Dixon to name a few.
Prior to moving to Georgia, she worked as a Medical Billing specialist at Disston Chiropractic in Philadelphia for nearly eleven years. After relocating to Georgia in 2012, she served as the Public Relations Specialist for the Family Support Circle, A non-profit organization providing Afterschool and summer enrichment programming for children in need. She represented the interests of the organization in the community and taught Abstinence Education to the Middle School participants as a certified WAIT Trainer. She also oversaw the organizations Plan of Action Committee and Public Relations Committee by identifying and supporting volunteers and candidates for various positions. She now serves as the Vice Chair of the Board of Directors for Family Support Circle, Inc.
In addition to serving on the Board, Lydia is the brand ambassador of The Gift of H.O.P.E (Haiti Opportunities for Partners in Education) campaign by the non-profit Family Support Circle, Inc. to raise funds to build a school in Cayes, Haiti.
Lydia was brought on as the Director of Communications at the Henry County Chamber of Commerce in 2014, after years of managing email campaigns for small businesses & Entrepreneurs in New York, Philadelphia & Atlanta. Her foundation in public relations, in addition to her experience with small businesses and non-profits, contribute to her passion for helping organizations succeed. As the Director of Communications at the Chamber, Lydia developed and oversaw the marketing and communications strategies for the Chamber, including those related to community initiatives, education, and workforce development. She has also gained political experience by working on numerous campaigns in Georgia at the local level.
Through her affiliation with the chamber, Lydia became active as a leader in the business community and was named the chair for the One Henry Arts & Leisure Subcommittee. One Henry is a collaborative effort of various citizens, community groups/businesses, and the Henry County Chamber of Commerce for economic advancement. The Arts & Leisure Subcommittee, which Lydia chairs, is one of five subcommittees working under the One Henry header in an effort to move the county in a positive direction by focusing on key areas vital to strengthening economic viability and prosperity throughout Henry County.
In January 2018, Lydia became a member of the Board of Directors for the Henry Arts Alliance whose mission is to improve the quality of life in Henry County and the Southern Crescent by creating awareness, stimulating interest, and encouraging local involvement in the arts.
Lydia graduated as part of the 2018 Leadership Henry Class which is a leadership development program sponsored by the Henry County Chamber of Commerce that engages emerging and existing leaders in a nine-month program that broadens their knowledge of community issues, sharpens their leadership skills and challenges themselves and others to seek solutions to those issues affecting our communities.
In the spring of 2018, Lydia transitioned out of her role at the Henry County Chamber of Commerce to launch her own branding and communications firm which is based in Henry County. Pierre Branding Group. The firm's focus is providing affordable brand management and communication services to entrepreneurs and small business owners with the goal of making the branding process simple, affordable, and stress-free for people who already are taking on greater than normal financial risks in order to own and operate their own business.
This transitioned occurred all while simultaneously taking on the role of Marketing Specialist and Socialite at Heritage Bank, an independent community bank with six branches serving Clayton, Henry & Fayette counties in Atlanta's Southern Crescent since 1955.
Lydia is an on-air talent with SCB-TV for their community events segment. She has appeared on Atlanta live Channel 57 as a guest to speak about faith and branding, and she was recently called on to be the keynote speaker at the Henry County Chamber first Luncheon of 2019 with great feedback from the attendees.
Has it been a smooth road?
Losing my mother in 2012 was a huge struggle. She passed on May 23, 2012 just two days before my birthday. After her passing, I didn't know what to do with myself since I hadn't been working for 3 years to be her caretaker. So after a family friend sent for me to come visit Georgia during the summer to clear my head, I made the decision to relocate and start over. I flew back to Philly, packed up my car with everything I could and in October 2012, drove 13 hours to McDonough, GA. Where I still am today. With the support of friends, new and old, community, and family.. I was able to rebuild and reinvent myself.
So, as you know, we're impressed with Pierre Branding Group – tell our readers more, for example, what you're most proud of as a company and what sets you apart from others.
Pierre Branding Group is network of business leaders, entrepreneurs, and innovators, committed to helping small business owners and entrepreneurs maintain, improve and uphold their brand by utilizing a combination of affordable PR, Marketing, and advertising. What really makes us stand out is that we each have our own companies and business ventures, and we were able to join forces to service the client as a whole through our combined specialtys. All while still being able to promote and grow our our personal brands.
At Pierre Branding Group, we specialize in creating and launching brands, as well as rebranding. Our clientele consists of mainly small business owners and entrepreneurs. As a full-service brand management company we offer a complete menu of Brand management & Communication services that come together to help create, plan, and manage branding strategies for these clients.
Our vision at PBG is to be the catalyst that inspires and empowers entrepreneurs to follow their dreams, pursue their passion and turn it into profit by connecting them to one another to obtain the support, insights, and expertise needed to make the best decision possible for whatever challenge or issues faced in their business.
Let's touch on your thoughts about our city – what do you like the most and least?
It's odd, because Metro Atlanta is not a place I would have imagined moving to from Philadelphia. Let alone Henry County. I didn't expect to love it, I thought I would just like it fine. But it has felt like home for quite some time now. I love that Atlanta is filled with so many people that have a strong entrepreneurial mindset. It's as if you can be almost anything as long as you make the right connections and meet the right people and also leverage those connections. That seems to be the currency here.
That also tends to be the downside of the city. It's ALL about who you know. Not always how good you are at what you do. Not to mention anyone with a business card can be a "CEO". It makes it a bit hard to really know who is real and who is not. Traffic is another downside. But of course that is the case with any major city.
Overall, when it comes to Atlanta, you get out of it what you put in.
Pricing:
FREE 15 Minute Consultation: This 15 minute consultation is designed for new clients to discover gaps that you are currently missing in your brand and business to determine what resources we can provide to you as our client to help you fill them.
30 Minute Brand Clarity Session ($65) – For those who are ready for the next level, but not quite sure where to start? Together we will work through any confusion and any form of overwhelming steps and create perfect clarity so you can start investing in your brand.
POWER HOUR -Strategy Session ($125)- We will work with you to help put together a plan that encompasses specific, long-term goals that can be achieved with the evolution of your brand and the combined components of your brand's character that make it identifiable.
PBG Site Profile ($159/yr) – We will build a promo page on our site with a nominal set-up fee (upon furnishment of a few images, brand bio and preferred URL). Page may also serve as your company website if one is not available. This comes with an auto tweet and we forward you a direct link to post, so you can share it with your audiences and strategic partners (i.e. lincolnparks.net ; elnapoulard.com).
Sponsorship Proposal Services (starting at $599)- Make an impression that will leave them in awe! Event sponsorship is one of the best ways to get extra mileage out of your advertising and promotional budget. Each of these sponsorship opportunities can be packaged to meet your specific needs and goals. We also help you create the Best PowerPoint Presentations!
Contact Info:
Image Credit:
Audrey Brown of AAB Photography
Getting in touch: VoyageATL is built on recommendations from the community; it's how we uncover hidden gems, so if you know someone who deserves recognition please let us know here.