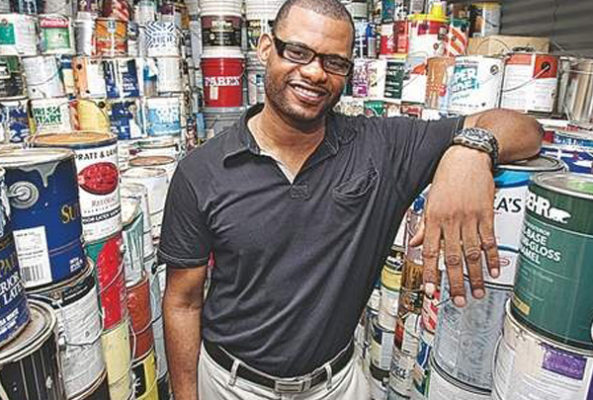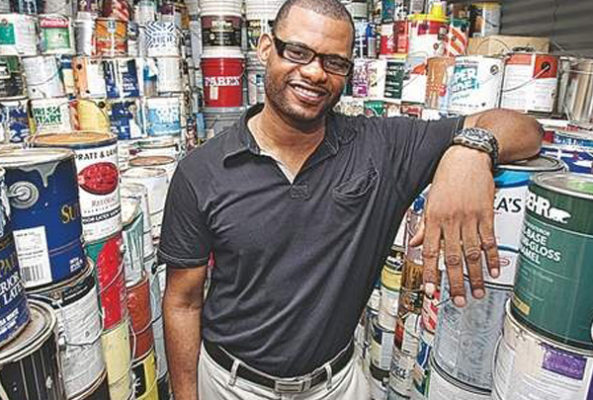 Today we'd like to introduce you to Rony Delgarde.
Thanks for sharing your story with us Rony. So, let's start at the beginning and we can move on from there.
Excellent question: I remember one day I went to home depot to get a quote on a bucket of paint, and in front of me was a lady with 12 cans of Benjamine Moore and Sherwin Williams latex— highest quality indoor and outdoor paint that she was begging the store manager to take them back. And the manager said we are sorry we can't accept the paint. She said that" I bought the paint here a few months ago to renovate my house but I didn't use the paint, they are unopen, now I sold my house and I need to get rid of the paint. The store manager insisted that he could not help. The lady decided to leave the store and she took six cans and left six cans on the floor. She was very upset and frustrated as she exited the store. At that moment, I said ma'am, can I help you? I took the other six cans outside to her car. And she had eight more cans in her trunk. I asked her what was she going to do with the paint? A question that had no official answer from her thinking. She replied she would trash them and place them in a dumping container. She said she didn't want to do that but she sold her house and the paint was the only item that she couldn't get rid of. I said I would give her some money for her paint because I was about to buy paint at the store…She said no sweetie, you can have the paint. I don't want your money…take them. I was incredulously surprised…
Here I am an immigrant who grew up without colors speaking to a wonderful lady who is about to throw away 20 gallons of paint! And I know what I can do with that paint. And at that moment I was like "this is it"!! I found myself in tears, knowing that many families cannot afford paint to paint their house. Usually, trees are used to make wood stove heat to dissolve river stones and soil to make color powders for paint, and fruits and vegetable (i.e., beets, lime, strawberries, etc.) Believe it or not, over 2.5- billion people live on less than $2 a day and a gallon of paint costs $35 in the U.S. I am not good at solving math problems, but I know people in these regions are not going to spend that $35 or more on a gallon of paint. Families reserve income for buying medicine, paying for elderly medical bills or buying the things to keep them alive.
In fact, I was shocked just to know how many gallons of paint were thrown away in the U.S. every year. Each year, hundreds of millions of gallons of paint are discarded in North America alone. And while more than one billion gallons of paint sold for commercial use, 10% percent of that goes unused or ends up in landfills every year. I could not believe it; I said: "Are we really throwing away that much paint at the expense of other people who don't have anything?" I need to do something about it.
I know there was a school somewhere, an orphanage, or a hospital, a family home, a tent at the refugee camp somewhere that can use that paint because they can't afford it. From that moment, in 2010- with the help of a team and volunteers, we created the Global Paint for Charity right here in Atlanta to promote environmental preservation, better sanitation solutions, and beautification in underserved communities one gallon of paint at a time. We have been engaged in amazing works to recycle discarded paint, reprocess it then distribute it in places where colors had never before been a resource. It's the first sustainable paint waste management program in the United States and the distributor of top paint brands in third world countries.
When I started, I picked up all the paint donations myself. I went to residences and businesses as far away from Atlanta as Macon, Savannah, and Charleston SC to collect paint. I believe a little layer of paint on the walls will change everyone's life for many years to come. It is one of the only solutions to protect the exterior and interior surfaces from bacteria, diseases, harmful germs, mold, severe unsanitary conditions and temperature changes. The World Health Organization and Center for Disease Control estimated that 3 million children die each year from diarrhea and harmful germs on interior surfaces including unpainted walls and unsanitary conditions. Yes, people need food, soap, shoes, etc. that is why there are so many organizations collecting those items. However, not as many organizations are focusing on the physical image of underprivileged communities. The programs intended to help local people reduce poverty and teach people how to maintain their communities.
The impact of that simple idea grew exponentially after that experience, as many as 320,000 tons of discarded paints have been removed from the waste stream, recycled then shipped to 40 cities right here in the United States and 34 countries in Africa, the Caribbean, Central & South America, Asia and targeted areas in the Middle East, with our team often traveling to the countries to deliver not only the shipment itself but the organization's heartfelt sense of support and partnership. The goal is to strengthen the local economy, boost people's confidence, create opportunities and skills development, assist the vulnerable individuals in reaching their full potential, and improving standards of living.
The Global Paint for Charity was founded on the principle of a "man's trash is another man's treasure," "give a man a fish and you feed him for a day; teach a man to fish and you feed him for a lifetime," and "hand up, not a handout." Throughout the world, there are thousands of success stories of individuals who have found hope and happiness through our work. Evidence of the positive impact of the GPC concept and the incredible dedication and hard work by our team is illustrated through GPC winning the "Energy Globe Award" in 2017, one of the most prestigious environmental awards in the world. Our selflessness story has featured on CNN, and I have received dozens of awards, state proclamations, and citations for our work. At Global Paint, we believe that everyone, no matter their circumstances, deserves to live in a beautiful and colorful environment. Increasing access to paint in underserved communities could improve the economic power of millions of vulnerable families for many years to come. One gallon of paint can uplift the less fortunate individuals for the better.
Overall, has it been relatively smooth? If not, what were some of the struggles along the way?
At the beginning of developing the Global Paint of Charity, my friends laughed at me. They said, "No one will donate paint to me, and paint is too expensive and too heavy to ship to abroad, etc." I knew some of my friends hadn't seen what I had seen nor did they know what it was like to grow up in an unpainted environment. One day, I called Harold Watkins, a mentor and retired Director of sales and marketing at Avon Products, Inc. The idea resonated with Mr. Watkins. He told me about a great book "A Painted House," a John Grisham novel and movie about a boy who lived with his parents and grandparents in a house that had never been painted. Mr. Watkins told me, the boy, a big baseball fan, wanted to buy a red Cardinal jacket. By the end, however, he had matured beyond his years and instead of buying the jacket with the money he had earned harvesting cotton, he used the money to buy paint for the house. I told Mr. Watkins that was precisely what I was trying to do, helping people feel better about their communities and change their lives. Mr. Watkins loved the idea so much he wrote several checks to help me get started.
When I started, I have very limited resources, no trucks, warehouse and I did not know anyone in the Metro Atlanta areas. When I got a phone call from a donor, I arranged to pick up everything myself. I failed over and over, but I have made better decisions over time, yet this is why we are successful. I embraced all challenges in my path and used positive methods, exercise, disciplines to ensure success in my life. In the past ten years, I have struggled a lot in the state. But, when I was offered an opportunity, even as a volunteer, I also saw another opportunity; the opportunity of turning waste into hope and community impact. The biggest barrier of my life is that I didn't have the funding to build my business, but I know if I can discipline myself and work harder, success will happen. I associated myself with people that can inspire me, people that have challenged me to rise higher, people that teach me better things in life. I don't waste my valuable time with people that are not adding to my growth. My time is very crucial. I started this organization in my condo; now we're in Chicago, in California, Boston, and known by a lot of people in communities around the world. There's nothing as powerful as a small idea that can change the lives of people around the world.
Global Paint for Charity – what should we know? What do you do best? What sets you apart from the competition?
Global Paint is the global hub for the distribution of colors to create a beautiful and colorful environment that empowers all of us every day. Our program begins with the collection of the paint. We pick up paint donations from local residences, businesses, retails, hotels, hospitals, apartment complexes, residential buildings and paint manufacturers in Atlanta, Miami, Orlando Florida, Chicago, Los- Angeles, San-Francisco, and soon in Boston, Baltimore, Philadelphia, Connecticut, New Jersey and New York. Residents and businesses can properly dispose of their leftover paint without having to pay significant fees at the point of collection. The program has two subprograms called ONE STOP PAINT DROP and ONE STOP PAINT DRIVE. Because of word of mouth and fantastic support from the MEDIA, we are able to partner with organizations such as Salvation Army, Goodwill, Home Depot and Sherwin Williams in certain areas. Our volunteers visit these participating organizations once or twice a month to pick up donated paint and monetary donation.
The paint is then transported to one of our storage facilities, where it is sorted and repackaged. The finished product is then donated to non-profits and missionary groups for renovation projects at schools, orphanages, churches, shelters, sports centers, family homes and more. We have shipped 500-6000 gallons of paint at a time to support projects in Mexico, Dominican Republic, Honduras, El Salvador, Nassau, Jamaica, Puerto Rico, Haiti, Guyana, Equatorial Guinea, Nigeria, Ghana, Liberia, Cameroon, Kenya and Uganda. Paint goes to developing countries where most of the vulnerable populations have no access to paint or have a majority of people living at the poverty level.
Global Paint for Charity is grateful to be able to give back to communities not just overseas but right here in the United States. Last year, we donated 600 gallons of paint to Dr. Bernice King, daughter of Dr. Martin Luther King Jr, to renovate the King Center as part of its 50th anniversary to honor the legacy of the greatest civil rights leader of our time. At Global Paint for Charity, we understand the challenges that face many local street artists who often found it very difficult to buy resources like paint to support their murals and artworks, as a consequence, many artists reached out for paint supplies and paint donation. The cost of paint products to make arts and murals can be prohibitive to local artists who can't afford it. We are blessed to have helped many artists in Wynwood and Orlando, Florida, New York, Chicago, Los Angeles, and Atlanta to receive paint to create more beautiful murals and painting projects and effectively promote their artistic passion, show their talent and creative works.
We have recently added collection sites in certain areas in Morocco, Australia, Finland, Japan, the UK, France, and Germany. We opened a plant in Honduras to provide paint to our projects in Central America. We will soon build a plant in Cameroon, Ghana, and Haiti. We will continue to expand our program globally.
Paint donations from businesses help keep our inventory full because 90% of their paint is brand new and ready for distribution. In return, we help families in need, transforming their communities and changing lives around the world. Plus, we offer a direct tax deduction for all donations. It is a win-win for everyone.
What is "success" or "successful" for you?
One great thing is that I am very grateful for the gift of having many incredible and positive people who believe in me and are very supportive of my ideas — being surrounded through my whole life with my family members, great friends, wonderful colleagues and leaders who have mentored me and supported me along the way and challenged me to continue to grow, both spiritually and professionally.
Another thing is, the Global Paint for Charity's activities excite me. Times have certainly changed since I first began the journey in 2010, and I am so happy to see so many people being helped in developing countries and major cities right here in the United States. I am passionate about the people we help every day, and I just love colors– OMG!! Using colors to bring happiness, hope, freedom, and peace in places where people have never seen colors before is the main fulfillment to me. One of the best things about our mission is we give people the freedom to use colors to change their community and change their lives while solving another very important problem which regards to the issue of proper disposal of used paint. To see the look on the people's face once their house, schools, and institutions are painted, I become inspired, I find myself not afraid of putting in many long hours and traveling around the world because I want to help more people.
I possess more than a decade of experience in Facilitating internal and external liaison, identifying resources, elaborating program recommendations, and promoting humanitarian and development approaches to provide immediate services while laying the groundwork for long-term impact. I view my endeavors as mediums through which I can change people's lives or at least their perspectives about protecting the environment and one another. I have worked with more than 700 organizations and visited 46 countries since launching the Global Paint for Charity more than nine years ago.
Contact Info:
Suggest a story: VoyageATL is built on recommendations from the community; it's how we uncover hidden gems, so if you or someone you know deserves recognition please let us know here.