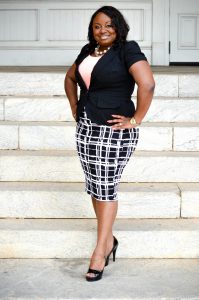 Today we'd like to introduce you to Shaquita Williams.
Shaquita, please share your story with us. How did you get to where you are today?
My Journey from tragedy to triumph as well as victim living to victor living all started during my childhood era and creeped its way into my Adulthood. Through every trauma experienced manifested as a storm…was intended to defeat me in every area of my life. This left me with no other choice but to remain in the fight… and most importantly I had to Live Through It!!
I was raised In Griffin Georgia, where I graduated from Spalding High School in 2005. I then decided to further my education, attending the Unsinkable Albany State University in Albany Georgia. After completing course study for both my major and my minor, I earned my Bachelors Degree in Political Science with a Minor in Criminal Justice in Spring of 2009. With a burning desire to continue to grow academically, I enrolled in Graduate School at Troy University where I obtained my Masters in Public Administration with a Concentration in Justice Administration.
After pursuing my education, like everyone else in today's society, I maintained a regular full-time job but still didn't feel quite as fulfilled. I knew there was more on the inside required of "Me". It was then that I began to walk out on faith by being honest with the world about overcoming hidden traumas and storms starting with myself. I began to participate in experiences that ultimately assisted me on my journey to being the best version of me. Reflecting on my history of being bullied as a child and growing up struggling with self-image issues, self-hate, and insecurities… I sought to create an experience that builds self-confidence and self-esteem of Individuals by enhancing physical beauty creating an experience. I then cultivated an Eyelash Glamour Extension Line- "Unique Glamour Expressionz" that caters to the experience of being and embracing the very thing that makes You… Uniquely You!
Professionally, in addition to becoming an Entrepreneur, I am an Author, Speaker as well as The Founder and Executive Director of Changing Hearts of Atlanta Incorporated, a nonprofit organization that provides services and resources to homeless youth and young adults. Currently, I am the Author of an Empowerment Memoir entitled Live Through It: Practical and Spiritual Principles to Overcoming Your Storms". Having experienced various traumas and circumstances over periods of time within my life, I overcame through the implementation of strategies provided in my book. Once I began to utilize these strategies, I went from being the victim to the victor who longer accepted defeat. The very things that were designed to destroy me or cause me to give up are the very things that birthed "Live Through It".
Within this book, I transparently discuss the various traumas, hurts, and storms that I experienced from my childhood years into my Adult years that at one point in my life kept me stagnant in my growth and caused abundant emotional damage. I can remember as a young child being bullied every day for years, struggling with severe depression as well as battling stage 4 cancer as an adult. Fear tactics began to consume my mind and created the mindset that I was not enough and neither was my life. I began to overindulge in feelings of self-hate, lack of self-control and self-sabotage within myself. This cultivated a chain reaction of behaviors that were self-destructive. It wasn't until I began to understand who I am and began to love myself, that healing began to take place. Once I accepted what has been, I began creating my "What will be". By applying various principles within my book, I began to take back control over my life and change was in process before my eyes. Opportunities and blessings began to manifest in every area of my life. Live through it then went from being the title of an Empowerment Memoir to a vital Concept for Surviving Life and storms that arise from a holistic approach.
I then began to walk in my passion which is to empower and encourage others to heal through their storms equipping them with spiritual and practical principles to overcome so that they are able to "thrive through transparency". My mantra is "You were Born to Win" or Prophetically stated: You were Birthed For Greatness!!
Has it been a smooth road?
Challenges presented in my life has not always been smooth. In fact, it was the exact opposite. As a child, being a victim of molestation – I began to struggle with who I was and as well as trusting those around me. I was all too familiar with depression and what it looked like manifested. My behavior began to shift, and I became self-destructive, almost like a mini tornado, taking down any and everything in my path. I began to struggle as a child with suicidal thoughts, and even hypersexual behaviors.
So let's switch gears a bit and go into the Live Thru It story. Tell us more about the business.
Live Through It is an empowerment memoir that was birthed from experiences of my childhood and some of my adulthood. These experiences included my history of being bullied as a child and growing up struggling with self-image issues, self-hate, and insecurities just to name a few. In addition…Not having the proper channels or outlets after experiencing such a trauma of child sexual violation, only brought about oppressed living for me internally, that eventually emanated externally. Live Through It addresses the trauma I endured in addition to the decisions whether good or bad that were produced as a result. Live Through It is essentially the healing manual for releasing hurt and how to start the process of forgiving, even if that means beginning with yourself. This empowerment memoir validates how sometimes your upbringing or the amount of money or success or education you have, or the deep roots of religion planted within doesn't excuse or guarantee immunity from LIFE. Emotional and mental freedom is available to every Survivor of trauma- once we accept what has happened, understand that we cannot change the past and make the conscious decision to no longer give life to the hurt causing us to relive it- which keeps us BOUND! This memoir speaks to understanding that we are all destined for Greatness and Purpose, and we are empowered and overcome by sharing our story with others.
How do you think the industry will change over the next decade?
Within the next 5-10 years, I see Live Thru It Enterprises expanding globally spreading empowerment and encouragement for all who may be in battle mentally, emotionally, and spiritually to Live thru it. Live Thru It Enterprises will become a holistic approach to surviving life- not only through books but seminars, conferences, providing life coaching services and assistance as well as physically that enhances the individual building self-confidence and self-esteem. I also see Live Thru It Enterprises focusing on the youth from the next generations to come promoting self-love and self-care in an attempt to reduce if not end the traumatic effect bullying takes on the mental and emotional makeup of our youth and encouraging and empowering them to LIVE THRU IT.
Pricing:
Contact Info:
Website: www.livethruit.com
Email: authorshaquitawilliams@gmail.com
Instagram: @livethruit7
Facebook: @livethruit7
Image Credit:
Above the Line Media (ATL)-Darryl Humphrey II, Photography By Shana
Getting in touch: VoyageATL is built on recommendations from the community; it's how we uncover hidden gems, so if you know someone who deserves recognition please let us know here.