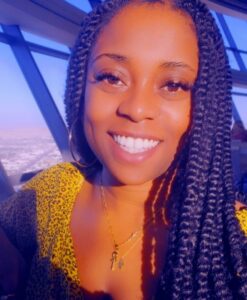 Today we'd like to introduce you to Cynthia Omekam.
Hi Cynthia, we'd love for you to start by introducing yourself.
I'm a proud HBCU alumna, I graduated from VSU in 2012 with a B.S. in Psychology & in 2016 I received my M.A. in Forensic Psychology from The Chicago School of Professional Psychology. I spent my early career as a server & full-time student but during my last year of graduate school, I was finally able to jump into my field of study. I spent a little over a year working as an intern counselor at a local correctional facility, where I served a large population range; from the struggling youth to adults suffering from severe psychotic disorders. Working with this population really opened my eyes to my ability to connect with others in a unique way & helped me to realize that my passion for healing others ran deeper than I thought. So naturally, I made plans to continue my work there until I received my LPC & could switch over to a full-time employee. However, days before graduation, I found out that my mom was diagnosed with Stage 4 metastatic breast cancer.
Without thinking twice, I dropped everything to become her full-time caregiver. I quit my job, I left my internship & I completely abandoned any future dreams I had considered. This was truly one of the darkest periods of my journey thus far. In the middle of what should have been a celebration of accomplishment, I was losing the only person I was doing it all for. I had so many questions. I questioned God, I questioned myself, my choices, my behaviors, my values. I really dove deep into my own transformational healing journey, all while unknowingly strengthening my spirituality. And as I fought to do all that I could to heal my mom, I found myself healing us both. I spent hours meditating & praying, connecting with the divine in the most indescribably profound ways.
Many times I would receive directions in terms of providing her with what she needed or comfort to push me through. However, towards the end of my mom's time here I began receiving clear downloads from the divine in terms of my next steps & that life coaching was where I should start. I wrote down everything I received in detail & shared it with my mom. We manifested together, we talked about the steps to make it happen & rejoiced about what was to come. During her last few weeks here on earth, my mom was able to pull me to the side & tell me how proud she was. To this day, it's a moment I'll never forget & will cherish forever. Unfortunately, I lost her before my plans began to physically manifest. However, I know she's had a hand in all the abundance & success that I have experienced thus far. I'm truly grateful to have had the opportunity to make her a part of something so magical & powerful before her return home. So after healing through my grief, in June 2019 I became the proud owner of Holistic Liberation LLC where I serve my clients as a Certified Holistic Life Coach & an Accredited Spiritual Healer. My mom's legacy definitely serves as the foundation of my business alongside my ancestors who helped in paving my way. I'm beyond grateful & honestly honored to have been found worthy of something so precious.
Would you say it's been a smooth road, and if not what are some of the biggest challenges you've faced along the way?
I haven't experienced any journey thus far that hasn't had its bumps & unexpected detours. However, I will say that the struggles that I've faced so far as an entrepreneur have only been learning curves. Many of them, commonly associated with the experience of being a business owner. For example, in the 1st few months of launching I struggled to fully own my position as an expert. And just to keep it all the way 100, coming into it I would have never thought this would be a block for me. I mean I have the credentials & I've seen the positive impact I've had on others who were in need of guidance & support. However, I was coming off as unsure & uncomfortable. And after a few awkward consultations, I realized there was definitely a disconnect between those truths & how I was actually showing up.
So of course, I dove within & did the inner work necessary to work out those thoughts & emotions that were holding me back from owning my power. And at the core, I discovered I needed to break down & detach from that "employee mindset" & I was able to do that by reminding myself that this new territory was no different than any other healing work that I'd done before. Of course, it took a few consultations before that confidence kicked in, but boy when it did it proved to be one of the most beneficial obstacles that I had to face early on. Imposter syndrome is real & it's something that tends to cripple many entrepreneurs before they can even get into the game. And although it was uncomfortable peeling back those layers, I'm so grateful I did because I wouldn't have been able to break through & reach the level of success that I have today.
Thanks for sharing that. So, maybe next you can tell us a bit more about your business?
Of course, as a Certified Holistic Life Coach & an Accredited Spiritual Healer I provide my clients with support as they break free from stress & anxiety and begin living more peaceful, balanced and fulfilling lifestyles. My areas of expertise include stress management, establishing inner peace, mindful living & spirituality. In addition to providing one-on-one and group coaching services online, I also offer various meditation & spiritual services to aid others on their healing journeys. I also run a YouTube Channel, "Zen With Cyn" which I launched early this year, where you can find new meditation uploads every two months with each meditation generating peaceful vibrations to bring your soul the comfort it needs to heal & thrive.
The overall focus of my services is to provide healing to the mind, body & spirit through a mixture of psychology, powerful ancestral spiritual practices & coaching tools. I use coaching to help my clients achieve each step needed to get to where they want to be. While the practice of mindfulness & use of powerful spiritual tools are used to guide them there successfully. Ultimately, my clients are able to achieve their desired lifestyle by doing the work necessary to ignite & nurture a powerful reconnection with their soul/authentic self.
I believe that my business & services stand apart from others because I provide personally tailored support. Everyone is different, our walks are different, our challenges are different and so therefore our healing journeys are just as unique. Instead of trying to serve through the normal "cookie cutter" approach I honor my clients & their unique process by meeting them where they are and developing a plan aligned with their natural flow. All while giving them the best of both worlds: nurturing & guidance through healing, while receiving motivation & empowerment through coaching. Also, my intuitive healing gifts add that special touch that can't be matched and most of all amplifies the value & impact of every service that I provide.
I continue to be beyond proud of my steadfast faith & resiliency through these first two years of business. Especially with my prime falling right in the middle of the pandemic. Yet even through the uncertainty & grief, I was able to stay grounded & focused, allowing me to take some major strides forward. Not only have I been able to continue to grow my clientele but I've also increased my impact through various media opportunities from podcasts to publications. And anyone that has been following my journey thus far knows that this was my #1 goal coming into 2021. So I am super proud of myself for following my own guidance & sticking to the path even when things got foggy. Trusting God to do His thing like he always does & oh did He show up & show out, Thank you Lord!
Can you talk to us a bit about happiness and what makes you happy?
This is a really good question! I would describe happiness as a feeling that represents a positive, balanced emotional state & a deep sense of fulfillment. As with everything in life, this will look different from person to person. However no matter what, it always goes back to our satisfaction within every area of our journeys. From personal to professional & all that falls in between, true happiness is achieved when we feel a solid sense of contentment & groundedness within our lives.
In an attempt to keep it simple, anything that is highly vibrational definitely makes me happy. So highly vibrational people, places, experiences, activities…I crave all of the above because they bring me true satisfaction, joy & fill my cup with loving energy. I consider myself a modern day hippie, so peace, love & freedom is what I aim to cultivate wherever I am. And as you can imagine, I require similar frequencies in order to continue to pour so much out all the time. So basically, that energy serves as replenishment to my life force & is necessary in order to keep my cup full as I pour into others. Which is so important as a spiritual healer & leader in world transformation.
Pricing:
Free 30 min Service Consultation
Contact Info:
Email: cynthiao2008@gmail.com
Suggest a Story:
 VoyageATL is built on recommendations from the community; it's how we uncover hidden gems, so if you or someone you know deserves recognition please let us know 
here.