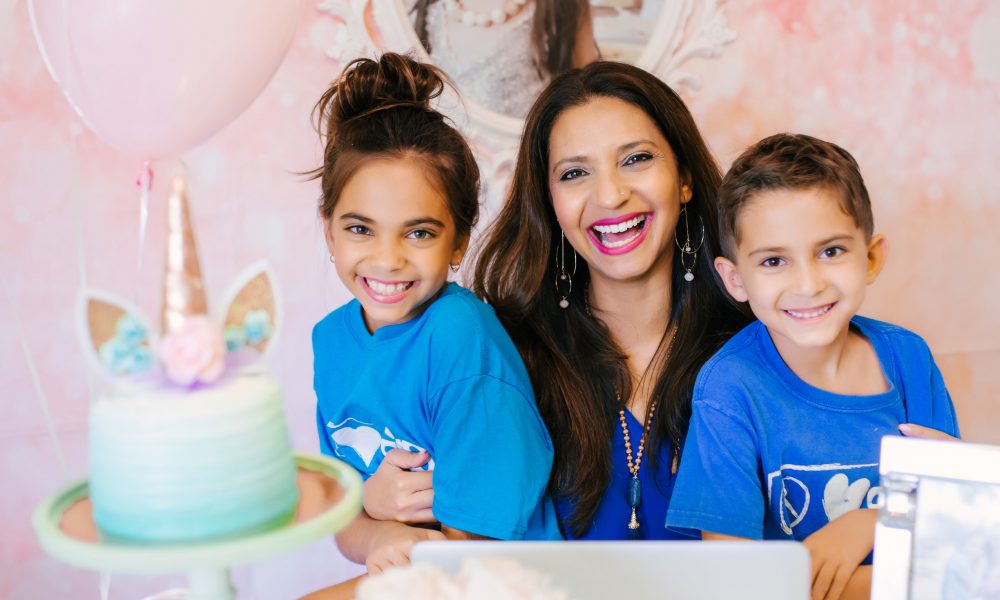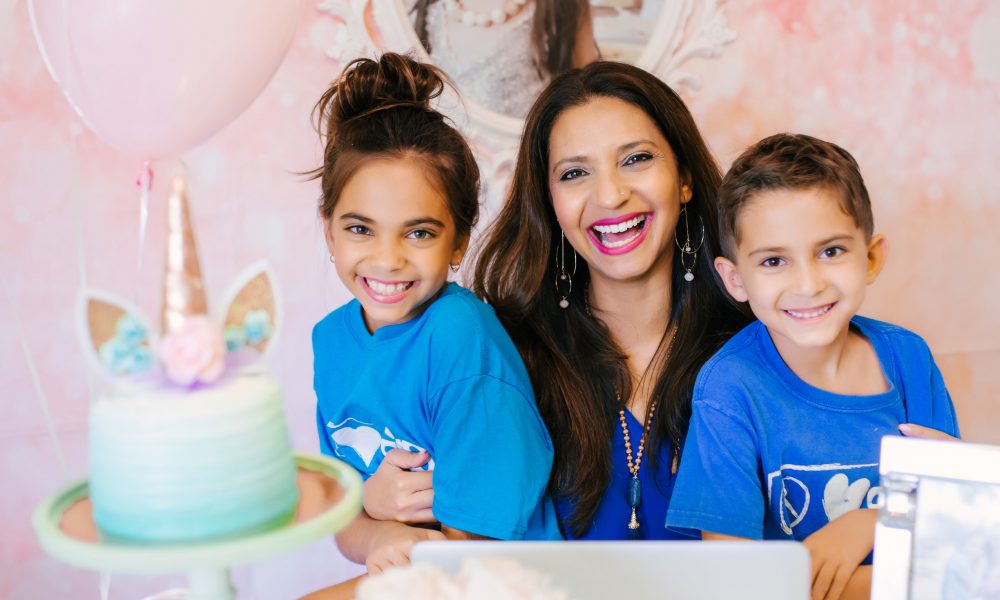 Today we'd like to introduce you to Sugandha Rosenhaft.
So, before we jump into specific questions about the business, why don't you give us some details about you and your story. 
Thank you for giving me the opportunity to share my story. I've loved art my whole life. I have been painting, drawing, singing and crafting since I was a child. From my first mark makings as a toddler to a formal education and career in graphic design, being creative is in my bones! I grew up in India and immigrated to the United States in 1995. I received my BFA with a concentration in Graphic Design from The Art Institute of Atlanta. Growing up, I was incredibly lucky to be raised in an environment that fostered the love of the arts in me as a young girl. My father, although an engineer by profession, exposed me to a plethora of art techniques and different mediums of painting at a very young age. My mother, who ran several businesses including a clothing boutique, taught me how to sew. I spent my childhood learning how to batik, tie-dye, decoupage, sing, dance and explore my world through different creative mediums while also being exposed to the ins and outs of running a business.
Shortly after my daughter Samara was born, I realized that I wanted to raise her in an environment that was rich in the arts, similar to my upbringing and to encourage her creativity and imagination as much as possible. I started searching for art classes, camps and other avenues for young children around the Atlanta area. Through my search, I realized that though there were plenty of daycare options available (and even some so-called "art camps"), there wasn't a place for children to transcend from crayons and coloring books to meaningful artistic experiences where art education was being taught in a true creative environment by professionals.
To me, art education isn't about 'boxed projects' available at any craft or hobby store. It's about letting children explore through process-driven art and open-ended projects. I believe it is essential to let children learn through play and let their mind and imagination guide them to make creative decisions. I strongly believe that it is the process of open art exploration at a very young age can guide true artistic development, as children get older.
I caught the entrepreneur bug when I started my stationery design company over 13 years ago. I realized that I could take my graphic design education and my natural flair for creativity and apply it to designing stylish and remarkable invitations for the big milestones in people's lives. For me, it's all about making the first impression and creating and an experience for my guests.
Growing up, my family entertained a good bit. I remember my mother and grandmother fussing over the china, polishing the silver, starching the linens and spritzing the cut flowers before a dinner party. I wanted to take that same level of detail and bring it to children's events.
Being surrounded by incredibly independent women taught me early on that being a wife, and a mother doesn't mean that you have to put your own dreams on hold. I'm also incredibly lucky to have the unconditional support of my husband who is an entrepreneur himself and has always supported all my endeavors.
Has it been a smooth road?
Far from it…running a small business and being an entrepreneur, along with juggling young children and a marriage is never easy. You wear many hats on a daily basis, and you need to be able to dive in wherever the need takes you! On the business side it comes with constant challenges of time management, understanding your market, researching competition and making sure you can deliver a product you are proud of. Along with that one needs to constantly work towards improving the business sales and marketing strategies, networking, working on having a strong social media presence, balancing financial strains and the finding the right staff that can share in your vision.
Many times my business takes me away from my family on weekends, or I might have to miss that volunteer opportunity at the kids' school or have my husband help out. There are days when schedules become harried and it takes a lot of moving parts to make things work. Sometimes being a lone ranger has its disadvantages as well. Your get caught in a creative rut and miss sparring ideas back and forth with someone who will keep you accountable and motivated. I'm lucky to have the wonderful support of my family and friends who I can turn to on such occasions.
Through the years, I have poured a lot of sweat equity into La Dee Da and I am starting to watch my dream turn into an actual business that generates real income for my family. My children are my muse and the driving force behind everything I do. As they're getting older, I am able to have them around me a lot more without as many distractions. Watching me work at my passion, allows them to witness a strong work ethic, quite the same way that I watched my mom when I was a little girl. My almost nine old Samara is learning to earn her allowance doing small chores like washing paintbrushes and sanitizing the studio after a class. Those are the times you look back and feel proud of what you've created.
We'd love to hear more about your business.
I took the two top things that I love and am most passionate about and created a business out of it! Art education for young children and entertaining! La Dee Da was born with equal parts serious business and calculated whimsy. We specialize in specialty-based art programming for young children ages two years to ten years old. Our camps are incredibly sought after and my team and I spend a lot of time researching creative and unique programming that encourages people to keep coming back. We provide tools that would normally not be available to young children like sewing machines, hammer, and nails, textile printing, wet clay and more.
Along with art camps, classes and workshops, we also host beautifully stylized birthday parties for children. Our events are out of the ordinary and I'm passionate about creating an experience for my customers. I love fussing over the details and creating events that are far from cookie cutter.
Growing up, birthdays were always a big deal in my home. Although I grew up in a small town in India with limited access to party supplies, my mom always found a way to craft something special and my childhood memories are filled with many memorable celebrations. I want to give my client's and their children the same experience. I love creating custom centerpieces, personalized banners, including fresh flowers and adding a touch of glitz and presenting it all in a beautifully decorated party room. I also strive to create hassle-free events with my party planning services, so parents are left to socialize and enjoy vs. running all over town finding the perfect party supplies.
One of my friends recently described me as a "happiness maker" and that pretty much sums up everything I have strived to create in my business. I believe La Dee Da fulfills a need in the community for something unique and different whether it's through celebrations or art programming. We offer our client's a boutique service, and we have made a name for ourselves with the exceptional customer service we provide. Our studio space is warm, charming and friendly and is uniquely set in what was once an actual home!
Is our city a good place to do what you do?
 Atlanta is definitely growing and trending as a city, and we're seeing so many more people moving here to raise families. With it, is a growing need and demand for opportunities that other big cities like New York or Chicago or DC offer. I do believe that small businesses are the core of our community and economy. I also feel very strongly as a female entrepreneur especially one that was not born in the US, that the opportunities are endless if one wishes to pursue them. However, passion and hard work alone doesn't make for a successful business. I saw a need in my community that wasn't being met when it came to art education for children and I created my company around it. I would say to anyone regardless of where they start out, do your homework, research the demand and competition, have a strong business plan, council with people who you can turn to for advice and network within your community as much as you can!
Pricing:
Summer specialty camps for children ages 3 and up range from $250 – $275/week.
Custom stylized parties start off at $475 and up for 10 children.
Drop in art & play is $12/hr.
Art classes range from $18 – $25 per class, or session prices are available.
Single day camps range from $65-$90 based on half day/full day enrollment.
Contact Info:

Image Credit:
Photos courtesy of La Dee Da Studio and Barefeet Imagery
Getting in touch: VoyageATL is built on recommendations from the community; it's how we uncover hidden gems, so if you know someone who deserves recognition please let us know here.