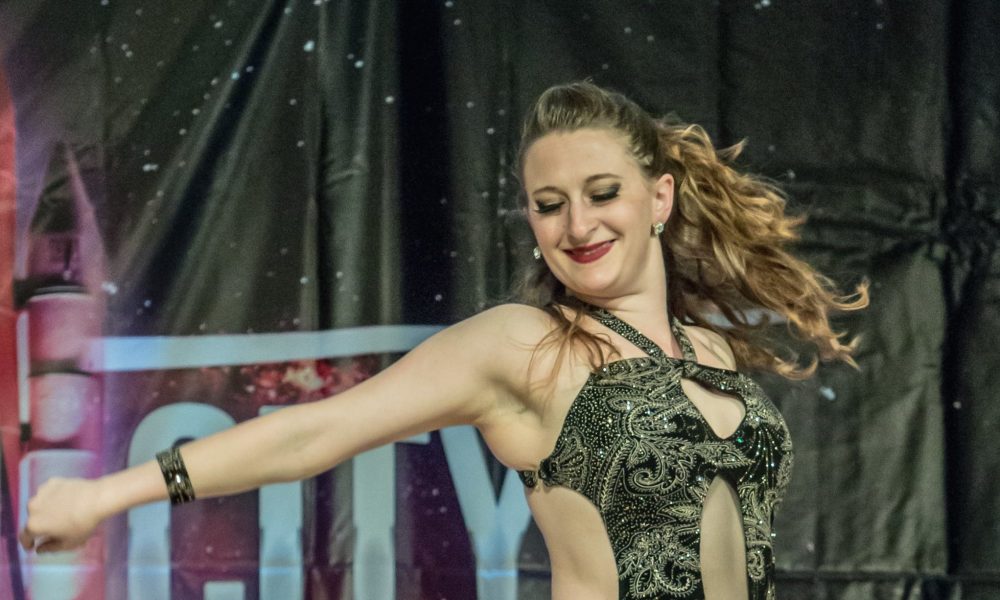 Today we'd like to introduce you to Leah Boresow.
Leah, we'd love to hear your story and how you got to where you are today both personally and as an artist.
I have been following my passion for dance all of my life, starting early on at a young age in Atlanta, Georgia. As a teenager, I trained at the Atlanta Ballet, Complexions Contemporary Ballet, and Central Pennsylvania Youth Ballet. As a member of the pre-professional division at the Atlanta Ballet, I was immersed in professional company works, as well as opportunities for me to choreograph. I choreographed my first major work in 2008 that was showcased at the South Eastern Regional Ballet Association for emerging choreographers, and I have been choreographing ever since. Even after a major spinal injury in 2007, I was more motivated than ever to keep dance in my life and make it a career.
I earned a Bachelor of Science in Dance from Indiana University (IU) from 2008-2012, where I also studied and choreographed contemporary and modern dance. In addition to dance, I also received minors in Non-Profit Management and Hebrew, as well as a certificate in Arts Administration. It was during this time at IU that I began training in ballroom dancing, and I have continued in ballroom ever since. I also spent a year living in Jerusalem, Israel from 2010-2011, studying dance at the Jerusalem Academy of Music and Dance, as part of the inaugural year of Dance Jerusalem. Since that time, I lived in Tel Aviv, Israel as a freelance dancer and choreographer from 2013-2015.
I love to do it all- perform, choreograph, and teach, not just in one dance concentration but across many different genres. I have worked with different companies, studios, and choreographers from all over, including Queer Eye and the Fab 5, Dancing Stars of Atlanta, Commercial Dance Intensive, Pasofino Salsa Team, Dance Canvas Atlanta, Lauri Stallings and gloATL, Dare to Dance Performance Group, Ballroom Dance Clubs of Atlanta, DanceFXDance It Off Studios, and many more. I have presented works both nationally and internationally, and I hope to continue to do so for years and years to come. I currently live and breathe my art in the city of Atlanta at various locations throughout the area.
We'd love to hear more about your art. What do you do you do and why and what do you hope others will take away from your work?
My art is movement. I love to dance, and I always have. At this point in my life and career, I am juggling many different avenues of dance across many different genres, including Ballroom and Latin Dancing, Social Dancing, Ballet, Jazz, Contemporary, Musical Theatre, and more. The balance for me is inspiring alone, and then, of course, there's the craft and passion behind it all.
On a daily basis, I am in between a variation of teaching, dancing, and choreographing. I am fortunate enough to have opportunities throughout Atlanta where I get invited to perform, and then I get to choreographing! My choreographic process usually involves the question, "what is the unobvious choice?" I try to create movement sequences that are influenced by all of the styles of dance that I have learned and grown with. For example, in a recent Latin solo that I have done, I used a lot of my ballet and contemporary training to form a totally non-traditional dance- I try very hard to make happy surprises not only for myself, but for whoever is watching. At the end of the process, it is such a joy to see what I have imagined in my mind as a real thing that IS possible.
As a dance teacher, I am constantly inspired by my students. I take my role as a dance instructor very seriously, because I feel very privileged that people not only invest their time and interest in my knowledge, but more so that they trust it and that it works for them. Dance have given me so much in life, and it is truly an honor to share that with others. If there is one thing that people should know about learning to dance, it is that is good for you. For me, it isn't just something I do for fun, I really do need dance in my life to feel fulfilled, and I hope I can give that to others.
As a dancer and performer, I am always trying to show my true self in whatever dance piece or show I get to be in. There was a time growing up as a younger dancer with an early career where I was always trying to impress people to get into their shows, companies, etc. Even now, I of course have auditions where I am trying to convince the person on the other side to see that I am unique, but when I perform, I would rather have them see whatever I have to give. I figure if they don't like it, then we aren't a good match. When I dance, I love to connect with the music, the space, and the environment. I realize through dancing just how amazing our bodies are, and I love to see what mine can do.
Artists face many challenges, but what do you feel is the most pressing among them?
Like any job, there are ups and downs, but as an artist, I feel that there are 2 challenges that we face more than the rest. One, of course, is the obvious- funding. Anytime we have inspiration to create a new dance work or put on a show, etc., there are a lot of expenses that go into it that many do not account for and having the outlets to receive that funding can be tricky while balancing the creative side with a "business side." I always try to be as professional as I can be, and with that comes the respect of paying other artists that I want to be involved in my projects, whereas the alternative is to have people donate their time and efforts for the greater good of the creative goal. Some people ask if dancing is my full-time gig, sometimes I think they are surprised when I say yes, it is not only my full-time job, but it is my life and first love.
The second challenge is showing people who aren't as involved in the arts that for us, art is more than just a luxury or comfort in life. For artists, it is what makes us get up in the morning, as difficult as it may be. Especially as a dancer, our bodies may be tired or injured, but at the same time, it is the adversity that makes it that much greater in the end. Most artists, including myself, like to share what we believe and what we create. In doing so, we are trying to show the outside that what we are doing IS important, and that it can impact your day for the better. For me, art isn't something I just do when I feel like it and conveying that to someone can be a challenge. Though the ultimate reward makes the struggle all worthwhile.
Do you have any events or exhibitions coming up? Where would one go to see more of your work? How can people support you and your artwork?
People can find my performances in a variety of places- I will be performing at 2 different Latin socials in June, one called Dancer's Paradise on June 8th in the event, and another at Nemoe's Tavern on June 16th. I am often performing at salsa festivals in and around Atlanta throughout the year, and I also compete at many ballroom and Latin competitions. I am always looking for the next opportunity to perform and share my passion.
I am presenting a collaborative art show called Ajna on Sunday June 3rd from 5-7 p.m at Blue Mark Studios. Along with many other Atlanta artists, I have made a brand-new work called "Seenery" that will debut at this event, and I think people will really enjoy it. This show will not only support the work of local artists across dance and music, but it will also go towards fundraising for Wellspring Living, an organization that benefits victims of sex trafficking and violence. I am always proud to put on a production that brings people together with art and healing.
As a dance instructor and choreographer, I am newly independent around the city, and look forward to reaching as many people as possible with the joy of dance. My instruction is open to anyone, and people can find out more on my social media avenues of Facebook, Instagram, and through my website www.leahboresow.com.
Contact Info:
Image Credit:
Dennis Jones, Leah Roth, Nancy Jo McDaniel.
Getting in touch: VoyageATL is built on recommendations from the community; it's how we uncover hidden gems, so if you know someone who deserves recognition please let us know here.