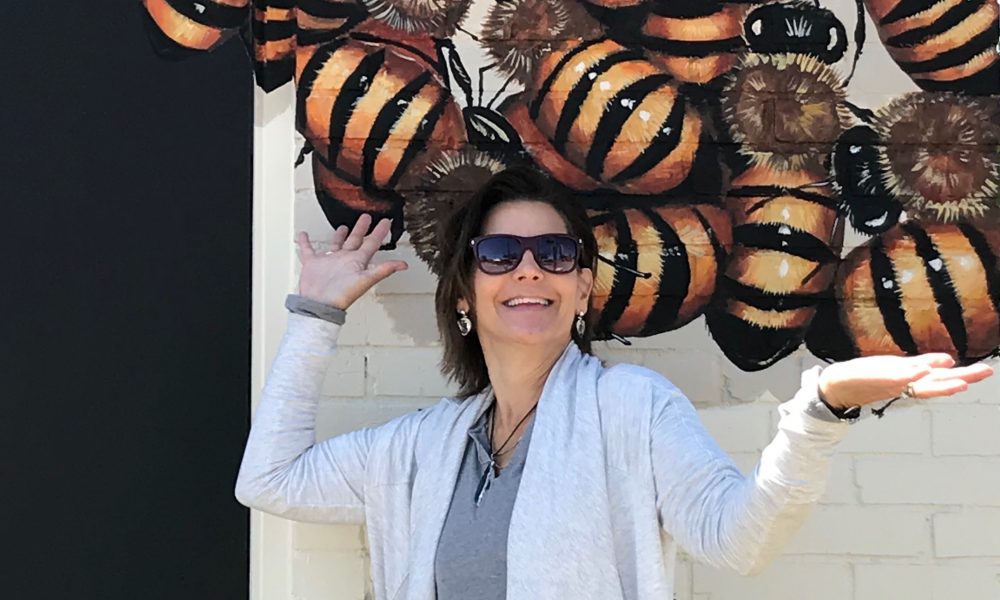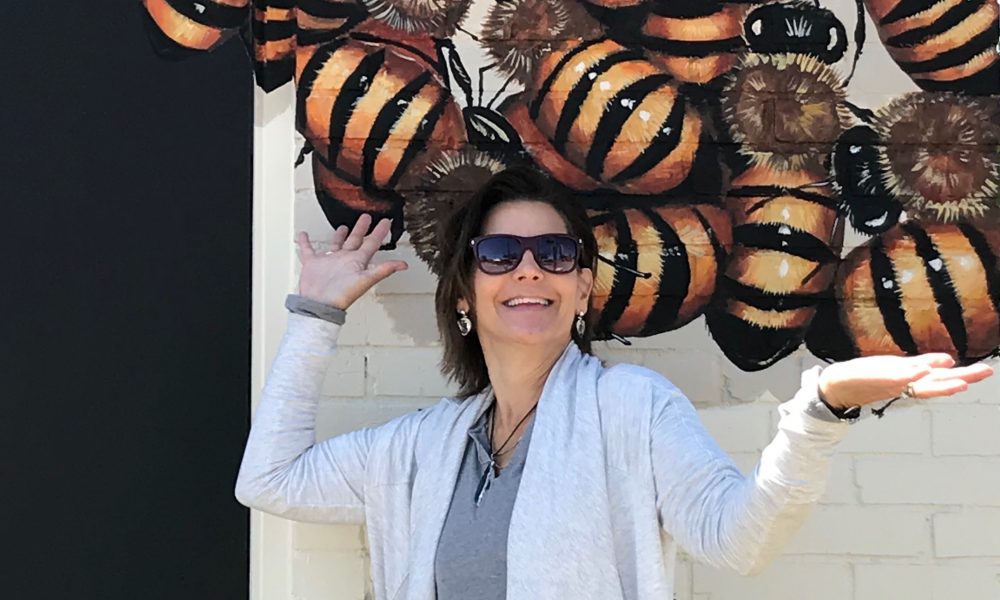 Today we'd like to introduce you to Roxane Hollosi.
Roxane, we'd love to hear your story and how you got to where you are today both personally and as an artist.
I've been an Atlanta based artist since 2006. Originally from the Midwest, I was honored to be the recipient of the top award, "The JP Anderson, Best in Design", upon graduation from ISU. I moved to Boston for several years to work and continue my art studies at the School of the Museum of Fine Arts. I'm a multi-disciplinary artist and create both 2D and 3D work. I continually explore the unique visual textures and voices that different materials personify often combining painting, drawing, collage, fabrics, wood and found objects, into the same piece. This joining creates a kind of "cross-pollination" of materials which results in rich textural surfaces. The foundation of my work begins with energized organic lines, intuitive natural forms, and rhythmic mark making. The resulting work is a contemporary visual interpretation of the observations and emotional energies I experience in and around me.
My work is in collections around the US and abroad and I've been the recipient of many awards. Most recently, I was honored to have 3 paintings procured by Keisha Lance Bottoms for the Office of the Mayor, Atlanta. Other collections include; DuPont, Pioneer Co, Beijing and France; Broadway Crowne Plaza, NYC; EMC Outdoor; Bill Spalding Wealth Management, as well as several private collections. I exhibit extensively in and around Atlanta and nationally. Some of my latest exhibits include: National Association of Women's Artists, NYC; ARC Gallery, Chicago; MOCA, GA, Atlanta; Gallery 72, Atlanta; Steffen Thomas Museum of Art; Denise Bibro Fine Arts, NYC; Kai-Lin Art, Atlanta; MESA Contemporary Arts Museum, AZ; Mason Fine Art, Atlanta; Hudgens Center for the Arts; Artfields2018, Lake City, SC; and Abernathy Arts Center.
We'd love to hear more about your art. What do you do and why? What do you hope others will take away from your work?
My spiritual sensibilities and respect for the Earth hints at the Native American influences I experienced as a young child growing up in Southern MN, a town called Pipestone. Much of my work intends to honor and recognize the beauty of our internal and external Nature. The voice of this Nature, whether it be the world around us or the sanctuaries within us, is getting drowned out by our exceedingly loud technological and ego driven world. My work is about noticing and capturing these fading energies and creating visual interpretations of them. I want to provoke the interest of my viewer; to remind them to reconnect to the beauty within and the beauty without. I invite my audience to walk inside my work and find a moment of wonder and exploration.
My work is multi-layered. I begin with an organic line, then layer shapes, marks and rhythms of the moment to capture, in visual form, an intangible energy that pulsates around me. My interaction with the painting will naturally flow and take a direction inward to explore an internal world or shift outward to capture a story of the external experiences around me. The health of our internal Nature as well as our external Nature is being challenged and confronted on a daily basis. I hope my work will offer a place to pause, reflect, observe and, if only briefly, reconnect to something real, something that is not filtered through a modern day screen device.
My latest series, "Symbiosis", was inspired by a colony of foraging honeybees who visited my backyard last fall. These winged visitors reinvigorated my childhood curiosity and fascination for the insect world. They began guiding my awareness to the important symbiotic relationships we have with them and how vital pollinators are to the health of our eco-systems, food supply and economy. The bees presence, over the course of 6 weeks, provoked me to do research and subsequently share my knowledge on the importance of all bees and pollinators in our world. I hope to inspire a new appreciation for the wonders found in our own back-yard. I hope to excite a new awareness of the, what I call, "little whispers" in our very loud world.
The stereotype of a starving artist scares away many potentially talented artists from pursuing art – any advice or thoughts about how to deal with the financial concerns an aspiring artist might be concerned about?
This is a tough one. There are as many answers as there are Artists. For many years I had the "Day Job" and then I worked in my studio at night. It allowed me artistic freedom, because I didn't have to produce art "to make money", but it was also very tiring and unfulfilling. The reality is, you need to pay the bills, so sometimes it comes down to trial and error to find what work situation is best for you.
If you have true passion to make your art, you must make your art. Part of being an artist is channeling your creative energy into exploring different ways to make a living. There does seem to be more resources out there for artists than years ago when I was getting started, for instance grants and residencies, but it just takes some research and persistence to go after it. Here in Atlanta, there are several non-profit arts organizations that have great resources and information for artists. There are also many online art publications for news, happenings and opportunities. Do some online searches and get on mailing lists. The best advice I could say is to visit venues, go to art happenings in your community, meet artists and other art professionals, and ask questions.
What do you think is the biggest challenge facing artists today?
I don't think there is just one. I think it is a myriad of factors that makes being an artist a very challenging profession. For example, cost of framing, art supplies and studio space are constantly increasing which makes it difficult to profit from what you create. But one of the trickiest is marketing your art, including finding your audience, being accepted into exhibits and getting on a gallery's radar. This can be discouraging, time consuming and often expensive. So, first and foremost my bottom line is always, regardless the difficulty in getting your art noticed, it's the endless perseverance and passion for what you do that has to remain the top priority.
I've found that marketing via social media can also be a challenge. Although it's inexpensive, relatively easy to maneuver, and can be somewhat effective in showcasing your work; I feel artists have to be cautious because it can easily become one more distraction in the path to your studio. There are so many images out there, in the digital cosmos, that it is hard to pull in an audience, differentiate yourself and stay honest to your work. The social platform model of marketing "sort of" encourages you to become gimmicky or be over focused on "your brand". This has the danger of diluting the integrity of the art you were trying to create, before you started trying to market it. So, I have to make sure, and I caution other artists, to not get caught in this undertow of the marketing process and loose focus on what you are creating. All this "social marketing noise" steels so much time and energy that should be spent in the studio.
At the end of the day, most worthwhile art (except, of course, the arts made for the digital platform) is not meant to be viewed solely through a digital screen. It needs to be experienced and observed directly. So, artists have the ever changing challenge of getting their art in front of the public. But the good news here is, in the past several years more and more local communities and public venues are soliciting artists to do murals, paint utility boxes, public art in public places, etc. There is an exciting trend to bring more art into our communities by finding new non-traditional ways to engage their artists talents. So I am very encouraged by the communities that are being forward thinking and creative in this way.
Do you have any events or exhibitions coming up? Where would one go to see more of your work?
Yes, I have a lot of exhibits going on right now and coming up. I invite people to stop by and see the work in person:
"Symbiosis" – Solo Exhibit
April – June 2, 2018
Blue Heron Nature Preserve Gallery
4055 Roswell Rd, Atlanta 30342
www.bhnp.org
"GA Artists"
May 4 – June 15, 2018
Abernathy Arts Center
254 Johnson Ferry Rd NW, Atlanta, 30328
www.fultonarts.org
"The New South III"
June 22 – July 27, 2018
Kai-Lin Art
999 Brady Avenue NW, Suite 7, Atlanta, 30318
www.kailinart.com
"Sights and Insights"
June 15 – July 27, 2018
City Gallery at Chastain
135 W. Wieuca Rd NW, Atlanta, 30342
"Peace by Piece"
May – June 10, 2018
Art Station Contemporary Arts Center
5384 Manor Drive, Stone Mountain, GA 30083
www.artstation.org
"Student/Faculty Juried Exhibition"
June 7 – August 18, 2018
Spruill Gallery
4681 Ashford Dunwoody Rd., Dunwoody, GA 30338
www.spruillarts.org
"CatFest"
June 1 – July 21, 2018
Trio Contemporary Art Gallery
766 W. Broad St., Athens, GA 30601
www.trioathens.com
"A Woman's Spirit" –  Solo Exhibition
August 11 – September 29, 2018
Artist Talk: Saturday, August 11th 5:00p
Tannery Row Artist Colony
554 W Main Street, Buford, GA 30518
www.Tanneryrowartistcolony.com
Solo Exhibit
Jan – Feb. 2019
Ventulett Gallery
Holy Innocents Episcopal Church
805 Mt. Vernon Hwy NW., Atlanta, GA  30327
Blue Mark Studios
2019 date TBD
892 Jefferson St. NW
Atlanta, GA 30318
www.bluemarkstudios.com
How can people support your work?
I encourage people to visit the galleries and venues to see my work, and other peoples work, in person. Directly observing art is a much more enriching and educational experience than seeing images on a screen or in a book (remember those). But, in the spirit of social media marketing, share a photo, post a comment or recommend a friend to go see my work. That never hurts.
Purchasing original art and collecting hand crafted objects from artists and artisans in your community is a very rewarding experience. You not only bring beautiful, hand made creations into your home, you are also helping support the creative vitality of your city and neighborhood.
Contact Info:
Image Credit:
Roxane Hollosi,
Mural by Matthew Willey, www.TheGoodoftheHive.com
Getting in touch: VoyageATL is built on recommendations from the community; it's how we uncover hidden gems, so if you know someone who deserves recognition please let us know here.