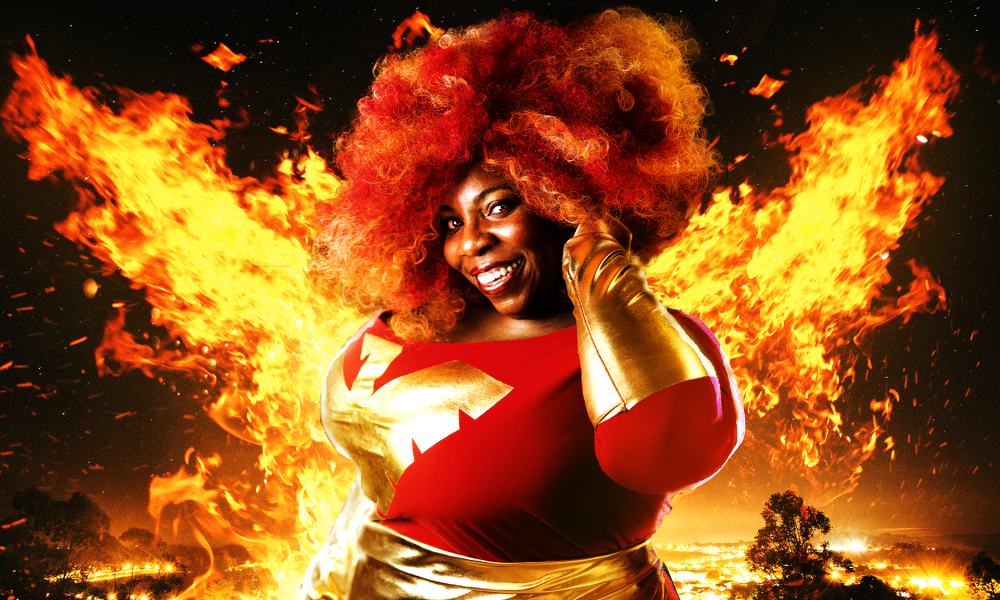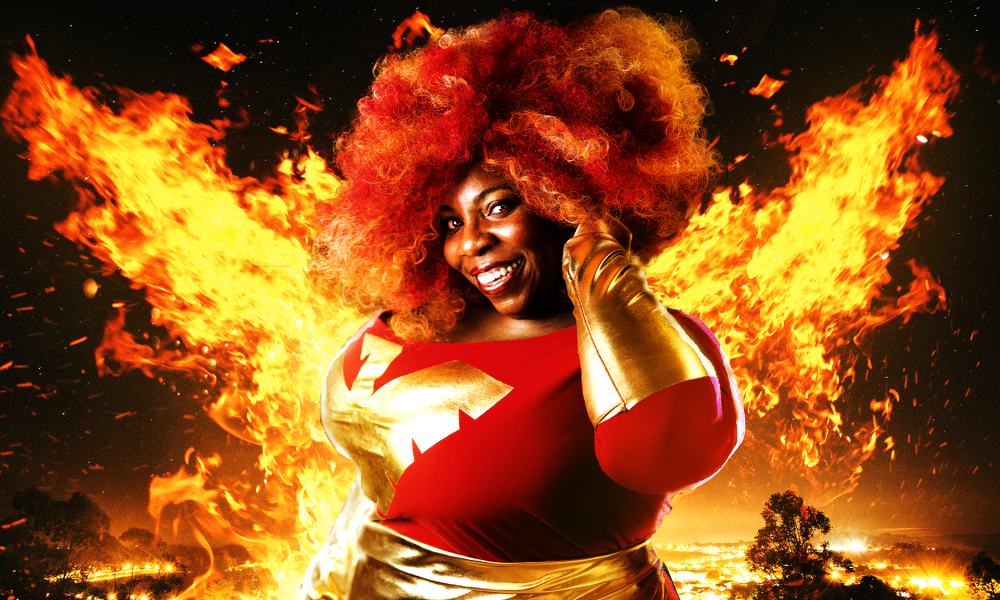 Today we'd like to introduce you to TaLynn Kel.
So, before we jump into specific questions about what you do, why don't you give us some details about you and your story.
I found my voice in cosplay.
It feels counter-intuitive, to find my voice by dressing as someone else. And yet, that's what happened. A friend took me downtown to show me DragonCon and that was all the permission I needed to dress up on a regular basis. I took an online quiz about X-men and was assigned the character Dark Phoenix. I researched her story and found that yes, I am Dark Phoenix – more powerful than I realize and often manipulated into serving agendas other than my own. The people closest to me wanted to contain me and the folks who disliked me wanted to marginalize and silence me. And this isn't unique to me. It is the story of many people with marginalized identities. Cosplay just helped me express it in a way that wasn't threatening to my job or some of my relationships.
To do cosplay, you have to admit you want to be seen. Initially, that wasn't my goal, but once I realized that people actually noticed my existence when I was dressed up, it became a part of the activity. Over time, I've had to think about just how crucial that is to my enjoyment of the hobby, and I'll admit it's still part of it, but not in the same way. I used to want to be seen just to be seen. Now, I want to be heard because damnit, I have things to say.
Prior to 2015, my social media presence was limited to Facebook and it was only a personal account. But in 2015, I had several personal realizations that told me I needed to share more of my experiences and perspectives publicly. Part of it was issues in my marriage. Part of it was the presidential election on the horizon. And part of it was seeing the voices who were being shared and finding their content lacking. I realized that there are things we as a community, a country, and as people need to talk about and I was done avoiding those difficult conversations. Some of my audience found me through cosplay and started learning about oppression. Others found my essays about oppression and started learning about cosplay. Still more found me through my anti-diet, body positive work and my talk about mental health. I made a conscious decision to keep these facets of my identity united rather than curating them for my "brand" because curating my identity presents a false version of myself. And, frankly, I'm tired of seeing fake people with fake lives dominating the narrative.
Living this way isn't easy. Living out loud, sharing my joy and my pain, providing education and insight to being a Black womxn in a world that openly hates Black womxn, having a white spouse and adjusting the way I address racism both in and out my marriage… it's a lot. But that's me. I keep learning from it, and I love sharing what I learned with others. So, I write. I create panels on these complicated topics that I present at conventions throughout the country. I conduct interviews. I create events that center the people I want to see. I work to create content that represents me, and I can honestly say that for the first time in my life, I've seen art, interviews, and people who speak to my experience and make me feel visible. It's necessary work and it's something that I feel driven to do, even when it feels impossible and invisible.
There is something to be said for creating things that speak to your needs and your humanity. It is jarring, more than a little scary, but rewarding in ways I could never have imagined. I have learned to not just appreciate who I am in my fat Black life, but also to love who I am despite being told not to. That is a powerful thing.
Great, so let's dig a little deeper into the story – has it been an easy path overall and if not, what were the challenges you've had to overcome?
One of the hardest lessons for me to learn was how much I'd compromised myself to keep those around me comfortable. I have literally spent a decade adjusting my behavior to fit other people's expectations. The worst part was that it never worked. I have always been known for being too honest. Too straightforward. Too direct. Too argumentative. Too loud. For a long time, I thought I was the problem, but over time, I learned that it wasn't me at all. It was a society that only values me when I am useful. One of the hardest lessons I'm still learning is how much of myself I give away and how quick people are to throw me away when they realize they cannot control me.
The moment I started setting boundaries, restrictions on my time and my energy, things became tense. When I had my own goals, goals that didn't directly benefit those around me, I became a problem. When I started speaking out about oppression, how they intersect, how we all benefit in some way and often align ourselves with whatever gives us the most power with minimal accountability and consequences, people fell out of my life with the quickness. I've also had to boot some people, but I still second-guess myself because I've had people tell me that I'm always kicking people out of my life. Basically, I've been gaslit to hell and back and I'm still learning to trust my instincts and judgment when it comes to addressing toxic people in my life. Over time, I've done a massive amount of work in and out of therapy to grow my emotional intelligence enough to trust myself and it's that trust in myself that keeps me able to do what I do and to listen to my needs better.
So, my advice would be to do that emotional work. To learn that your emotions are not weapons to be used against you. They are your warning system and when you learn what you are feeling and how, to be honest with yourself and others about your emotions, your understanding of yourself and others goes through the roof. But you have to learn how to read yourself first, and that can take time. We are taught that our feelings don't matter and that we should be able to control them – both are lies. Our feelings always matter. We are always allowed to feel how we feel, and we do not control that. What we control is how we act on them and we don't need to act on every feeling. But we do need space to listen and accept them. Even the so-called "negative" ones. Our emotions are a barometer for when we need to work on ourselves and when we need to make adjustments to our relationships and other things in our lives. Give yourself the time and space to pay attention and learn from them.
Please tell us more about your work, what you are currently focused on and most proud of.
First and foremost, I am a writer. I am a critical thinker who enjoys analyzing the world around me and gaining a more nuanced understanding. My published writing is non-fiction and it is literally me working through complicated ideas and experiences. You can find that at www.TaLynnKel.com and my books are available on Amazon (http://bit.ly/TaLynnKel).
I am a teacher. Not in the traditional sense. My classroom is workshops and panels and speaking engagements, primarily at geek conventions although I am looking at bringing them to other spaces. When I write, I process and when I speak, I share what I've learned. I love doing both.
I am a creator. Cosplay allows me to live in my imagination and create wearable art. I make my body the centerpiece of my imagination, and it brings a joy I still cannot express verbally. Anyone who's met me in and out of cosplay can tell you there is a visible difference in how I speak and how I move through the world. In some ways, it's like cosplay allows me to take off the mask I've been taught to wear and be the person I choose. You can find photos of my cosplay adventures on my Instagram – www.instagram.com/TaLynnKel.
I am a podcaster. I co-host New Wakanda (https://soundcloud.com/newwakanda) with Dedren Snead, a comic creator I met through a local Facebook group, The State Of Black Science Fiction. We talk about the creative journey and the joys and heartbreaks that come with it. Spoiler alert – there is a lot of heartbreak. But the joys are incomparable.
I am an organizer. I co-created an event titled Black Girl Geek Out (http://bit.ly/BGGeekOut) with Kecia Stovall. The event held at Stonecrest Library and was a pop-up vendor market and series of interactive talks with Black womxn creators who shared their experiences as writers, cosplayers, illustrators, and working in film. The goal is to repeat similar events in the coming years.
I am a curating producer. Kecia Stovall and I are working on a project called The Space Between: Celebrating Black Womxn in Geekdom. It is a photo series and mini-documentary that we did a mini-feature on for Black History Month/ #28DaysofBlackCosplay. We are editing that content now, but you can watch a short preview of the project online (http://bit.ly/WomxnGeekdom).
I have really gotten into promoting body positive art and just completed a body-positive coloring book titled Cosplay AnyWay. I commissioned the majority of the art from Black womxn, but there are a few Black males and POC artists who have pieces in the book. You can find that on Amazon (http://bit.ly/CosplayAnyway) or at any events where I may be selling products.
As you can see, I have a lot of projects and I'm always working on something. I love doing this type of work and bringing complicated concepts front and center to our daily conversations.
For good reason, society often focuses more on the problems rather than the opportunities that exist, because the problems need to be solved. However, we'd probably also benefit from looking for and recognizing the opportunities that women are better positioned to capitalize on. Have you discovered such opportunities?
This is a challenging question. We live in a patriarchal culture that interprets all things feminine as detriments and weakness. This bias plays out consciously and subconsciously and when challenged is treated as an overreaction. There need to be some fundamental changes in how femininity is not just regarded but how it's interpreted and that isn't going to happen until we dismantle white supremacist, patriarchal capitalism as they are directly linked.
Women with power are often coded as masculine, that way they can occupy those spaces with less stigma than when the femininity cannot be denied. Regardless of how qualified and capable, femininity AND the lack thereof are both weaponized against women and without massive changes, the best opportunities continue to be the ones we create and manage to grow support to continue doing.
Contact Info:
Image Credit:
Geek Behind The Lens – Dark Phoenix, KYSS Photography – Typhoid Mary, David Leo – Thanos, Girls of the Con – Hellboy, Dim Horizons Studios – Nocturne, Andrew Michael Phillips – Vampire and Bleez, Patrick Sun – Proxima Midnight, Bosey Wales – Storm
Getting in touch: VoyageATL is built on recommendations from the community; it's how we uncover hidden gems, so if you know someone who deserves recognition please let us know here.