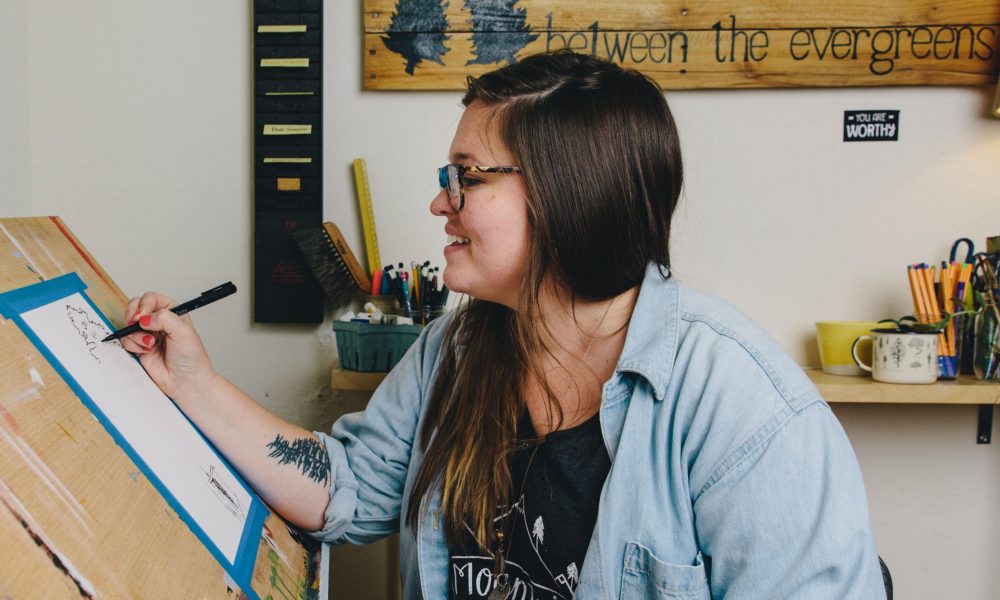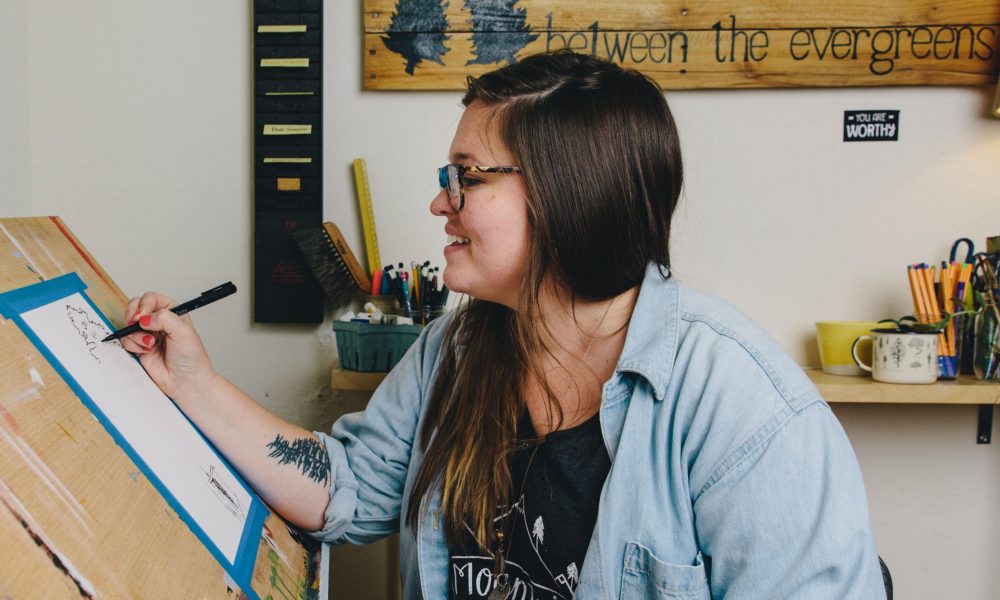 Today we'd like to introduce you to Elizabeth Lang.
Elizabeth, let's start with your story. We'd love to hear how you got started and how the journey has been so far.
I started working as an artist full time after I finally allowed myself to think that being an artist was possible. This didn't come to me as a message overnight, but rather a slow understanding through lessons learned from my experiences. Mainly, I learned this was possible through my former job at a university. In this position, I worked with students in recovery from addiction. They taught me about growth, love, and hope. You may think being trained as a counselor and then switching to a full-time artist doesn't make sense, but for me, the way the journey came about was quite clear. I had to have the experiences I've had to be where I am today. And I'm so so grateful for that.
When I first left the university to start my career as an artist, I felt a huge sense of freedom. I had never allowed myself to just enjoy art (other than being a kid maybe) or to just believe that art was anything more than a useless hobby or worthless career! I was harsh! For the first few months, I just did what I would call doodling. I tried out new mediums, hiked and traveled for inspiration, and connected with people I thought could help me figure out how to make this art thing into an actual business. I was really worried I was doing something wrong. How am I supposed to know how much time to spend learning Photoshop?! Should I be doing something else? But in the end, it worked. And now, I feel grateful that I have had the inspiration and energy I needed to get me this far – mistakes and all along the way.
Today, I am a painter and a businesswoman. I can say that confidently for the first time. I'm humbled when someone else asks me for advice. I'm blown away when I get to do things I only ever dreamed of before! When I hike and travel, I look at the beautiful world around us and cry thinking how lucky I am that I get to paint it! Now, I can't imagine doing anything else.
Has it been a smooth road?
Running my own business is easier than I thought and challenging in a way I didn't expect. It's easier because I have found so many good things come from connections and simply asking. It's easy for me to reach out to others and share stories and ideas, but it has been harder for me to ask for help. But ASKING has been one of the biggest reasons I've found success. That would be my advice to anyone starting out… if you're not sure if you want something if you need something… just ask! One thing travel has done for me is broken through my need to know it all. I just don't! I don't know it all. None of us do. When I get over myself and ask for help, I usually find it! I am always up for helping others (of course, I still need help too) because I know what it feels like to have a question that you feel like you should already know the answer to or you don't even know what questions to ask.
It may sound silly, but I didn't expect running a business to be such a slow process. When you work a 20 hour day, create three new things, figure out how to build a website, and publish an amazing post on Instagram; you feel on top of the world and expect money to come flowing in! And then you realize, while you felt like all that energy spent on your work was like a hurricane, it effects look more like a summer breeze. I've learned there are some things you do that profit you today, but many things you do today that profit you tomorrow. Keep working, and I believe you'll see results. One of my favorite quotes I recite to myself when I feel like I'm working hard and going nowhere is by Lao Tzu: "Nature does not hurry, yet everything is accomplished." Just trust the process. Growth takes time.
The other challenge to running your own business is a failure. Small "failures" happen along the way. And sometimes they feel big. Sometimes, they are big! I love the Confucius quote, "Our greatest glory is not in never failing, but in rising every time we fail." You have to keep trying. Failure is a part of success. You're learning. You're growing. You're becoming better. If you need to rest, rest, but don't give up.
So, as you know, we're impressed with Between the Evergreens – tell our readers more, for example, what you're most proud of as a company and what sets you apart from others.
When I started Between the Evergreens, I began by painting trees. I was inspired by the Redwood forest on a camping trip I took years before. After that trip, I learned more about trees through Trees Atlanta volunteer and education programs. I started drawing trees to learn about them. I've never been good at memorizing words, but drawing a Water Oak leaf helped me to identify it when I saw it on a walk around the city. Trees became landscapes and my landscapes grew more to reflect blocks of color similar to those you see in a vintage paint by number pieces. I continue to grow as an artist in style and technique but I think nature has and will always inspire my work.
One of my first pieces and most popular ones is a painting I did of Atlanta. I showcased the city skyline as I know and love it, surrounded by trees. Historically, Atlanta is known as "The City in the Forest," and I've always loved that our city has this incredible canopy of trees and beautiful hiking spots so close by. While many artists have painted the same spots I have, I hadn't seen an artist focusing on Georgia parks. I created the "Georgia Nature & Trails" Series to fill a gap I saw but mainly for my own enjoyment. I really enjoyed putting this collection together (and it continues to grow!), hiking, photographing and painting all these beautiful hikes in our state.
I'm so proud to be an Atlanta artist focused on nature. I would love it if I am known for my landscape paintings that capture the essence of the peace and beauty nature brings to our lives.
Often it feels as if the media, by and large, is only focused on the obstacles faced by women, but we feel it's important to also look for the opportunities. In your view, are there opportunities that you see that women are particularly well positioned for?
I feel like women have a unique opportunity right now to find success, because of the public spotlight on them. In the art world, I see this being in the form of hand-crafted works celebrating the powers of the feminine! I think this is so amazing to watch unfold, encouraging for women in business and those just starting out, and inspiring for those still dreaming. I see women uniting, in person and online. They're posting about nobody shaming, they're marching together in the streets, they're creating amazing works of art celebrating feminine features… the feminine is a movement! Take advantage of this time to shine. Many trends fade, but women have always and will always be strong.
Pricing:
Prints start at $24
Originals start at $75
Custom work starts at $150
Contact Info:
Email: elang@betweentheevergreens.com

Image Credit:
E. Lang
Getting in touch: VoyageATL is built on recommendations from the community; it's how we uncover hidden gems, so if you know someone who deserves recognition please let us know here.