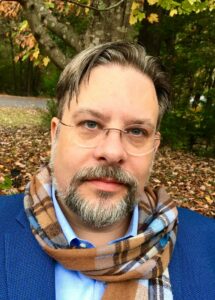 Today we'd like to introduce you to Mark Wallace Maguire.
Mark, we appreciate you taking the time to share your story with us today. Where does your story begin?
In my formative years, I developed a deep affinity for poetry and began delving into that craft. I wrote and had poetry published in reviews and won awards throughout college. I earned a degree in English, but did not have any ambitions for writing fiction. After graduation and a brief career in the music industry, I took a job at a weekly newspaper in metro Atlanta which developed into a 20-year career with work as a senior columnist, magazine director and managing editor. For most of that span, people would ask, "When are you going to write the Great American novel?" Whether the question was in jest or not, I always answered, "Whenever it comes." I was busy building a career, serving on nonprofit boards and raising a family and did not have time to concern myself with any additional projects. Somewhere about seven years ago, the fiction bug bit. It came out of left field like a bolt of lightning. I was actually driving on Highway 120 past the Lockheed Martin plant in Marietta when the first line of my first novel, "Alexandria Rising," popped into my head: 'The knocking at the door would not stop.' That began a two year journey of writing the first draft, talking to agents, rewriting and a near-to-death bicycle accident that landed me with a simple idea: I almost died. I have a good book. Life is short. Why not start my own press, instead of waiting on agents and publishers for another two years., Thanks to my background in newspaper and magazine publishing, I had a strong grasp of the template. I had a strong background in marketing, design and editing and, even moreso, had a fantastic team to work with. I founded Speckled Leaf Press in 2015 and, "Alexandria Rising," was published in October 2016. I was really blessed with encouragement from family and friends and had a fantastic start as a new author. In the first year, I had numerous book signings around Atlanta, was interviewed on a handful of podcasts, nominated for Georgia Author of The Year and "Alexandria Rising" was named a Finalist for Independent Book of The Year. Earlier, this year, it was released as an audiobook and is narrated by Tom Cassidy and available on audible. In the wake of Alexandria Rising's success, I finished the rest of the series with, "Alexandria Reborn," and "Alexandria Redeemed," being published in 2017 and 2018. The faucet had been turned on per se and I could not turn it off and was on a rapid pace of creative production. Throughout this time, I continued to speak at literary events and book readings around the rest of the state and gained strong reviews and press from radio shows, podcasts and blogs from L.A. to England, including NPR's Dante's Old South and A Taste of Ink. I also began teaching my first classes on book marketing and creative writing tips. I love "The Alexandria Rising Chronicles" series, but after I finished the third book, I wanted to take a break from that world. I published a nonfiction book about my experiences as the father of a child with special needs, "Confessions of a Special Needs Dad" in 2018 which led to work with the Special Father's Network and me founding Special Needs Dads Conference South which held its first conference in January. But, I wasn't finished with fiction. I wanted to write a book my children and grandmother could read and began work on, "In Pursuit of The Pale Prince," a Fantasy novella aimed at the Young Adult audience. I had been very inspired as a young reader by the works of Tolkien, C.S. Lewis and Lloyd Alexander and wanted to dip my toe in those waters. That was a definite departure for me, but I enjoyed it and found it very cathartic. It was during this time as well that I decided to focus my teaching efforts on free classes for young writers to help them find their voice. I've taught a few classes to young readers and writers at libraries and that brings me an inordinate amount of joy. "In Pursuit of The Pale Prince," was followed by its sequel, "The Last Wizard at The End of The World" which was published in October. Despite the issues with COVID-19, I have been busy promoting this book the last several weeks. I was part of L.A.-based BookFest 2020 and was interviewed and read from the new book. I was also part of Hometown Novel Nights hosted by the Newnan Carnegie Library and a featured author for the Peachtree City Library Author Expo. It has been extremely hopeful to see people still coming together – even virtually – to stay connected and support the arts in metro Atlanta.
Would you say it's been a smooth road, and if not what are some of the biggest challenges you've faced along the way?
Writing is the loneliest of the arts. I say that not out of pity, but unlink music, dance or even painting to a degree, most of it is done alone. Even collaboration with ideas, editors and beta readers is generally a low-social interactive event. That said, parts of it have been very smooth. I've hit a few strides where I was writing over 6,000 words a day with ease in addition to working a full time job and raising a family. I just took every single moment to write – at lunch, waiting at the doctor, at night when I could not sleep and so forth. I write in the margins of life. But, parts of it have not been smooth. The rewrites and edits are never 'fun.' They are part of the process and necessary, but not 'exciting.' There is also the road of dealing with self-doubt and external critics. And while the digital world has helped my books sell in over 20 countries, it has also simultaneously, made it more challenging to stay in the minds of your audience. There is so much more competition – and not just within the market, but other media as well as video and other applications continue to increase and vie for people's time. I can't complain, though. I've had my shares of ups and downs, but I also have had good jobs and encouraging friends. The bottom line is at the end of the day, you write because you love to write. If you're doing it for any other reason, you probably shouldn't be doing it at all.
Alright, so let's switch gears a bit and talk business. What should we know about your work?
I think my style of fiction is a good blend of lyrical writing, believable dialogue and well-placed humor. I was first a poet and I believe my sense of sensory descriptions still reflects that well in my fiction. I try to be honest as well. My heroes aren't made of steel and invincible, but are broken many times and have self-doubt. That realism in a fiction work helps readers connect to the story. I am also a native Southerner and came from a long line of preachers, politicians and story tellers so I find myself relating to others of that ilk such as Pat Conroy, Alice Walker, Flannery O'Conner and Ferroll Sams. With "The Alexandria Rising Chronicles" in particular, I think my world building and the research I did was first rate. I have created an entire website of interactive appendices that lead to real and created videos, photography, news stories and radio broadcasts of this world I created.
One of these appendices and fake news videos was so convincing, a Russian news station used part of the video as its broadcast. I have no idea how that happened, but that was a trip when that came up on my google alerts! I want to write stories where people can escape, but escape with good research, strong tethers to the sensory world and find characters who are relatable. If that works, then building the story around it makes it much easier to tell and read.
What's next?
This fall has been fantastic as far as promoting, "The Last Wizard at The End of The World." The reviews from publications and media have been strong, but I want to hear from readers. Do they want a third book in that series? What did they like? What did they not like? I don't base everything I write off of readers' opinions, but it does help to know if what you are writing is connecting. I also have a prequel to The Alexandria Rising Chronicles I have been working off and on for a few years. It is pretty much done, but needs polishing. That said, lately I've been working on two historical novels and a children's book. Usually, if I have a few projects I am toying with one will take off. I think that will happen soon and a new book will be published in 2022. COVID has really put a damper on any big plans per se, but I am looking forward to teaching more classes to young people again. I think inspiring any imagination and confidence in that generation is critical. I am also debating on publishing, "The Last Wizard at The End of the World," as an audiobook. I haven't had a ton of time to do any new writing this year, but I am hoping with the new world work schedule becoming more stable and a vaccine on the horizon I can start spending more time with my imaginary friends!
Pricing:
$15 – Alexandria Rising Chronicles books paperback
$2.99 Alexandria Rising Chronicle books Kindle
$19.99 Alexandria Rising audiobook
$10 all other works
Contact Info:
Email: markwallacemaguire@gmail.com
Instagram: @alexandriarising
Twitter: @wallacemaguire

Suggest a Story: VoyageATL is built on recommendations from the community; it's how we uncover hidden gems, so if you or someone you know deserves recognition please let us know here.