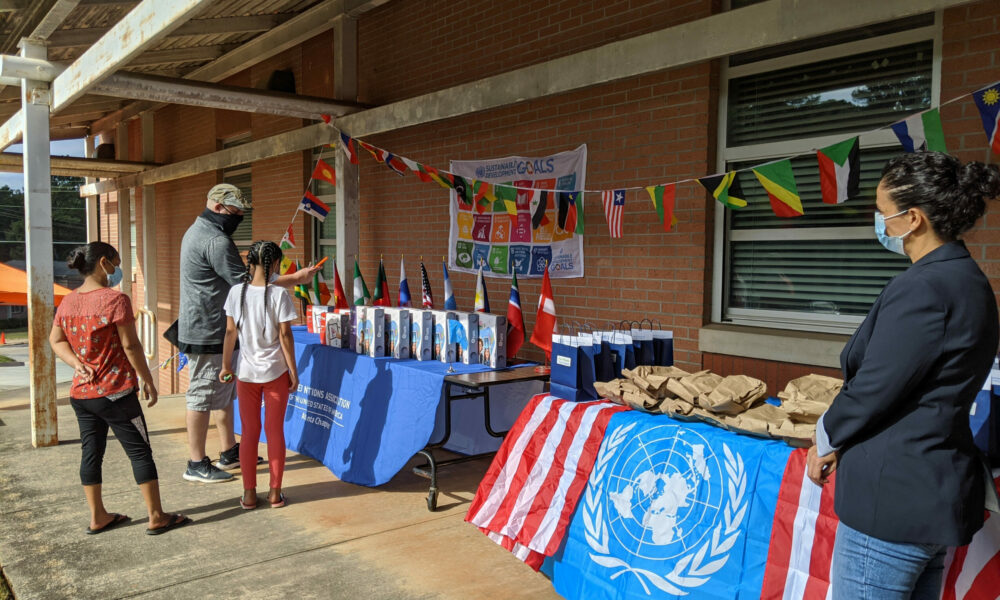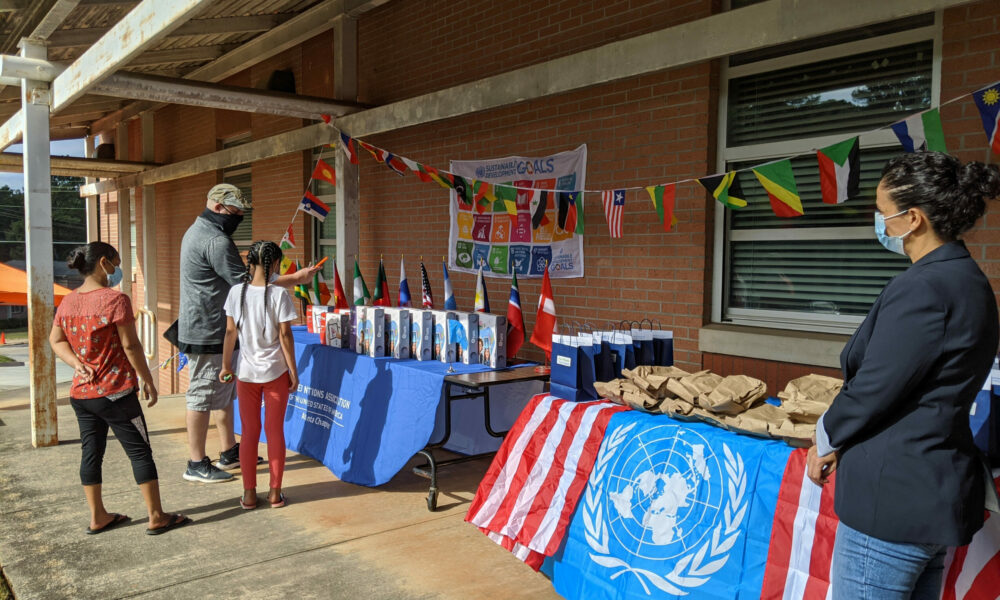 Today we're excited to introduce you to Nalat Phanit Black. Nalat is a Sustainable Development Goals Director & Change Agent and is also a content partner. Content partners help Voyage in so many ways from spreading the word about the work that we do, sponsoring our mission and collaborating with us on content like this. Check out our conversation with Nalat Phanit below.
Hi Nalat Phanit, thank you so much for sitting down with us again. For folks who might have missed our initial interview, can you start by briefly introducing yourself?
I am the Sustainable Development Goals Director at the United Nations Association of USA, Atlanta Chapter (UNA-Atlanta). Environmental sustainability and equity is my field of study, passion, and work. My purpose is to bring awareness of the United Nations' Sustainable Development Goals, also known as the Global Goals, and inspire local actions to end extreme poverty, end hunger, reduce inequalities, improve health and education, while creating climate resilient communities. Through partnering with organizations with similar missions, UNA-Atlanta provides the space and knowledge for change agents to discuss, plan, and implement their ideas to advance the Global Goals across all sectors of society.
What is the United Nations' Sustainable Development Goals (also known as the Global Goals)?
The Global Goals are a shared set of priorities for every nation, across all sectors of society, to reduce and end poverty while protecting the planet. Established in 2015, the Global Goals serve as a blueprint for governments, businesses, organizations to achieve a more sustainable and equitable future for all during 2015-2030. The 17 goals address common challenges that every nation face, such as poverty, hunger, inequality, climate change, peace and justice. These goals are interrelated, progress on one goal leads to progress on other goals. For example, if you are making progress towards SDG 6: Clean Water and Sanitation, you will see progress on SDG 3: Good Health and Well-being. Better health means you are more likely to go to school, get and education (SDG 4), and find decent work (SDG 8). These contribute to reducing inequalities (SDG 10).
These 17 Global Goals were reviewed and approved by 193 world leaders at the United Nations headquarters in New York City. It is important to note that prior to the establishment of the Global Goals, the United Nations launched a global survey, My World 2015, where close to 10 million people worldwide participated, putting in their votes for the issues that matter to them. The votes were counted and reflected in the Sustainable Development Goals. As the United Nations prepare for the next set of goals (2030-2045), individuals can participate in the global survey My World 2030 (myworld2030.org) to let world leaders know what issues are of the utmost priority.
How is the United Nations Association of Atlanta engaging with their communities in advancing the Global Goals?
UNA-Atlanta is a volunteer based 501(c)3 non-profit with a mission to inform, inspire, and involve community members to bring awareness of the United Nations and its works in the Atlanta and surrounding areas. The Sustainable Development Goals Committee specifically educates and helps implement activities that promote the Global Goals. We've had community service days with local organizations such as Trees Atlanta and the Captain Planet Foundation, where our members and the general public can engage in a day of service. Our volunteers have designed some impactful projects in the past, such as teaching elementary school students on water and sanitation issues, teaching children of various ages on clean energy, teaching a group of adult Congolese refugees basic English, fundraising for the International Rescue Committee, and assisting with Model UN sessions with various Alpha Kappa Alpha Sorority chapters. We've hosted events for UN Day (October 24) and Human Rights Day (December 10) to further conversations on sustainability and equity.
Since the start of the pandemic, we've moved all our events online, offering free webinars such as the Sustainable Coffee Talk series where we bring engaging speakers to offer insights on how to progress selected Global Goals. We've partnered with International Women's Think Tank for the Women's Empowerment Roundtable Summit 2021, where local and international entrepreneurs, governmental representatives, and sustainable advocates share best practices and lessons learned in advancing Global Goals 1: No poverty, Global Goals 2: Zero Hunger, Global Goals 3: Good Health and Well-being, Global Goals 4: Quality Education, Global Goals 5: Gender Equality, Global Goals 6: Clean Water and Sanitation, Global Goals 8: Decent work and Economic Growth, Global Goals 10: Reduced Inequalities, Global Goals 16: Peace, Justice, and Strong Institutions, and Global Goals 17: Global Partnerships.
Describe a project that shows how UNA-Atlanta is actively engaging with the public in advancing one or more of the Global Goals.
During the beginning of the COVID-19 pandemic of 2020, UNA-Atlanta partnered with The Regional Centre of Expertise on Education for Sustainable Development of Greater Atlanta (RCE Greater Atlanta), and launched our Mobilizing Science Education At Home: #100Kits100Lives Challenge. The pandemic has greatly impacted our children's education, especially those in underserved areas. Through partnering with local and international organizations, we completed Phase 1 of the Challenge on October 21, 2020, delivering 22 S.T.E.M. (Science Technology Engineering Math) kits and lunch to selected students at Indian Creek Elementary School in Clarkston, Georgia.
Dr. Adam Nykamp, Instructional Support Specialist, Indian Creek Elementary School, Clarkston, GA, USA, states "The majority of students enter our unique school as refugees from more than 40 countries around the world, speaking more than 30 different languages and dialects, but with an incredible desire to learn! Math and Science often emerge as their FAVORITE subject areas as their English skills develop and learners are incredibly drawn to STEM offerings at our school such as robotics, coding, gardening, technology fair, and more! The TWIN STEM kits would serve as an amazing catalyst for their emergence as future scientists, engineers, and technology specialists!"
The #100Kits100Lives Challenge is our effort to advance Global Goal 4: Quality Education, Global Goal 10: Reduced Inequalities, and Global Goal 17: Partnerships For The Goals, on a local and international level.
Our goal for 2021 is to deliver 28 STEM Kits to a second group of students at Indian Creek Elementary School as part of STEM Kits Challenge Phase II. We planned to also deliver 50 STEM Kits to students at Agahozo-Shalom Youth Village in Rwanda but due to logistical challenges impacted by the pandemic, we will postpone the delivery.
Jill Elias, Engagement and Operations Manager, Agahozo-Shalom Youth Village, Rwanda states
"The TWIN STEM kits will be an invaluable addition to ASYV's science programming. It's tools like these, which make subject matters accessible and fun, that help our kids not only to learn but to develop a deeper passion and understanding that will benefit them long after they graduate from the Village."
This project would not have been possible without our partners who share the same mission to create a sustainable and equitable world. Many thanks to the staff at Young Guru Academy and Twin Science Group for providing us with Coding and Curiosity Kits at a special discount. We're also thrilled to provide our students with Twin Science's fun and educational STEM Quest shows. Special thanks to Women Igniting Change for supporting our Rwandan segment of Mobilizing Science Education At Home: #100Kits100Lives Challenge.
How can our readers contribute to UNA-Atlanta's Mobilizing Science Education At Home #100kits100Lives Challenge?
Your donation of any amount will make an impact on the lives of the children living in underserved communities. Donate Via PayPal: www.paypal.com/paypalme/UNAofAtlanta
With assistance from Young Guru Academy (YGA) and TWIN Science Group, the Regional Centre of Expertise on Education For Sustainable Development (RCE) of Greater Atlanta, and Women Igniting Change, we'll advocate for the United Nations' Global Goals 4: Quality Education, Global Goals 10: Reduced Inequalities, and Global Goals 17: Partnerships For The Goals.
The students of Indian Creek Elementary School who received the first batch of STEM kits would like to share their experience with you: https://www.youtube.com/watch?v=3KYZCg-PSd4
Thank you so much again for sharing all of this with us. Before we go, can you share with our readers how they can connect with you, learn more or show support?
Website: https://www.una-atl.org
https://www.facebook.com/UNAofAtlanta
https://www.linkedin.com/company/united-nations-association-of-atlanta-chapter
Contact Info:
Suggest a Story:
 VoyageATL is built on recommendations from the community; it's how we uncover hidden gems, so if you or someone you know deserves recognition please let us know 
here.