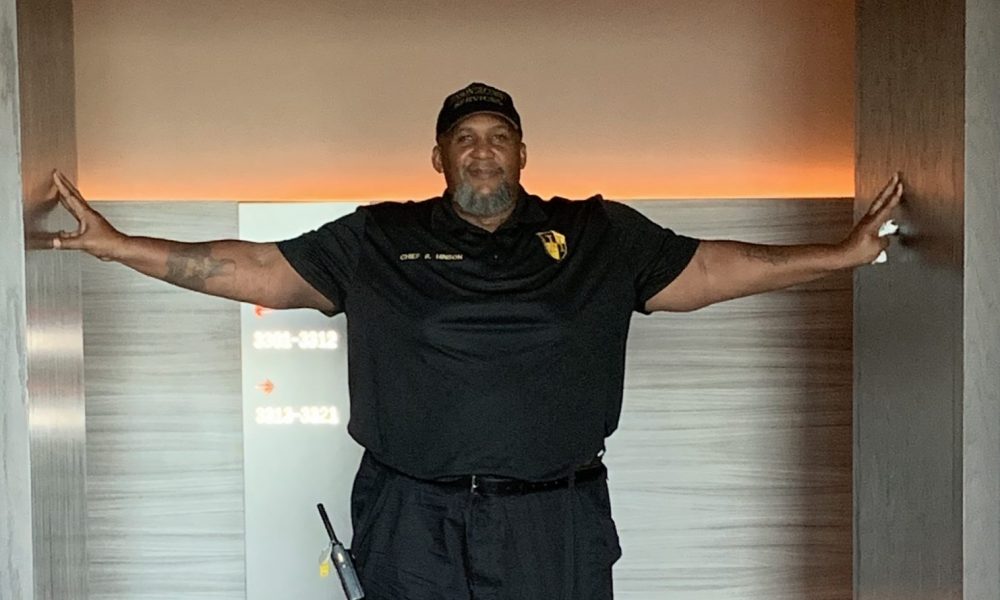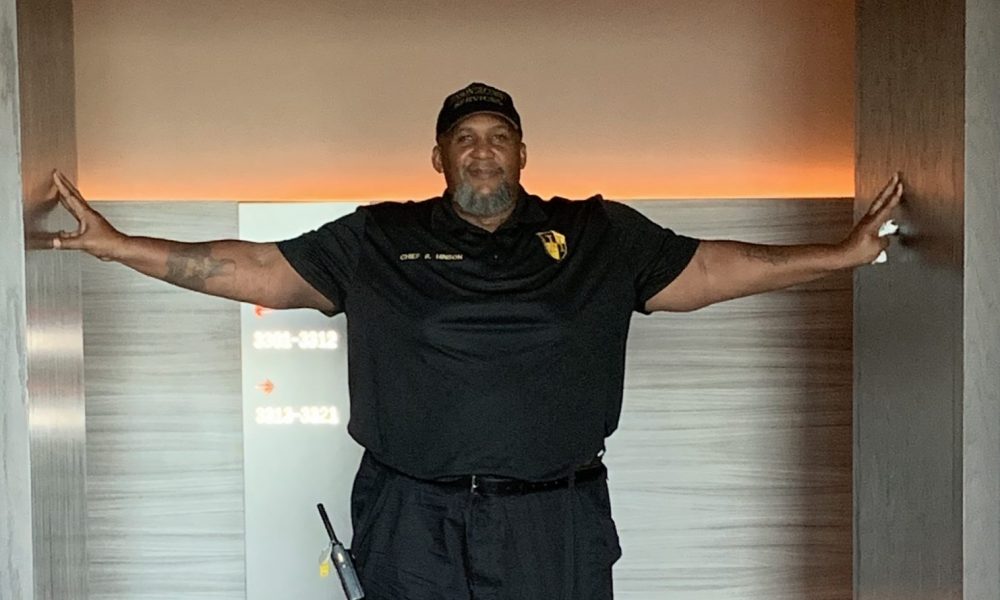 Today we'd like to introduce you to Rodney Hinson, From Fireman to CEO
Rodney, please share your story with us. How did you get to where you are today?
My safety and security career began in 1991 when I was a fireman in Greensboro NC, that's where I learned the value of Public Safety. I obtained my EMT-D and was assigned to Quick Response Vehicle during this time. During my course of being to the Quick Response vehicle, I was able to be a part of the Heavy Rescue Team in which we were trained in Vehicle Extrication, High-Level Rescue, Structural Collapse and Water Rescue and we responded to medical calls. I was assigned to the The Infamous Squad 7! There is where all my skills and talents were generated. I've been a part of some amazing life situations that you only see on tv! Running into burning buildings and rescuing people, man what a feeling! Talking about the ultimate adrenaline rush! During my tenor as a fireman, I would pick up odd jobs like doing security for night clubs or a little private Bodyguard work here or there. During that time, I knew the Body Guard for New Kids On The Block ( I'm telling my age now) I asked him how could I get into the Personal Protection game for celebs and he threw me a flyer for a tough man contest and said win one of these and call me. So, I entered a contest, got to the finals and lost! Being strong-headed and determined, I entered another one and won! I fought a few more times and officially retired! I continued my career as a fireman and doing security as a part-time gig, I worked with various celebrities here and there but nothing that was paying the bills. I decided to resign from the fire department and move to Atlanta Georgia, here is where things began to get interesting!
I moved to Atlanta at the end of 2001 unemployed and no job prospects on the horizon, so I said I'm going to be a night club promoter let's just say that was short-lived. I was able to obtain a job with TSA but due to the 9/11 crisis. They were changing the Security System in airports. I became a TSA certified instructor for training personal on the x-ray machines. Also, this is where I met one of my best friends, Shawn Fluellen. TSA started doing layoffs because they hired too many people, so Shawn came to me and said, let's go overseas to Bosnia as Security Contractors. At first, I must say I wasn't thrilled about going to a third world country and working, considering I've never really shot a gun! But off we went to Bosnia! Now, this was an experience considering I've never been in the military and had no clue what to expect, needless to say. I was a lost soul over there when I first arrived. They put us in training the first day and made an announcement, in order to stay you must pass these main two qualifications:
1. Run a mile under 10 minutes
2. Qualify with 9mm pistol and M16 rifle.
I looked over at Shawn well I guess I'll be going home. I've never shot a gun to qualify in anything, let alone an M16 rifle and then run a mile in 10 minutes! Long story short Shawn gave me a few pointers and I passed the weapons portion and luckily, I passed the 10-minute run in 9:54! I look like Jerome Bettis rounding that corner! Not the size of the man; it's the heart of the man! While in Bosnia, I was able to get some great training when it came to safety and security. I was able to train almost daily with some sort of weapon, the personal we were working with came from all sorts of military backgrounds and ranks, special ops, police officers, security specialist, etc.. and to sit in the same room with some these individuals and learn was short of amazing. I did this for three years.
After Bosnia, I came back to Atlanta and let me say finding a job wasn't easy and even though my skill set would have got me on the SWAT Force somewhere, that wasn't an option for me. I found a job as a contract security officer supervisor for a large popular security firm. I quickly knew that this job wasn't for me I worked for them about a year and moved on to an Operations Manager for a high-profile armored car company where I was promoted to Branch Manager within a year. That job came to an end so then I went back into contract security work, the company I worked for assigned as a Security Site Manager for one of their properties. Here is where I would met a man that would change my life, this guy was a successful Real Estate Property owner and land developer in Atlanta and at this location, I was managing the security team for his properties. Before long, he wanted to have his own in-house security team and he asked me would I put it together for him and train his people the opportunity to be head of security for a millionaire Hell Yeah! What he taught me in the time frame I was there, no school could have taught me. He bought a strip mall back in the day and turned it into a multimillion-dollar company and owns several properties in downtown and midtown Atlanta. One story sticks out in mind when I worked with him, I was standing in the lobby as I did every morning when he was in town waiting on him, he walks in and with a stern tone he told me, Rodney, why are the sprinklers on!? I shrugged my shoulders and said they must be on automatic, he then said to me but it's raining! Again, I was like they are automatic. He looked me dead in my face and said, why am I paying for grass to be watered if mother nature is watering it for free! That kind of stuff I learned from him on a daily basis. Life scenarios that opened my thoughts to think like a businessman. He also owned a hotel in downtown Atlanta. This is where I first got my first taste of hospitality security.
I moved on from that job into hospitality security, where I worked for yet another large hospitality management company. At this point in 2009 where I realized I wanted to start my own contract security company but I knew I had so much to learn, I was hired as a lead security officer and I knew if I was going to make this happen I had to get promoted so I can learn the business side of everything. See, most people go to work and just to work when I went to work, I went school! So, I focused on getting promoted because I had to see what these meetings were about with department heads and let me say I learned so much just sitting in those meetings and taking notes from learning Profit and Loss to Brand Standards. It gave me the opportunity to build relationships with those who made decisions and I was able to ask questions.
In 2012 I finally decided to take the plunge, I wasn't in a great financial position to do so in order for me to chase this dream it would take $500 to even take the test for the state and maybe another $500 just for insurance for the business state would issue you a license until you had the proper insurance. I only had $1,000.00 to my name and I had bills, but I believed I can make this happen! So I gave my last $1,000.00 to my good friend Marisol Carrasquillo (who is now my VP of business development). I told her do not give me this money until I'm ready to take the test! I fell behind on rent and car payment etc..while I studied for this test, I begged Marisol to give me that money she denied me every time I asked! No Hinson, you have bigger things coming. During this time, my mother was diagnosed with breast cancer and became very ill, so my sister Sonya Hinson and my Aunt Nicole Brown would take turns every week going to Greensboro NC to take care of my mother. I would literally have $20 to buy a bus ticket on mega bus to get home. My mother passed in 2012 and I knew then it was time to make this happen.
I obtained my license from the state of Georgia and from there, I was on a mission. I was literally grassroots, going door to door letting people know I had my own security company. I was still working my full-time job at the time so my time was limited on what I could do but in any free time I had, I would be out there grinding no excuses before I knew it I had one contract then another then another. I was truly a solo act I was Owner, President, Manager, Human Resources, Payroll and most of all the employee. I would literally work my full-time job leave there to go home, take a power nap and then head out to work for my own company.
In 2017 I was able finally able to leave my full time job as Director of Security (scared out of my mind!). Now I was able to place all my focus on my company and within my first year of leaving my full time job, the company grew 400%. Within two years 2019 company has grossed over a Million Dollars and we were able to open offices in Orlando Florida and Miami Florida, with locations opening in 2020 In Nashville and New Orleans.
Overall, has it been relatively smooth? If not, what were some of the struggles along the way?
No, the road has not been smooth. I definitely had my struggles. One of the biggest challenges I had along the way was just not really knowing the business. I struggled a lot in this area. I knew security but business was an entirely different beast.
So I did what every entrepreneur does today. I took to the internet and started researching, but even sometimes, that wasn't good enough, so I would go to seminars, classes or whatever it took for me to learn what I needed to know.
Hinson Security Services – what should we know? What do you guys do best? What sets you apart from the competition?
Hinson Security Services is a premiere full-service contract security company.
One of the things that sets us apart from other contract security companies? I would say it's our response to our clients, if you hire Hinson Security Services, you will always be able to get someone on the phone or by email to address any issue or concern.
There is not one thing we specialize in but if I had to categorize our specialty, it would be customer service. See security is security but if we can combine security and customer with that hospitality feel our growth is limitless!
One of the things that I'm most proud is the team I've assembled from my family to my staff, you always want a team that will grow with you good or bad my team has a true understanding of what it takes to get to the next level and they are relentless in their pursuit of perfection and are willing to deal with my mood swings!
What is "success" or "successful" for you? How do I define success?
I don't think I can define success because I never feel successful. I chase that word every day! Success for me is a forever journey not a destination.
When I first started my company, I was working a full-time job and one of my goals were to be able to resign one day and fully work for myself. I accomplished that goal. My next goal is to be global have offices in every state then one day go international, can I accomplish this in my lifetime? Who knows maybe, maybe not. I'm going to try my best to make it happen!
That's the best part about being an entrepreneur. You can create something that can live on for generations so maybe one day my grandson and take the wheel and make it happen.
Contact Info:
Address: 50 Hurt Plaza Suite 1140
Atlanta Georgia 30303
Website: www.HinsonSecurityServices.com
Phone: 404-254-3142
Instagram: @HinsonSecurity
Facebook: @HinsonSecurityServices
Twitter: @HinsonSecurity

Image Credit:
Nicole Anderson, Morgan Anderson, Sonya Hinson, Mike Hinson, Manetta Smith, Marisol Carrasquillo, Joseph Washington, Fritz Blain, Fraun Brown
Suggest a story: VoyageATL is built on recommendations from the community; it's how we uncover hidden gems, so if you or someone you know deserves recognition please let us know here.