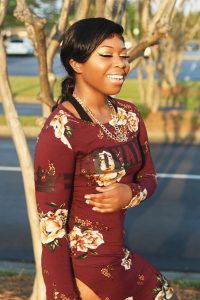 Today we'd like to introduce you to Tialauna.
Tialauna, let's start with your story. We'd love to hear how you got started and how the journey has been so far.
My love for music started as a child. My hometown at that time was right outside of Atlanta- closer to Covington, GA, but I like to say I'm actually from Greensboro, GA, even though I'm now in the Downtown Atlanta area. When I was five years old, I would bang on pots and pans of different sizes to create my own music. My mom was very excited to support my passion and always did everything she could to make sure my dreams could pursue with no limits, even when she was going through hard times. Every week, my mom would take me out to an old thrift shop. As soon as I stepped foot in the door, I'd run as fast as I could to the toy section and play with my newly found treasures to my heart's content.
One day in the year of 2001, I laid my tiny hands on the most beautifully designed piece of equipment I had ever known to bless this earth. I fell in love for the first time in my life as I wiped the dust off of its smooth surface and probably broke an Olympic record as I ran over to show my mom the toy that was going to change my life: The Barbie Karaoke Machine. I needed her to buy it for me and I told her that I'd give away all my toys just to get it, but my mom just couldn't afford it at the time. It broke her heart to tell me, no, and I cried about it for two days straight. On the third day, I decided to pack all of my toys and clothes and take them down to the thrift store to get the machine, nothing could stop me. I drug the first heavily packed trash bag down the stairs but a glimpse of my mother stopped me right in my tracks. She looked beautiful herself, but a shimmering sliver of sunlight directed my attention to a pink and purple object that sat immediately to her left. I was speechless so I stood there for a while frozen in disbelief, excitement, and confusion. My mother had found a way to upgrade me from her "Old Faithful" skillets and saucepans, the Barbie Karaoke Machine was now mine.
A full week passed of me keeping myself locked inside my room to focus on my craft. I had created my own system of recording my music: First, I would record myself singing to a backing instrumental on one cassette tape. On another tape, I would press record while the first cassette tape was playing aloud to record my backing vocals and ad-libs. I had written and recorded over 10 of my very first songs before my 6th birthday.
As I grew older, I stayed active in musicals, theatrical arts, and community groups. At eight years old, my membership in the NAACP led me to complete my first studio recorded song at the mansion of the famous Evander Holyfield. Listening to myself sing with a hint of reverb and a quality mix changed the way I viewed music. An instant cloak of enlightenment dawned on me and I could tell that my "Barbie Karaoke" days were over. It was time to start experimenting with programs on my mom's computer and start showing my talent.
Half a decade later, I was actively living my best life. From being in the 4-H club to modeling agencies to Performing Arts camps to county-wide fashion shows and plays, I was on top of the world. During this time, I had been actively creating beats on "Fruity Loops Studio" software and showing my productions to all the kids at school. My popularity was rising and I had just joined my middle school's chorus when my Mom picked me up from school one day and told me that it was the last time I'd ever see my friends there again.
I wasn't really sure what an eviction was at the time, I just knew that when I got home from school, all of my personal belongings, games, and cherished items were out on the street- and kids from my neighborhood kept walking by and stealing them. My mom told me that we were just moving, and I was fine with that. They had already taken my bike and my PlayStation, but all I really cared about was a small notebook where I kept all of my music. My mom had accidentally thrown it away while sorting our belongings. It must've meant a lot to me since I sprung my 13-year-old self into a giant dumpster and flipped every trash bag until I found it. It was all I needed- even though things were about to get a lot worse before they'd get better.
After our temporary homelessness, my mother moved back to my Grandmother's house in Greensboro, GA in refuge of my father's abusive tendencies. The funny thing is that my Aunt and cousins moved in at the exact same time. For the first three months at my new school in Greene County, I was living with my Grandmother, Grandfather, two uncles, two younger siblings, Mother, Aunt, and three cousins of my age. We only had three bedrooms so most nights were cramped and uncomfortable, but writing music every day provided me with an outlet for what I was dealing with.
About four months into my new school, my mom had a nervous breakdown. Our circumstance combined with the pressure of my younger siblings sent her into a period of complete derangement. An unfortunate series of events left me and my two siblings in foster care, separated from all of our family. My mother had been diagnosed with Manic Depression, Schizophrenia, and Bi-Polar Personality Disorder. I would not see my mother that I loved and idolized for the next six years.
The journey from foster-care to my grandmother gaining custody of me was stressful. One night, I laid silently trying to figure out if living was even worth it. To my right side, a kitchen knife with a red handle seemed to have all the answers to my problems. To my left, there was a red pen. For a moment, I wondered if I was the only one in that kind of pain. I picked up the knife and thought, "This could end it for me. A few seconds from now and I won't ever have to cry again." I put it down. I picked up the pen and thought, "This could end it for us. A few seconds from now- I could express my feelings. Everyone who is feeling sad can all hurt together, then heal together through music." and I began to write.
Developing a career in music was very costly since I needed software & equipment/promotion. My supportive mother was no longer in my life to help, so at 15 years old, I started a successful Electronic Repair company (EleCure Repair) to fund my career. The profit I earned still continues to carry my music career to this day.
My grandmother kept custody of me in Greensboro until I turned 18. Throughout my time there, I enrolled in "Project Generation D" and completed courses in photography, broadcasting, audio production, mixing/mastering, and music composition. I wrote my own music, created my own beats, recorded & engineered myself, and uploaded my music to my self-designed website. I also joined my church's gospel choir, as well as a mentorship group (NSGI) led by Ms. Tanya Alexander and Ms. Peachez Peek. Soon, my entire high school had known me as a singer and opportunities to perform in other cities began to arise. I graduated high school with Honors, along with many plaques and certificates I earned during my high school career. I went to college as a Music major to further pursue my dreams.
During college (FVSU 2014-2018), I joined the Army, performed with various live bands, gained backup dancers, performed at numerous university events and increased my stage presence. My fan base grew tremendously and they constantly demanded more shows and music from me.
On February 12, 2019, I met my current band (212) and finally felt like I had a band that matched my energy and drive. Of all the bands I've sung with, my heart & soul lies with this one- this band gets down on the first take! Readers can learn more about them on my website or Instagram: @212_Sqwuad
2019 has been full of new music, networking, interviews, performances, and new experiences. I've grown and expanded in more ways than I could've ever imagined. I'm excited to continue adding to my growing success story in every way I can, and I'll never forget where I came from.
Has it been a smooth road?
Originally, the challenges I faced were with myself. After my mom's disappearance, I didn't haven't much guidance in the most critical years in my life and formed a habit of conducting trial and error experiments to figure everything out.
For a while, self-esteem issues inhibited my growth and my stage presence. To overcome them, I practiced meditation and began to venture out to Open-Mic nights early in high school to test my skills with the crowd.
In college, many of my backup dancers were extremely hard to manage. Some dancers had a lack of discipline, stayed on their phones during rehearsal, arrived hours late to rehearsal, didn't put in any effort during performances and were just overall horrible dancers with no professionalism. Drama often stirred between the girls to the point where they could not function as a team. I ended up letting them all go.
Over the past few years, I've had 3 managers. The first one was effective at finding new bookings and opportunities but became inconsistent when his location changed. My second manager seemed to have everything going for himself and for me. Whenever I needed rehearsal space, stylist, or transportation he seemed to have it along with direct connections to the city officials in Atlanta. His past rapport as an A&R for a major record company kept me listening for a while, but I cut him loose after he invited me to a business meeting at a restaurant with him, and then stuck me with the check! My most recent manager didn't have much experience as a manager but did everything he could to book shows and fund studio time. Our union was cut short when a rampage from his ex-lover obstructed our business together for months. He could no longer do his job effectively and I could never meet with him without having to deal with her.
I know the road ahead will be full of obstacles, but I'm ready for them. My determination always outweighs my circumstance. In the end, the only person responsible for the status of my success will be myself.
Please tell us more about your company, what you are currently focused on and most proud of.
My company is known as Tialauna Music. I am a vocalist, entertainer, performing & recording artist, dancer, and brand ambassador!
I am proud of my accomplishments. I've never given myself an excuse as to why I cannot be great. I aim for perfection and anyone who steps into my circle is held to the highest standard. From the second I hit the stage, I'm looking to bring smiles and pure entertainment to everyone in the crowd. Music has never been a hobby, it is my career.
When I'm on stage, my purpose is not to sing at the crowd. I never want to be in my comfort zone. My goal is to engage the audience, so when I'm performing a set-I'm coming with a full production that will include anything from singing and dancing to acting and poetry.
How do you think the industry will change over the next decade?
In 5-10 years, you can expect me to be on tour with a Grammy and a few BET/MTV music awards. I'll be all over the country but please believe me- I still want my 10-piece mild with lemon pepper sprinkles- seasoned fries and a lemonade light ice!
As far as trends go, I love to change and adjust to the culture, but I love to change the culture even more. In 10 years, I want to have provoked positive change and growth in the community and be actively investing in various non-profits to keep the movement alive.
Pricing:
Book To Perform- Price Varies
Song Features- Price Varies
Contact Info:

Image Credit:
Uche Onungwa
Suggest a story: VoyageATL is built on recommendations from the community; it's how we uncover hidden gems, so if you or someone you know deserves recognition please let us know here.